The Makadi Palace Hotel – An All-Inclusive Tranquil Escape
Savour sweeping views of Makadi Bay and bask in the tranquil surroundings at The Makadi Palace Hotel, if you're looking for a Red Sea escape, you're in the right place. Nestled between sloping sands with crystal waters, Makadi Bay is ideal for snorkelling and diving where you can explore the extraordinary marine life. Part of the holiday village with proximity to The Makadi Spa Hotel, The Grand Makadi Hotel and Sunwing Makadi Hotel you are provided with an abundance of facilities, including entertainment, shopping, dining and stunning beachfront. An excellent value holiday, friendly staff to ensure a hassle-free stay, and a luxurious offering makes The Makadi Palace Hotel a popular choice with holidaymakers making a return visit.

Your home away from home
Staying at The Makadi Palace Hotel, you will be lavished with spacious air-conditioned rooms, modern amenities and all rooms have a balcony or terrace providing a great place to watch a glowing sunset. Enjoy culinary delicacies with a range of a la carte restaurants to please every palate, the freshest of smoothies from the juice bar or benefit from the additional dining facilities at The Makadi Mall. The resort comprises of 3 bars, 2 international buffet restaurants, 3 a la carte restaurants and 2 snack bars.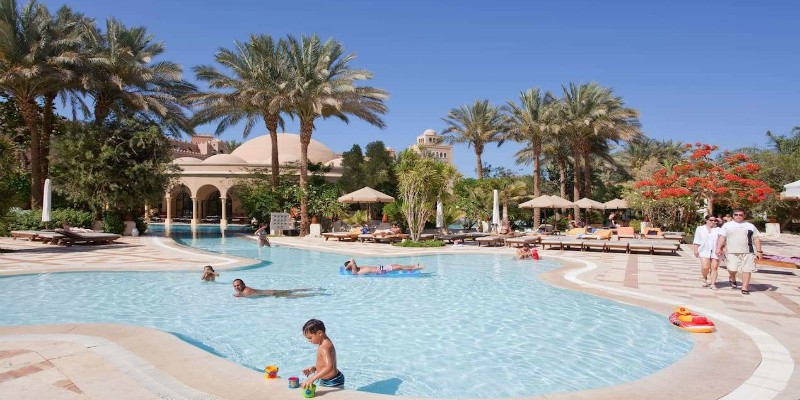 What is there to do?
Boasting direct sea access with stretches of reef provide a great experience with colourful marine life to explore. The Makadi Palace Hotel also offers tranquil gardens famed for there beauty and a wide choice of sporting facilities from The Makadi Sports Centre. If you're looking to kick-back next to the pool, the resort showcases 4 large freeform swimming pools with plenty of loungers and parasols. You won't need to stray far from your holiday as there are an array of activities including beach volleyball, aqua aerobics, daytime and evening entertainment, a sports bar and dedicated facilities for children.
Ready to learn more? Click below to get a quote or, click here to continue reading.