Take an Instagram Tour of the Best Things to do in Phuket
Lord knows we all need some escapism right now. So, let us take you on a tour of the best things to do in Phuket via Instagram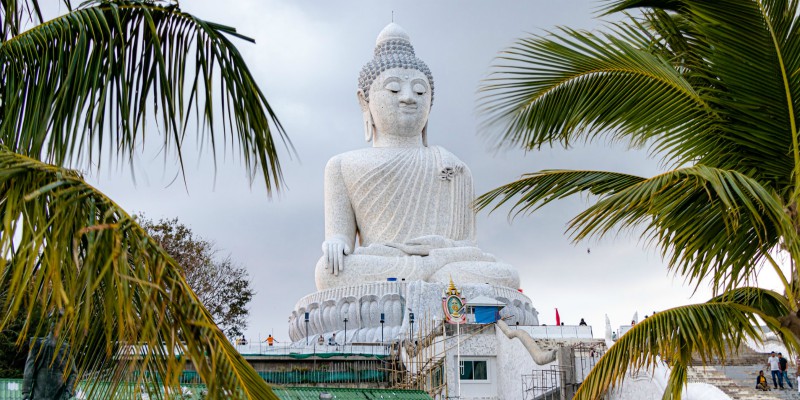 Phuket, Thailand is such a richly diverse region. We challenge you to go there and not come back completely in love.  
While there's places where it's party time, all the time. There are also places of genuine natural beauty and revered religious sites. All you have to do is decide how you see them all!  
How to see all of pretty Phuket
Well, the easy way is to stay exactly where you are.
Let us utilize the wonders of Instagram to take you on a journey through some of the best things to do in Phuket.  
Admittedly, with lockdowns happening left, right and centre, this might tip your wanderlust over the edge. But, hey, that's what our Big Blue Sale is here for! 
While you can't head off on another memorable adventure just yet, you can get one prepped in your noggin' for 2021.  
So, "what are these amazing things that will have us reaching for our passports?" we hear you cry. Well, allow us to elaborate…  
---
Krabi
If you're the type of person who can only really stand one excursion on your holiday, then you should make sure Krabi is your one stop. Krabi is pretty much in the heart of the action. The stunning Phi Phi Islands and Pileh Lagoon are not to be missed if you want to see a picture-perfect example of a beautiful Thai paradise and it will look great on the timeline.
But Krabi's not just about pretty beaches and crystalline waters. If you fancy a trek to see some authentic Thai culture, then Tiger Cave Temple and Wat Pramahathat Wachiramongkol Temple are simply breath taking.
Make a trip to Krabi the highlight of your weekend and you could also be treated to an overture to the senses at the Weekend Night Market. Vendors promote their wares from delicious street food to quaint souvenirs.
---
Coconut island
Want more stunning scenery? Then you've come to the right place. The beaches in Thailand are truly unrivalled. If you want that James Bond, paradise-island type vibe then Coconut Island is the place to be.
Layan Beach and Bang Tao Beach are also superb stretches of picturesque sand where you can get a little Instagram snap happy. Get the sort of shots that will make your followers green with envy!
Patong Beach, is an electric place for an eye-opening introduction to Phuket. Just past the crescent shaped shoreline lies a myriad of bars, go-go bars, nightclubs and cafes. Infamous Bangla Road lies just off the strip too where you're sure to find a fittingly legendary evening.
---
The Pavilions Phuket
Settled on one of the tallest points in the region is the incredible Pavilions Phuket resort. We said before that some of the beaches are perfect for living that 007 dream, but if you're going to do it then you need to do it properly and the only way is with a stay here.
This five-star resort will dazzle the senses with panoramic views of the lush tropical hills and shimmering Andaman Sea. Plus, its location on the highest peak in Phuket means it hovers over superb Layan Beach, so your perfectly located for experiencing one of the best stretches of coastline in the world!
---
Phuket Old Town
For a truly unique experience you must visit Phuket Old Town and Thalang Road. With its stunning Sino-Portuguese architecture, beautiful restaurants and numerous shops it's the perfect place to get a whiff of real Thailand. And, yeah, what these guys said…
For the most immersive experience on Thalang Road visit on a Sunday when it transforms from a bustling traffic laden town centre into the Phuket Walking Street Market.
---
Wat Chalong
Absolutely dripping in Thai culture and reverence, Wat Chalong Temple is not just another Buddhist temple, it's THE Buddhist temple. The biggest temple in Phuket, it's home to an actual finger bone from actual Lord Buddha himself!
---
Chalong Bay Rum Distillery
Fancy a break from all that immersion and beach-living? Move over Barbados there's a new rum-daddy in town!
Totting up plenty of sales worldwide Chalong Bay is the best-known rum in Thailand. Take a trip around the distillery and discover the secrets behind its unique taste, then, of course, try a snoot for yourself in the picturesque garden bar!
---
Animal Style
Monkey Hill
What's a visit to Thailand without getting up to some monkey business. Take a trip up Toh Sae Hill, known as "Monkey Hill", and take some fruit with you. You'll soon find a plethora of furry friends to fall in love with.
Two things to remember though, 1) be prepared, it's a steep hill 2) the monkeys are wild so don't get too familiar.
Green Elephant Sanctuary
The only ethical elephant sanctuary in Phuket, this haven for large mammals is perfect for some wholesome fun. There's no gimmicks or performances, just stare in awe of these wonderful behemoths being their usual delightful selves.
---
What are you waiting for?
The common misconception when it comes to Phuket is that it's just a party island catering for backpackers trying to "find themselves".  
But, while you can find that side of the region in places like Bangla Road or Patong Beach. The rest of the region is swimming in natural beauty, ancient culture and friendly people.  
If you let it, Phuket will attack your senses and never let go.  
Our advice? Lean into the wave and just let it happen. You'll find the result quite intoxicating.
Don't believe us? Take a look at our Big Blue Sale and start your own adventure