3 Thailand Resort Top Picks For Any Type Of Traveller
These 3 Thailand resort top picks offer a haven no matter what type of traveller you are.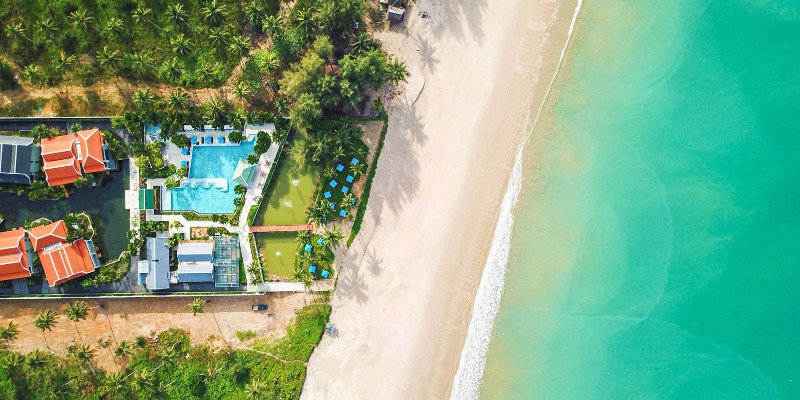 We've been looking for our Thailand resort top picks recently and we've come to the conclusion, we absolutely adore these three.
Whether you prefer to stuff your break with activities the whole family can enjoy or you like nothing more than to lounge around in luxury. Or perhaps you prefer to go in search of more authentic experiences. These three resorts have got you covered.
---
3 Thailand resort top picks
Angsana Laguna Phuket
Grand Mercure Khao Lak Bangsak
The Pavilions Phuket
---
Dream Ticket Destination
As one of our Dream Ticket destinations, we've been taking a look Thailand and all the amazing things it has to offer. There's worse jobs, right!
You may be thinking that Thailand is just party central and this is true of destinations like Bangkok.
However, the three resorts we've selected give you the chance to experience the very best of this incredible country, in the perfect way for you. Away from the bright lights and booming music of Bangkok there are some truly special destinations in this incredibly diverse nation.
So, which Thailand resort is best for you?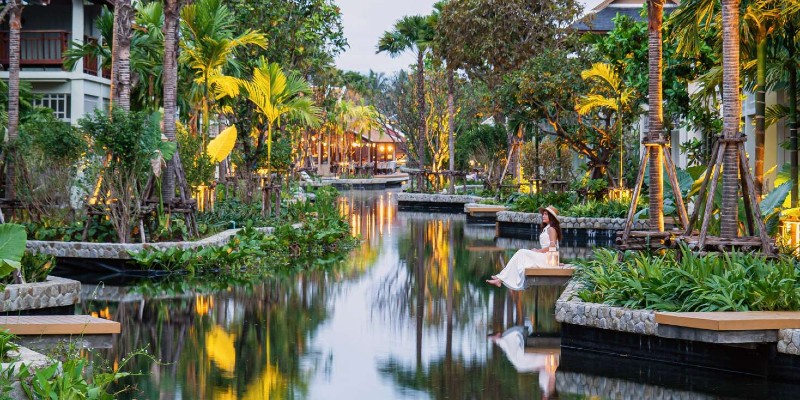 ---
Angsana Laguna Phuket – For the activity lovers
Located in the middle of a stunning triangle of lush tropical forests, a beautiful lagoon and a postcard-perfect beach. Angsana Laguna Phuket is a wonderland of eye-popping scenery and unforgettable activities.
This five-star haven sits majestically just 25 minutes from Phuket International Airport. Being situated on Bang Tao Bay you'll be free to relax one of the best beaches in Thailand. But you didn't come to Thailand to just lounge on the sand right?
Activities galore
Due to the unique diversity of the landscape surrounding the resort, Angsana boasts a miasma of activities. Take the opportunity to go sailing out on the lagoon. Or diving session below the surface of the Andaman Sea and peak at the incredible sights lying in the deep.
If you prefer the security of terra firma then Angsana has you covered with a range of excursions. They come at an extra cost, but you can spend one day exploring Phuket City and the next wandering Thailand's iconic coastline. Including Phang Nga Bay and James Bond Island – so named because of its role in the 1974 film "The Man With The Golden Gun".
When all that adventuring gets too much, you can head for the Angsana Spa. Here trained therapists take you through a range of treatments to help slow your roll.
There's one other surprise for you at Angsana Laguna Phuket. The resort also features an 18-hole Championship gold course, so you can improve your swing while you're away too. If you have little travellers then Angsana is the perfect Thailand resort for you. With a dedicated kid's club, you can leave your little ones with the trained staff and kick back knowing they're laughing and learning every day.
---
Grand Mercure Khao Lak Bangsak – for the authenticity lovers
Away from Phuket we come to Grand Mercure Khao Lak Bangsak a true natural paradise. Perfect for those fly and floppers who love nothing more than retreating into nature.
An exotic 90-minute transfer to Grand Mercure is ideal for getting to know the country you're visiting. As you pull further away from the international airport you start to feel more and more like you're seeing authentic Thailand.
Sink into authentic Thailand
Inspired by Thailand's riverside villages, the resort features a canal which meanders through the site. Wander around Grand Mercure Khao Lak Bangsak's manicured gardens for a wonderfully chilled experience before going for a dip in one of the pools. Or take advantage of the beachfront location to relax on stunning Bangak Beach.
Backed by lush tropical forests and national parks, why not head out on an excursion and immerse yourself in natural Thailand. Conversely, if you're craving a little hustle and bustle. You could head into the local area and check out the pace of every day life in Khao Lak City or explore mesmerising Bang Niang Market for a truly Thai experience.
---
The Pavilions Phuket – for those with an eye for elegance
If you like to sample a taste of the finer things in life when you're on holiday, then The Pavilions Phuket is the Thailand resort for you. The activities here are not as plentiful as somewhere like Angsana, but you don't care because your version of an ideal break is a sea, sand and sun loungers.
The resort finds itself picturesquely nestled in the hillside overlooking superb Layan Beach. Relax in the comfort of your Luxury Ocean View Villa with Private Infinity Pool. It's the type of resort where you can dial up the elegance by enjoying your morning coffee from your infinity pool while staring out over the stunning Thai coastline. All the while knowing you don't have to venture much further today, if you don't want to.
Live that A-List life
Take yourself off for a good pamper, you've earned it! Tucked away in the ultimate tranquillity of the resort gardens you'll find the spa. Choose from a range of treatments which utilise locally grown ingredients to leave you feeling completely rejuvenated.
The dining experiences at The Pavilions Phuket are just as special as the A-List views. If you don't fancy enjoying your delicious meal, cooked with fresh ingredients from resort gardens, in either of the two restaurants why not try a truly special dining experience?
Select anything from in-room to tepee dining. You could even try a Picasso Desert Table which is more fine art than fine dining.
Enjoy dinner and a view

Have a romantic evening meal staring out over the scenery

360° Bar gazes out over the Andaman Sea

Catch a sunset at 360° Bar

Can you imagine a more relaxing setting for a spa treatment?

Listen to the natural pond as you luxuriate in the spa

Or choose to have your treatment in the comfort of a treatment room
Once you've had your fill, end your day in the best way possible by heading to 360° Bar. Enjoy a classic cocktail with panoramic views out over the rolling hills and glistening bay. If there's a more A-List holiday experience to be had, we don't want to hear about it!
---
Seen the resort for you?
If the perfect Thailand resort for you has just leapt off the screen at you, what are you waiting for?
We've added three buttons below, just click the one that sounds like your slice of perfection. But which one will you choose?