Beach Villa or Water Villa? Which Should you Choose
If you're dreaming of early morning dips in the ocean and beachfront walks, you may be left wondering whether a beach villa or water villa would suit you best.
Escaping to an untouched slice of paradise is the getaway that we all need right now, and the Maldives delivers that perfectly.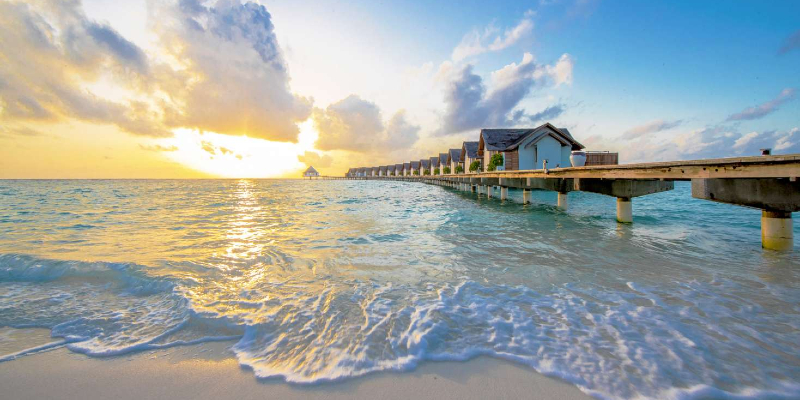 Wat-er you thinking?
Whichever type of accommodation you decide on staying at, we know that you won't be disappointed. This means it's really not about the quality, but more personal preference.
Not everyone likes to wake up to the sun, sea, and sand, and although we're slightly confused as to why not, that's okay! A water villa is still equally as beautiful as a beach villa in the Maldives.
They both come with their own pros and cons. But as long as you weigh them up, and consider which would work best for you, we know you're going to fall in love with the Maldives.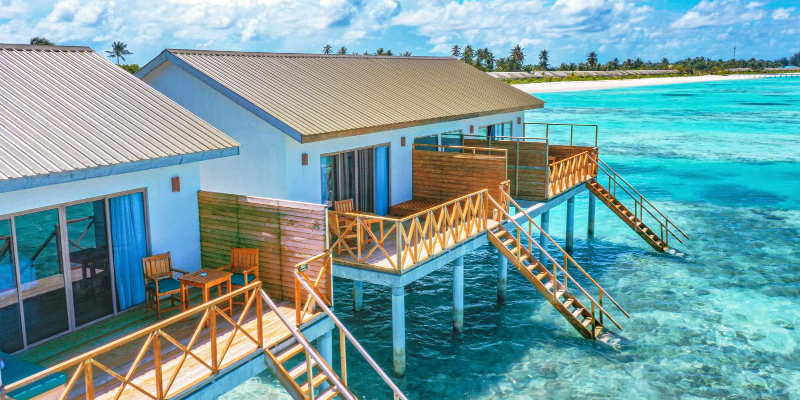 ---
Feeling Beachy Keen? What about a Beach Villa…
So, what is a beach villa? I mean, it really is what the name says it is- a villa on the beach! White sands, azure waters, a slight ocean breeze, all just steps from your room door. The Maldives have some of the best beaches in the world, so it's great being at such a close proximity to this all of the time.
At some resorts you can even personalise your room even further. There may be the option to have a pool alongside the beach, to have a sunset view or even a garden. You will find that a lot more families book these types of villas, as opposed to couples.
Families can take advantage of the shade from the beach palm trees for little ones, and it's easier to keep an eye on them as they're not directly by the water at all times. There's the fun of sandcastle building and paddling in the ocean, so it definitely fits more for the needs of younger children.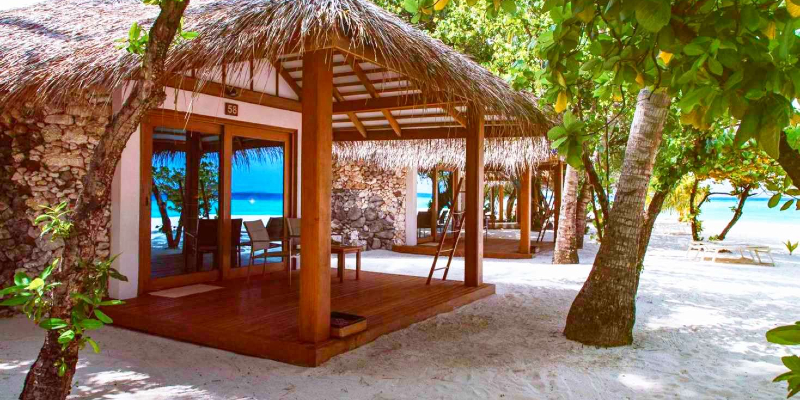 ---
What else is there to a beach villa?
If your villa has a private garden, you'll find that this adds to the privacy of your beach. The greenery and plants will provide shade, but also mean you're spot on the beach is a bit more secluded. Some resorts also have outdoor showers, so the vegetation is definitely welcome then!
Enjoy a late-night stroll across the beach? Well, it's right there on your doorstep so there's nothing stopping you from watching the sun set every evening. Having a beach villa adds to the whole 'tropical island paradise' vibes, as you get to feel the sand beneath your toes with magnificent scenic views in front of you every day. I mean, does anything else say paradise like that?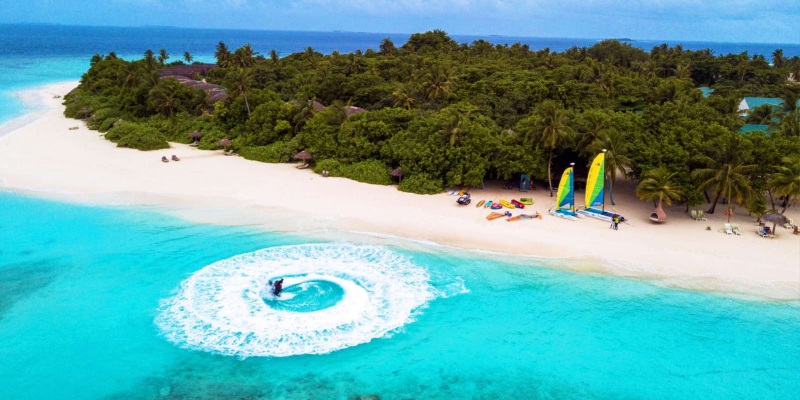 If you fancy yourself a bit of an adrenaline junkie, having a beach villa is the perfect excuse to take advantage of all of the water sports. You're closer to the facilities, so that means you can fit in the time to take part in more. It's a win-win situation.
---
Are there any cons?
Not necessarily 'cons', as these things can certainly be overlooked as they won't dramatically affect your trip. But it's always good to know of the things that you may not like as much, especially if you're wanting to create a perfect getaway.
Remember we mentioned that there is usually some type of foliage to create privacy? This can sometimes hinder your view of the ocean, particularly if there is a lot of it. Of course, your whole view isn't going to be blocked, but depending on where on the beach your villa is located, it could obstruct part of your view.
Plants are also obviously home to a lot more bugs, and one in particular that you don't want to around be- mosquitoes. If you make sure to pack plenty of bug repellent, you may not even notice them.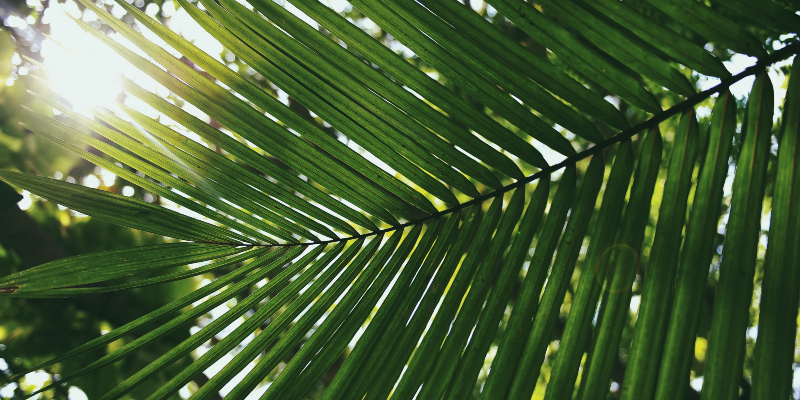 ---
So, what about a water villa?
These unique retreats are the face of luxury breaks. You're bound to have seen the photos of steps leading into beautiful clear waters, maybe even a hammock that hangs above the water from the villa built on stilits. Usually, these snaps are from a honeymoon photo album or a celebrity's trip away. This may lead you to believe that a break to a water villa is an unachievable goal, but we assure you, it really isn't!
Many water villas are available at a great price (especially if you book through Tropical Warehouse). They offer picture-perfect landscapes, vibrant marine life just steps away from your own bed and the same luxury inside your villa that a beach villa offers.
It's the perfect couples escape, and that's why you'll often see these types of villas used by honeymooners or those celebrating a special anniversary. But even if you aren't celebrating a special event, there's nothing stopping you from just enjoying a fantastic and memory-making trip to one of these villas!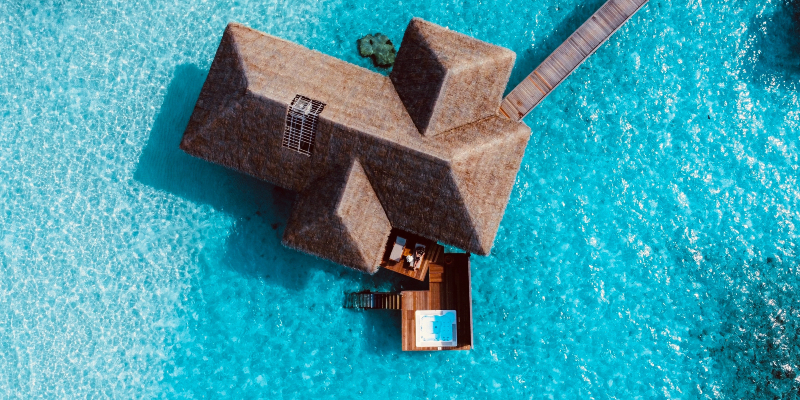 ---
Wondering what you can expect?
You can expect to be spending a lot of time out on your sundeck soaking in all of the rays. Taking dips in the beautiful sea to catch glimpses of the colourful fish that surround your villa. You may also find that your water villa has access to 24-hour butler service, something that South Palm Resort at Tropical Warehouse offers.
Relax, unwind, and rejuvenate your mind and body with the amazing amenities that a water villa has. It is more of a secluded and private escape, this is what makes it a lot more romantic. It can just be you, your partner, the stunning scenery, and a luxurious villa to spend all of your time in.
If you enjoy swimming in the ocean, a water villa provides ocean-access 24/7. Wake yourself up in the morning with a refreshing swim or cool off in the afternoon after sunbathing all day on your deck.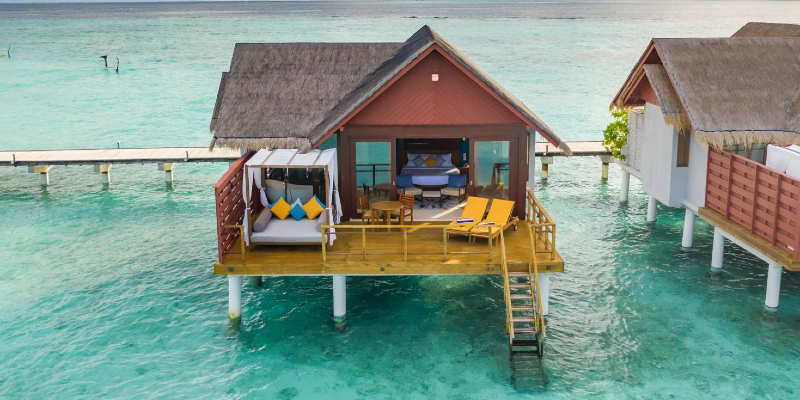 ---
Is there anything else to consider with a water villa?
Like we explained with the beach villas, there aren't really any cons with a water villa, but more things to consider. As the water villas are very secluded and provide that private retreat, you may find that they are a long way from the resort's main facilities. So, something to consider is that you may have to walk to the restaurants and bars every time you wish to visit them.
The water villas can sometimes also be poorly lit at night. If this is something that would worry you, you could request having a villa that is closer to the resort's main facilities and lighting. It can all depend on the resort you are staying at though, so always ask these questions when you are booking to ensure you get that perfect escape that you're looking for.
If your water villa isn't facing the sun, you could end up being in the shade for most of the day. When you're spending the money to have your own private sundeck, you will want to be in the sun! Again, talk to your resort, ask if it's possible to have a villa that is facing the sun.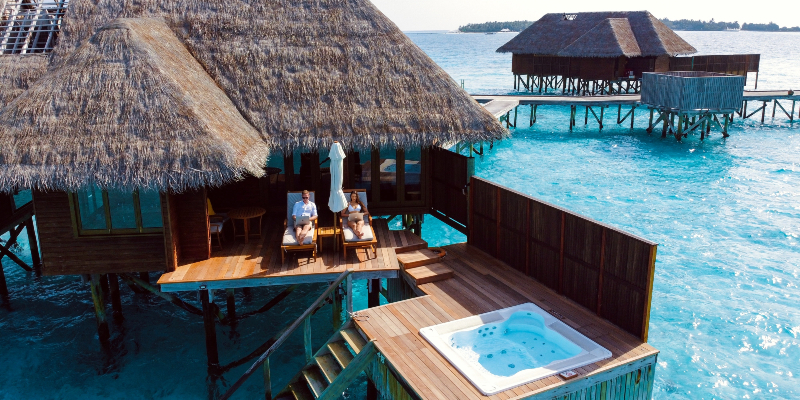 ---
Have you decided, beach villa or water villa?
Both styles of villa offer an amazing and immersive experience, so it doesn't really matter which you decide on.
Whether you prefer being just steps from the soft white sands, or sunbathing on your own private sundeck, a beach villa or water villa both offer that luxurious break that we all deserve.