Thailand Diary – Phuket
Phuket is Thailand's largest Island resort and is located in the Andaman Sea on Thailand's Indian Ocean coastline. The island is approx 30 miles long and just 13 miles wide, so getting around is fairly easy. The airport is busy but taxis are readily available throughout the day and night.
The island offers an abundance of choices from lazy days on the beach to more active relaxation. With so many nearby Islands and pristine beaches to explore, national parks and forests to visit, and world class golf courses to play, choosing how to spend your days is exhaustive in itself.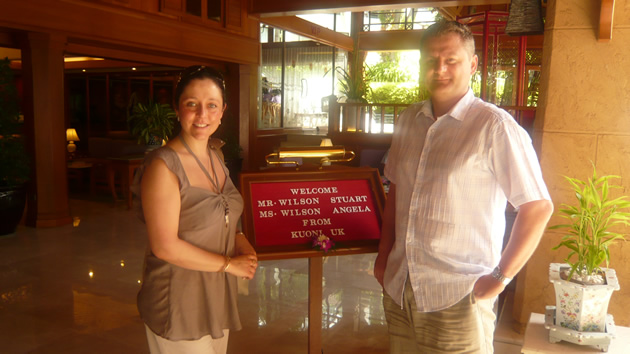 Phi Phi Island with its famous sandy beaches and crystal waters is an hours boat ride away, as is Krabi, where snorkelling is a must. Trips can be easily arranged to the famous diving sites of the small Similan islands located close to the Phang Nga bay, these were ranked amongst the best in the world and the site of the granite boulders jutting out from the sea is awesome. This is a must for divers and those who love to snorkel but be aware that the transfer is approx 3 hours so pick up times from the hotels are approx 06.30am.
If it's amazing nightlife, abundant shops, bars & restaurants that you require you are best staying close to Patong Beach. This is Phukets largest and busiest beach, the nightlife is boisterous, flashy and loud making Patong the ideal place to party and play. The beach attracts many local vendors that can be quite persistent, just say no thank you firmly and turn away. The neighbouring beaches to Patong are Karon and Kata, both have wide sandy beaches with shallow sea shores, these areas also have many shops, bars etc but are a little less raucous than Patong so more suitable for families or those who want to observe the action from a little further a field.
For a quieter experience Bang Thao Beach is ideal, the hotels here are set in a large complex called the 'Laguna'. All hotels in this area are built around the lagoon with the beach on one side, they all share dining facilities so you will never be stuck for something to eat. Most hotels also offer a day pass rate should you wish to try a different hotel during your stay. The hotels also run a shuttle bus and a ferry between each resort so getting about is easy.
Further north is the even quieter area of Naithon. The beaches here are superb but the hotels are smaller and more secluded.
To the north of the island is Mai Khao Beach; the hotels here are mainly 5 star with many facilities. The downside here is that hotel prices for food etc are higher and taxis into Patong expensive.
Phuket Town is a mixture of old and new Thailand. The town hosts the more modern business district and also has some top notch shopping malls located in the 'Central Festival' area, yet it still retains the charm of the street markets in the evening. These are located just off Ranong road and alongside Soi downtown.
At the far southern tip of the Island is Cape Panwa, the views from here are spectacular, and the turquoise/green colours of the ocean dotted with many small Islands are truly worth a visit. The beaches are pristine and the water crystal clear making swimming and snorkelling excellent. There is also a scattering of shops and restaurants and prices here seem cheaper than the busier resorts.
If its adventure you are after there is more choice than days of your holiday will allow. The sea caves and lagoon at Phang Nga Bay are spectacular; you will travel in a small sea kayak into the national marine park – well worth a visit for those who love nature and spectacular scenery.
You could also do a Safari Nature Tour or elephant trek, this can include an overnight stay in a safari lodge if you desire.
If you are fit and active the ATV tours are good and you could even try white water rafting – not my cup of tea but I am told it is very popular.
The most popular tours are those to Phi Phi Island – a visit to Monkey Beach is a must for those with children as they can get really close to the small monkeys that inhabit this beach area.
JW Marriott – 5 Star
Best for Families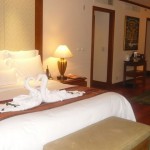 A large resort located on 27 acres of land in the Mai Khao Beach area. The hotel has 265 rooms in total with 13 of these being suites. Rooms are a good size with traditional Thai colours and decoration.
Very much a family resort, the hotel has a fabulous kids club that takes children from age 2 onwards, the pool is large yet has many shallow points for young children and even a water slide shaped like an elephants trunk.
The plus points of this hotel are that it has everything you need on site, the downside is that it is quite far from the nearest town where you could go out to eat etc and eating in the hotel can be expensive, as are drinks etc. You get the distinct feel with this resort that money is no option to most guests.
Dusit Thani Laguna Phuket- 5 Star Luxury
Best for luxury with an authentic Thai feel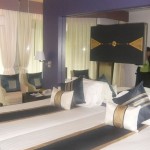 Located in the prestigious 'Laguna' region, the Dusit offer guests a true taste of Thailand. The resorts neo-colonial style incorporates traditional Thai design with contemporary rooms that are elegant and very comfortable. The club rooms are superbly located, all having sea views, but for sheer luxury go for the 2 storey 'Pool Villas' – each has it's own plunge pool and terrace overlooking the sea and can accommodate up to 4 adults and 2 children. Facilities are superb with a spa, fitness centre, kids club, golf club, several restaurants and top-notch service.
Andaman White Beach Resort – 5 Star Boutique Resort
Best for rest & relaxation away from the crowds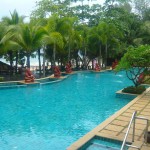 The Andaman White Beach nestles on a secluded hillside on Nai Thon Noi Beach. The resort has only 54 rooms and offers guests a true hideaway in glorious surroundings.
The rooms are mainly villa style with outside showers and baths overlooking the sea or gardens. Some suites have outdoor plunge pools or Jacuzzis that due to the nature of the resort are quite private. Although small the hotel offers a gym, spa and three dining options along with beach barbeques from November to mid March. If peace and relaxation is all you require this resort is s true gem. If you did decide to travel to the nearest restaurants and shops in the Laguna area a taxi is around 700 bahts or £14 each way so can be a little pricey.
Sheraton Grande Laguna – 4 Star
Best for Value & Families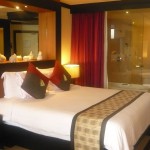 The Sheraton is located in the Laguna area of Phuket alongside many top hotels such as the Dusit Thani and Banyan Tree. As with all hotels in this area there is a regular shuttle bus or ferry to the neighbouring hotels, where guests can exchange dining facilities. Every day at 10am and 3pm the resorts baby elephant comes down to the beach and bathes in the sea – wonderful for adults and children alike.
The hotel is large with 422 rooms spread across a large area. Rooms are clean and bright and the lagoon rooms offer reasonably spacious accommodation for 2 adults and 2 children. The hotel offers a good range of facilities including 5 restaurants, a kids club, spa, gym, golf club and shopping. The resort is by no means luxurious, but it does what it 'says on the tin' and the location is good if you do not want the busy hotels in Patong Beach.
Cape Panwa – 4 Star
Best Value 4 Star fabulous views and Beach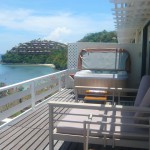 On arriving at the Cape Panwa my expectations were low, however I have to say that this hotel really surprised me. Set on a remote hillside on the Cape peninsula this 200 plus room hotel has a great atmosphere. The rooms are basic yet clean and have all the amenities you would require, the Jacuzzi suites have fabulous views as they are on the third (top floor) and the hot tub on the balcony is a nice touch. The resort also has 6 x 2 bed villas all with plunge pools that overlook the beach. With a total of 5 restaurants and several bars including an English Pub all with very reasonable prices compared to some hotels there is everything you need on site. The hotel also offers a shuttle bus to Phuket town twice a day for approx £6 return and a shuttle into Patong for around £4 return, the Patong trip also caters for those who wish to go into the area at night. The real plus of this hotel is the beach and the stunning views across the clear blue/green ocean to the small Andaman Islands in the distance. The beach is fairly private and the resort has numerous sun beds, umbrellas and even a second swimming pool, along with the water sports, bar and café you could literally set up camp for the day. One thing to note is that the hotel has many steep steps and even though there is a tram up and down to the beach you will need to be reasonably fit. Another plus for this hotel is the spa; A beautiful setting with 8 cool and well laid out treatment rooms, the prices are at least half those of the big brand hotels! Overall a great hotel that really pulls at your heartstrings!
Diamond Cliff Resort & Spa – 5 Star
Best for – Excellent Location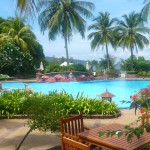 Diamond Cliff is located on the northern tip of Patong Beach, literally 10 minutes walk into the thick of the action, but far enough away when you want to escape back to base for some rest and relaxation. The resort as the name suggests is set on a steep cliff overlooking the beach. There are 331 rooms including a handful of fabulous one and two bed villas all of which have butler service. The hotel was constructed some 20 years ago so it does have a bit of a 70's feel with lots of concrete used in the construction, however the gardens are mature and very beautiful and you do not feel that you are in an older resort. The rooms are spacious and immaculately clean, the design is traditional Thai with many rooms having four-poster beds. The amenities and small touches in this hotel make it special, if staying in a 'Diamond room or above' upon arrival you will have a small basket in your room that you can take to an onsite fruit shop and choose 1 kg of fresh fruit, bottled water is unlimited and free (believe me this is s good point as most hotel allow only 2 free bottles per day before you start to be charged). All Diamond rooms have a laptop with free Internet access.
The resort has several restaurants and pool area's and even has it's own private beach away from the crowds of Patong, you do have to take a free 15 minute transfer but there are amenities available on the beach once you arrive. Again this hotel is not suitable for those with walking difficulties but there are lifts, so it's not too bad. Overall a lovely resort, with outstanding service and attention to detail.
Kata Thani – 5 Star
Best for location (Families)
Located on Kata Beach, the Kata Thani is a large resort of 479 rooms. The layout is good, as junior suites and Grande Suites are located along a large stretch of beach, all with a sea view and superior and deluxe rooms are located around just across a small road with either a garden or pool view.
The hotel is modern and comfortable, Grande Suites are stunning and all have a Jacuzzi bath and living room area, yet even the deluxe rooms are spacious with a good contemporary design.
The beach and main pool areas are well spread out so you never feel on top of anyone.  The beach is lovely white sand and not too busy as you are at least 8 miles outside of Patong. The location of this hotel makes it ideal, as you are centrally located for getting to Patong Beach, Karon Beach or even Phuket Town. Outside the hotel and within walking distance are many bars, shops and restaurants, not as busy as Patong especially at night but for a family perfect.
Top Tips

Wine is expensive; check the prices before ordering as a half decent bottle can cost £30 to £40.
Take care in Patong – local vendors can be persistent and during the evening will try and entice you into clubs that you may not wish to frequent.
Visit Phuket town in the late afternoon/early evening to enjoy the shopping and night markets when it is cooler.
Tipping is not expected in Thailand but is very much appreciated should you feel it is deserved.
Most bar & hotel prices do not include the government tax or vat, add at least 15-20% to any prices unless stated otherwise.
Top Tours:

Phi Phi Island- including Monkey Beach – great for adults and kids alike
Phang Nga Bay – Sea Cave Kayak Tour – Nature lovers paradise
James Bond Island speed boat tour – not for the faint hearted
Sunset Dinner Cruise – Best for romance…
Similan Islands – Best for diving