Dubai Experience
On the 27th March 2009 I flew out to Dubai, this was my first trip to this part the world.
Although the journey was a 6 hour flight, I was looking forward to it, knowing we we're about to board the new Emirates A380. The A380 is the largest and most luxurious new form of airplane. I was very comfortable through out the flight and had the choice to watch all the latest films on demand.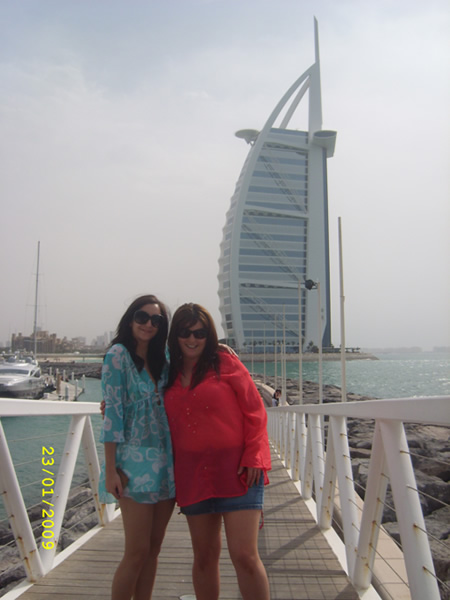 When we arrived in Dubai it was late in the evening and the transfer from the airport to the hotel, gave me the opportunity to see the stunning Dubai skyline lit up.
We were staying at The Address Hotel, which is a luxury five star hotel located within walking distance of The Mall of Emirates and offers spectacular views of the famous Burj Dubai, the tallest tower in the world. This hotel is perfect for leisure travellers looking for a city break and business travellers.
Early next morning we were picked up to proceed on the Dubai City Tour, which enabled us to see the famous land marks that Dubai has to offer. The city is divided in to two parts- Deira on the northern side and Burj Dubai to the south, the traditional "water taxis" are used to cross the creek. The Deira is the old traditional part that offers a glimpse into the history and culture of Dubai. I would recommend a trip to the Dubai Museum as this gives a good insight into what old Dubai was like. After lunch we then went to the Gold Souk Market, here you can grab a good bargain with the designer imitations. It's well worth spending your time bartering as you can save yourself a lot of money, especially at the gold jewellery shops. We then went for evening dinner at the Raffles Hotel, another luxury hotel with excellent cuisine.
The following morning we made our way to the Mall Of Emirates, this is the largest shopping centre in Dubai. After a browse around the top designer shops, you can experience the indoor ski slope. This is unique and amazing experience, recommended as a fun day out for all the family.
After my visit to Dubai, I would recommend this to couples and families, who are looking for an exciting yet luxurious city break. Dubai is a vibrant and growing place, with so much to see and do. I would certainly like to return to Dubai in the future.