St Lucia Fam Trip
Wednesday 4th May 2011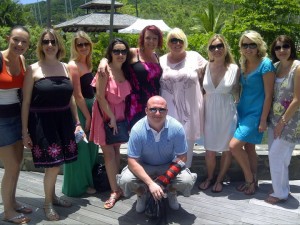 I find myself travelling down to London on Virgin Trains the night before my trip to St Lucia. I stopped at the Sofitel which is connected to the North terminal at Gatwick airport the night before to catch my early flight. The Sofitel hotel was very nice, my room was a decent size and my bed very comfortable; it's very convenient as it is a few minutes walk to the British airways check in desk inside the north terminal. Click here for more information regarding booking airport hotels.
Thursday 5th May 2011
I woke up before my early morning wake up call as I was excited about my trip. Up at 6:00am… I have not been up this early for a long time!
We meet Chelcie Lewis from the St Lucia Tourist Board, who where hosting our trip, at the BA sales desk. The St Lucia Tourist board had invited its top 10 agents on the trip. Chelcie handed out our boarding passes and we were treated to Club World (business class). Our flight was at 10:10am so we had a few hours to spare as we went through fast track security. We had use of the BA lounge which was very comfortable and relaxing, away from the hustle and bustle of the airport. I would recommend a lounge before you travel as you can sit back and relax and enjoy the refreshments. Click here for more information regarding booking airport lounges.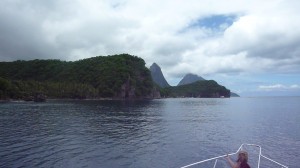 At 13.10pm we arrive at St Lucia ahead of schedule. The weather outside looks delightful. I was feeling very relaxed and raring to go after my first experience in Business Class.  We collect our luggage and meet up for our complimentary transfer to the Landings Hotel where we will be staying for two nights. The driver was very good, telling us all about St Lucia and its history.
The journey to the North of the Island takes 90 minutes through the hills. The views of the island are stunning and the most spectacular I have seen. If you are not the best traveller by road, there is the opportunity to travel by helicopter and I have been told that this is the way to travel as the views are amazing. You will also fly over the famous Pitons.
We arrived and checked in at The Landings. The resort is stunning and very luxurious. I shared a 3 bedroom suite with two others, it was like a mini apartment and it is a great location for families, friends and groups. I had the bedroom which had the Jacuzzi straight outside my room… result!
We then all meet for a few drinks in the lobby to get acquainted before we head of to 'Blues at the Beach' for our evening meal. The evening was great, the food was very nice and the local drink, 'Piton', went down very nicely. After the meal we listened and danced to some Blues music, the entertainment was very very good. I tried to stay up late to get myself used to the time zone.
Friday 6th May 2011
I awoke early so I decided to get up and have a jog… only kidding; I took stroll along the beach instead. The sky was clear and the sun was rising. What a beautiful day we are going to have.
Breakfast & then Site Inspection at 'The Landings'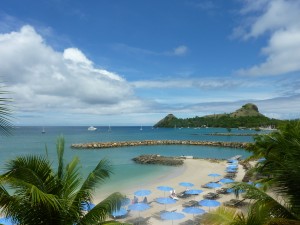 Situated on Rodney bay, in the northwest of the island overlooking Saint Lucia's most breathtaking beach and with the islands only private harbour. The resort is ideally located for all the superb restaurants and shops in the Rodney bay area. The Landings offers a great self catered holiday with the convenience and facilities of a modern luxury resort. Great location for water-sports plus you can also enjoy the complimentary membership of the St Lucia Golf & Country Club.
The resort has two & three bedroom villa suites with a few one bedroom suites. Each suite is beautifully furnished and finished to a high quality. All bedrooms feature an en suite. Many suites offer a private plunge pool which I was lucky enough to get.
What you need to know…
Quality Accommodation, prime location on St Lucia's best beach.
Accommodation: 122 rooms.
Luxurious suites are great for families or even small groups.
Complimentary shuttle to Rodney Bay where you will be able to sample some great local restaurants.
We meet the driver and then transfer to Rendezvous for a site inspection accompanied by cocktails and canapés.
Rendezvous Site Inspection – All Inclusive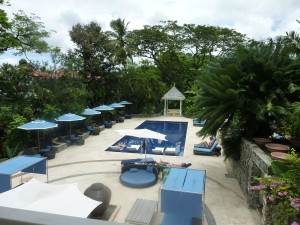 Located at Vigie on the northwest coast, this resort is the perfect choice for couples looking for a romantic getaway or honeymoon. The resort has recently undergone a $15m refurbishment, a beautiful new water garden and a wonderful spa has also been added. This resort does very well with repeat clients due to the quality and friendliness of the staff.
What you need to know…
Rendezvous started in 1960 as the Bernard family home. It has developed into St Lucia's most romantic couples only resort.
Accommodation: 100 air conditioned rooms & suites featuring four poster beds. My favourite room was the luxury beach front room, which are located overlooking Malabar beach.
The water gardens offer a peaceful romantic retreat with secluded riverside beds, where the waiters will keep you fully refreshed. The staff at Rendezvous are exceptional and they will look after you.
We meet the driver and then head of to Castries & Pointe Seraphine for shopping. A little bit of free time to do some souvenir shopping and meet the locals. I really enjoyed my time in Castries; the locals made you feel very welcome, the cost of food and drinks plus gifts were very good. We meet some local children who were very friendly and were always smiling. After a bit of shopping we retired to a local bar for a quick drink. I had a Piton, which is the local drink of St Lucia… it went down well!
Click here to visit our Rendezvous hotel page.
Calabash Cove – Site Inspection & Lunch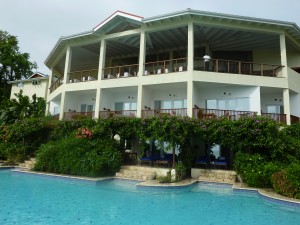 Located on the northwest coast of the island, 90 minutes drive from the Hewanorra.
This resort exceeded my expectations. The resort is tucked away on a gently sloping hillside with fabulous views over Bonaire bay. The Calabash Cove is a magnificent resort. Facilities and dinning are excellent, plus you have Rodney Bay Marina close by with world class restaurants, all within easy reach.
What you need to know…
Opened in 2009, clients are already returning as they have fallen in love, the delightful Balinese cottages each have a private plunge pool and are framed by bougainvillea – you will find hummingbirds are regular visitors.
The C bar is very elegant and laid back; before dining at the Wind Song restaurant which serves delicious cuisine.
We attended a hosted lunch; I had Asia Tuna which was incredible, it blew my taste buds away! It was by far the best meal I have ever had, the taste was unbelievable. For dessert I had a chocolate cake which was simply gorgeous, some of the girls wanted a try and then there was hardly any left!
Rodney Bay and Friday night Jump Up in Gros Islet
We went to Rodney Bay, visited a few bars and took part in a little karaoke and dancing which was great fun. We dedicated a song to Jonny from The Landings called Go Johnny Go. Then we headed off for Friday night Jump up in Gros Islet which was the best street party I have ever been to, it was such fun; great music, great people, a few of us from the group had a dance-off against some of the local St Lucians. We held our own, but boy can they dance. The atmosphere and the vibe was good plus we all had a great time. I do recommend that you go as it is not a night to be missed
Saturday 7th May 2011
Anse Chastanet Site Inspection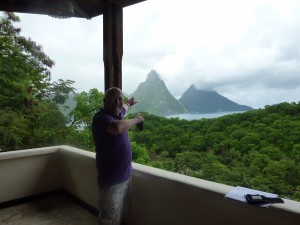 Up early again as we had to check out of The Landings and then meet the driver to go to Vigie Cove for our boat transfer to Anse Chastanet/Jade mountain. The boat journey was spectacular and the scenic views of the island just blew me away. On approaching Anse Chastanet we could see the Pitons, it took my breath away. I have heard many of my customers taking about the Pitons and believe me it was a great sight to see.
Anse Chastanet is located on and above a secluded bay. With its secluded setting and spectacular views, you feel at one with nature. It is a 600 acre resort. You may just want to laze on the beach or be pampered in the spa. The emphasis here is on exploring and enjoying your natural surroundings. The rooms are spacious and all rooms feature original art by local international artists. The resort has three restaurants.
What you need to know…
Beautiful hillside setting with wonderful views, Emeralds Restaurant is entirely vegetarian. The organic produce is grown locally at the hotel's local farm in the Soufriere hills.
Offers a world class PADI dive centre, the reef is protected and is pristine. Just off shore it has the islands best diving and snorkeling on the door step. It is perfect for the ultimate escape.
Click here to visit our Anse Chastanet hotel page.
Jade Mountain Canapés and cocktails – a nice way to be greeted!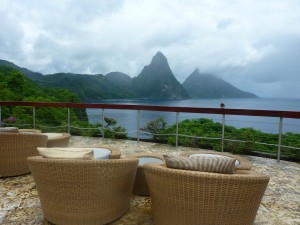 Located above Anse Chastanet, perched high on Mome Chastanet with magnificent panoramic views of the Pitons and the Caribbean sea. The view from the resort is stunning… you can laze in your own private pool and overlook the pitons. You feel like you are on top of the world and at one with your breathtakingly beautiful natural surroundings.
What you need to know…
Jade Mountain is the ultimate romantic retreat, with unbeatable panoramic views, exquisite accommodation and exceptional service.
Each sanctuary provides a private infinity pool. Hotel has a helipad, so why not arrive in style.
Jalousie Plantation – Lunch & Site inspection… and oh yes, a Spa Treatment!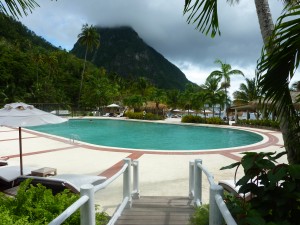 Located on an excellent beach in the National Marine Park in the south east of the island, 45 minutes from Hewanorra airport.
Jalousie plantation boasts one of the most breathtaking locations in the Caribbean. The resort was once a famous 18th century sugar mill and is set above a beautiful bay between the spectacular Piton Mountains in a UNSECO World heritage site. It has 100 acres of stunning natural surroundings, spa, PADI dive centre and many other activities,
What you need to know…
Jalousie's spectacular location will take your breath away every single day.
The resort's new luxury villas are absolutely stunning and the vintage accommodation offers amazing value for money.
The family friendly resort is now an ultra-luxurious retreat.
The protected marine park offers some of the best snorkeling in St Lucia.
We had lunch served at the bay-side restaurant which was completely redesigned in 2010 and now offers relaxed A La Carte dining right on the water's edge. I had a sirloin steak and fries, which was lovely. After dessert I went off to have my spa treatment where I had a back massage. The spa is stunning; you are set in Tree House Treatment Rooms and you can hear the natural stream running below you. The spa is set in its natural surroundings and does make it unique, I loved the spa experience.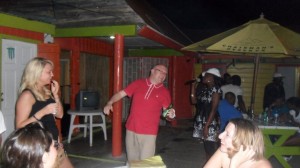 We departed Jalousie then headed up towards Ladera by road.
Click here to visit our Jalousie Plantation hotel page.
Ladera Site Inspection and Evening Meal with Cocktails
Set high in the hills 45 minutes from Hewanorra and 5 minutes from Soufriere,
Ladera has breathtaking views across the tropical rainforests, to the Pitons and the ocean; this is basically where you come to get away from all the stresses and cares of the world. The resort has open walled rooms that creates a very special atmosphere, a little quirky but hopelessly romantic. The resort has a Green Globe certification and will add to the feeling of being in harmony with your beautiful surroundings.
What you need to know…
Ladera is the most romantic rainforest in the Caribbean, perfect for a honeymoon.
The open walled rooms allow you to enjoy the most amazing, uninterrupted views from the privacy of your own plunge pool.
The legendary Sunday brunch buffet at Dasheene is accompanied by local musicians… make sure you arrive early so you get a good table.
On our arrival we were met by Holly and her husband, Tom, and we retired to the bar to sample a few cocktails. After the site inspection we ate at Dasheene where we had pumpkin and sweet potato soup served with green papaya salsa to start. I choose the Laborie Island vegetable curry which had pumpkin, christophene, green papaya and green mango sautéed and served in a roti shell with coconut curry sauce. Then for desert we managed to squeeze in a rainforest basil cocoa mousse. I was stuffed and the food was amazing.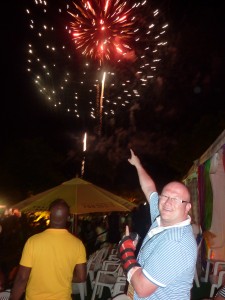 For the evening entertainment we had a limbo dancer. This was great fun as he had a few of us up to give it a go. On my turn he lit the pole and it was on fire and I had to limbo below it. I did it with some help from the limbo dancer. The pole got lower and lower and the dancer just kept going until it was not too far from the floor; I thought no way will he get under that… and he did. Great show and we had a right good laugh.
The evening was coming to an end and we had to head off to Discovery at Marigot Bay to check in for the next three nights. It had been a long day as we were up early and it was getting late, the road journey was long and it was very quiet on the bus.
We checked in at Discovery at Marigot Bay then went to bed as I needed to catch up on some sleep.
Sunday 8th May 2011
We had some free time until 12:00pm so I thought 'great, I get a lie in', but unfortunately I awoke really early again, I got up as the sun was shinning and went down to the pool to relax and have a swim.
At 12:00pm a boat came to pick us up from Ti Kaye where we headed off for a site inspection and lunch.
Ti Kaye Site Inspection & Lunch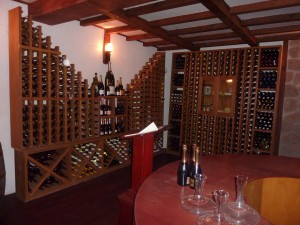 Located on the west coast, an 80 minute transfer from Hewanorra and 40 minutes from Soufriere.
Ti Kaye is the perfect barefoot getaway, set on a hillside overlooking the beautiful Anse Cochon Bay, Ti Kaye exudes a simple rustic charm.
What you need to know…
Ti Kaye is wonderfully homely; this is a Caribbean home from home.
Kai Manje serves delicious local cuisine and they recommend pre booking a meal plan as these offer excellent value for money.
Sumi & Lillis, the Balinese 'spa ladies' will thoroughly spoil you with a range of fabulous spa treatments. Using specially blended locally produced products.
It also has a fantastic Wine Cellar with a great selection to choose from.
For lunch I had the catch of the day, Tuna. It was very nice and accompanied by a salad. We had a lovely view from our table overlooking the ocean.
Then on to the boat transfer to Pigeon Island for the St Lucia Jazz Festival to spend the rest of the day.
On arrival we looked like VIPs coming of this very nice boat. We then checked in and headed for the arena. On the way in there were lots of stalls for food & drink and souvenirs. I found a nice Heineken Tent so I got a few cold Heinekens for the group so we could sit back on the grass, relax and enjoy the festival. Throughout the day there were a lot of different Jazz bands on which where very good. The locals made us feel welcome. Toward the end of the night John Legend came on and the place erupted. He was very good. We went down to the front of the stage and danced there for over an hour, the atmosphere was electric and everybody had a fantastic evening.
Monday 9th May 2011
Discovery at Marigot Bay – Hosted Breakfast & Site Inspection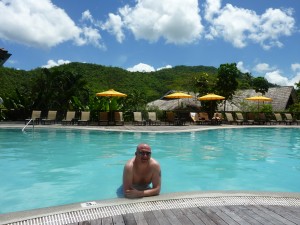 Set beside Marigot Bay, 5 miles south of Castries on the west coast, 90 minutes from Hewanorra airport. Marigot Bay has been described as 'the most beautiful bay in the Caribbean by James A Michener. The resort is unique and contemporary, with a world class spa, fine dining, harbour bars, complimentary water sports, great shops and much much more. The idyllic setting has been photographed so many times that you will be forgiven for experiencing déjà vu. The resort has excellent facilities and is perfect for families. Also a firm favourite for honeymooners and couples.
What you need to know…
Marigot Bay can't offer you miles of beach front accommodation, but it more than makes up for it with an idyllic bay side setting and some of the most luxurious suites in St Lucia.
Private dinning can be arranged in the romantic tree house, plus the pink snail bar with its kitsch but cool design.
For breakfast I had a fantastic omelet made up of green & red peppers, onions, ham, bacon and cheese with a dash of hot pepper sauce… mmmm lovely.
Cotton Bay Site Inspection, Lunch & Spa Treatments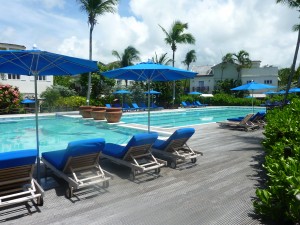 Located on the northwest of the island on the Atlantic coast, 90 minutes from Hewanorra airport.
Cotton Bay Village is one of the best family vacation experiences in the Caribbean; it has everything you need to make the most of your Caribbean vacation. Perfect for families and friends looking to escape, it offers a full service beachfront resort with apartments, town houses and beachfront villas.
Here you will find a secluded beach, kids club, an award winning spa and gym, restaurants and deli. Located next to St Lucia Golf Club and just minutes away from Rodney Bay.
For lunch I just had a salad and a glass of red wine. Then a bit of free time on the beach before a relaxing back massage.
Cap Maison Site Inspection & Evening Meal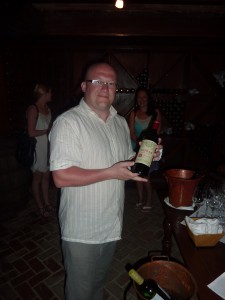 Located on Cap Estate on the north of the island near Pigeon Island, 90 minutes from Hewanorra airport.
Sitting atop a stunning ocean bluff with fabulous ocean views across the sparkling waters towards Pigeon Island, Cap Maison is captivated by the sheer romance and beauty of this wonderful boutique hotel. It is luxury, exclusivity, has superb facilities and impeccable, discreet service.
What you need to know…
Luxurious, family owned, boutique hotel built in a stylish Spanish Hacienda design with meticulous attention to detail.
Villa suites all feature fully-fitted kitchens; choose from a range of gourmet 'fridge packages' or pre order from an extensive grocery list and have your fridge stocked ready for your arrival.
The wooden deck built over the water is a perfect spot for a sunset cocktail – your drinks will travel down by zip wire from the bar.
The Gourmet Cliff at Cap al fresco restaurant serves fabulous cuisine.
Before our evening meal we were treated to wine tasting. We sampled a few bottles of white wine that were very nice. The wine cellar is fantastic with a great selection from a variety of countries.
After our meal we retired to the bar for a few drinks then headed of to Rodney Bay to meet up with Chelcie's family who were out on holiday. We had a good evening and danced till late.
Tuesday 10th May 2011
We checked out of Discovery and transferred to Windjammer Landing for our last night.
Windjammer Landing Site Inspection & Lunch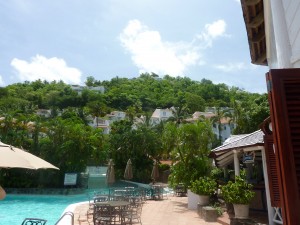 Located between Castries and Rodney Bay, 90 minutes from Hewanorra.
Windjammer is set upon a hillside overlooking the bay, giving you a real sense of peace and privacy. The resort has a lovely relaxed atmosphere and is very child friendly. Great for honeymooners and couples to enjoy the romance of your own villa and private pool.
What you need to know…
All Villas are spacious and well equipped, but for larger families wanting something more luxurious, we recommend the estate villas; they have stunning views too.
Complimentary water-skiing is included for guests on an all inclusive and there is a PADI dive centre on site. Best of both worlds as it offers a villa holiday or a fully inclusive resort.
Lunch was very nice as we had a selection of dishes to choose from. We sat overlooking the bay in a very casual setting.
Click here to visit our Windjammer hotel page.
Body Holiday Le Sport Site Inspection & Evening Meal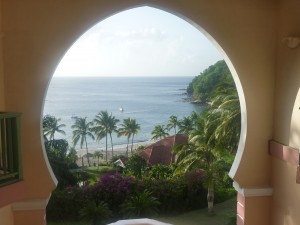 Located at the north of the Island, 90 minutes from Hewanorra.
There is relaxing in the Caribbean… and then there is staying at the Body Holiday Le Sport. A beautiful beach resort that will energise, soothe and revialise your body and soul. The Oasis Spa is one of the finest spas in the Caribbean and offers an extensive range of fabulous treatments. There is also a superb range of complimentary watersports and outdoor activities to choose from.
What you need to know…
Single travellers are especially made welcome; joining a communal table for dinner is a great way to break the ice.
The award winning Oasis Spa is the largest centre of health and wellbeing in the Caribbean.
Clients are well looked after at Le Sport. Plus it is all inclusive.
Can you believe it… another spa treatment! This time the girls told me to go for a body scrub. Well, what an experience… I'm in touch with my feminine side! The body scrub was fantastic, thank you Carmen, you did a great job!
After we had finished at the spa it was time to get ready for our evening meal at the TAO restaurant, one of the finest restaurants in the world. A unique culinary fusion of east and west all set in a stunning location. We shared a mixed platter between the six of us which was very nice, then I had the beef sirloin for my main which was delicious, followed by a chocolate fondant cake. Yum!
Click here to visit our Body Holiday Le Sport hotel page.
Wednesday 11th May 2001
I again awoke early as it was my last day, I had to pack and be ready as we had a busy day ahead.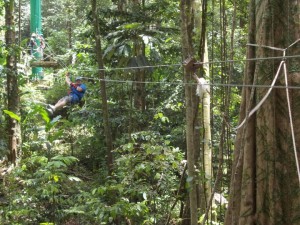 Zip Lining was on the agenda this morning and we had such a great laugh; a couple of the girls were nervous, but after a trial run and their next go they were ready to go. If you do not like heights then this is not for you as we where high above in the rainforest. We did about 6 zip wires and then came to a really high drop which we had to drop straight down; that was great fun, plus there were a few screams as it was an 80ft drop!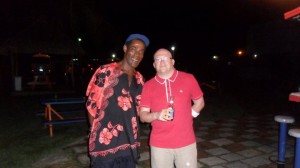 We were running late and our driver, Didier, informed that we had gone an hour over our time and needed to head to Hotel Chocolat. I would just like to thanks our driver Didier for being a great bus driver and a good laugh when he had to ferry us around. Cheers Didier!
Hotel Chocolat – Site Inspection & Lunch
Set high in the hills, 45 minutes from Hewannora and 5 minutes from Soufriere.
Inspired by the rare cocoa growing around the hotel, Hotel Chocolat have devised a menu of Cacao Cuisine. Never heavy, the role of the cocoa is sometimes as a spice, sometimes an infusion in a natural, healthy and exciting harmony.
With a draw dropping setting between the Pitons, the restaurant and bar is a refreshing new addition to the delights of the eco paradise around Soufriere.
What you need to know…
6 Cocoa Cottages.
Barefoot luxury, weekend away.
Chocolate tasting experiences available, plus the Tree to Bar Chocolate Experience.
I had an absolutely amazing time in St Lucia and I would just like to say a massive thank you to Chelcie and the St Lucia Tourist Board for making it all happen and for a wonderful experience.
Keep a look out for more of these beautiful hotels coming soon to Caribbean Warehouse.
You can also head on over to our new Blue Bay Travel YouTube Channel to check out some of Leighton's videos.
And finally, keep an eye out on our Facebook page and our Flickr feed for many more gorgeous photos!