Mauritius Fam Trip June 2011
Day 1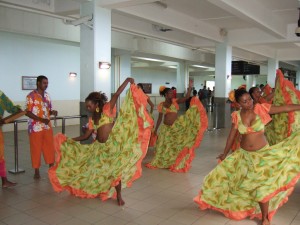 I met the Beachcomber Representatives and the rest of the group at 1800 at Heathrow and checked in with Air Mauritius for our 2100 departure to Mauritius.
Some 12 hours later we arrived at our destination, collected our bags and were given a very special welcome to the island by a band and dancers, all in traditional dress, who gave us all flower garlands.
We were then transferred to our 1st hotel, the Shandrani Resort and Spa, which is located on the South East of the island, and takes approximately 10 minutes to reach from the airport, where we were checked into our Superior rooms for a quick change before meeting for a superb hosted lunch in the Sirius restaurant. We were then able to enjoy some relaxation with a 30 minutemassage in the sumptuous Spa.
In the evening we enjoyed a special a la carté dinner at Le Boucanier Restaurant, followed by drinks in the bar.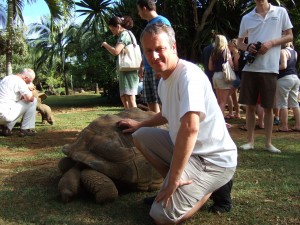 Day 2
We enjoyed a magnificent buffet breakfast in Le Grand Port restaurant, which was followed by a guided tour of the Shandrani Resort and Spa, and all its facilities including the Gym, 6 hole Pitch and Put, Spa and Tennis courts.
Our 1st surprise of the trip was then revealed – we were to participate in a Hells Kitchen competition! We were divided into 3 teams and had to cook our own lunch, of Octopus salad, Chicken Curry and Banana Flambé. We were assisted by hotel chefs and our results were judged by the Shandrani Head Chef and Hotel Manager, with extreme pleasure I can announce that my team won!
After our home made lunch, we were transferred to Vanille Crocodile park, about 1 hour south of the Shandrani, this was a fantastic ½ day trip where we were able to see an assortment of animals including: Giant Tortoises, Monkeys and Alligators.
Back at the Shandrani we once again enjoyed the delights of Le Boucanier restaurant, feasting on the a la carté fish menu, which contained more courses than you can shake a stick at, once again the evening finished with a few drinks at the bar.
Day 3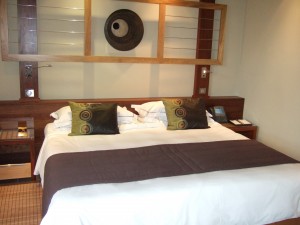 After a huge Breakfast in Le Grand Port restaurant, we met in reception to find out our "task" of the day – WOW a Beachcomber Rally, finding our own way from the Shandrani to Trou Aux Biches Resort and Spa. On paper this looked easy as it looked to be a straight road, however we had to visit different villages collecting various pieces of information along the journey, eventually making our way to the centre of the island for lunch, needless to say everyone got lost! Once everyone had been rescued, fed and watered, we continued the rally on an easy trip through Port Louis towards the Northwest of the Island and arrived safely at the $60m refurbished Trou Aux Biches Resort and Spa, where we were delighted to be checked into Junior Suites, and partake in a guided tour of this magnificent property.
The evening comprised of a Hawaiian themed hosted dinner at Le Victoria Hotel, with a tour of the property included.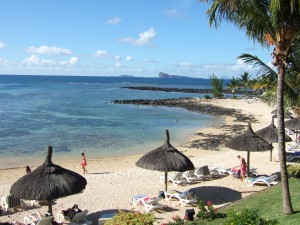 Day 4
After breakfast, we met in reception for a transfer to Le Mauricia Hotel, for a look around this beautiful property, where we were also informed about the task of the day – A treasure hunt. We were to find our way from Le Mauricia to her sister hotel Le Canonnier, completing tasks along the way. In teams we had to buy a box of matches with a Dodo on them, a local newspaper, take a photograph of a local and purchase a cigarette from them, take a photograph of a street hawker and of an Elephant outside the main temple, visit a bazaar to buy a present and then find our way to Le Canonnier using local transport. On our arrival at Le Canonnier we were met by the hotel management and treated to a fabulous a la carté lunch at Le navigator Restaurant, followed by a guided tour of the property. Both Le Mauricia and Le Canonnier are located in the Grand Baie area and are within walking distance of Grand Baie, they operate a stay at 1 and dine at the other, which is a fabulous all inclusive option.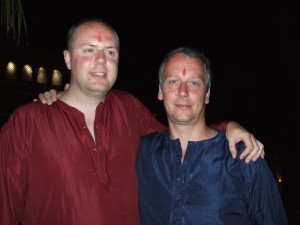 On arrival back at the Trou Aux Biches, we were told that we would find our evening attire in our rooms – nothing more was said about it as were taken for late afternoon aperitifs on the beach, presented around a log fire. Back at our rooms we finally discovered that we were to be dressed in traditional Indian outfits for the evening, long trousers and tunics for the men and Saris for the ladies, our hosted meal of course this evening was Indian.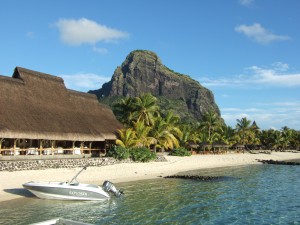 Day 5
Once we had enjoyed a sumptuous breakfast, we were transferred from Trou Aux Biches to our next hotel The Paradis Hotel and Golf club, situated on the South West coast. En route we were taken to the Casela national Park, for the amazing chance to have a go on a Zip wire and a Quad Bike rally, finishing with lunch overlooking this amazing National Park. An hour after leaving the park we arrived at The Paradis where we were checked into Junior Suites, and given time to change before meeting in reception wearing beach attire, were we going to get a chance to sunbathe???? Even better a 2 hour catamaran cruise along the coast which was absolutely stunning. On returning to Paradis we were transferred to Dinarobin Hotel Golf and Spa Resort for a hosted a la carté dinner, where we were intrigued to be informed that something very special had been planned for the following day, but we would have to wait until after breakfast to discover what…
Day 6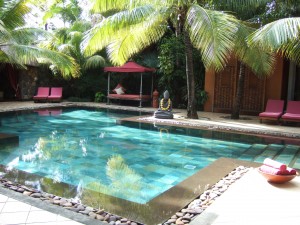 After a sumptuous but hurried breakfast – we couldn't wait to find out what was planned – we were met in reception by our reps, with the biggest grins on their faces, who asked that we wear the golf shirts kindly provided for us, we all guessed that the surprise was to be tuition from the professional golf academy – Yes, but prior to that we were given the astonishing news that we were going to be given a 15min helicopter tour of the island departing from the Paradis, taking in such sights as Le Morne Peninsula and its surrounding area, this has got to be the highlight of the trip provided by Air Mauritius. Helicopter transfers can be booked one way or return from the Airport, fantastic start or end to a honeymoon! After the helicopter flight we finally got our lesson on Pitch and Put from the professionals, followed by a BBQ lunch on the beach of Steak, Lobster and Pork.
Next we were given a guided tour of both the Paradis and Dinarobin, who operate a stay at 1 eat at the other option. Our evening Gala Dinner was very kindly hosted by Paradis.
Sadly my time in Mauritius had come to an end, it was time go home. During my trip I was lucky enough to see an assortment of luxury hotels each with their own unique charm, I have participated in a vast range of activities and taken in a lot of Mauritian culture. I truly had a great time and can't wait to go back to the place that left such a memorable impression.
Keep an eye out on our Facebook page and Flickr stream for loads more photos!