Leighton's Maldives Holiday July 2011
9th July
Packed and all ready to go to the Maldives to celebrate our tenth wedding anniversary. We checked in at Manchester Airport and then headed off to the escape lounge to get away from the hustle and bustle of the airport.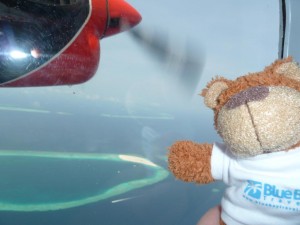 Checked in at the Escape Lounge and I'm very impressed with the service from the front desk as they explained what was included in the package. The food and drink choice was also very good and the lounge was very peaceful and comfortable. We could now sit back, relax and have a glass of wine with a few snacks before boarding.
I would really recommend a lounge before you travel, it is the right way to start your holiday. My wife is very calm where as she is normally nervous about flying but for once Lisa is totally relaxed and ready for a well deserved holiday, especially putting up with me for all these years. We are flying on the new airbus 380 with Emirates airline! I can't wait; hope it lives up to expectations.
Very good flight the service was fantastic and the seats were nice and comfortable with a decent amount of legroom. The choice of entertainment was by far the best in flight entertainment we have experienced. The flight from Manchester goes via Dubai and it broke up the flight as you had a couple of hours in Dubai airport which is an experience. Due to the flight going via Dubai it is a great opportunity for a twin centre holiday with the Maldives. Your bags get checked all the way through so there is no need to worry about your luggage.
We arrived at Male and collected our bags. The weather was nice and hot. We were met by our tour operator Kuoni who escorted us to the Maldivan Air Taxi.
We checked our bags in then jumped onto the mini bus which took us around to the back end of the island to the seaplane terminal for our sea plane transfer. We did not have to wait long for the transfer. We were off, the seaplane transfer is a great opportunity. Some islands only offer speedboat or seaplane. If you come across an island which does both I recommend you take the seaplane.
10th July
Set on a white sand island within the turquoise waters of a shallow lagoon, Diamonds Thudufushi Beach & Water Villas offers luxurious accommodation and outstanding levels of service. Located on the south-western rim of Ari Atoll, just a 35-minute seaplane flight south of Male' International Airport, the resort is secluded and tranquil, providing optimum privacy in unspoilt surroundings. There are also daily snorkelling tours with the instructor at 11:00am & 4:00pm plus other activities available on the island.
From the moment you arrive you are met by guest services who are very welcoming with a drink and a cold towel. Check in was very casual and relaxed plus also very efficient and friendly.
We had a beach villa which is spacious and has an outside shower and big wardrobes for clothes and lots of shoes. As per usual my wife filled both wardrobes and I get a few hangers (typical). The funny thing is she hardly wore any shoes on this trip as they say in the Maldives 'no shoes no news'. We were also located a hop, skip and a jump away from the ocean.
For dining the beach villa guests are allocated the main buffet restaurant on the island.  The water villa guests get the new A La Carte over water  restaurant.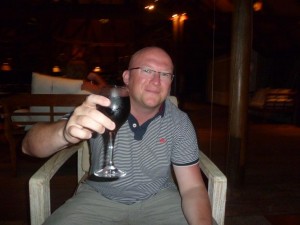 Beach villa guests wanting to eat at the over water restaurant will need to make a reservation plus there is an additional $50pp charge to dine there.
Food was very good with a good choice on a daily basis at the main buffet restaurant.
Evening atmosphere very relaxed with a little music to lighten the mood. Service was excellent, very friendly and charming.
Water Villa guests get A La Carte dining and room service for breakfast which is a unique selling point.
12th July
Located in the South Male Atoll approx 25 minutes by Maldivian Air Taxi Seaplane.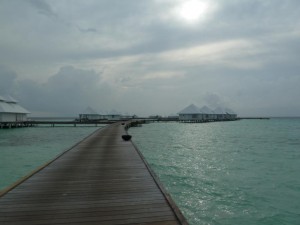 Early morning call as Lisa has got a Spa treatment booked in plus we leave Thudufushi for their sister island Athuruga. Our transfer is by Dhoni which took an hour.
Arrived at Athuruga, the island is a little smaller but with same amount of rooms. I checked in and we had been upgraded to a water villa suite with outside terrace and jacuzzi.
Water Villa guests get complimentary Wi-Fi and a variety of other complimentary amenities.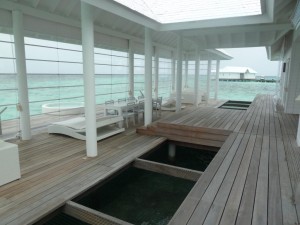 Lisa was very pleased with our room and as we were staying in a water villa we could use the A La Carte option which was excellent and the food was very well presented.
Snorkelling at Athuruga was very good and easily accessible. Plus I played a few late games of volleyball with the staff which was fun.
Throughout the day we mainly stayed around our water villa as it was very peacefull and private.
In the evening we would dine at the a la carte around 20:30pm then go to the main bar to listen to some music and relax.
14th July
Coco Palm Bodu Hithi is situated on the private island of Bodu Hithi in the North Male' Atoll, a 40 minute (29 km) luxury speedboat ride from Male' International Airport.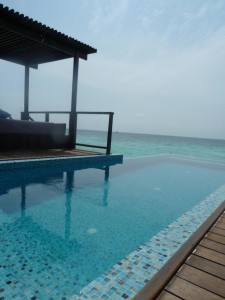 The island is rich in vegetation with naturally designed sandy walkways and coconut trees, edged with white sandy beaches, turquoise seas and isolated sand banks. The ambience of the island is enchanting for even the most discerning of guests.
We leave Athuruga early to catch our seaplane back to Male. At Male we're met by our butler Jasin from Coco Palm Bodhu Hithi who took us to our speedboat transfer which took 45 mins.
As we arrived to the island I was blown away, it looked so much better than the brochure. On arrival onto the island you are met with a cold towel and drink.
On arrival to Coco Club we were met with a nice glass of champagne and a cold towel which smelt of lemon grass, how refreshing. We stayed in one of the Club Villas at Coco Palm Bodu Hithi where we enjoyed an extensive range of Club Coco Palm privileges. Upon arrival, you will be whisked off to the secluded Club Villas in dedicated club cars. The private check-in service allows you to check in hassle-free in the comfort of your own villa, while Champagne is served.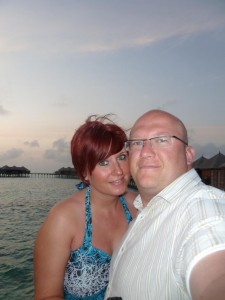 The ultra luxurious Club Villas are located in an exclusive cluster away from the rest of the resort, connected by a walkway perched above the lagoon. The contemporary thatched roof villas offer complete seclusion and feature a chic bedroom, spacious lounge, indulgent bathroom with indoor and outdoor showers, a private outdoor terrace with infinity pool and pavilion for sunbathing and dining. An extensive pillow menu and choice of daily aromatic pillow mist sprays allows you to further personalise your villa. The enthusiastic and dedicated butlers will be on-hand to attend to your every need.
We were then escorted to our room, before we entered our butler washed and massaged our feet.
On opening the door the room looked amazing. We were taken on a little tour around this magnificent accommodation. The best was yet to come, a very big private sun deck along with a plunge pool. What more could you ask for… we were speechless, plus we had a bottle of Moet on ice. Our butler Jasin opened the bottle of Moet whilst he filled in our paperwork.
We had a fantastic lunch and evening meal at the Stars Restaurant, it is the private venue for those who are staying in the Club Coco Palm. Stars is a restaurant, lounge and a bar, offering a blend of cuisines from Asia fused in a contemporary style.
The food was fantastic and the presentation and service were incredible, the waiter could not do enough for us.
After a tour of the island we went back to our room, well it ended up being me on my own for a bit as my wife had booked a spa treatment.
So I just chilled out relaxing in my private plunge pool reading my book and finishing of the bottle of Moet.
Late afternoon we just relaxed out on the decking. It was getting on and then all of a sudden we get a phone call from our butler saying "I'm just bringing you some drinks." We had mojitos which were very refreshing plus a few little snacks.
As we were in no rush we took our time to get ready for our evening meal. Once again the food was out of this world and the chef came to speak to us after we had finished for some feedback. The food was amazing and my taste buds where tingling, I was very impressed.
We retired to the main bar on the main island for one more drink as we had to get up very early for our transfer back to Male. We only had one night at Bodu Hithi, I wished it was more.
15th July
Located on the island of Dhuni Kolhu in the unspoilt Baa Atoll, a tropical paradise is the only way to describe Coco Palm Dhuni Kolhu, it is the ultimate hideaway in the Maldives.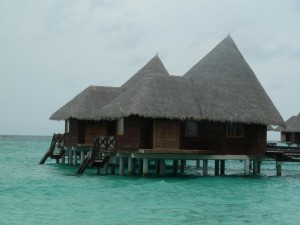 Dhuni Kolhu is located just 124 km from Male International Airport or a scenic 30 minute flight by sea plane. Set on this lush and tropical island, the resort is fringed by white sandy beaches surrounded by a crystal clear emerald lagoon.
What an early start! The transfers were spot on, we had a speedboat back to Male then a seaplane onto the sister island of Coco Palm Dhuni Kholu.
We were met at the Jetty and escorted to the reception where we checked in. A cold towel and a welcome drink awaited us.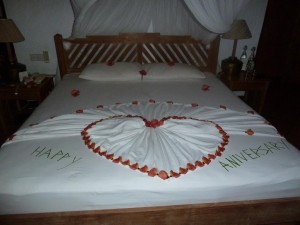 Off to our Beach Villa which was 60 steps from the beach. Our Beach Villa had an open air bathroom and Maldivian style architecture. We had a little path down to the beach area, just at the opening two loungers awaited us so we could sit back and relax.
We ate at the Cowrie Restaurant which is a huge atmospheric dining room with a Maldivian tent-like roof and features live cooking stations. International cuisine is served buffet style together with a la carte menus.
The food and service was very good plus there was a good selection to choose from. In the evening we retired to the Conch Bar, located in a traditional Maldivian-style pavilion with sandy floors it offers a selection of snacks and drinks, the mood is stylish and yet casual.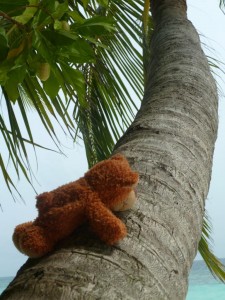 I had a guided tour of the island and I was very impressed on how the Island operates. I was taken into the hub of the island to see how things worked, There was a workshop, laundry room, generator room and a few other essential operating areas. There is a lot going on behind the scenes to keep an Island running and I must say it was a great knowledgeable experience to see how hard they work to keep everything up to a great standard.
On our last evening we went to the Coco Spa and had a Balinese couples massage, the spa is set in a tranquil space created to indulge personal desires for beauty, well-being and relaxation. It is designed to help you discover the benefits of treatments from Indonesia, Thailand and India. A collection of Ayurvedic-inspired products enhances this truly unique spa experience. In-villa spa treatments are available if preferred. My massage was fantastic, I was so relaxed.
Sadly our holiday had come to an end. Both me and my wife had an amazing time and it was truly a wedding anniversary that we'll never forget! The Maldives is a beautiful place with an ample range of accommodations to suit everyone, I'm hoping to go back as soon as possible.
See more of Leighton's photos on our Facebook page.