Dave Explores Thailand and Dubai – Part 1
We meet our Kuoni tour leader Kat and her assistant Nicola together with our Emirates Rep David at Newcastle Airport at 11.00am. Our flight left on time and the Business Class experience was superb, with state of the art in-flight entertainment providing over 1600 different channels to choose from, alongside amazing food and full flat bed seats for restful comfort on the flight. Upon arrival in Dubai we were met by our ground agent and took the 10 Minute transfer to the Grand Hyatt.
Grand Hyatt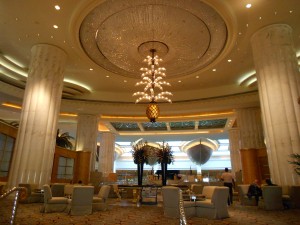 The rooms at the Hyatt are incredibly spacious and I stayed in a Grand Room with impressive views overlooking the creek and the city, and after breakfast we were shown around Grand Hyatt. The hotel has 674 rooms spread over 4 luxurious room categories, and the hotel is set in 37 acres of landscaped gardens. There is a wide selection of restaurants and bars that serve outstanding food for all palates, including Italian, Singaporean, Lebanese, Grilled specialties and fresh seafood. Grand Hyatt also offers a kids club, a gym, a spa, and even a shuttle bus to the Jumeirah Beach and the Shopping Malls. The hotel is perfectly located for the city andcreek area, but is also within very easy reach of Dubai's Beaches. Overall I was very impressed with Grand Hyatt.
Atlantis the Palm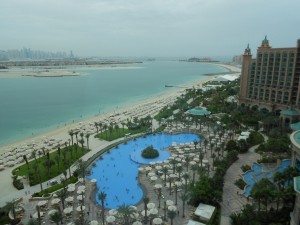 Just before lunch we transferred to Atlantis the Palm, where we were given a site inspection of the hotel. Fringing the crescent of Dubai's Palm, this extraordinary hotel has 1500 rooms and features a remarkable marine aquarium which comfortably houses 650,000 marine creatures. To name just some of the facilities at Atlantis the Palm, there are beach activities, a PADI dive centre, tennis courts, a spa, a nightclub, a kids and teens club, and a fitness centre. There are 17 restaurants within the hotel, and we took our lunch at Nobu which features fantastic food from around the world. We spent the afternoon at the Aqua Venture Water Park, the largest water park in Dubai, which is amazing fun with its lazy rivers and water slides. The best part is that entrance is free to all guests staying at the Palm!
Ocean View Hotel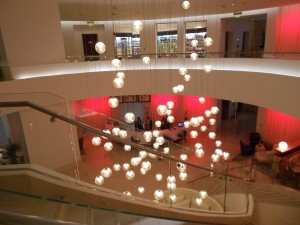 Later that evening we were picked up from Atlantis and taken to a new hotel in Dubai called the Ocean View Hotel, which is very modern in design and set in a great location around the new marina, creating amazing opportunities for memorable nights out. We had our evening meal at Ocean View in the main buffet restaurant, but there are also several specialty restaurants across the resort. Again, I was very impressed with this hotel. That evening we were transferred back to Dubai airport, which is unlike any other airport in that it is feels like a massive shopping mall, ideal for duty free shopping. At 23.00pm we caught a connecting flight to Bangkok, and I was eager venture into Thailand.
Arriving in Thailand
We landed in Thailand at 08.20am and were swiftly transferred to the Royal Orchid Sheraton Hotel and Towers. The hotel is situated on the Chao Phraya River bank, and has its own shuttle boat giving easy access to the city centre and the Grand Palace. Once we were checked in we were given a beautiful river view room, and enjoyed the morning at leisure before we took the river shuttle to the Grand Palace, which only takes about 20 minutes. Bangkok is renowned for its monumental temples, so the grand palace is a must see, as its size and intricacy are simply stunning.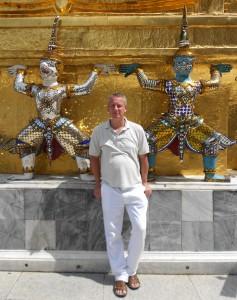 Royal Orchid Sheraton Hotel and Towers
After our Grand Palace visit we went back to the Royal Orchid to be shown around the hotel. It offers 734 rooms, 4 Restaurants, 2 Bars, and 2 Swimming pools (one of which overlooks the river!), and one of its finest features is a world class spa. Around the hotel there are plenty of local Bars and Restaurants to enjoy, offering a fabulous variety of food and drink. Our hosted evening meal was a collection of traditional Thai Dishes with a modern twist to them, and it was simply amazing. In the evening we took a local Taxi over to the Banyan Tree Bangkok which is 15 minutes away on the other side of the river, and enjoyed the evening in the Moon Bar which is situated on the top of the roof and affords stunning views over Bangkok. Drinks in the Moon Bar are a must-do experience!
Next week Dave will take us through the rest of his journey through Thailand