Our Ultimate Guide to the Best Beaches in Sri Lanka
When it comes to beachfront beauty, Sri Lanka has a lot to offer – presenting an abundance of secret shores and numerous locations to catch some surf. Find your zen with our ultimate guide to the best beaches in Sri Lanka.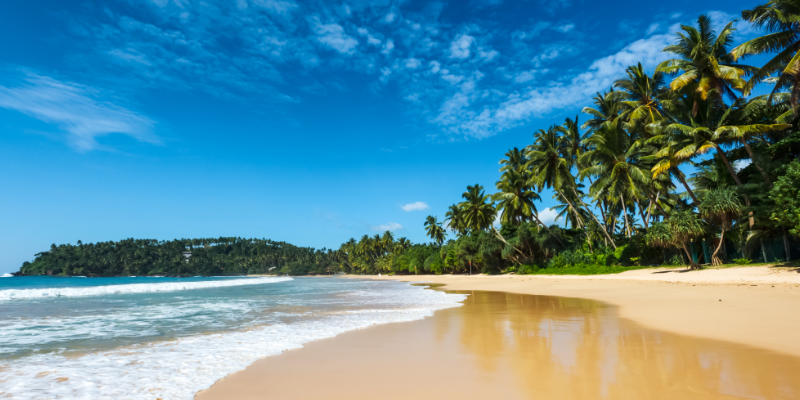 Everyone loves a good beach, right – but what makes a beach a good beach?!
Perhaps excellent swimming conditions, clear waters, golden sands, less tourism, more tourism, unique formations, and local facilities. We all have our idea of our perfect beach. But thanks to the fringed coastlines of Sri Lanka, if beach days are on the top of your itinerary, you are in for a real treat.
Keep reading as we reveal our favourite sun-kissed sands of Sri Lanka and which of these settings could be perfect for you and your loved ones.
---
Sri Lanka Best Beaches
Bentota
Kalpitiya
Mirissa
Hiriketiya
Unawatuna
Dalawella
---
Best Beaches for Relaxing
Bentota
Located just on the outskirts of the city of Colombo, Bentota Beach is great for relaxing as the long and wide stretch of sand makes it perfect to find a secluded spot to unwind, work on your tan and enjoy the coastal breeze and golden sand between your toes. Furthermore, the sweeping beach makes it ideal for beach football or volleyball.
Moreover, Bentota beach, situated between Colombo and Galle, makes it a great stop on your drive down the coast.
Conversely, it should also be noted that although the waters are clear, deep swimming conditions at Bentota can be challenging as the vast open bay has no protection from the waves. So approach with caution, especially at the peak of high and low tide.
With that being said, we still think the gorgeous Bentota beach is worth mentioning as the location is fantastic for walks, playing on the sand, savouring the sunsets, and exploring the surrounding area and tropical vegetation.
Kalpitiya
Next up, Kalpitiya Beach, located in the northwest, is bestowed with an abundance of natural beauty. Fantastic for beachside relaxation, this area is untouched by tourism. In addition, the gorgeous area presents a sanctuary of marine life. Here you can arrange a boat trip for a spot of whale and dolphin watching or simply sunbath on the spit of golden sand.
Surrounded by a fishing community, the Kalpitiya peninsula consists of 14 islands and is becoming more developed. Therefore, we highly recommend the trip up from Colombo for an unparalleled sense of beauty.
While in Kalpitiya, there is also the option to explore the Dutch Fort of Kalpitiya or savour some authentic cuisine from the local restaurants.
---
Best Beaches for Activities & Exploring
Mirissa
One of the most popular beach locations on the south coast of Sri Lanka, Mirissa is a popular hub of things to do, teeming with marine life, golden sands, and excellent conditions for surfing – as well as a not-so-secret beach that we'll get into in a moment.
The main beach of Mirissa is ideal if you want to make the most of the surrounding area, complete with beachside restaurants and trendy bars. Moreover, Parrot Rock sits just off the main beach and provides beautiful views of the palm-fringed coast. However, make sure you check when you cross – as it can be tricky to get to Parrot Rock at high tide, especially in monsoon season.
Whereas if you want to keep dry during your time at Mirissa, Coconut Tree Hill, just a short stroll from the main beach, has a gorgeous headland dotted with palms. The area is also great for whale watching, savouring sunsets with your loved ones, or snapping a photo for the gram.
Alongside the port and lighthouse, the Secret Beach completes our list of places to explore at Mirissa. However, unlike the name suggests, the beach is not as secret as it once was. The name derives from the appeal of this quaint section of shore. Very remote and tucked away from the hustle and bustle, rockpools and heavy foliage separate this sought-after spot from the main beach. A perfect location for secluded sunbathing or a dip in the clear blue water.
Hiriketiya
The picturesque horseshoe bay cove of Hiriketiya (nicknamed Hiri), located on the southern coast of Sri Lanka, is definitely worth the visit. As part of the famous surfers' trail, the only thing better than the alluring palm-fringed backdrop is the beach breaks – providing fantastic conditions for catching some big surf.
A popular surf spot, September to March is a great time to plan a surfing trip and savour the Sri Lankan sunshine, whereas the monsoon season in April to August is better suited for more experienced surfers. During these months, the locals chase storm surges in an attempt to catch faster and big wave breaks.
The charm of the small coastal town Dikwella also makes the trip to Hiri worth it. Also known as surfers' mecca, here you can sample some delicious food or make use of the necessary amenities before heading on your way to discover more of the beautiful southwest.
---
Best Beaches for Families
Unawatuna
A fantastic choice for families, Unawatuna provides an abundance of eateries and chic bars with seating and loungers – so you can unwind with a cocktail in hand while your little ones play on the beach.
Furthermore, the spacious bay and clear oceans are ideal for novice swimmers and, towards the far side of the shore, you can find a Buddhist temple surrounded by tropical foliage.
The developed coastal town provides plenty of temples and points of interest alongside a supermarket and art gallery. In addition, the area has connection routes to the historic city of Galle should you fancy a visit.
Dalawella
Dalawella beach, situated just a short drive from Unawatuna, is another great beach spot for families in Galle. Here you can watch big waves break on the reef, play or snorkel in the calm shallow water lagoon – or even swim with turtles if you're lucky!
The beach also has sunbed hire for a small fee and several bars and guesthouses should you desire a spot of lunch. Moreover, the palm tree swing is great for teenagers or those wanting an edgy Instagram holiday snap.
The picturesque beach is clean and alluring and doesn't get that crowded, making it a perfect place to relax on soft golden sands with your loved ones. Dalawella is often dubbed the best beach in Sri Lanka, and we can see why!
---
Ready to sea Sri Lanka?
Puns aside, you really should see what all the fuss is about in Sri Lanka! From beautiful beaches to cultural holiday hotspots. Our tour & stay option is also a great way to explore what the nation has to offer – as you explore famous rocks, an elephant sanctuary, a quaint fishing village and big city life. If this sounds like you, our Sri Lanka: Private Tour & Beach Twin Escape is a must.
To discover more amazing free things to do in Sri Lanka, click the button below. Or, request a quote from our expert personal travel advisors to start planning your Sri Lanka holiday.