About the hotel
A world-class spa resort hotel honoured time at time again with TripAdvisor's Certificate of Excellence, the Makadi Spa Hotel provides peaceful surroundings from which to enjoy its array of spa treatments and therapies. Ideal for couples wanting to enjoy time together, this top quality boutique hotel is unrivalled for its standard of accommodation, cuisine and service. All treatments are provided by CINQ MONDES, the French pioneer and specialist in professional spa treatments and cosmetics. The Makadi Spa is also connected to the Makadi Palace via the sea promenade. The natural beach with views over Makadi Bay is the perfect spot to relax, rejuvenate and kick back.
An oasis of peace, relaxation and tranquility.
Modern, luxury adults-only escape.
5 á la carte culinary experiences.
At a glance
Couples
Accommodation
Located just 25 km from the airport and 35 kms from the centre of Hurghada, the nearest major resort. Adjacent to the Makadi Palace and Grand Makadi hotels, the Makadi Spa is a new upmarket development at the heart of Makadi Bay that offers guests views of the Red Sea and the infinity pool, and direct access to the sea from its private beach.
Set across 3 floors in a half moon shaped building, all accessible by lift, the Makadi Spa's 280 spacious suites and junior suites are fully equipped with:
King size beds
Separate bath and shower
WC
Air-conditioning
Hairdryer
Safe
Satellite TV
Tea/coffee facilities
Mini-bar stocked with soft drinks
Junior Suites
Generously sized
Lounge area with sofa bed
Balcony or terrace
Garden view
Max: 3 adults
Junior Suites with Sea View
Generously sized
Lounge area with sofa bed
Balcony or terrace
Sea view
Max: 3 adults
One Bedroom Suite
Seperate bedroom
Living area
2 flat screen TVs
Large balcony
Garden view
Max: 2 adults
Pool Suite
Generously sized
Lounge area
Balcony or terrace
Private plunge pool
Sea view
Max: 2 adults
Restaurants
Dine on a plethora of cuisine at The Makadi Spa Hotel, with the following dining options available, alongside snacks provided during the day:
2 international buffet restaurants
5 á la carte restaurants offering International & Asian cuisine as well as tapas & seafood
Plus additional dining at the nearby Makadi Mall.
Bars
Local alcoholic and non-alcoholic drinks are served here.
2 international bars
Several poolside bars
Facilities
All-Inclusive
Buffet, breakfast, lunch and dinner
Snacks
Afternoon tea and coffee with cake
Unlimited soft drinks and local alcoholic beverages
Access to the hotel's private beach
Free late checkout room
No hidden extras: includes resort transfers and 20kg luggage allowance.
Additional Features
Free daily bus shuttle between hotel and Grand Mall in Hurghada
Laundry service
24 hour limousine service
English speaking staff
Doctor available 24 hours
Free WiFi in Reception/Lobby area
All-inclusive features may be subject to specific opening/serving times. Some bars, restaurants, menu items and speciality drinks may be payable locally.
Sports and Leisure
Live daytime and evening entertainment
3 large outdoor freshwater swimming pools including an infinity pool with views to the Red Sea, with sun loungers, parasols and beach towels
Spa treatments by CINQ MONDES
Aerobics
Water aerobics
Plus at the Makadi Mall:
Makadi Fitness Club
Tennis
Football
With 30 years of experience under its belt, Red Sea Hotels is the leading family-owned hotel group in Egypt. Distinctive designs, excellent locations, delicious dining and comfortable accommodations are the fingerprints of a Red Sea Hotels holiday.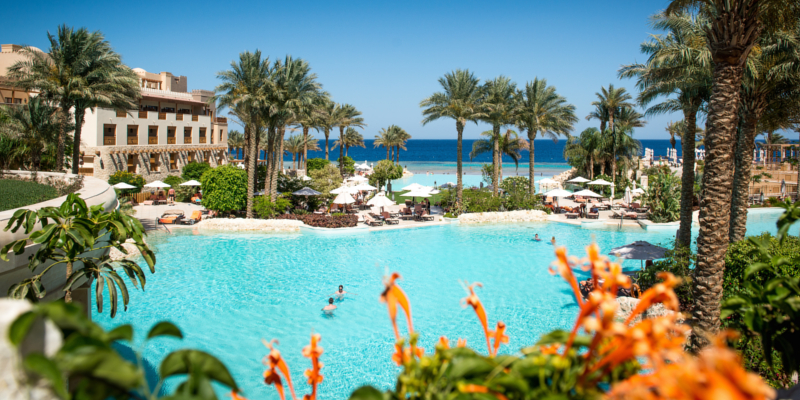 Relish in Makadi Bay's Glory: Adventure, Relaxation and Luxury
Located along the Western Shores of the Red Sea, Makadi Bay nestles gently between peaceful desert sands and towering mountains to frame one of Egypt's most popular destinations. Here, fabulous beachfronts, otherworldly diving, guaranteed sunshine and balmy waters form the ideal balance between adventure, relaxation and luxury.
Read now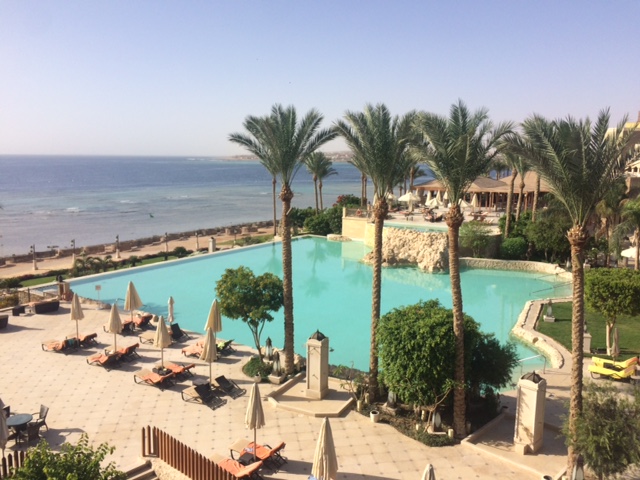 The Makadi Spa Hotel: A Blue Bay Holidaymaker's First-Hand Review
Lou & Mike Smith have been using Blue Bay Travel for the past 3 years, holidaying at Excellence Playa Mujeres 3 times and Finest Playa Mujeres once (so far). They even gave us the privilege of arranging their wedding at Dreams Riviera Cancun in January 2014. This time they fancied something completely different, so Lou & Mike headed eastwards to The Makadi Spa Hotel. This is Lou's first-hand review of the hotel, and everything it has to offer.
Read now