Heritage Awali Golf & Spa Resort
Savanne District

,

Mauritius
About the hotel
Heritage Awali Golf & Spa Resort is immersed in the multi-cultural landscape of a cosmopolitan island, wistfully reminiscing on Mauritius' African lifestyle. "Awali" engenders a Swahili evocation of a return to one's origins, fully embraced by the resort. The African influence subtly sweeps through the warm ochre, tan, and saffron tones that permeate the spacious rooms, offering everyone an oasis of serenity. Relaxation is key, with the Seven Colours Spa and the Umuzi Sports Centre providing a bounty of activities designed to release all tensions, as your senses are awakened by a wealth of inspired culinary delights. Heritage Awali is an exceptional blend of luxury, simplicity and warmth, eagerly awaiting your first steps into this fascinating island.
Located in the exclusive Domaine de Bel Ombre area
Outstanding range of gourmet dining and premium drinks
C Beach Club provides one of the best kids' programmes on Mauritius
At a glance
Couples
Accommodation
Refined décor enhances the charm of Heritage Awali Golf & Spa Resort, a beautiful location for couples, friends and families family looking for luxury:
Air-conditioning
Ceiling fan
Bathroom with separate tub and shower
Hairdryer
Electronic safe
Minibar
Flat screen TV with satellite channels
Analogue modem internet connection
Telephone line with international direct dialling
Tea and coffee making facilities
Laundry service
24-hour room service
Deluxe Room
Deluxe Rooms include 48 rooms with sea views and 15 rooms with beachfront access, all with a pleasant tropical atmosphere and a distinctive African touch. They are spacious enough to comfortably accommodate 2 adults and 2 children or teenagers, and each has a private terrace with a beautiful view of either resort gardens or the ocean.
Senior Suite
Senior Suites on the beachfront offer outstanding views of the sea from their terrace, completed with elegant décor featuring artefacts of straw, clay and dark wood. They can accommodate 2 adults and 2 children or teenagers and have a combined lounge and dining area where that offers an espresso machine, a CD and DVD player, and a whirlpool bath in the bathroom.
Villa
This villa's ideal location facing the beach ensures privacy and exclusivity, and its two bedrooms (with an optional third bedroom) are equipped with an exceptional array of modern amenities and comforts. A pebble-lined pool, a whirlpool bath, a separate kitchen, a large terrace for enjoying meals outside, a gazebo, direct access to the beach and a foot bath for when you return from the beach are just some of the special features provided to enhance your stay.
Dining
Discover a range of fine-dining options at Heritage Awali Golf & Spa Resort.
Savana
Main restaurant
Cuisine : international buffet
Breakfast: 07:00 — 10:30
Dinner: 19:00 — 22:00
Kuzini
Italian delicacies
Cuisine: Italian à la carte
Dinner: 19:00 — 22:00
Infinity Blue
Pool and beach restaurant serving à la carte treats
Cuisine: International
Lunch: 12:00 — 14:30
Dinner: 19:00 — 22:00
BOMA
Open-air restaurant serving up an African show and bonfire with BBQ buffet twice a week
Cuisine : African style BBQ buffet
Dinner : Twice a week Dinner: 19:00 — 22:00
Supplement for guests on All Inclusive Basis (£)
Zafarani
Tasty Indian treats
Cuisine : Indian à la carte
Dinner: 19:00 — 22:00
Adults only
Amafrooty
Light snacks and healthy bites
Cuisine: Sandwiches, salads and lunch buffet
Lunch : 12:00 — 17:00
Bars
Savour your cocktail of choice at one of the vibrant bars.
Zenzibar
This lounge-bar is delicately placed amongst the interlaced pools, providing unrivalled views over the lagoon.
Infinity Blue Cocktail Bar
The relaxed atmosphere at this beach bar invites you to put your toes in the sand, sea or swimming pool.
Included Facilities
Shower facilities for late departures
Free WiFi in rooms and public areas
Exchange of foreign currencies
Free shuttle service to Le Château de Bel Ombre, the Heritage Golf Club at Heritage Le Telfair Golf & Spa Resort
Frédérica Nature Reserve and C Beach Club.
Library
One room and facilities for guest with reduced mobility
Online check-in available on request
Infirmary
Unlimited French Champagne Served at bars from 10:00 - 00:00
One daily free round of Golf at Heritage Golf Club
One Complimentary Spa Treatment Per Stay (45 minute back massage, not applicable to under 16s, to be taken within 3 days of arrival)
None Motorized water sports
Other Facilities
Laundry service
Car rental
Access to laptops
DVD Player
On request films complimentary
Medical service (on request)
Hairdresser
Photographer and video service (on request)
Sale of stamps
Excursion desk
Florist service
Water Sports
On an island surrounded by one of the most beautiful lagoons in the world, the water sports on offer at Heritage The Awali are truly something special.
Kitesurfing
Big game fishing
Catamaran cruises
Diving (PADI)
Water-skiing
Windsurfing
Glass-bottom boat
Pedal boats
Sailing
Snorkelling
Swimming pools (of which one heated in winter)
Aquagym
Land Sports
You can also stay dry while making the most of the on-site activities.
Golf
Tennis
Archery
Beach soccer
Beach volleyball
Garden croquet
Mountain biking
Petanque
Nature activities at Frédérica Nature Reserve
Aerobic
Badminton
Tai Chi
Yoga
Sports centres
Table football
Table tennis
Billiard
Chess
Darts
Electronic games
Golf
The Heritage Golf Club golf course was designed by Peter Matkovich of Matkovich & Hayes, South Africa. Nestled between diverse landscapes of rolling hills and a lagoon, the design of this spectacular 18-hole golf course is a memorable experience for golfers, whatever their level.
18-hole championship golf course (PAR 72)
9-hole pitch and putt introductory course (PAR 3)
Putting green, chipping green, and driving range
Caddies, carts, trolleys and equipment hire
Golf Academy with golf lessons (which can be filmed for extra learning potential)
Club house, shop, restaurant and bar
PGA Pro
Privileged access to two other 18 hole golf courses in the region - Le Paradis and Tamarina
One complimentary green fee per person per day at the award winning Championship Heritage Golf Course and unlimited green fees on the Par 3 Short Course.
Seven Colours Spa
Seven Colours celebrates the art of wellbeing, turning it into a whole philosophy based on the balance of life-giving energies. Inspired by the oriental philosophy of the Chakras, the Seven Colours spa offers a variety of treatments that refresh your entire being.
Baby Corner Kids' Club
The Complimentary Baby Corner at the Kids Club is designed specifically for toddlers 0-35 months and is open from 08:30 to 16:00 daily. Compulsory 24hrs pre-booking in advance/ limited availability. The baby nurses are trained in First Aid and Child Care plus baby-sitting service is available every morning and evening at extra cost in rooms.
Timomo Kids' Club
By becoming Timomo's friends, young residents aged between 2 and 11 years old can help this beautiful bird in his quest for one of the finest treasures in the world, a rainbow heart. Open every day between 08:30 - 23:30, the kids' facilities offer a diverse programme of outdoor and indoor activities suited to each age group, such as playing in the swimming pool, excursions, artistic awakening, games consoles, rainbow evenings and more.
Teens
Along with new friends from all over the world, your teenagers can learn to play golf and enjoy friendly competitions on the 9-hole pitch-and-putt course at the Heritage Golf Club, with tennis and beach volleyball also proving popular. The C Beach Club also features music, WiFi, a multimedia area, and games consoles.
Weddings & Honeymoons
The Domaine de Bel Ombre offers an astonishing array of possibilities in a magical setting. A translucent lagoon, white sandy beaches, the enchanting setting of the Fréedérica Nature Reserve, a variety of accommodations, a championship golf course, unique spa treatments and food for all palates combine at The Domaine de Bel Ombre to form a distinguished, mythical beauty that enriches your special day or honeymoon.
The committed staff at Heritage Awali will spare no effort realising your dream wedding, taking care of all the arrangements for a religious or civil wedding ceremony or a renewal of vows in this unspoilt tropical setting. Whether on the beach or in the gardens of Le Château de Bel Ombre, the team is entirely at your disposal to organise a personalised ceremony.
Mauritius is one of the post popular Indian Ocean destinations, and Heritage & Veranda Resorts provide a gateway into this mysterious and alluring island. Heritage Resorts provide the type of all-out luxury you've always dreamed about, while Veranda Resorts provide 4-star escapes on some of Mauritius' most desirable beachfronts.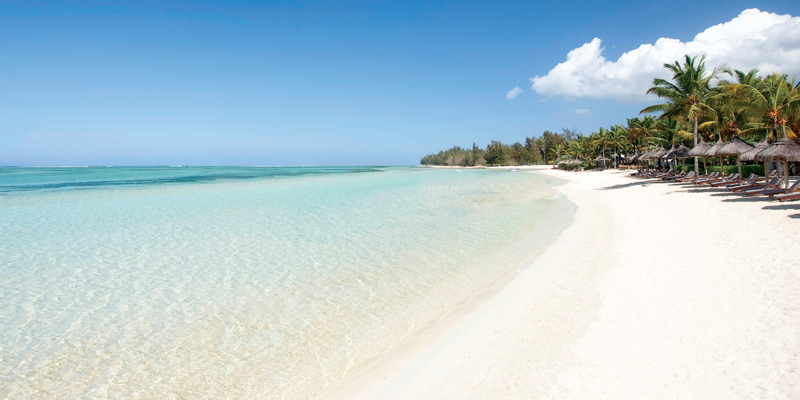 Top Eco-Friendy Resorts in the Indian Ocean
At the heart of the Indian Ocean lies the underwater world. From house reefs to the ocean beyond, an endless list of life evolves. The finest touches make headway in ensuring paradise blossoms year on year and to conserve this greatness, resorts in the Indian Ocean play their part in eco-friendly antics. We bring you the Indian Ocean's top eco-friendly resorts.
Read now