Heritage Le Telfair Golf & Spa Resort
Savanne District

,

Mauritius
About the hotel
Nestled in the sequestered heart of the Domaine de Bel Ombre on the unspoiled south coast of Mauritius, the 5-star deluxe Heritage La Telfair gracefully merges with the effortless beauty of the Indian Ocean. Newly renovated as an all suite, all butler service for travel from Sept 2017, the resort is infused with the refined charms of its colonial past, the hotel opens out onto magnificent tropical gardens and the meandering splendour of the Citronniers River, earning Heritage Le Telfair a coveted place within the Small Luxury Hotels of the World collection. Named after the famous naturalist Charles Telfair, who lived in the area in the nineteenth-century, the grand presence of this hotel has been inspired by Mauritian colonial architecture, creating a timeless resort where your treasured moments will last forever. Immerse yourself in a special atmosphere and rekindle an elusive sense of romanticism.
Exclusive location in Domaine de Bel Ombre on the South coast of Mauritius
Member of the prestigious Small Luxury Hotels of the World group
Excellent Gourmet Bliss dining plan for cuisine connoisseurs
At a glance
Couples
Accommodation
Enjoy some of the most luxurious surroundings in Mauritius at Heritage Le Telfair Golf & Spa Resort. Check into a suite for an extra special experience with your own private butler service (beginning Nov 2017)
Deluxe Room
Deluxe Rooms foster an atmosphere of welcoming warmth through their use of colour, focusing on soft shades of green, light beige, and cappuccino for an intimately decorative finish to each of these rooms. Large French windows elegantly open onto a veranda or a balcony that offers gorgeous views of the sea or the river. These rooms are designed to accommodate 2 adults and 2 children, or 3 adults.
Junior Suite
Bringing the charisma of a bygone age to the comforts of a modern Mauritian hideaway, the focal point of each Junior Suite is their hexagonal lounge area with meticulously crafted period-inspired furniture, reflected in the a grand four-poster bed and a meridienne chaise lounge in the bedroom, and a large antique-style bath in the bathroom. Suites on the ground floor have the added luxury of an invigorating outdoor shower. Each Junior Suite can accommodate 2 adults and a baby, with communicating rooms available for older children.
Senior Suite
Accented by antique furniture and a large four poster bed draped in a light veil, Senior Suites incorporate a lounge, a dining area, a spacious en-suite bathroom, and a vast dressing room. Six of these rooms provide a spectacular view of the Bel Ombre Lagoon, and suites on the ground floor benefit from a refreshing outdoor shower.
Ocean Suite
The two exclusive Ocean Suites sit on the cusp of the Indian Ocean, harmonising with the privileged Mauritian vistas of the emerald sea and pristine sands. A lounge, a dining room, a beautiful four-poster bed, a dressing room, an outdoor shower, and a separate guest WC are but a handful of the superior amenities awaiting you in an Ocean Suite. The carefully appointed bedroom has a wide linen-draped four poster bed alongside a spacious en-suite bathroom, which is itself finished with earthenware wall tiles and mosaic floor motifs. Each suite places the beautiful landscapes into your lap through a large veranda, and each can accommodate 2 adults and a child or teenager.
Dining
Authentic local flavours, worldwide delicacies, and a discerning palate are the beginnings to each and every dish you'll be served at Heritage La Telfair.
Annabella's
The main restaurant, Annabella's, is inspired by the kitchen of the great house Bel Ombre. Divided into four distinct spaces around an open kitchen, Annabella's proudly features a creative chic brasserie menu which is constantly renewed. A menu for children is also available.
Gin'ja
Serving divine Pan Asian cuisine on a stretch of white beach overlooking the lagoon, this modern lifestyle restaurant is open for lunch. Enjoy a sundowner at the Gin'ja bar facing the beautiful lagoon and Citronniers River, and an excellent teppanyaki experience is also available. A children's menu is also provided.
Le Château De Bel Ombre
Built in the late nineteenth-century and set amidst flourishing gardens, this colonial-style mansion encapsulates the soul of the Domaine de Bel Ombre. Enjoy an exceptionally crafted Mauritian dinner prepared from fresh local ingredients. -f
Golf Club Restaurant & Bar
Offering light meals throughout the day, the Club House lets you refuel after a round of golf. The menu offers a choice of sandwiches, salads and Mauritian dishes supplemented by a fine selection of wines served on a terrace overlooking the golf course.
C Beach Club
Located on the beachfront, adjacent to Heritage Le Telfair, the C Beach Club unites tropical ambience with chic relaxation. Featuring two restaurants, a bar, a swimming pool, a boat house, an ice cream corner and a kids' and a teens' area, the C Beach Club ensures that great food and fantastic fun are available to everyone.
Coast
The Coast at the C Beach Club is an à la carte restaurant specialising in vibrant, exciting Mediterranean dishes that will enliven your lunches, served beside views of the lagoon and the powdered-gold of the beach.
Cyan
Open for dinner only, Cyan is the heart of the C Beach Club, inviting you to enjoy table d'hôte and buffet specialities in relaxed elegance. The driving force behind the culinary processes at Cyan is absolute excellence, where every aspect of every flavour is intimately contemplated to ensure astonishing food, making every meal at Cyan is treated as a work of art.
Bars
Discover your new favourite tipple at one of the upmarket bars at Heritage Le Telfair Golf & Spa Resort.
Cavendish Piano Bar & Lounge
The Cavendish Bar & Lounge is the ideal venue for an aperitif or local rum. A wide variety of teas and a snooker table are on- hand, creating a sophisticated bar area for cordial socialising.
Le Palmier
Overlooking the pool and the ocean, Le Pamier is ideal for holidaymakers who want to savour light lunches, snacks, salads, ice creams, and refreshments.
Facilities
Car rental service
Free internet access at Cavendish Bar & Lounge, Gin'ja and Le Palmier
High speed internet access in all rooms (at extra cost)
Florist service (on request)
Foreign currency exchange
Library
Free shuttle service to the Heritage Golf Club,
C Beach Club
Medical assistance and services, with a nurse or doctor on request
Facilities for late check-out, including a cloakroom and a shower
Photo and video service (on request)
Sale of stamps
Taxi service
Helicopter transfers (upon request, at extra charge)
Internet kiosk
Limousine transfer
Water Sports
On an island surrounded by one of the most beautiful lagoons in the world, the water sports on offer at Heritage The Villas are truly something special.
Kitesurfing
Big game fishing
Catamaran cruises
Diving (PADI)
Water-skiing
Windsurfing
Glass-bottom boat
Pedal boats
Sailing
Snorkelling
Swimming pools (of which one heated in winter)
Aquagym
Land Sports
You can also stay dry while making the most of the on-site activities.
Golf
Tennis
Archery
Beach soccer
Beach volleyball
Garden croquet
Mountain biking
Petanque
Nature activities at Frédérica Nature Reserve
Aerobic
Badminton
Tai Chi
Yoga
Sports centres
Table football
Table tennis
Billiard
Chess
Darts
Electronic games
Golf
The Heritage Golf Club golf course was designed by Peter Matkovich of Matkovich & Hayes, South Africa. Nestled between diverse landscapes of rolling hills and a lagoon, the design of this spectacular 18-hole golf course is a memorable experience for golfers, whatever their level.
18-hole championship golf course (PAR 72)
9-hole -~pitch and putt' introductory course (PAR 3)
Putting green, chipping green, and driving range
Caddies, carts, trolleys and equipment hire
Golf Academy with golf lessons (which can be filmed for extra learning potential)
Club house, shop, restaurant and bar
PGA Pro
Privileged access to two other 18 hole golf courses in the region - Le Paradis and Tamarina
FREE UNLIMITED green fees per person per day at the award winning Championship Heritage Golf Course and on the Par 3 Short Course
Seven Colours Spa
Seven Colours celebrates the art of wellbeing, turning it into a whole philosophy based on the balance of life-giving energies. Inspired by the oriental philosophy of the Chakras, the Seven Colours spa offers a variety of treatments that refresh your entire being.
Baby Corner Kids' Club
The Complimentary Baby Corner at the Kids Club is designed specifically for toddlers 0-35 months and is open from 08:30 to 16:00 daily. Compulsory 24hrs pre-booking in advance/ limited availability. The baby nurses are trained in First Aid and Child Care plus baby-sitting service is available every morning and evening at extra cost in rooms.
Timomo Kids' Club
By becoming Timomo's friends, young residents aged between 2 and 11 years old can help this beautiful bird in his quest for one of the finest treasures in the world, a rainbow heart. Open every day between 08:30 - 23:30, the kids' facilities offer a diverse programme of outdoor and indoor activities suited to each age group, such as playing in the swimming pool, excursions, artistic awakening, games consoles, rainbow evenings and more.
Teens
Along with new friends from all over the world, your teenagers can learn to play golf and enjoy friendly competitions on the 9-hole pitch-and-putt course at the Heritage Golf Club, with tennis and beach volleyball also proving popular. The C Beach Club also features music, WiFi, a multimedia area, and games consoles.
Weddings & Honeymoons
The Domaine de Bel Ombre offers an astonishing array of possibilities in a magical setting. A translucent lagoon, white sandy beaches, the enchanting setting of the Fréedérica Nature Reserve, a variety of accommodations, a championship golf course, unique spa treatments and food for all palates combine at The Domaine de Bel Ombre to form a distinguished, mythical beauty that enriches your special day or honeymoon.
The committed staff at Heritage La Telfair will spare no effort realising your dream wedding, taking care of all the arrangements for a religious or civil wedding ceremony or a renewal of vows in this unspoilt tropical setting. Whether on the beach or in the gardens of Le Château de Bel Ombre, the team is entirely at your disposal to organise a personalised ceremony.
Mauritius is one of the post popular Indian Ocean destinations, and Heritage & Veranda Resorts provide a gateway into this mysterious and alluring island. Heritage Resorts provide the type of all-out luxury you've always dreamed about, while Veranda Resorts provide 4-star escapes on some of Mauritius' most desirable beachfronts.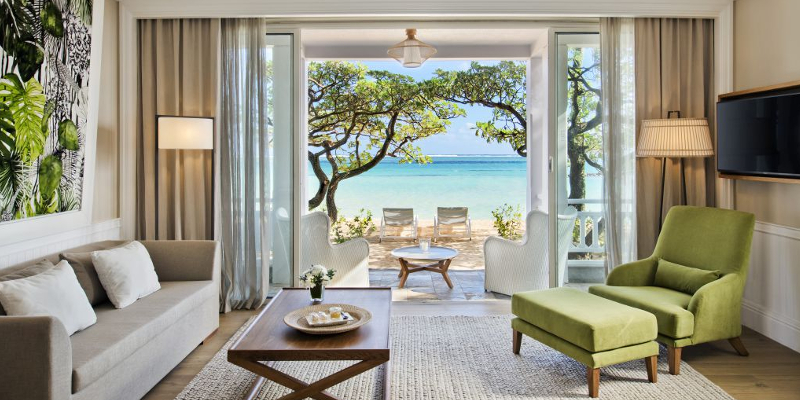 The Pinnacle of Luxury Tropical Island Escapes
Nestled in the secluded heart of the Domaine de Bel Ombre on the unspoilt south coast of Mauritius, the 5-star deluxe Heritage Le Telfair Golf & Spa Resort gracefully unites with the effortless allure of the Indian Ocean. Newly renovated as an all-suite, all butler service hideaway, Heritage Le Telfair is infused with the refined charms of its colonial past, earning this beachfront retreat a coveted spot within the Small Luxury Hotels of the World collection.
Read now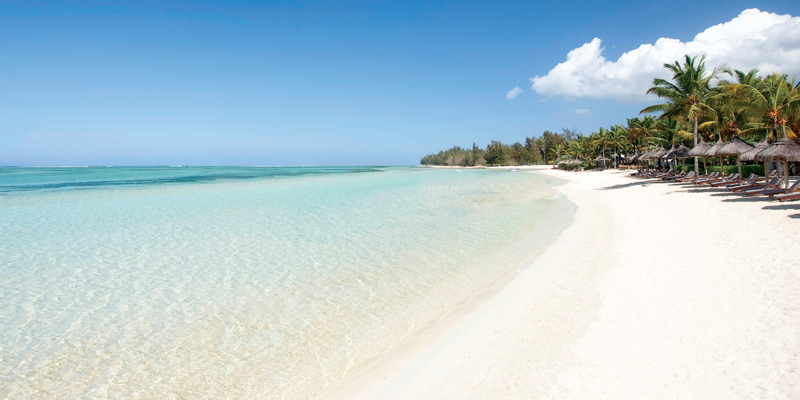 Top Eco-Friendy Resorts in the Indian Ocean
At the heart of the Indian Ocean lies the underwater world. From house reefs to the ocean beyond, an endless list of life evolves. The finest touches make headway in ensuring paradise blossoms year on year and to conserve this greatness, resorts in the Indian Ocean play their part in eco-friendly antics. We bring you the Indian Ocean's top eco-friendly resorts.
Read now