About the hotel
Picture the scene: a small Maldivian island stands, pure and pristine, untouched by the modern world. It's this vision that inspired Dhuni Kolhu, an eco-orientated resort where luxury is seamlessly woven into the natural surroundings. Relax on white, sandy beaches. Discover the colourful marine life of thriving coral reefs. Kick off your shoes and get closer to nature. Nestled on the Equator, this unique island nation enjoys warm tropical weather throughout the year. On Dhuni Kolhu Island the ivory white beaches encircle a lush tropical paradise overlooking a breathtaking lagoon of unparalleled beauty. Dhuni Kolhu is located just 124 km from Male International Airport or a scenic 30 minute flight by sea plane. Set on this lush and tropical island, the resort is fringed by white sandy beaches surrounded by a crystal clear emerald lagoon.
A true Maldivian experience as the resort has the element of untouched beauty.
All villa resort.
Good water sports and excursion facilities.
At a glance
Couples
Accommodation
Coco Palm Dhuni Kolhu features 98 delightful thatched villas, either dotted among palm trees offering peaceful tranquillity or on stilts over the lagoon, with spectacular views of the ocean and nearby desert islands. All villas include:
King-size or twin beds
Sitting area
Terrace
Air conditioning
Mini music system
TV and DVD player
Mini bar
Tea and coffee facilities
Safety deposit box
Hair dryer
Laundry service
Writing desk
IDD telephone
Open air garden bathrooms
Beach Villa
Set amidst lush, natural vegetation and romantically secluded for privacy and tranquility, these 32 Beach Villas and 25 Sunset Beach Villas all have open-air garden bathrooms to enjoy showers whilst watching the sunrise over the coconut palms or under the stars. The spacious bedrooms feature a high-pitched ceiling, king-size bed, air-conditioning and an overhead fan. Each villa has a private terrace with outdoor seating, perfect for lounging about, enjoying in-villa dining, reading or simply just relaxing. Enjoy the mesmerizing sunset off the shores of the beach or on the private terrace at our Sunset Beach Villas.
Deluxe Villa
Complemented with items reflecting traditional Maldivian touches, these spacious villas enhance the rustic romantic feel of the island with a four poster bed, sunken bath in the open-air bathroom and a private fresh-water plunge pool on the outdoor terrace. Wake up to the gentle sound of the waves brushing against the shore and just a few steps further along your own pathway canopied with lush greenery, awaits the soft white sandy beach lit up with the rays of the rising sun.
Lagoon Villa
Luxuriate in amazing panoramic views out to sea and a close up view of the wide variety of fish swimming around the house reef below. Each Lagoon Villa comes with its own private splash pool and outdoor seating on the terrace. Providing a great location to relax and enjoy a dip in the the clear turquoise waters of the Indian Ocean outside your door. The spacious bedroom comes with a four poster king-size bed, air conditioning and an overhead fan.
Sunset Lagoon Villa
Revel in a true Maldivian experience. The views from the private terrace of the Sunset Lagoon Villas are breathtaking; guests watch as the Indian Ocean becomes illuminated with the beautiful colours of the setting sun. The villas feature a spacious bedroom with four poster king-size bed, air conditioning, an overhead fan and a charming living room with antique furniture and decorative object's d'art. The ocean view bathrooms have a deluxe spa bath and separate shower. Each villa has a private terrace with a plunge pool overlooking the lagoon and an incredible terrace that provides a feeling of freedom and absolute privacy. The Sunset Lagoon Villa offers in-villa spa treatments on request.
Dining
When it comes to dining, what strikes guests is the architecturally impressive large tent-like pavilions that house the restaurants and bars in Coco Palm Dhuni Kolhu.
Cowrie Restaurant
Cowrie Restaurant is a huge atmospheric dining room, with a Maldivian tent-like roof and features live cooking stations. International cuisine is served buffet style.
Cornus Restaurant
Situated in an idyllic location with views of the ocean yet tucked away in lush vegetation, Cornus Restaurant offers speciality dishes including Maldivian, Thai, Indian and other Asian delicacies.
In-Villa Dining
Guests can enjoy private and personalised dining services served in the privacy of their villa.
Bars
You'll always be able to find a drink with a view at Coco Palm Dhuni Kolhu.
Conch Bar
The mood is stylish and casual in Conch Bar, located in a traditional Maldivian-style pavilion with sandy floors and offers a selection of snacks and drinks.
Beach Bar
The Beach Bar is located in the middle of the wide Western beach area of the island. Sit back, relax and dig your toes into the powder-soft white sand while watching a romantic Maldivian sunset.
Facilities
For the Family
Children's books, DVDs and music
Board games and puzzles
Babysitting services*
Additional Facilities
English speaking staff
Free WiFi
24 hour front desk
Luggage storage
Airport shuttle*
Shopping arcade*
Room service*
Laundry service*
Leisure & Sport
Evening entertainment
Private beachfront
Snorkelling
Hot tub
Jacuzzi
Water Sports
Catamaran sailing*
Windsurfing*
Water skiing*
PADI diving*
Land Sports
Indoor games
Table tennis
Badminton
Tennis
Volleyball
Billiards
Gym
Yoga
Audio visual room
Jacuzzi
Coco Spa
A tranquil space created to indulge personal desires for beauty, well-being and relaxation. Discover the benefits of treatments from Indonesia, Thailand and India. A collection of Ayurvedic inspired products enhances this truly unique spa experience. If preferred in villa treatments can be also organised.
*Additional charges apply, payable locally.
Cataloguing some of the most desirable locations in the Maldives, Coco Palm Resorts provide luxury at its most relaxing, ensuring you can relax with a view (and perhaps a cocktail) in uncompromised comfort.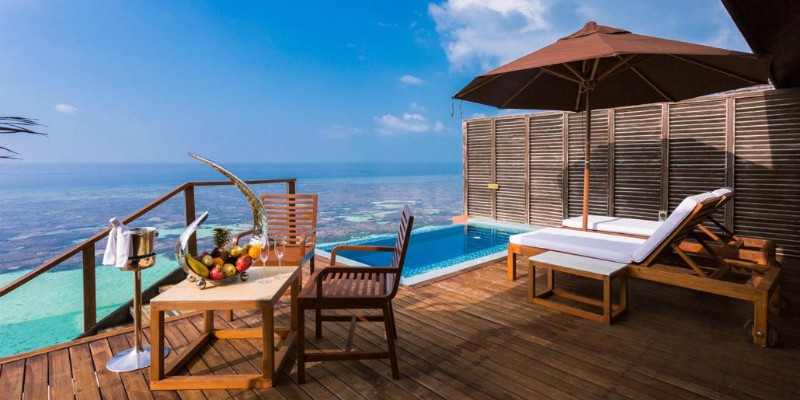 Our Favourite Resorts for Over-the-Water Bungalows in the Maldives
Imagine the true serenity of dangling your feet from the edge of your own private deck into the balmy waters of the Maldives in a villa poised on stilts above the heavenly waters below. Picture yourself diving into the water as you snorkel among a myriad of colourful fish and captivating coral reefs bursting with life. Unique and memorable the Maldives offer some of the best experiences without ever stepping more than a few feet away from the tranquil waters. Read on for our round up of the best resorts for over-water bungalows and waterside immersions.
Read now