About the hotel
Befitting the Maldives catalogue, Biyadhoo is a tropical haven encased within the turquoise folds of the Indian Ocean. Known for its laid-back atmosphere and excellent service levels, Biyadhoo is an ideal gateway to relax and unwind. Savour all-you-can-eat buffets boasting a fusion of local and international taste and sip on your favourite tropical cocktails. Take in the natural wonders of the island as you lounge back onto a sunbed, steal away for an intimate beach stroll and dial down at the Aavun Spa. Famed to have one of the region's best and most beautiful house reefs, Biyadoo is an excellent dive spot to get up-close with reef sharks, rays and turtles. In everything they do, Biyadhoo strive to provide you with an unforgettable escape, ensuring that you'll return again and again. If you're looking for lush nature, seclusion and a slice of the real Maldives, this affordable retreat is a must.
An affordable tropical retreat allowing you to easily capture and enjoy the Maldivian scenary.
Excellent diving spot, famed to have one of the region's best and most beautiful house reefs.
All-inclusive package includes excursions.
At a glance
Couples
Accommodation
The accommodation on Biyadhoo Island Resort blends with the natural landscape of the island, offering the perfect escape for guests to relax and unwind.
Standard Room
Inspired by a sense for simple design, the Standard Rooms provide a laid-back feel on this gem of an island. Enjoy the natural setting with all rooms including:
Sunset or sunrise room
Double or single beds
Private terrace or balcony with outdoor seating
Sitting area
Writing desk
Air conditioning
Minibar*
Tea and coffee making facilities
IDD telephone
Bathroom with shower and WC
Beach towels
*Additional charges apply, payable locally.
Dining
Palm Restaurant
Enjoy a diverse selection of international and regional cuisine in a lively ambience. Try set meals or indulge in delicious buffets and experience the true taste of the Maldives with a traditional Maldivian themed buffet every Friday night.
Coconut Bar
Relax underneath the traditional thatch roofs, sit back and enjoy the essence of the Maldives as a soft breeze lulls you to an island siesta. Serving a variety of beverages and light snacks.
Facilities
All-Inclusive
Buffet breakfast, lunch and dinner
Selected drinks
Snacks at Coconut Bar 16:00-17:00
Snorkelling and windsurfing equipment
1 sunset fishing trip
Additional Features
English speaking staff
WiFi*
Currency exchange
Laundry service*
Airport shuttle*
Shuttle service*
Shopping arcade*
*Additional charges apply, payable locally.
Water Sports
Snorkelling
Diving
Canoeing
Windsurfing
Fishing
Snorkelling
Explore the marine life of Biyadhoo while snorkelling around the underwater gardens rich with colourful fish species and corals. For the adventurous at heart, join the night snorkelling excursion to explore the underwater surroundings of Maldives in a whole new light.
Diving
Renowned for having the best house reef in Maldives, Biyadhoo Island Resort offers PADI certified diving courses and experiences by Dive Ocean. From Discovery dives and Open Water courses to Rescue Dive Courses, the friendly multi lingual team will take you on breathtaking journeys to some of the best corner and channels near the island. Apart from an abundance of sharks, rays, turtles and dolphins, the legendary house reef of Biyadhoo is blessed with 7 different passages and a famous cave where you will encounter rare marine species.
Aavun Spa
Blending a holistic healing approach with natural ingredients, Aavun Spa at Biyadhoo Island Resort aims to improve wellness during your stay in Maldives. With a majestic Banyan tree canopying this soothing space, skilled therapists offer a variety of rituals to relax the body and soul. Apart from signature rituals using seashells and pure coconut oil, Aavun Spa offers a touch of Asian inspired treatments with Abhyanga, Balinese, Thai and Kativasthi massages. For those seeking the classic European touch, indulge in a Swedish or Deep Tissue massage to improve muscle tone and blood circulation. Focusing on self-renewal, Aavun Spa also offers exfoliating body scrubs with Javanese influences, cooling fruit and vegetable body wraps and awakening natural facial treatments. At Aavun Spa, Zen is a way of being.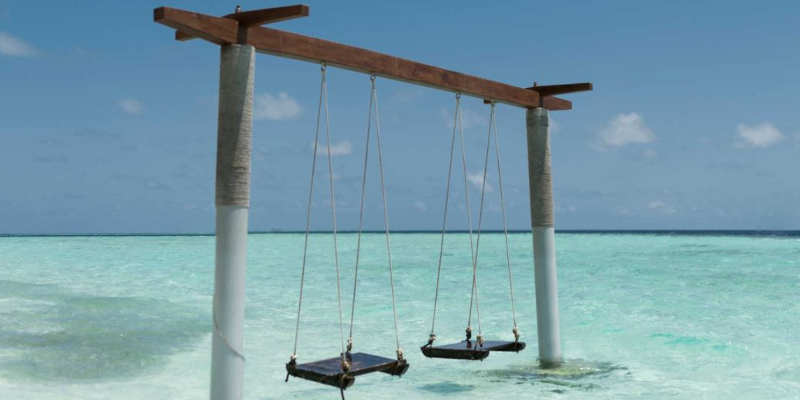 Paradise Unpacked: Experience The Maldives On A Budget
Ah, the Maldives, the epitome of luxury travel. Mention the Maldives and most people's imagination will lead straight to images of over water villas perched on wooden stilts above a clear, turquoise sea, soft white sands and swaying palms. However, some resorts come in more affordable prices that allow you to easily capture and enjoy the whole beauty of the scenery without breaking the bank. I hear you asking, what's the secret? Let me introduce you to Biyadhoo.
Read now