Around the World in 13 Days: Wireless Monks and Pink Dolphins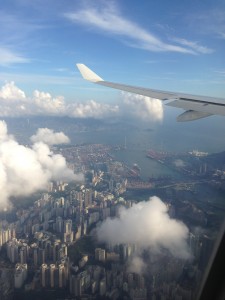 Last stop Hong Kong! It took us slightly longer than expected to reach Hong Kong after a 24 hour delay in Sydney due to fog. However, we certainly made up for the extra time in Sydney with a night on the tiles in Darling harbour. Bungalow 8 is highly recommended!
Having never experienced the Far East before I was eager to get to Hong Kong. Hong Kong is very westernised (unsurprising considering it was still under British Rule until 1997) but is still full of its own unique charms and charisma. If, like me, you're eager to explore exciting new cities then the Hong Kong metro system is a good way to get around, as it is cheap, clean, and easy to use.
I was most looking forward to seeing more of the cultural side of Hong Kong outside of the busy city, so I am glad therefore that we went to Ngong Ping Village and got to visit the Tai O Fishing Village, the Tian Tan Buddha (AKA the Giant Buddha) and the Po Lin Monastery.
Ngong Ping, Tai O, and Tian Tan
You reach Ngong Ping by cable car. I'm assured that the views are specular, however my fear of heights kept my eyes tight shut! However, the pictures that my fellow Globe Trotters took were magnificent!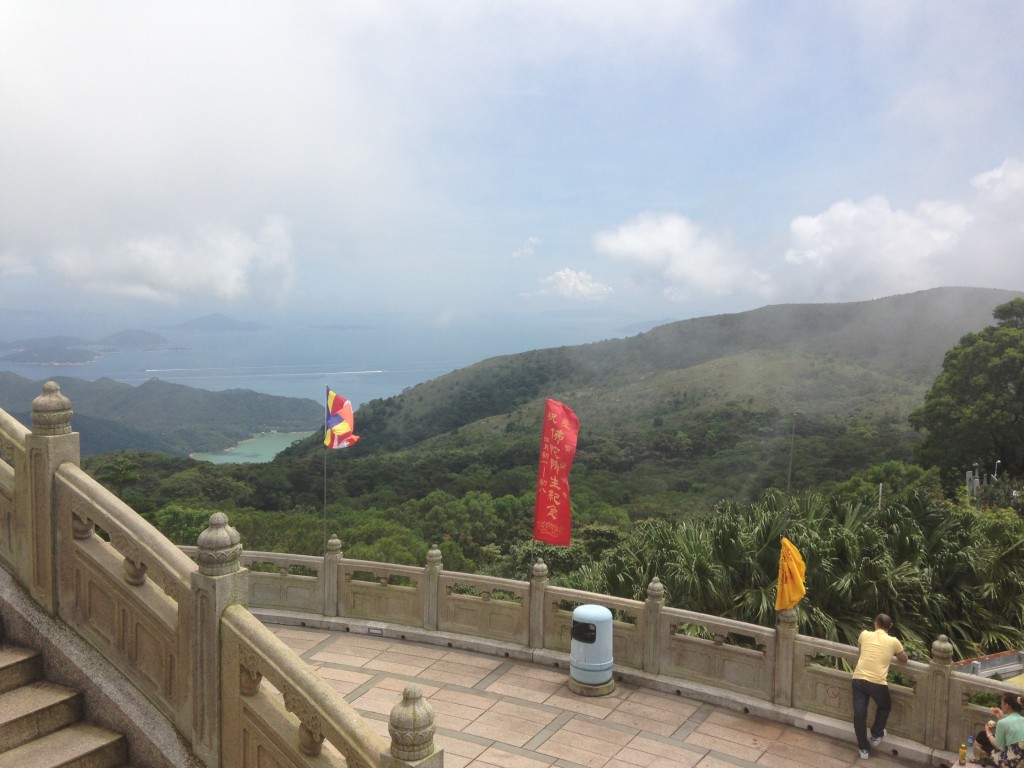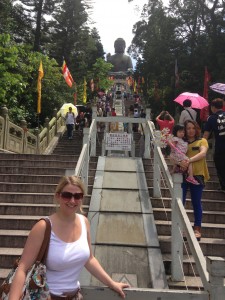 I loved learning about the Buddhist religion and how they burn incense and paper as food for their ancestors. I did however have a little shock when I went on my iPhone and noticed Free WiFi! I suppose even Monks need to check their email. I hasten to add that no one in the office was surprised that I was the only person on the trip to find free WiFi in a Monastery!
We then got a bus down to the Tai O Fishing Village on Lantau Island. The people of Tai O live in stilt houses, but our tour guide explained that this way of living is dying out as their children grow up and go off into the corporate world.  The most exciting part of the day was seeing Pink Dolphins jumping out of the water – what a treat!
Hot Tip: For the ultimate dining experience try Shangri-La Kowloon Michelin two-star Shang Palace. It was the best Chinese meal we've ever eaten by far and I was proud of myself for eating it all with chop sticks. If I learnt nothing else in Hong Kong at least I can now use chop sticks without poking myself in the eye.
There is no denying that I fit a life time of amazing experiences into a 13 day trip. It has also made me realise just how much of our Big Wide World there is still to see.
Never stop traveling!