A Serendipitous Sri Lankan Adventure
Arriving into Colombo airport shortly after Sri Lanka had celebrated a religious festival was an experience to say the least. Hundreds of huge paper lanterns with long colourful streamers strung high and low were blowing in the breezes and brightly dressed groups of worshippers were waiting for their flights home. Just getting out of the airport is a novel affair. Where UK airports offer a very last chance to buy some cheap alcohol before passing through customs, in Sri Lanka there's a veritable cornucopia of retail outlets selling massive American style fridges, microwaves, washing machines, cookers and TVs the size of a double bed. All a bit confusing. We considered a purchase but doubted Sri Lankan Airlines would let us check in a washing machine on the return flight!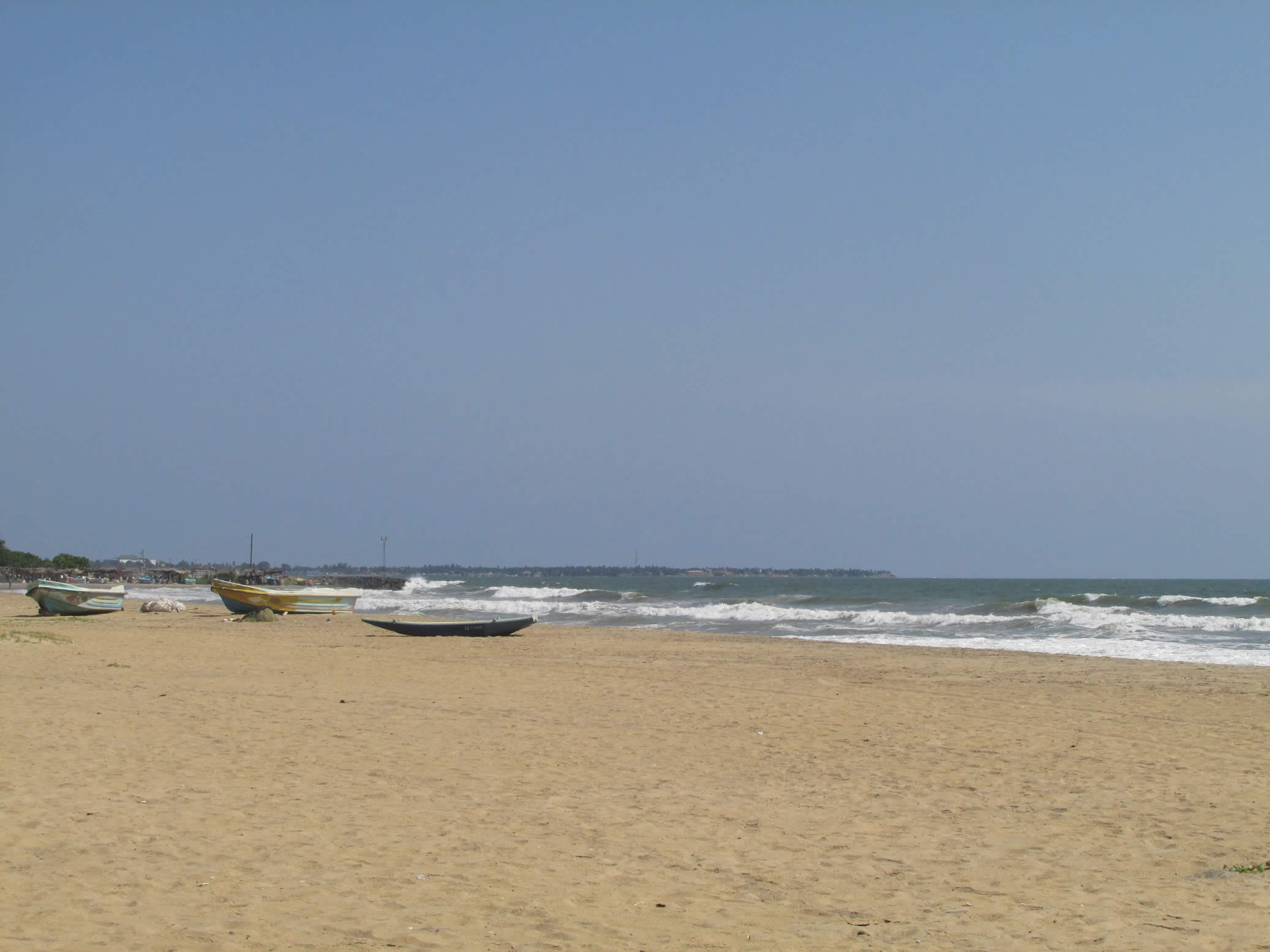 We stayed at the Jetwing Sea Hotel in Negombo, just a 20 minute journey from the airport. Our huge room had an unobstructed view of the long, sweeping palm fringed sandy beach and out over the Indian Ocean. Our balcony was the perfect place to crack open a bottle of Bollinger rescued from Diane's big birthday celebrations and listen to the waves rolling in as the moon rose over the ocean.
We soon discovered the famous Sri Lankan hospitality; every single person we met was friendly and seemed incredibly happy. We wondered what they knew that we didn't! With such wonderful staff we soon felt at home in the hotel and spent the next couple of days lazing around the pool, walking the length of the beach and enjoying the fabulous food and drink. We were on all inclusive at the hotel just for ease, although there are plenty of great restaurants nearby and eating out is very cheap. The food was delightfully varied, aromatic and irresistible. The Sri Lankan curry which I ordered one lunchtime was a bit of an eye opener. Around 10 dishes appeared on the table, all for me. It tasted fab but there was enough for three people.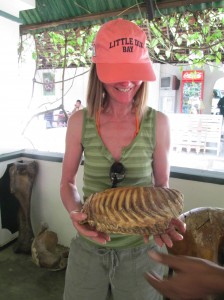 We couldn't just spend an entire week in Sri Lanka sitting around the pool, so we decided to take a trip out to Kandy and stay overnight. We arranged a private tour and off we went at stupid o'clock in the morning. After a 2 and a half our journey we stopped for breakfast at a riverside hotel in Pinnawala. As we were enjoying our breakfast and soaking up the view of the wide, shallow river, gently sloping rocky banks and acres of palm trees, elephants from the nearby orphanage wandered slowly down the roads through the town towards the river to take their daily bath, what a sight!
After watching the elephants bathe, we ventured on to the nearby elephant orphanage where we were both lucky to feed the baby elephants. From there we continued on to the Millennium Elephant Foundation, which sees far fewer tourists but is a much more positive and inspiring place. In addition to caring for their elephants, any sick elephants from all over Sri Lanka can be brought there for treatment before being returned to their home. We were treated to a brief introduction about what the foundation does and shown some of the exhibits they keep for research, such as a whole standing elephant's skeleton. We were given a single elephant's tooth to hold, it weighed as much as a small child!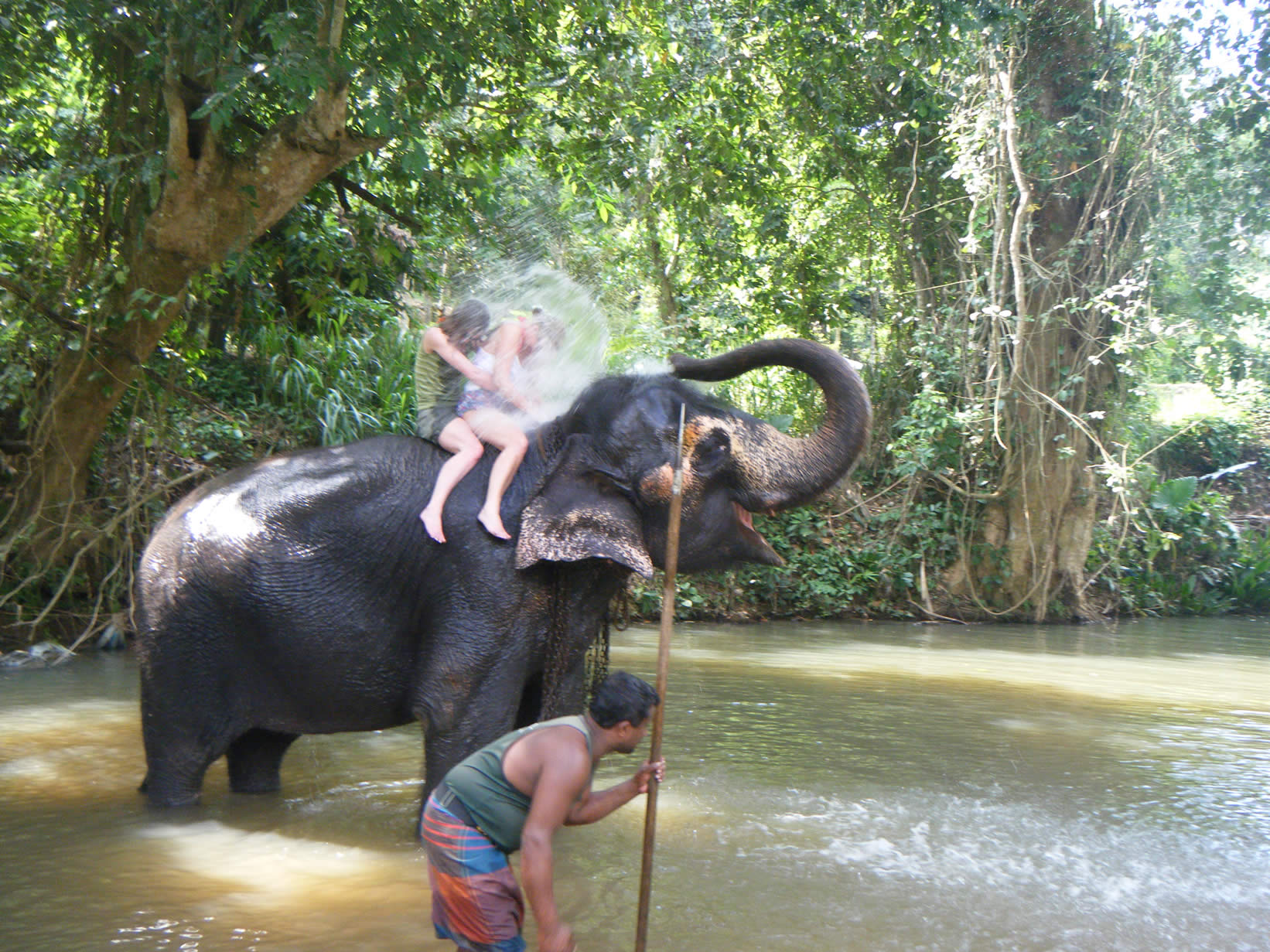 We'd been promised that we could bathe with an elephant so without further ado we ambled down the narrow steps to the river, following our elephant who promptly lay down in the river in a sun dappled glade and relaxed. If an elephant can look happy, then this one did. The elephant's keeper, his mahout, gave us coconut husks and said we were to scrub the elephant with them to give him a wash. We got stuck in with enthusiasm. After some time we were helped up on to the elephant's neck and up he stood – it's an awful long way up too! Sitting there, stunned that we were on an elephant, we were completely unsuspecting when the elephant filled his trunk with water and showered us with such force we clung on for dear life. 3 times he did this and we were soaked to the skin but it was so much fun! Once we'd recovered our composure a little, we went for a stroll through the foundation on the elephant's back before climbing off shell-shocked (and with the help of a handy high wall) and fed him some well-earned fruit. We both agreed it was one of the most exciting things we had ever done.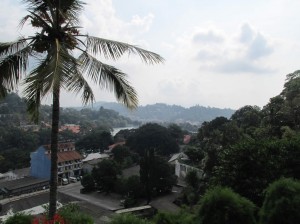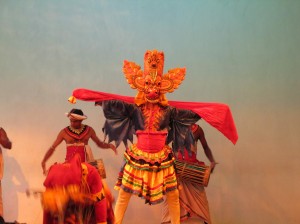 Our journey continued onwards to Kandy, stopping to buy tea from the tea factory, visiting a spice farm and a gem factory before arriving at our hotel, the Thilanka. It's a lovely place set on a hillside overlooking Kandy and the views – wow! Our room was enormous, we could have kept both the elephant and the almost purchased washing machine in there and there'd still be room for us too! Our room was on the corner with panoramic windows all around, we could see right across Kandy, past the lake and beyond. It was a view you could look at for a lifetime and never get bored. However we had things to do. That evening we went to see a Sri Lankan dancing show which we were a bit doubtful about but turned out to be very entertaining, followed by a visit to the Temple of the Tooth. This is one of the 'must do' sights of Sri Lanka and it was spectacular, but the crowds were huge and it was a bit of a push and shove affair.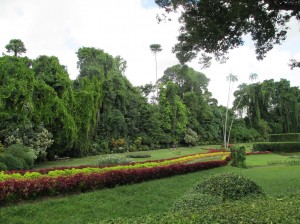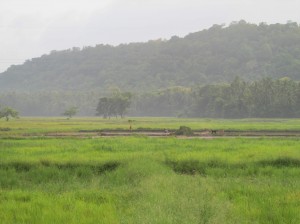 After a lovely dinner at the hotel, too many vodkas, and a late night we were up early again and I was feeling a little the worse for wear. A cure was found – red bananas. Not the prettiest fruit in the world but an instant reviver and I only wish we could buy them in Sainsbury's. Fortified thus, off we went to the Kandy Botanical Gardens. Another destination which we didn't really expect to be our cup of tea, but was utterly fascinating. Our local gentleman guide was knowledgeable beyond belief and swapped effortlessly between English and German for the other couple who were shown around the gardens with us. It was such a beautiful spot and around every corner was a wedding party, down there for the photo opportunity in lovely surroundings. Eventually we set off back to Negombo, a 3 hour journey which passed gently, it's fascinating enough just to look out of the windows and watch life going on in the paddy fields, villages, towns and palm groves. Beautiful.
We travelled to Sri Lanka in May, low season and during the monsoons. The only rain we saw was for half an hour when we were travelling back from Kandy, other than that it was very warm and sunny with cloud in the sky but no other rain. The hotels were quiet and we can't say enough about how good the staff were. I couldn't recommend Sri Lanka highly enough, it's a fantastic choice for relaxing, culture, once in a lifetime experiences, fabulous food and lovely people. Oh, and its great value too.
We'll be back!