Family-Friendly Escapes at Jumeirah Zabeel Saray, Dubai
I've worked in travel for nearly 30 years so I had a good idea of what to expect in Dubai and I was not disappointed. Dubai was a top fit for an Easter escape with guaranteed sunshine, great food and incredible service. Jumeirah Zabeel Saray came up from numerous recommendations and fit the bill perfectly. The temperature was on point too, averaging at round 34 degrees Celsius, not humid and with plenty of shaded public areas all around the resort. Let me take you on a whistle-stop tour of Jumeirah Zabeel Saray.
The Low Down
Jumeirah Zabeel Saray's magnificent entrance greets you with the warm, woody smell of incense reminiscent of the middle east. The spectacular foyer is donned with lavish sofas, glitzy chandeliers, an impressive central bar and public areas buzzing with Holidaymakers from all over the world. The lobby splits off into the Avenue of Indulgence in both directions, offering a selection of boutique shops selling anything from traditional souvenirs to diamond rings.
The Club King Room is luxuriously appointed with opulent fabrics and textures and the balcony features amazing views over the pool area, beach, and far reaching views of Atlantis. The king-sized bed is the most comfortable hotel bed (ensuring 6 nights of uninterrupted snoozing!) while the extra single bed, tried and tested by our teenage daughter, is a proper bed, not your average camp-style bed. The bathroom. Wow. Home to the biggest sunken bath I have ever seen, at least double, maybe even triple the size of your average bath. All in all, the Club King Room is gorgeous, spotlessly clean and complete with chocolates. Even an Easter Egg for our daughter on Easter Sunday.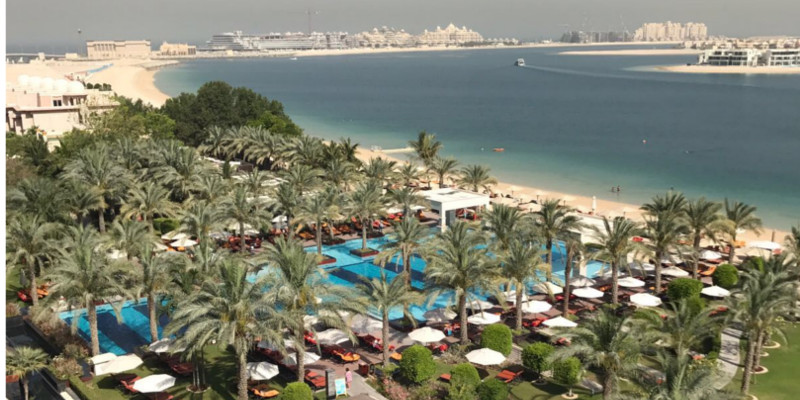 Fast Facts
• Dine at a choice of 7 delicious restaurants at Jumeirah Zabeel Saray, serving an array of cuisine including Italian, Turkish, Indian, Lebanese, and more.
• Stay entertained with unlimited access to the Wild Wadi Waterpark, complete with a free return shuttle service. A brilliant day out for the young and young at heart.
• Soak up the private beach from the comfort of complimentary sunbeds and parasols, accessed directly from the pool area.
• Keep the younger Holidaymakers entertained with the kid's area home to a playground, waterslides and sunbeds for the adults.
• Jumeirah Zabeel Saray's prime position on west semi-circle of The Palm lets you feast your eye-parts on the distant views of Atlantis.
•  Make the most of complimentary luxury toiletries from the classic shampoo & conditioner, toothpaste & toothbrush and body wash, to cotton pads, cotton buds, body lotion and even mouthwash.
• Stay refreshed with ice-cold drinking water, sprayed ice-cold water mist and tasty ice lollies on offer around the pool area every day.
• Shop till you drop with a shuttle service to selected Dubai shopping malls.
• Stay connected with good quality complimentary wifi throughout the resort
• Be active at tennis courts and gym or relax and unwind at the luxurious, multi-award winning Talise Ottoman Spa.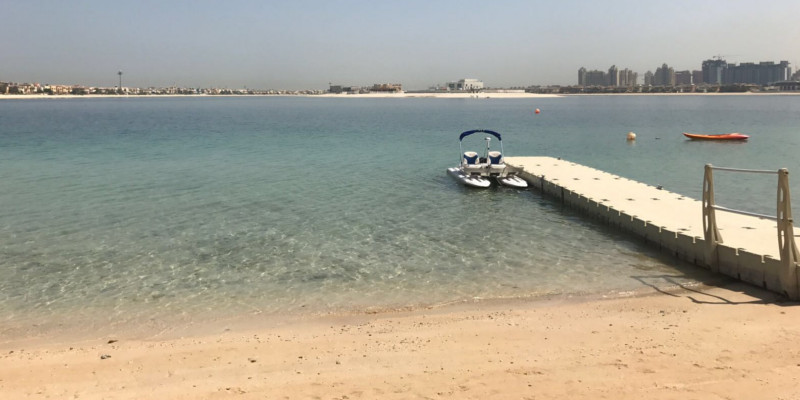 Top Tips
• Visit Burj Khalifa, the tallest building in the world, located in the largest shopping mall in the world. Be there for sunset and experience the amazing expanse of Dubai from a bird's eye view in the daylight and after dark. Oh, and be sure to wear comfortable shoes.
• Stock up on your favourite tipples at Dubai Airport's duty-free near the baggage carousel and save dollar on hotel mini bars.
• Upgrade to a Club Room and make the most of the air conditioned Club Lounge with daily newspapers, a selection of books, magazines, board games and a daily happy hour (which actually runs for 2 hours!) where a selection of wines, spirits, beers and soft drinks are served free of charge. A family cards session at happy hour is a great combination.
• Chill out on one of the many sun beds available around the pool, on the grass areas and the private beach. When the pool gets busy at mid-morning, the pool staff will always find you a bed.
• Make a splash in the large pool home to 4 connected shallower areas for small children, one of which is completely shaded.
• Find your sea legs with a selection of water sports available from the beach at an additional cost, including banana boat rides, kayaks and water-skiing.
• Get more for your money and dine-around at a number of other Jumeirah resorts.
• When staying half board dine at lunch or dinner, where you can choose from Jumeirah Zabeel Saray's range of restaurants, dine-around locations and the Wild Wadi Waterpark.
Get Involved
Find out more about Jumeirah Zabeel Saray by pushing the funky orange button, or chat to us in the comments below.

Discover Jumeirah Zabeel Saray from £721pp