7 Must Have Black Friday Travel Accessories
Check out our round-up of this year's must have Black Friday travel accessories.
---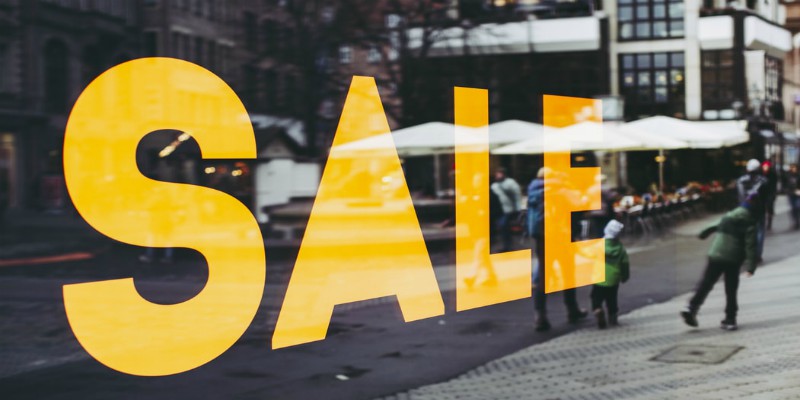 It's back again but why don't you go into this year's bargain basement with a plan? Most people will be focussing on the must have tech from this year's Black Friday sales.
But the big seven areas we're focussing on are:
---
Sun cream
Aftershave & Perfume
Beauty products
Clothing
Sun beds
Insect repellent
Inflatables
---
What we propose is that you use this time to get your next holiday in the books and all the hol shopping sorted. We know none of us are travelling far at the moment and everything's terrible. But doesn't that mean it's the best time to give yourself something to look forward to? 
A break in the Caribbean sun is just what the doctor ordered and our Subscriber Exclusive deals can get you there for a brilliant price at any time of the year, not just on Black Friday.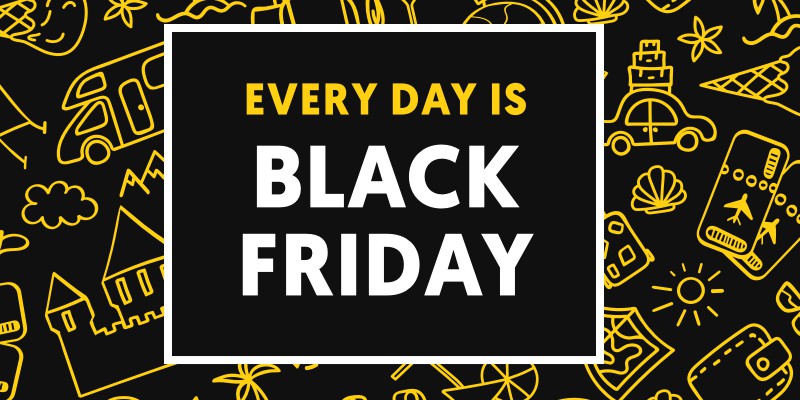 ---
Get the best out of Black Friday
But, amazingly, this isn't about us. This is about you and how you make this year's offers count. Get all those holiday essentials now while they're cheap as chips.
But what are those essentials?! We hear you cry, and where do we get them from?
Well, don't panic we're not just tropical holiday specialists, we're also pretty decent at bargain hunting. So let's take a look at those holiday essentials you can save on.
---
Sun Cream
Yes, we know, we're coming into winter in the middle of lockdown 2 so sun cream probably isn't top of your Black Friday "must buy" list. But, hear us out, it's a great time to get some future essentials in your cupboard.  
Especially when you know that Boots are running their buy one get one half price offer on Soltan products. It's the perfect opportunity to get your family's skincare covered for your next break.  
---
Aftershave & perfume
We appreciate that aftershave or perfume may not seem like an "essential" item for your break. But fragrances are brilliant at evoking memories. If you by a new scent and use it through your next holiday, every time you smell it thereafter you'll be reminded of those happy times in the sun.  
Fragrance Direct is always a good site for your snapping up your favourite scents for less. But, they're going a step further at the moment. Many lines from Versace to Estee Lauder and Vera Wang to Hugo Boss either half price or less.  
Alternatively you can check out The Fragrance Shop who're currently giving 80% off aftershaves and perfumes!  
---
Beauty Products
There's a stack of amazing offers on beauty products to temp you this Black Friday. But there's nothing better than chilling out on holiday, with a cocktail, knowing you can have a shower and get ready for the evening using premium products you didn't have to re-mortgage to buy.  
Right now, Clinique are offering 50% off selected items in their gift set range, as well as a miasma of other saving options. So, you can get that A-list skincare routine in your case for less.  
But, it probably won't surprise you to learn, Clinique aren't the only beauty products offering slashed prices for Black Friday. Charlotte Tilbury, The Body Shop, and Look Fantastic have some strong offers, as do Debenhams, with 20% off across their beauty gift sets. Make sure you check out MAC too, the cosmetics giant are offering their "Best of MAC kit" for just £50. 
In terms of male grooming, Mankind have a substantial offering when it comes to Black Friday discounts this year. Save across a range of brands from shaving sets to skin care and everything in-between. They're also offering new members an added 25% discount to sweeten the deal. 
---
Clothing
You'll be hard pushed to find a clothing store that aren't doing something in terms of Black Friday promotions. It's a great time to get your holiday wardrobe sorted, so you can be decked out in your finery throughout your break.  
Asos are promising a wide selection of offers across a range of garments and, let's face it, they're always good for some on-trend clobber. Although it can be tough to find summer clothing at the moment, you can get some great prices when you do find some. 
Missguided are offering 30% off everything with the code: GOBIG. So, you can be sure to get your hands on some discounted goodies for all seasons there.  
Whilst you're scouring the racks you might also think about chucking a couple of quid at picking up a new neck pillow to try and grab some shut-eye on the plane. Debenhams are your friend for this again! 
---
Sun Beds
Whilst we'd love to offer you the perfect tanning place just around the corner with some vouchers to top up your tan, alas we can't.
But we can draw your attention to the decent range of tanning products Beauty Bay have available at the moment in that regard. The good thing about these products is you can pop them in the cupboard ready to go when you've decided where you're going from our current offers.
---
Insect repellent
Yes, you could just wait for your trip to come around and buy your insect repellent then. But while these deals are happening you might as well get your money's worth, right?!
The outdoor store Blacks are currently offering Black Friday savings across their site. 30% seems to be the going rate, which is a decent figure if it means grabbing a couple of quid off your mozzy spray!
---
Inflatables
It may sound daft, but the last thing you want is to be all ready to hit the pool, then you remember you haven't picked up your inflatables.
But don't worry we have you covered or, more accurately, Mountain Warehouse do with their Black Friday promotions. Right now they're offering over 50% off across their site which you'll be ecstatic to learn, stretches to pool inflatables.
Plus, you're telling me that you won't find a use for a big inflatable doughnut, reduced to £3.99 from £12.99, between now and when you go away? We don't believe you!
---
Make the most of Black Friday in Lockdown
It may seem silly to be thinking about going away when all we can do at the moment is stare at the same four walls in Lockdown 2.  
But we think that Black Friday along with our amazing Subscriber Exclusive deals give us the perfect chance to escape from our current situation and dream of happier times to come.  
Also you know, as well as we do, you'll be relieved you got the majority of your holiday shopping done now, while you can, rather than waiting for the pre-hol blind panic to set in.  
So why not use this Black Friday to buy some bits you have a genuine plan for. Then come and take a squint at our latest holiday deals to decide where you'll put those shrewd purchases into action.