It's time to make The Grand Escape, introducing Centara Grand Island Resort & Spa
Complimentary champagne breakfasts are available on this barefoot island paradise, do we need to say any more?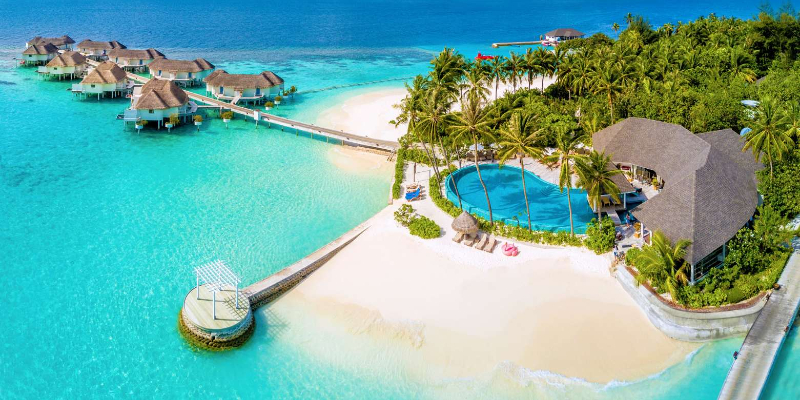 Centara Grand Island Resort & Spa is a luxurious piece of Maldivian bliss. Cocooned in in the beautiful surroundings of the South Ari Atoll, this resort is truly what dreams are made of.
From the 112 modern suites and villas available, there is a room perfect for every traveller. With the abundance of water-sports, amazing cuisine, and an incredible spa, you will find yourself living like an A-lister.
---
An Exotic escape
Arriving to this timeless resort by a sea plane is a luxurious experience in itself. Centara Grand Island Resort & Spa then offers a unique experience that cannot be found elsewhere.
This remarkable holiday experience can be enjoyed by families looking for an adventure to couples yearning for that romantic getaway. You will be able to explore real life island living as you immerse yourself in ocean views and white sand beaches.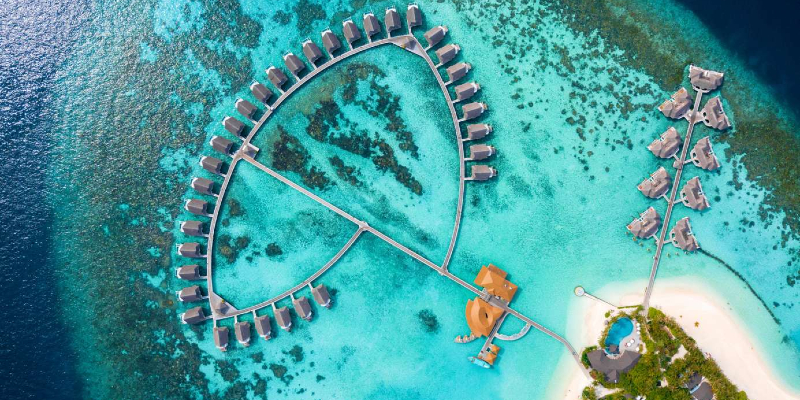 Weddings are also available for those wanting an unforgettable ceremony. The underwater package means you can tie the knot (not the sailor's kind) amongst the fishes.
If you prefer the more traditional kind of wedding, beautiful land ceremonies are available too! You will probably find yourself considering staying over for your honeymoon too..
---
Your room
We know how long and stressful days can be in paradise.. But every room available offers a comfortable and chic space to end your day with.
The current offer available at Tropical Warehouse means you get to stay in Two-Storey Duplex Beach Suite with direct Beach Access. This means you'll never be too far away from taking in the amazing ocean views.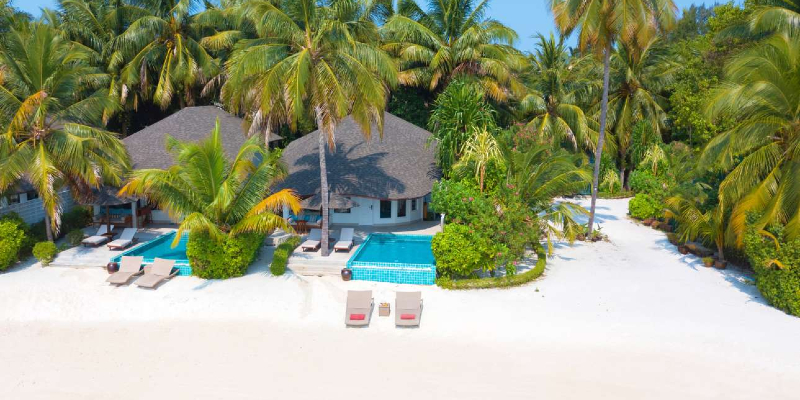 Your private sun terrace is the perfect spot to catch the rays with a bottle of bubbly, sounds like heaven to us!
For families hoping to enjoy this Maldivian utopia, the Deluxe Family Water Villa rooms 2 adults and 2 children. The room features safety rails on the wooden decking area above the water so you can all relax in safety.
---
Ready for an adventure
With complimentary excursions available at Centara Grand Island Resort & Spa, your days will be fun of fun. Head out on a boat trip and see magnificent whale sharks. Or, if you'd rather get up close and personal with the marine life explore one of the world's most outstanding diving spots.
The PADI Certified dive centre on-site means you can marvel at the kaleidoscopic marine life darting around the colourful reef.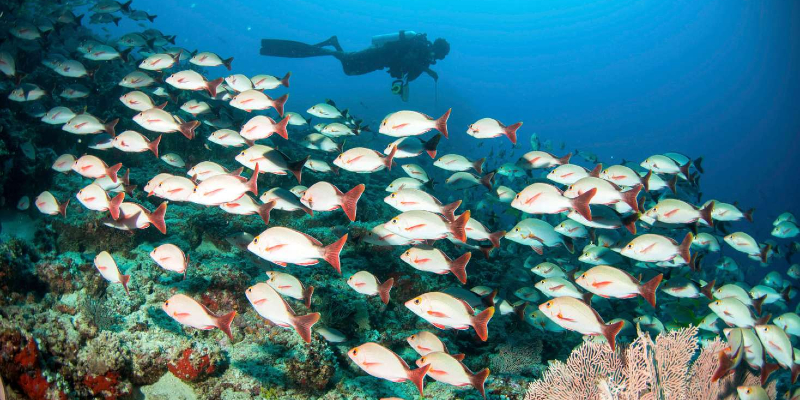 When you're ready to take to the waves, you can take part in some awesome water-sports. Canoeing, wind-surfing and parasailing, and that's not all of them!
If you prefer a pool over the ocean, the infinity pool at the hotel is the perfect spot to chill with a cocktail.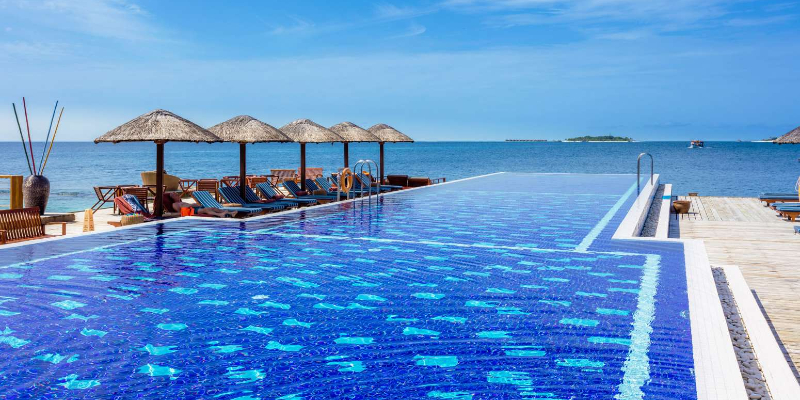 ---
Back on land
The Fitness Centre
If you've struck up a strict fitness regime over lockdown, The Fitness Centre will come in handy. The views compared to your local gym will leave you breathless, and that's before you've even turned on the treadmill.
There's a variety of fitness equipment available so you can burn off some calories and make some extra room for the delicious cuisine.
Kid's Club
Camp Safari is the perfect club for little adventurers. Whilst you dabble in the on-site excursions, you will feel safe knowing the kids are learning and playing with the specially trained staff. They will be under watchful eye, all whilst exploring their magical surroundings.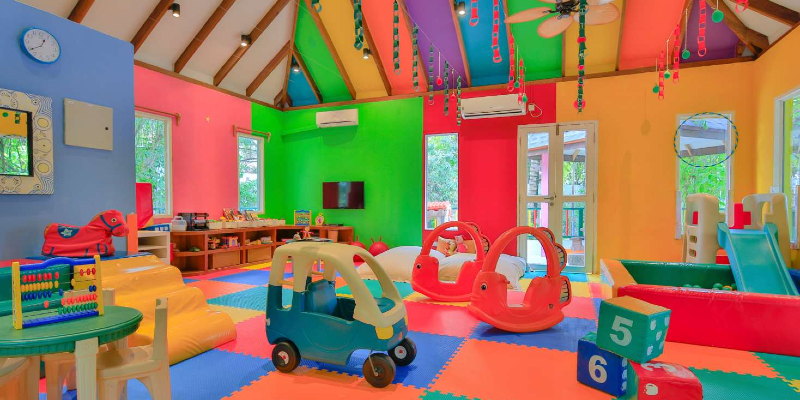 For the older kids, E-Zone is an area where they can kick back and chill out. With pool tables and games, it's an ideal spot to just take a time out.
Cenvaree Spa
When you are ready to turn that relaxation mode up a notch, head over to the Cenvaree Spa. Experience absolute bliss with the incredible treatments on offer.
Inspired by the heritage of Thailand, Cenvaree Spa is ready to leave you feeling like a new person. There are solo treatment rooms available, but also double treatment rooms for couples wanting to feel refreshed together.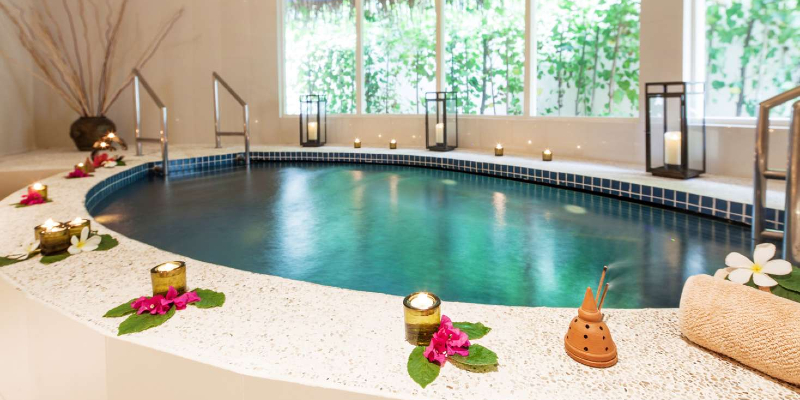 Explore the many options available at the spa. With everything from conventional treatments to Vichy hydrotherapy, body wraps and hot and cold plunge pools for maximum rejuvenation.
---
Let's Eat!
Would you expect anything less than four incredible restaurants and two bars from the luxurious Centara Grand Island Resort & Spa? The choices are exceptional and there is the perfect meal for every guest.
Want to know the best part? You still get the stunning views all whilst dining on the delicious cuisine.
The main restaurant at the resort is the Reef Restaurant. Here you will find a variety of delights from across the world, for every meal of the day. This is also where you can indulge in champagne breakfasts, cheers!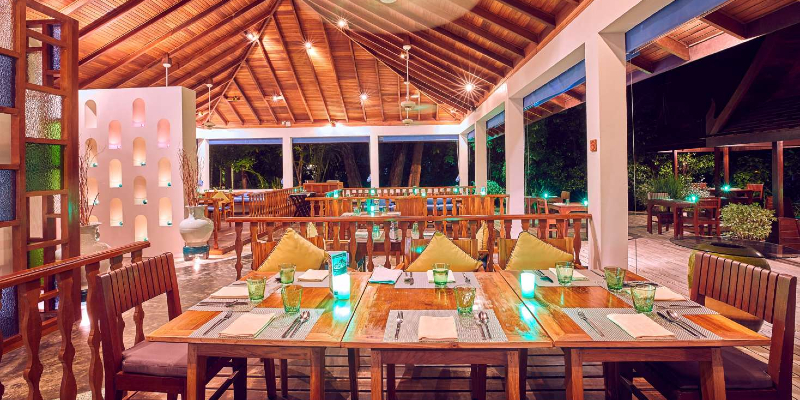 Azzuri Mare boasts a lively open kitchen design whilst cooking up all of your Italian favourites. For the sea-food lovers, you will find all of the ocean's delights at this restaurant. If fish isn't what you're fancying, enjoy the tastes of classic pasta and pizza dishes. Buon Appetito.
Ready for the magnificent flavours of Thai Cuisine? Then Suan Bua is where you want to head to! Serving up all of the famous dishes like pad Thai, som tam, tom yum kung. Your belly and heart will be full of happiness.
The Club is an exclusive retreat for Club guests. Offering an even more luxurious venue for satisfying your appetite throughout the day. All of the different dining experiences are available here, from an a la carte breakfast to speciality five course meals.
Bars
There's a couple of bars available to cleanse the palate, both offering refreshingly delicious drinks from 10am all the way up until midnight.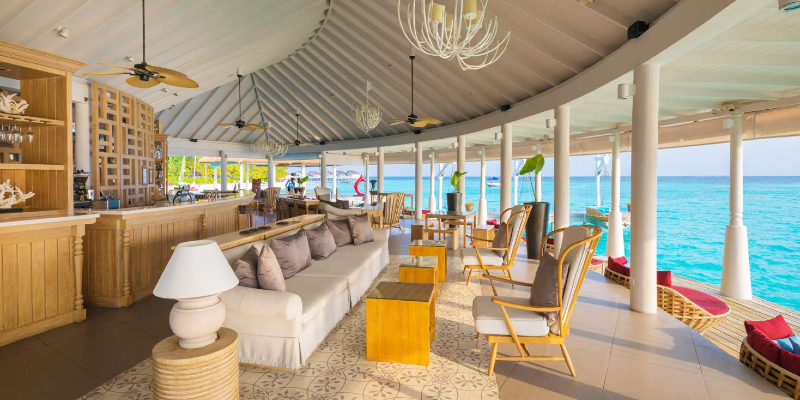 The Coral Bar is a stunning lounge bar which is located on the incredible beach front. It is built on two-storeys, with a casual sand-floor setting on the ground floor. The first floor has a variety of games and pool tables so you can kick back with a cold beer, cocktail or a wine.
If you want to watch the final rays of tropical sunlight fade into the horizon, the Aqua Bar is the place to be. Order a classic cocktail and plan your next day of adventures.
---
Read all you need to know?
It's not hard to be tempted by Centara Grand Island Resort & Spa, and if you're ready to get that post-lockdown break booked, click the button below and get that magical Maldivian trip booked.
If you want to find out some more facts about this beautiful island, check out our blog on 7 must-know facts you have to hear about the Maldives.