8 Incredible Temples in Thailand That are Completely Unique
With over 40,000 temples in Thailand, you're guaranteed to stumble upon one, or several, on your trip away.
---
Temples, also known as wats in Thailand, are a big part in everyday Thai life, due to Thailand being a Buddhist country. From providing a central gathering place, to visiting them to pray for good health, fortune, and wealth. This is why you will find so many in this beautiful country.
Amongst the active temples are also incredible ruins which are an amazing sight to see. It would be impossible to visit all 40,000, so we've come up with a list of our favourite temples in Thailand.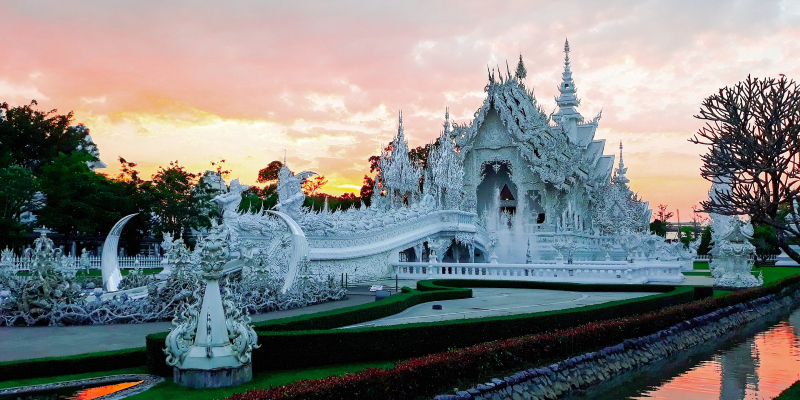 ---
Wats your favourite temple?
It doesn't matter which area of Thailand you are residing in, there's guaranteed to be a temple nearby. Made from stone, marble and even recycled beer bottles, take some time out of your trip, and visit these magnificent structures.
The White Temple, Wat Rong Khun, Chiang Rai
Wat Rong Seua Ten, Chiang Rai
Sanctuary of Truth, Pattaya
Temple of a Million Bottles, Wat Pa Maha Chedi Kaew, Sisaket
Temple of the Emerald Buddha, Wat Phra Kaew, Bangkok
The Reclining Buddha, Wat Pho, Bangkok
Wat Benchamabophit, Bangkok
Wat Tham Sua, Krabi
---
The White Temple, Wat Rong Khun, Chiang Rai
Although Wat Rong Khun in the Chiang Rai province is a temple, it is also a privately owned art exhibition. It is better known to tourists as 'The White Temple', due to its stunning chalk white exterior.
Wat Rong Khun was rebuilt by local artist, Chalermchai Kositpipat, after its original structure fell into poor condition at the end of the 20th century. Using his own funds, he completely rebuilt the temple as an offering to Buddha, and he finished the rebuilding in 1997. His belief is that by doing that, Buddha will give him immortal life.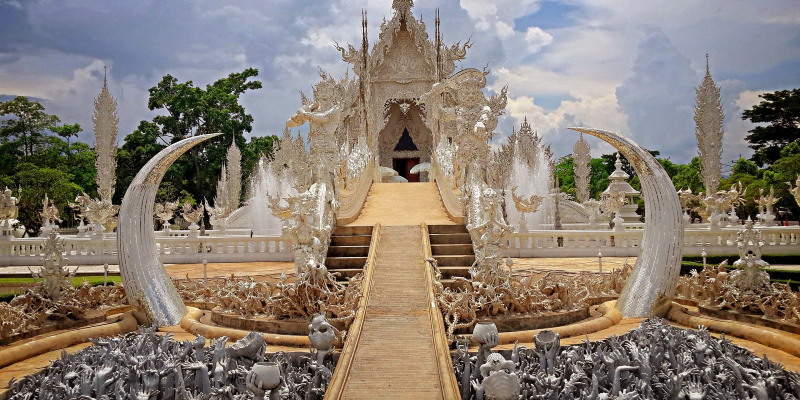 It truly looks like something out of fairy-tale book, and the temple's incredible statues do a great job of telling the story.
There's only one way to reach the main building of the White Temple and that is to cross the narrow bridge over a small lake. The bridge itself is called the Bridge of the Cycle of Rebirth and represents the way to happiness. You are crossing over from the cycle of death, leaving behind greed, temptation, and desire.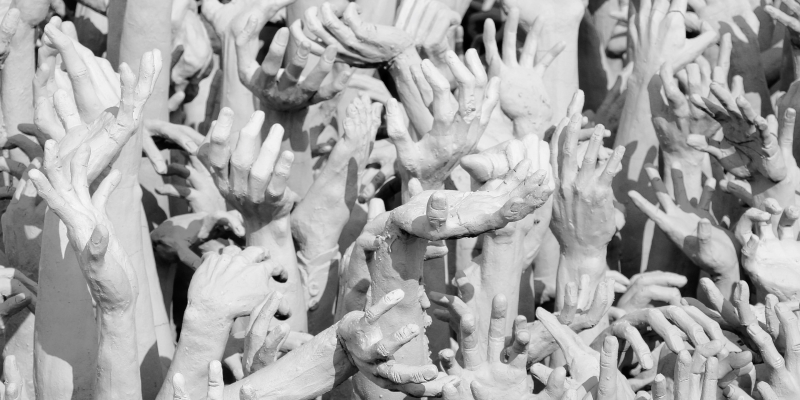 Surrounding the bridge are hundreds of hands reaching out, symbolising desire. It's quite a scary walk, as you can't help but look at the creatures being 'dragged down to the pits of hell'.
Despite how eerie this wat sounds, Chalermchai Kositpipat's temple is one of a kind. With it's quirky exterior and traditional Buddhist themes and modern influences it's one of the more creative temples in Thailand.
---
Wat Rong Seua Ten, Chiang Rai
On the other hand, if you're after a bit more colour, you have Wat Rong Seua Ten in Chiang Rai, which is known as the Blue Temple. This is one of the newer temples around, and it was actually completed in 2016.
Although it's smaller than the usual temple, it's remarkable features are eye-catching. It has deep blue walls, statues, and carpets. Plus, golden accents on the exterior and magnificent snake like creatures sat at the front of the temple's gates, you'll be lured in instantly.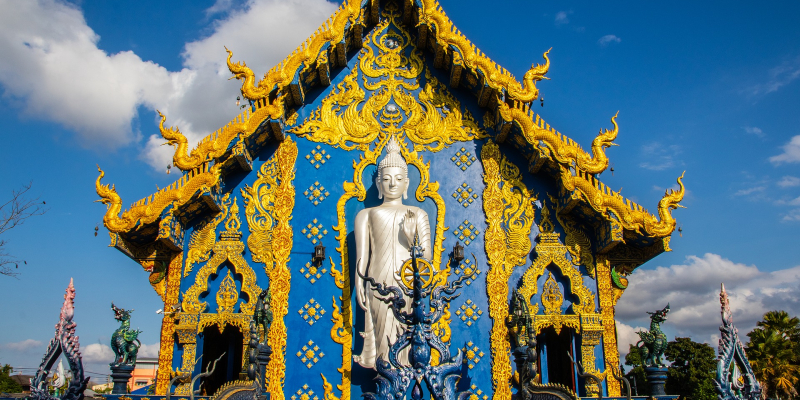 The name Rong Seua Ten actually translates in Thai to 'house of the dancing tiger'. This is because historically the area around the temple was surrounded by wildlife, particularly tigers. According to the legends, it is said that they would jump over the Kok River.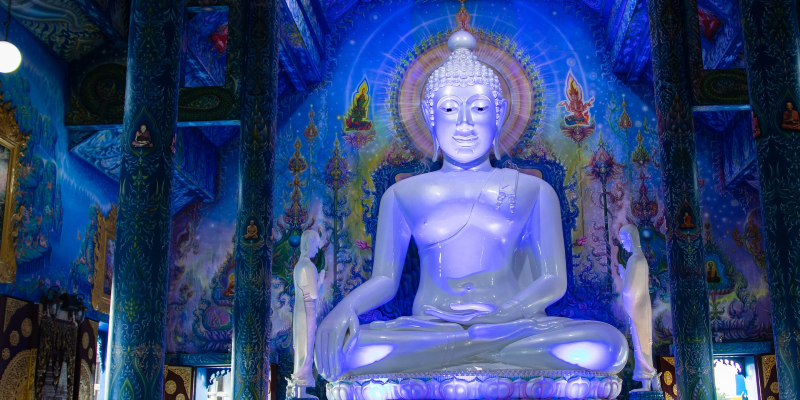 Unlike the White Temple, this is an active Buddhist temple so you may find people praying during your visit. Due to this, there are the standard dress code rules and behaviours that apply when visiting temples.
This includes covering your shoulders and knees and taking off your shoes when you walk inside. You also shouldn't post for a photo with your back to Buddha and you also can't point your feet towards Buddha.
It's important to learn the etiquette and rules when visiting temples in Thailand. After all it is an area of worship and not just a place to get a picture for the Gram.
---
Sanctuary of Truth, Pattaya
Truth be told, the Sanctuary of Truth is a structure of extraordinary woodwork. Located in Pattaya, it's a complexly carved and completely unique temple, made completely out of wood.
You won't even find a metal nail holding something in place, but please feel free to take a look around and see if you can spot one. But we're telling you now, it's a waste of time, it's literally just wood.
The Sanctuary is part temple, part castle and part museum. It was created to honour traditional Buddhist and Hindu values through the decorative pieces within the temple.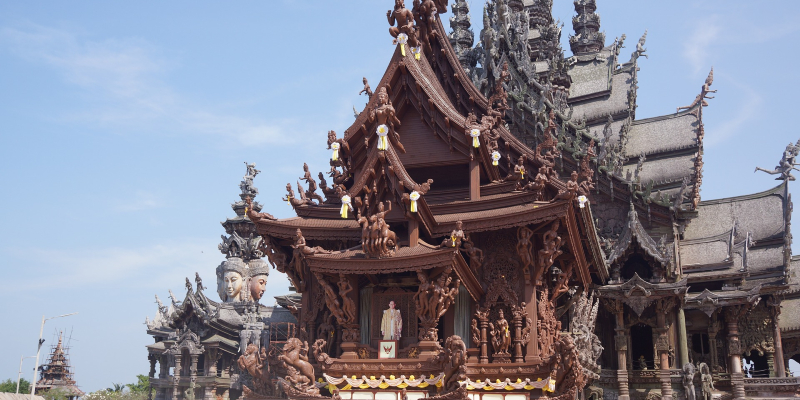 Marvel at the thousands of intricate detailed carvings of mythical animals, elephants, and deities that line the outside of the Sanctuary of Truth.
Although it was commissioned by millionaire Lek Viriyaphan back in 1981, it's still under construction today. You are able to take a tour inside, however you are required to wear a hard hat due to work still being done.
If you thought the outside was magnificent, wait until you see the inside. The hard work and effort that has been put into each carving really shows, and you can spend hours gazing at the talented work.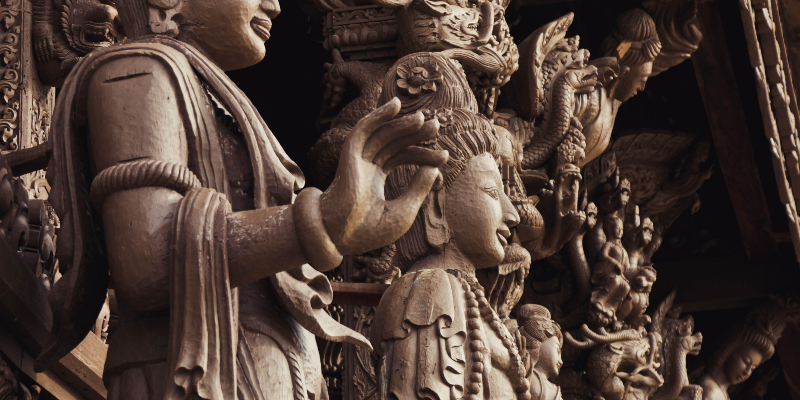 ---
Temple of a Million Bottles, Wat Pa Maha Chedi Kaew, Sisaket
What else could you do with 1.5 million recycled glass beer bottles other than create a whole temple? Wat Pa Maha Chedi Kaew, also known at The Temple of a Million Bottles does exactly that.
Local Buddhist monks wanted to help aid the local area with their waste and recycling, to help create a greener lifestyle. Thus, the idea of creating a temple out of recycled materials was born.
Collection of the bottles began back in 1984 and it took two years to build the main temple. Today the site has been extended further, and by 2009 there was around 20 buildings on the complex.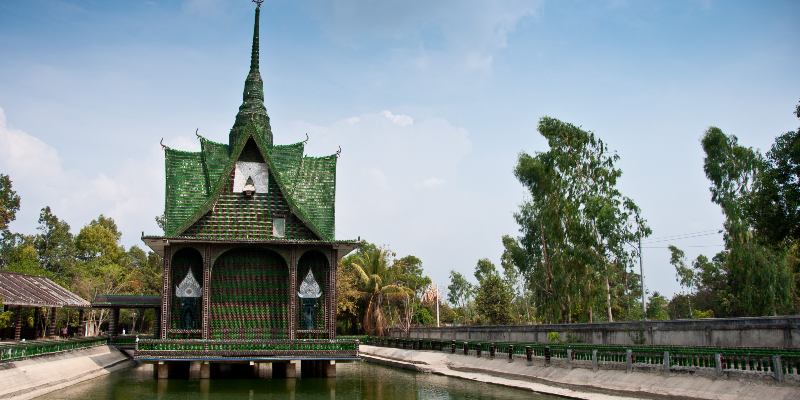 You will see a lot of a green and brown colour scheme; this is because mainly Heineken and Chang beer bottles were used for the construction. None of the bottle went to waste, the bottle caps were used to create mosaics and the bottles were even used to make the toilets!
The project helped to reduce waste, reduced carbon emissions, was cheaper for the Monks to build and overall is one of the most incredibly unique temples in Thailand.
So, next time you have a bottle of beer, just think about all the endless innovations you could create with it.
---
Temple of the Emerald Buddha, Wat Phra Kaew, Bangkok
Discover one of the most famous and sacred temples in Thailand, located in Bangkok. Wat Phra Kaew, also known as The Emerald Temple. It is home to the statue of the Emerald Buddha, who is deemed the protector of Thailand.
Despite emerald being in the name, the Buddha is actually created from a single block of jade. It is sat on a gilded altar and is located inside of the Grand Palace where the Kings of Siam reside.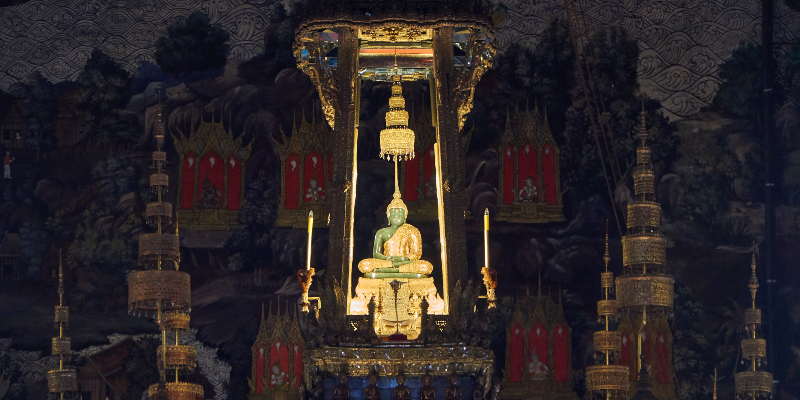 No one is allowed near the Buddha besides the King, and it is raised up on a series of platforms. There is a seasonal cloak change that happens three times a year, which can only be performed by the king. By changing the cloak, it is believed that good fortune will be brought to the country during each season.
The Buddha is said to date back to the 15th century and has been located in several temples in Thailand during it's time. It ended up in Bangkok in 1784, and this is where you will still find it today.
---
The Reclining Buddha, Wat Pho, Bangkok
As one of the oldest and largest temples in Bangkok, Wat Phra Kaew is on our list of must-see temples in Thailand. With a temple ground that covers an area of over 80,000 square metres, it's also home to a giant reclining Buddha that is 46 metres long.
The reclining Buddha is gold-plated and is so large that you just have to see it with your own eyes. The Buddha's eyes and feet are also engraved with mother-of-pearl decoration.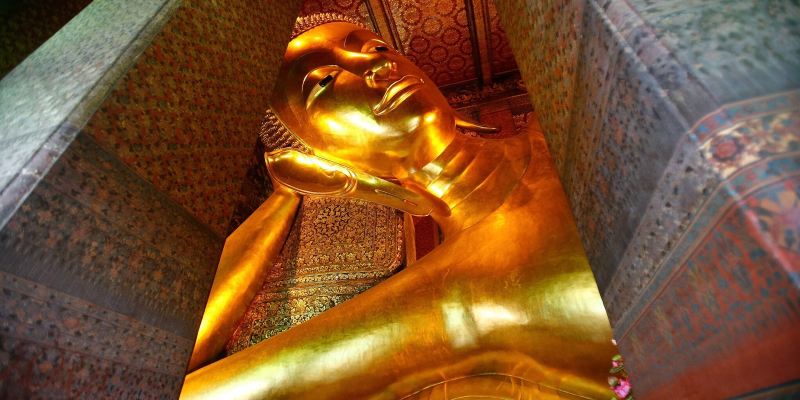 It also has the country's largest collection of Buddha images, so make sure to take a tour around the temple's courtyard and buildings.
Another interesting fact is that Wat Pho is famous as Thailand's first university. It was the birthplace and training centre for traditional Thai massage and medicine. So, if you've never experienced a Thai massage, what a place than Wat Pho than to try your first one!
---
Wat Benchamabophit, Bangkok
This marvellous Marble Temple typifies Thailand's traditional architecture. It was designed by Prince Narisara Nuwattiwong and was built from marbles imported from Italy. When you arrive, you are greeted by the impressive marble pillars and a courtyard made out of glistening marble.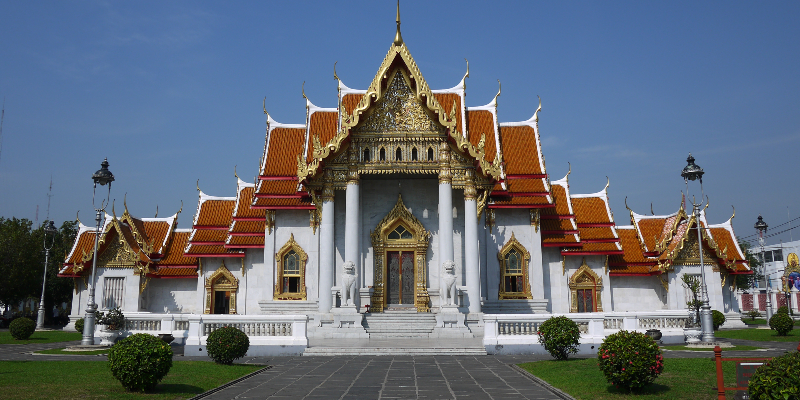 It's one of Bangkok's more popular temples and definitely a tourist attraction, but it's easy to see why. This stunning Thai temple has many European influences, but you can also see the traditional Thai architecture.
Wat Benchamabophit also appears on the back of Thailand's 5-Baht coin, showing how beautiful and worthy this temple is! When you step inside you will be greeted by a Sukhothai-style Buddha statue and magnificent stain glassed windows.
---
Wat Tham Sua, Krabi
A visit to this temple in Krabi is not for those who don't enjoy climbing stairs and steep climates. With 1237 steps until you reach the top of Wat Tham Sua, also known as the Tiger Cave Temple, you're in for a challenging but rewarding trip.
Legend has it that a tiger used to roam the area and sleep in the cave until morning sunlight. It's also said that the naming of the temple came from the tiger paw prints that were discovered on the cave walls.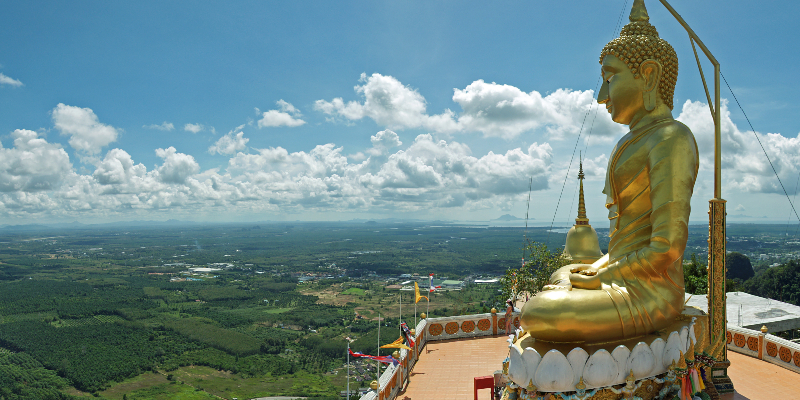 If you want to take a trip up to the top of Tiger Cave Temple, please be aware of the temperature as you don't want to be climbing up the stairs in the midday Thailand heat. The views from the top are great during sunrise, so if you're an early bird this could be the great time to get your walking shoes on.
Once you reach the top you will be greeted by amazing views and 'the Buddha's footprint'. You may also make some monkey friends on the way up. So if you don't want your own snacks to be taken off you, purchase a banana by the entrance to feed these cheeky animals.
---
Tempting Temples in Thailand
Are you now tempted to take a trip to Thailand to visit any of these magnificently unique temples?
You really won't find anything elsewhere like these temples in Thailand.
If you want to look into booking a resort in Thailand so you can visit these beautiful places of worship, check out our blog on 3 affordable Thailand resorts delivering luxury for less. 👇