Catch the best deal in the Seychelles: Introducing Fisherman's Cove Resort Seychelles
Marine-lovers behold, our introduction to Fisherman's Cove Seychelles will tell you everything you need to know before you go.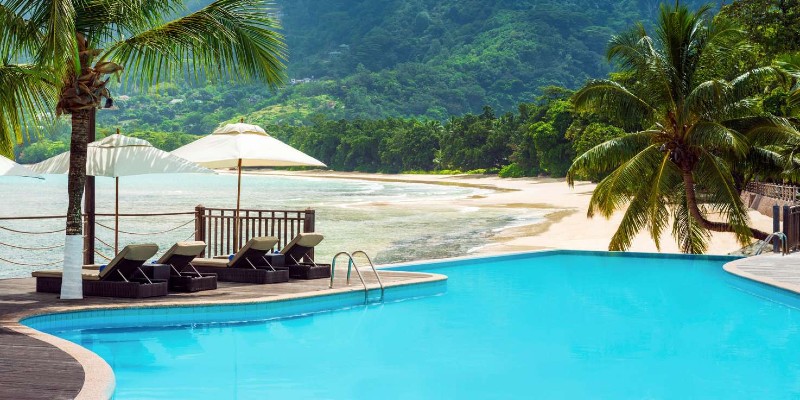 Let us introduce you to Fisherman's Cove Resort Seychelles, where the world's your oyster.
Here you can spend lazy days soaking up the rays on Beau Vallon beach or explore the island captial of Mahé, the choice is yours.
But before we get into location, location, location, let's tell you what to expect when you hit the front step of Fisherman's Cove Seychelles.
---
Seychelles by the sea shore
Famed for crystal clear waters and beautiful beaches, the Seychelles is made up of 115 islands in the Indian Ocean.
The main island of Mahé is where you'll find the luxurious Fisherman's Cove Resort just 15 minutes from Victoria, the smallest capital in the world.
However, serenity is the name of the game at Fisherman's Cove. Located on, the amazing, Beau Vallon beach with 3km of ivory-white sand, glistening Indian Ocean and picture-perfect views.
---
Sea-nic ocean views in the Seychelles
Nestled amongst the impressive tropical gardens are the 68 rooms and suites at Fisherman's Cove Seychelles. But what can you expect from your stay?
Accommodation here is Creole inspired with a chic and stylish finish. Soak up the atmosphere with traditional décor, dark wood furniture and warming tones adding a touch of elegance.  With open plan designs these sumptuous rooms are spacious and inviting, just the tonic for a superior Seychelles escape.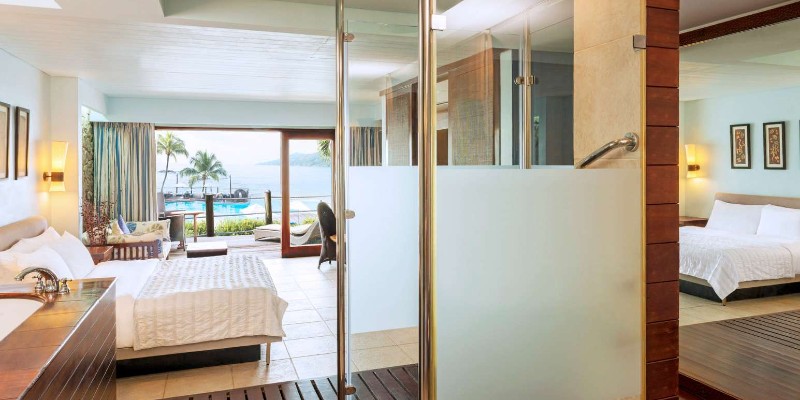 Our current offer includes a free upgrade to a Deluxe Oceanfront Room complete with fully furnished lounge area and private furnished balcony. Providing the ultimate backdrop to your stay in paradise, experience majestic ocean views and listen to the soothing sounds of beautiful Beau Vallon beach as your soundtrack.
---
---
A foodie's idea of heaven
Two outstanding restaurants await holidaymakers at this luxury resort. Both boast open-air dining and panoramic views of the rippling Indian Ocean.
Eateries are top notch here so your tastebuds will be on cloud nine. Choose from a range of delicious cuisine at Le Cardinal Restaurant where ample buffets are presented as a feast for the eyes.
Open for breakfast and dinner the scrumptious choices are endless and will leave you wanting to return for more.
However, the star of the show when it comes to eateries is the renowned Paris Seychelles Restaurant.
This exquisite á la carte combines classic French cuisine with the traditions of Creole cookery. It succeeds in drawing from both African and Asian influences.
After a visit to Paris Seychelles it's easy to see why the restaurant's regarded as being one of the top fine dining establishments in the Seychelles. With the finest cuisine and first class service eating here at least once is a must when staying at this luxurious resort.
Go coco-loco at the Sunset Bar
What's better than sampling a new exotic cocktail whilst enjoying views of the Indian Ocean and taking in the spectacular sunset?
We can't think of anything. So it's probably right that we tell you about, the aptly named, Sunset Bar where you can do exactly that. The Bar occupies a prime position from which to experience the best views of the Seychelles' most magnificent sunset. Relax with a signature drink and embrace the views, you certainly won't forget them in a hurry.
Embracing a more casual atmosphere with a beachside vibe is Le Cocoloba Bar.
Just steps from the white sandy beach, it's the perfect place to cool down with a refreshing beverage. There's also a variety of tasty snacks on offer too, ideal for a light lunch in paradise.
Oceans of activities to enjoy
As you'd expect with the inviting azure of the Indian Ocean on the doorstep there's a whole host of exciting underwater fun to be had at Fisherman's Cove Resort.
The options are endless including jet-skiing, water skiing and parasailing. Or try your flippers on for size and take part in the resort's Unlock The Sea experience, a trail encompassing five points of interest. Fascinating underwater encounters await.
Dive in to discover colourful corals, swim alongside turtles and spot the many different types of marine life.
You can even send a postcard home to friends and family from the underwater post box, definitely something to write home about! But let's get back on dry land and learn more about the scintillating beach this resort calls home. 
Lazy days and ocean waves
Beau Vallon Beach is arguably the most famous on the island of Mahé. At over 3km it's also one of the longest beaches in the Seychelles.
Presenting a myriad of activities the beach is vibrant with a fun-filled atmosphere. It's popular with tourists and locals alike so there's a real mix of couples, families and all age groups to be found here.
In addition to the usual water-sports on offer, you can also take part in numerous excursions. Hop on a tour and enjoy some island-hopping around the Seychelles. When it's time to take shade head over to one of the many beach bars and restaurants where you can pick up a delicious delight.
Although, for true shadey good times and soothing vibes, you can't beat the spa. 
---
Experience serenity at the Sesel Spa
For a rejuvenating experience make the most of the Sesel Spa, a tranquil environment designed with relaxation in mind.
Whether you wish to enjoy a blissful massage or a beauty treatment, the fully trained therapists deliver an exceptional service that will ensure you leave feeling refreshed and revitalised.
Make the most of your down time with a visit to the steam room or hydrotherapy area to complete the experience.
---
Ready to hook yourself a Fisherman's Cove Seychelles holiday?
If a stay at Fisherman's Cove Resort sounds like it could perfect for you. Click the button below to discover more about our latest deal and start turning your dreams into reality.