The Maldives on a Budget: 5 Tips & Tricks
A trip to the Maldives is the ultimate luxurious experience. So, you would assume a hefty price tag comes with it, but that doesn't have to be the case! We've got some tips to help make a budget break to the Maldives a possibility.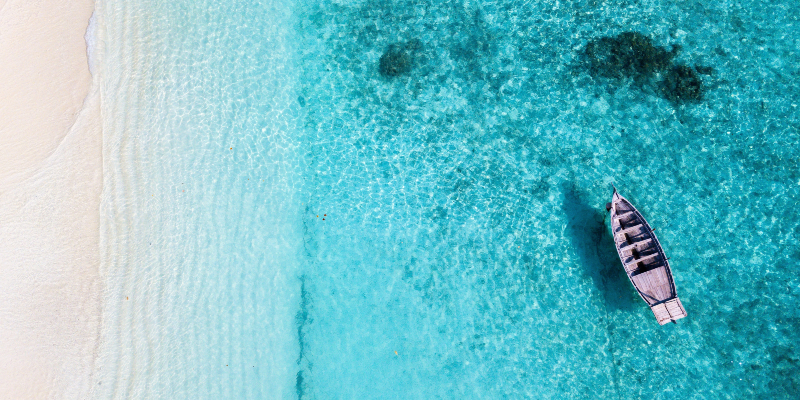 When you think of the Maldives, overwater villas, white sands and an island paradise might spring to mind. You're not wrong to think of these things, but you may also think of the chunk it's going to take out of your bank account.
Lucky for you, it's possible to take a trip to the Maldives without having to take another mortgage out on your home. It's not the typical book a hostel and live out of a backpack type of budget break. But instead, we will help you take an affordable, yet still luxurious, getaway to these beautiful islands.
---
Use our tips and tricks to visit the Maldives on a budget
You will still get to discover the magnificent Maldives experience that we all dream of, but you will return with a bit more money in your back pocket.
Here are some things we recommend you try and do on your trip away.
Book a reasonably priced resort
Consider your dining options
Book budget friendly excursions
Ways of getting around the islands
Enjoy the Maldives natural beauty
---
Book a reasonably priced resort
If you do a quick google search for a Maldives resort, you may be alarmed when you see the prices. It's always best to shop around for the best deals before just jumping straight in. But don't stress! We can show you how to bag bargain Maldives holidays and it's all down to the resorts.
At the Tropical Warehouse you can find stunning resorts at unbelievable prices. But if you aren't looking to stay in a resort, there are also several guesthouses around the Maldives which are inexpensive. The government have only recently permitted the establishment of these guesthouses on the local islands. It's not the same five-star luxury that you will find at an Oceanfront Beach Villa, but there are plenty of stunning choices available which will reduce the price tag of your trip.
---
Consider your dining options
Eating local cuisine and tasting the delicious street food is always one of the best parts of a holiday. However, in the Maldives you may find this difficult if you are on a one resort island! When booking your Maldives break, consider if you want to just stay in one place or venture around to different islands to experience the Maldivian culture.
A great way to book the Maldives on a budget is by taking advantage of the resort's dining options. A lot of the resorts offer all-inclusive, so there's no need to worry about finding places to eat outside of where you are staying. Food in the Maldives is delicious, and there are no exceptions made, even at the resorts.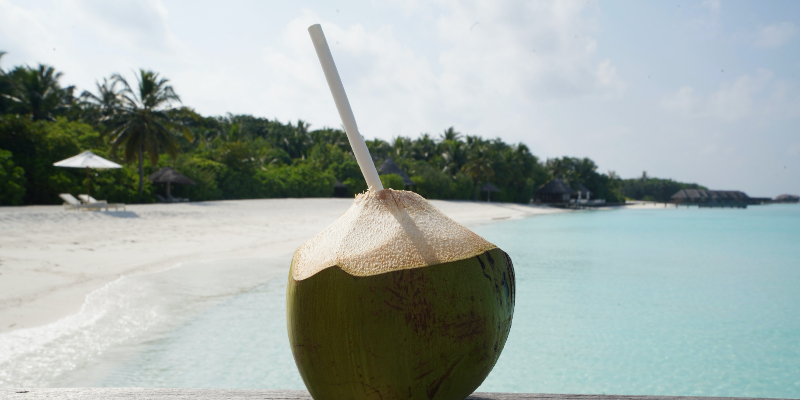 You can take a boat trip across to neighbouring islands if you are wanting to explore further. It's a good idea to check what islands you can get to before booking your holiday though. Local restaurants are reasonably priced, and an on busier islands, such as Male, you will find more places to eat.
There are lots of inexpensive fish-based dishes, and they're usually fish caught by the local fishermen that morning. The national dish of the Maldives is Gulha, a deep-fried pastry ball filled with smoked fish, served alongside desiccated coconut and onions.
Something to note is that the Maldives is a Muslim country, so if you are venturing out of your resort you won't be able to find alcohol or pork in the local restaurants.
---
Book budget friendly excursions
It's always good fun going on excursions. What's not fun is when they take all of your holiday money. Again, do your research before you head out there- find out if your resort offers any free excursions or if you can book them through the guesthouse/resort that you're staying at.
There are great excursions in the Maldives such as snorkelling tours, boat trips, swimming with manta rays/whale sharks and windsurfing. A lot of the time it is cheaper if you book it through the place you are staying at, but ask around and find out what price is best.
Or, if you feel confident enough to go out on your own, pack a snorkel and go out exploring to your hearts content. With the ocean at your doorstep, there's nothing stopping you from spending the whole day out in the azure waters. Plus, it'll be saving you money whilst you are still making amazing memories.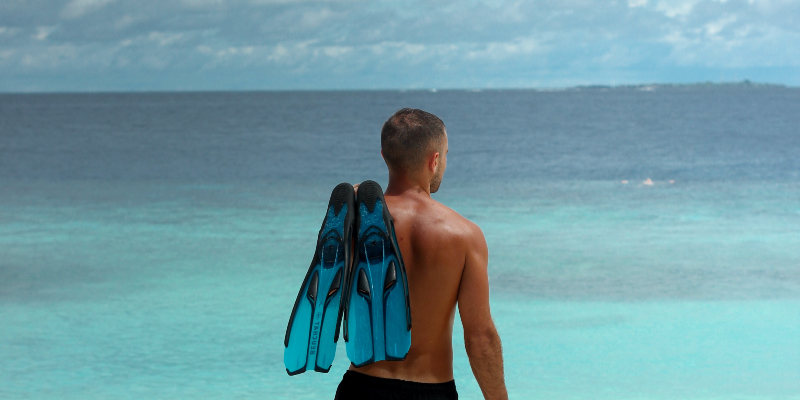 ---
Ways of getting around the islands
You will see a lot of boats and seaplanes in the Maldives, as these are the main mode of transport. There are no trains and very few cars, you may see a bicycle or two around though. A lot of holiday packages include resort transfers, whether it be seaplane or speedboat to get to your resort from the airport.
If your holiday package includes return transfers, this will save you a lot of cash. Usually there is a standard fee of around £200-£330 per person for a roundtrip for a seaplane if it's not included in your package. A speedboat is a much more cost-effective option, but it will take longer to arrive at your destination.
Booking through Tropical Warehouse, the Subscriber-Exclusive deals include speedboat transfers. If you do fancy adding a bit of excitement to your trip, of course at a price, you can sometimes boost your transfer upgrade to include a Seaplane trip.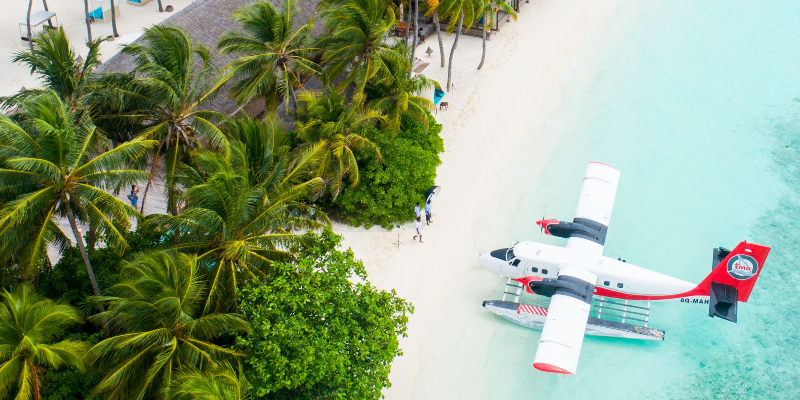 Once you're at your resort, if you want to travel to other islands, speedboat again is the best option. However, it's not always a seamless transfer from one island to another. It can be expensive, and the price does depend on how far you are wanting to travel. Our best advice would be to find an island or resort that you don't mind spending your whole holiday at.
---
Enjoy the Maldives natural beauty
What's cheaper than just taking in beautiful scenic views and lazing on a beach? Not a lot. Why not take advantage of what's on offer for free in the Maldives, and that is its natural beauty. Of course, England has plenty of stunning locations, but we don't have the crystal-clear tropical waters and swaying palm trees.
With over five thousand coral reefs and plenty of vibrant fish to discover, swimming in these clear waters is a memory that will live with you forever. Relax on the white sands and take in the sunshine rays and enjoy the Maldivian bliss.
The best things in life are free, and it's even better when it provides magnificent backdrops and the perfect place to forget all of your worries…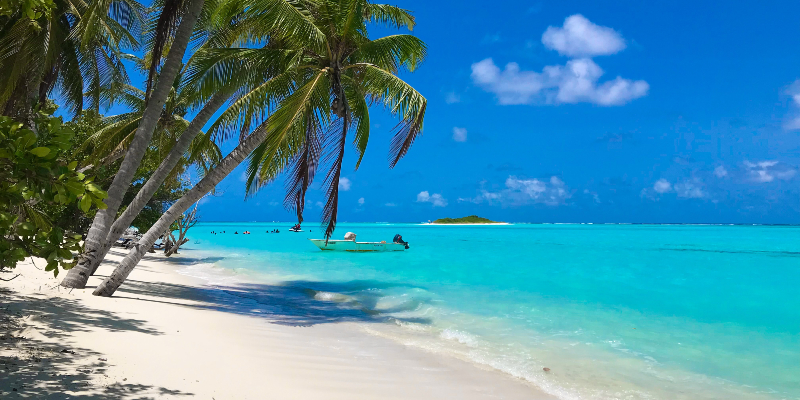 ---
Saved enough to book your next break?
Of course a trip to the Maldives isn't going to be the cheapest getaway there is, but it can easily be made cheaper.
Shop around, find the best deals and click the button below to find out how to bag a dreamy bargain resort.
On the other hand, if you want to learn more about the Maldives first. You could always check out 7 must-know facts you have to hear about the Maldives.