How To Bag Bargain Maldives Holidays in the Big Blue Sale
Getting your dream break on the books, with some change, is an awesome feeling. Find out how you can get brilliant bargain Maldives holidays in your diary thanks to the Big Blue Sale.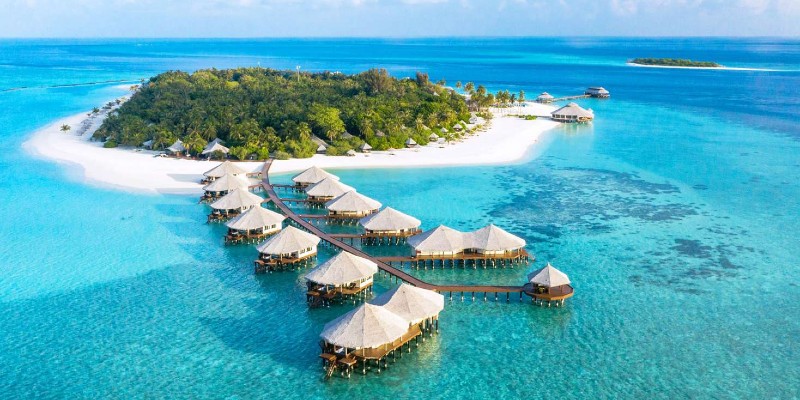 Flying to the marvellous Maldives ready to start the adventure of a lifetime is a dream for most. But in this blog we'll tell you why bargain Maldives holidays could be closer than you think.
You can picture it now can't you. Dreamy blue skies as far as the eye can see. From your window seat on your seaplane transfer you can also spot dots of idyllic paradise islands studding the azure Indian Ocean waters, like stars in the thick night sky.
But, we bet, shortly after the majesty of those views sink in, your mind starts to wonder to your bruised and battered wallet. After it opened up for this incredible break.
However, what if we told you it didn't have to be this way. You can do the Maldives on a budget and have your dream escape cake and sunbathe on it, or whatever the phrase is. In the Big Blue Sale there are a couple of top bargain Maldives holidays just waiting for you to pounce.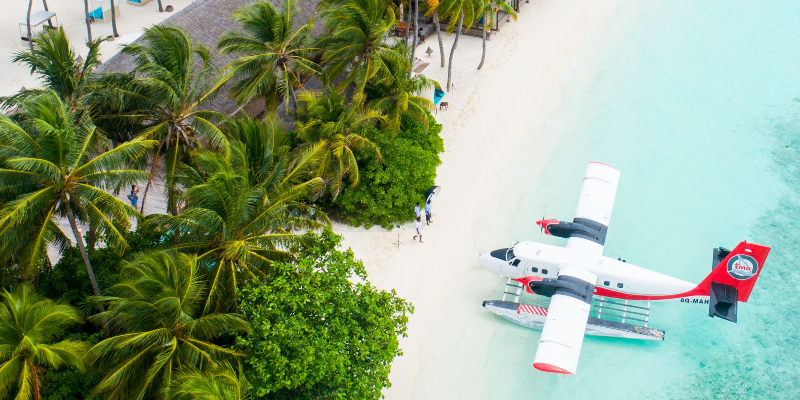 ---

---
The breaks
But what are these breaks!? We hear you scream.
In this blog we'll be looking at two awesome island resorts which feature in the Big Blue Sale, Eriyadu Island Resort and South Palm Resort.
As a result of them both being in the sale, each has a pretty hefty discount and upgrade offer available at the moment.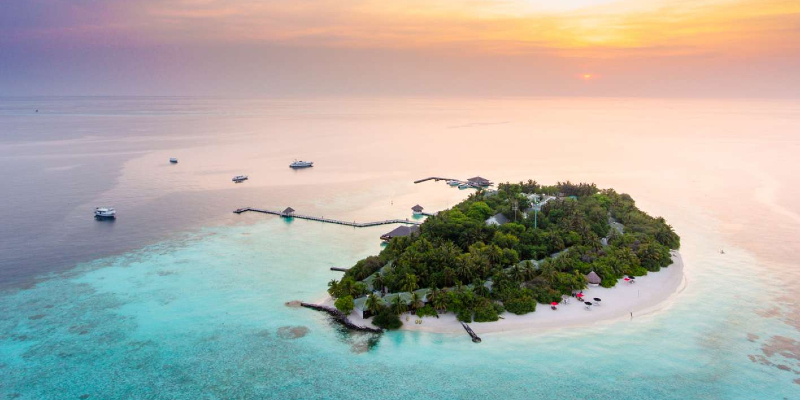 ---
The offers
We mentioned it there but what are the two offers that make these resorts bargain Maldives holidays?
At Eriyadu Island Resort you get to feel all those Robinson Crusoe vibes as this secluded escape comes with upgraded accommodation. Get a Deluxe Beachfront Villa with private walkout patio, as well as free spa extras, and special speedboat resort transfers. So, you'll be arriving like Ant & Dec at the start of I'm a Celeb every year. Moreover, all that's available from just £1,199.
Whereas at South Palm for an extra £100pp, on the overall price, you get to feel like you've got the pristine island beach to yourself. In your upgraded Oceanfront Villa with a private walkout deck, as well as a complimentary 15-minute Spa Treatment and boat and seaplane transfers.
Now you know about the offers, how about we tell you a little more about these two incredible resorts.
---
Eriyadu Island Resort
Just a green speck on the, otherwise, aquamarine landscape, Eriyadu Island consists of just seven square acres. On this secluded oasis you can make use of the luxurious resort facilities. If you prefer to relax on the idyllic white sand then no one would blame you. On the other hand, adventurers might like the sound of the on-site PADI dive centre – especially as the resort boasts a bustling house reef which is visited by 95% of Maldivian marine life.
The island will give you secluded oasis vibes. Inside the resort, however, you'll find nothing but opulence. Two restaurants offer everything from stylish buffets which boast dishes from across the world, to relaxed romantic dining with the majestic Indian Ocean providing the perfect backdrop.
Elsewhere in Eriyadu Island Resort you may want to make the most of your bargain Maldives holiday by paying a visit to the resort spa. Here, soothing island vibes combine with indulgent products and treatments to leave you feeling completely rejuvenated. Can you think of anything more magical than a massage listening to the Indian Ocean lap against the white-sand beach – we can, saving money!
---
South Palm Resort
Prepare yourself for five-star luxury at South Palm Resort. Placed in the idyllic Addu Atoll it's shimmers as the example of holiday perfection. However, where Eriyadu boasts its stunning diving conditions, South Palm is a great place to soak in some Maldivian culture.
Jump on an island-hopping tour and take in the enormous beauty of the Maldives first-hand. You'll also have the opportunity to check out nearby Hulhumeedhoo island and get a sense for what everyday life in the Maldives is like.
When it comes to dinner time Banyan Restaurant serves up a delicious array of international cuisine. From vibrant Asian flavours through to explorative Maldivian fare. But for the true island experience you have to take the chance to visit the Kurumba Spa. Set out on a jetty in the middle of a dreamy lagoon, the spa is built on soothing vibes.
---
In conclusion
It's not everyday you get the chance to bag a Maldives break for under £1,500. Plus, after the year we've had, the least you deserve is a dream escape to an enchanting island.
These offers in the Big Blue Sale are available throughout September. Whether you choose the secluded bliss of Eriyadu or the opulent island vibes of South Palm, the main thing both are bargain Maldives holidays.
To find out more about these scintillating escapes or awesome offers, click the button below to reveal the Big Blue deals.