The 10 Most Amazing Things to do in Sri Lanka
The island of Sri Lanka is packed full of fascinating things to do. Mesmerise your senses with captivating views, get closer to nature with a safari or make time for tea with a plantation visit.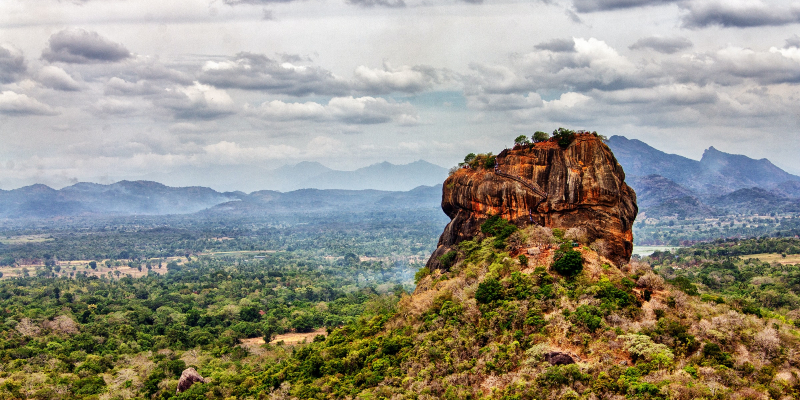 Sri Lanka has a vast range of things to occupy even the most seasoned traveller. We like to think of Sri Lanka as being one of the best places in the world to visit for the adventurous. So what can you expect to get up to?Here's our ultimate guide to the 10 most amazing things to do in Sri Lanka.
---
The top 10
Venture to the top of Sigiriya
Visit Arugam Bay
Tour a tea plantation
Go trainspotting at Nine Arch Bridge
Get closer to nature on safari
Spend the day at Yala National Park
Discover mystical temples
Hike to Adam's Peak
Enjoy the city of Kandy
See the fort at Galle
---
Sri Lanka's waiting
Our popular Sri Lanka Multi-Centre deals provide you with a seamless way of touring this stunning island. Additionally, you can look forward to a relaxing hotel stay to end your trip on a high.
Read on to discover some of the exciting things you can get up to.
---

Venture to the top of Sigiriya
Sigiriya is one of seven UNESCO World Heritage sites in Sri Lanka. Also known as Lion Rock Fortress, thanks to the lion paws at the bottom. Dating back to the fifth century AD these remarkable ruins are over 200 metres tall. Located amongst the ancient city of Sigiriya there's an abundance of history dating back centuries. Get ready to climb the 1,200 steps to the summit where you'll be rewarded with the most incredible panoramic views over Sri Lanka. This magical experience will stay in your memories forever.
Beach is best
For a laid-back beach scene sun-seekers should flock to the beautiful Arugam Bay. Adorned with palm trees and powder white sand you'd be forgiven for thinking you'd stepped into the Bounty advert. Beachfront restaurants and bars are plentiful so it's easy to get lost in paradise and spend a full day here. Arugam Bay also attracts those looking to catch a wave. It's well known as being one of the best surf spots in Sri Lanka.
It's time for tea
A stay in Sri Lanka isn't complete without a visit to one of the many immense tea plantations. Whether you're a tea lover or not, exploring the tea fields and learning how tea is made is without a doubt one of the best things to do in Sri Lanka. The country is world-famous for producing tea and in the tea region you'll be in awe at the tea growing on every hillside. By far the most popular place is Nuwara Eliya where you can catch a glimpse of the colonial years and Sri Lankan heritage.
Take a tour around one of the tea estates to watch the tea pickers hard at work. Try a sample made from fresh tea leaves and choose which ones you want to purchase as a memento to take home.
See where it all began at Lipton's Seat, where Sir Thomas Lipton launched his tea empire. This was his favourite spot on the whole plantation and where he'd enjoy a cuppa looking out over his whole estate. Follow in his footsteps today, just make sure you arrive early to guarantee a spectacular view before the afternoon clouds blow in.
Go trainspotting at Nine Arch Bridge
Nine Arch Bridge, also known as Bridge in the Sky is a viaduct bridge and a great example of colonial-era railway construction in Sri Lanka. You'll find the bridge in Demodara located between the railway stations Ella and Demodara. Construction of this ambitious structure ended in 1923. Nowadays, the bridge has become somewhat of a tourist attraction as people strive to achieve that perfect snap for Insta. It does get busy here so early risers can benefit from fewer crowds being around. Plus, the famous blue passenger train travels over at around 6:45am.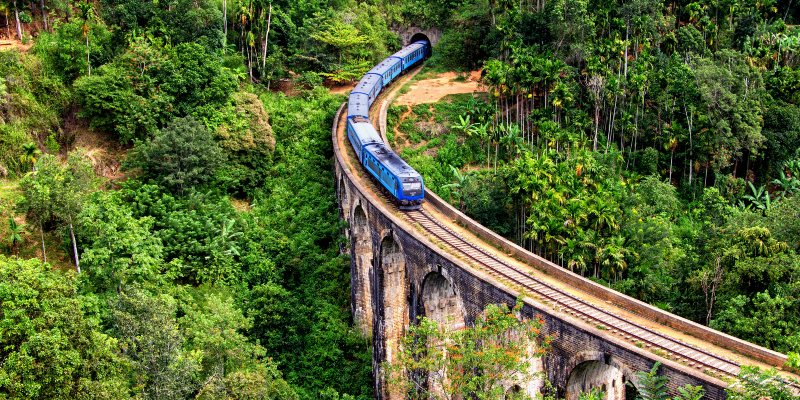 Safari so good
Sri Lanka is home to some amazing wildlife and so a safari is a must-do for many holidaymakers. Udawalawe National Park is home to one of the largest elephant populations in the country. And Udawalawe gives you one of the best chances of seeing Asian elephants in their natural habitat and roaming freely. You're also likely to see monkeys, crocodiles and water buffalo.
A safari makes for an excellent day tour whilst in Sri Lanka. This park was created to protect the catchment of the huge Udawalawe reservoir. And with an area of around 308 square kilometres, the park is home to around 500 elephants. This high density of elephants means you can almost certainly guarantee that you will see these gentle creatures. Seeing an elephant close up is such an incredible experience and one you're not likely to forget in a hurry.
Spend the day at Yala National Park
Whilst we're on the subject of nature, Yala National Park is also worthy of a visit. It's prime position on the south coast of the Sri Lanka means you'll be able to cool off in the ocean after a day on safari. Expect to spot elephants, birds, water buffalo and crocodiles to name just a few.
This park is also home to the largest density of leopards in the world and have played a huge part in the conservation of these amazing animals. Their presence in the park means it's highly likely you'll glimpse a leopard or two while you're here. Watch them prowling in their natural habitat and you'll get a sense of how graceful these large cats are. No wonder this exotic animal kingdom is one of the top excursions in Sri Lanka.
Discover mystical temples
Dambulla Cave Temple otherwise known as The Golden Temple of Dambulla is the largest cave temple in Sri Lanka. As a result it has been classified as a UNESCO world heritage site. As a largely Buddhist country you can expect to see elements of the religion throughout the country. This particular temple though is extremely well-preserved, especially when you realise that it dates back to the first century BC. Whilst the cave temple used to be home to Buddhist monks, today it is still a functioning monastery and extremely sacred.
With 5 caves of varying sizes visitors can expect to see impressive relics, statues, shrines , religious artefacts and murals. Remember to cover your legs and shoulders as a mark of respect. And don't miss the enormous golden Buddha statue and the striking pagoda.
There's so much more to see in the Dambulla region if you're looking for more things to do in Sri Lanka.
Hike to Adam's Peak
Standing at 2,243 metres tall Adam's Peak is held in high regard by the Sri Lankans. Although it has religious roots, for holidaymakers hiking to Adam's Peak is a great way to mix with Sri Lankans as you climb up. There are six possible trails to choose from, all enable the hikers to pass through the surrounding forest. Adam's Peak is so easy to reach from the main towns and cities including Kandy. There are plenty of places to stop and take a rest along the way, plus you can pick up a refreshment or snacks from one of the many small shops that line the route. Navigating the summit after a few hours combatting some difficult terrain is definitely worth it for the panoramic views alone. Remember to look for the Sri Pada or sacred footprint which is located near the summit.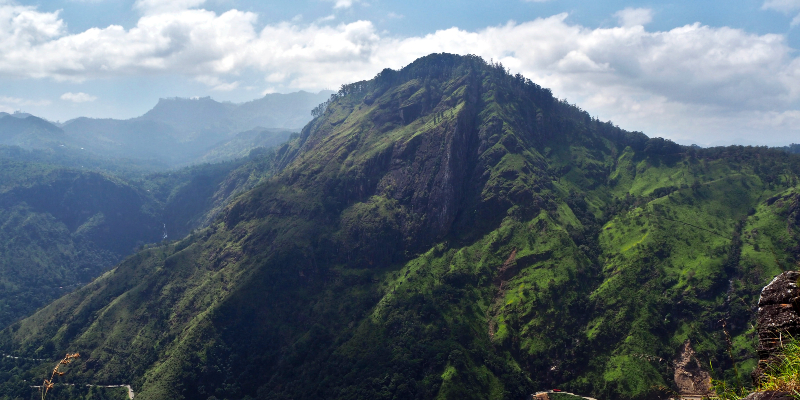 Enjoy the city of Kandy
Whilst in Sri Lanka ensure you make time to visit Kandy. The second largest city in Sri Lanka after Colombo has a population of around 5 million. It's a fantastic place to have a wander round, pick up a few souvenirs and embrace the culture. Renowned for having laid-back vibes coupled with spirituality, it really is a unique city. Kandy occupies a beautiful location and is surrounded by mountains and dense forest which just adds to its charm. Not forgetting of course the centrepiece Bogambara Lake.
A visit to Kandy isn't complete without a visit to the most important Buddhist shrine in the country: the Temple of the Sacred Tooth Relic.
Plus, if you're lucky enough to coincide your visit with the Esala Perahera Festival in July you'll be in for a real treat with a fun-filled parade to mark this wonderous occasion.
See the fort at Galle
Finally, the last place on our whistle-stop tour of Sri Lanka has to be the walled city of Galle. This walled city was built back in the 17th century by Dutch settlers and can be found on the southwestern coast of the island.
Uncover the area's rich history as you delve into colonial architecture. Notably head to the Galle Dutch Fort complete with the Galle lighthouse at it's tip.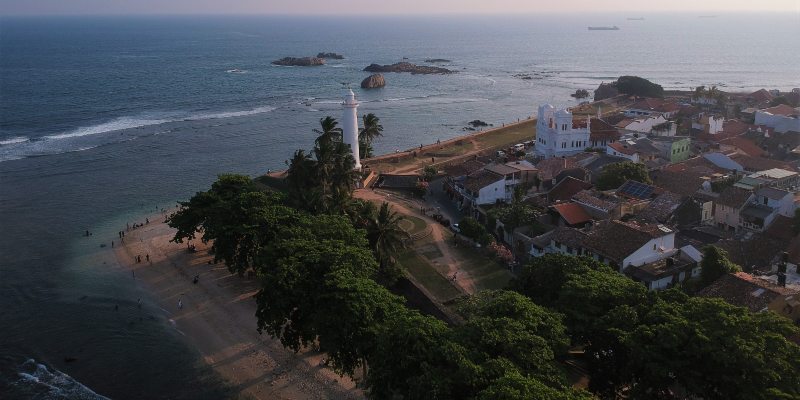 If reading this has made an impact and you'd love to find out more about this amazing country then click to learn some interesting facts about Sri Lanka.