6 Top Spa Resorts in Thailand You Need to Know About
Spa resorts in Thailand take treatments to the next level. We've got all the intel on where to stay for a rejuvenating break in paradise.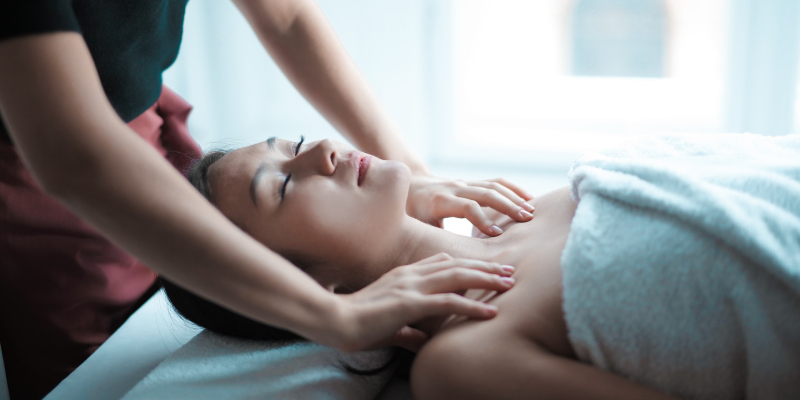 Thailand is synonymous with sublime spa retreats and as such proudly showcases some of the best spa resorts in the world. Couple this with amazing coastlines and sunshine and you get the idea why holidaymakers flock here for some well-deserved R&R.
So, if you're looking to recharge check out out top 6 sumptuous spa resorts.
1. Grand Mercure Khao Lak
2. Avista Hideaway Phuket Patong – MGallery
3. Pullman Khao Lak Resort
4. Casa de la Flora
5. X10 Khaolak Resort
6. Khao Lak Emerald Beach Resort & Spa
Grand Mercure Khao Lak
First, hidden away on a serene stretch of Thailand's Andaman Coast, lies the Grand Mercure Khao Lak Bangsak, the epitome of peacefulness. Designed in the style of a traditional riverside village, the resort is surrounded by glistening water, Thai-inspired architecture and verdant, manicured gardens. If your idea of a holiday is switching off and getting away from it all, then this resort ticks all the boxes.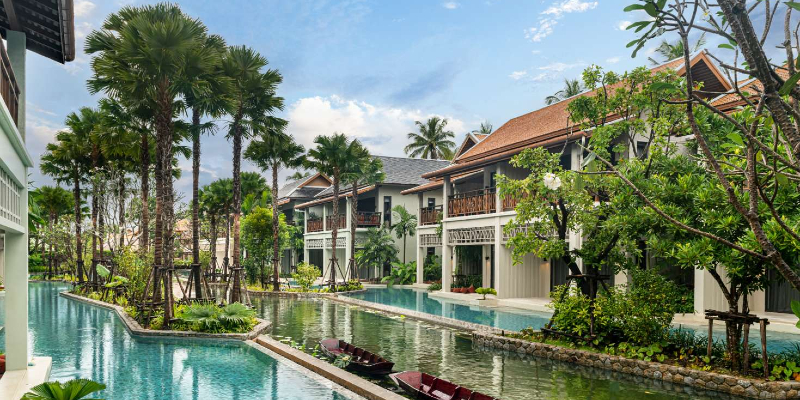 Tranquil moments await with welcoming hospitality from the moment you arrive. Rooms are elegant and spacious and exude calmness and serenity. Providing a sumptuous space to kick back and relax, all rooms will fulfil your every expectation.
Add to the mix two dining venues offering a taste of the Far East alongside international fare, including freshly caught seafood and daily specials.
When it comes to wellness, the Pran Spa delivers on all fronts. Feel the stress melt away from your body as the soothing sounds of the spa calms your senses.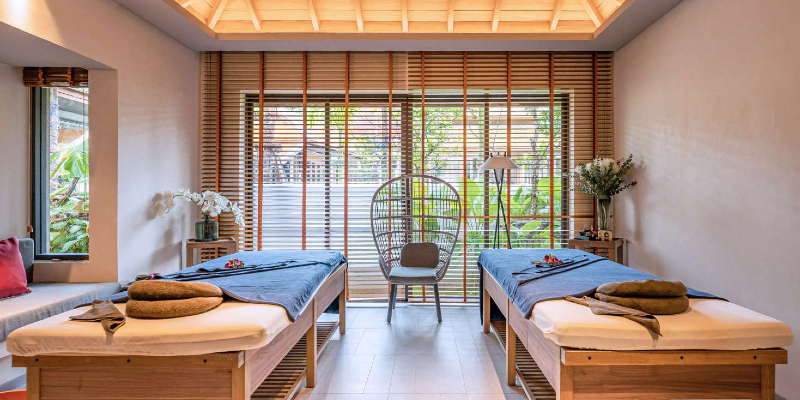 Treat yourself to a traditional Thai massage designed to leave you feeling revitalised or enjoy radiant skin after partaking in a heavenly full body scrub.
And this isn't all, when it comes to mindfulness it's important to take some time for yourself so why not embrace a new skill and take part in a Thai Cooking Class? Or for the fitness lovers a Thai Boxing Class could be the perfect way to kick start your day.
Avista Hideaway Phuket Patong – MGallery
Located in a secluded spot amidst a leafy Patong hilltop lies the Avista Hideaway Phuket Patong – MGallery. This 5-star boutique retreat effortlessly recreates a traditional Thai village and has an abundance of waterways that flow seamlessly over the different levels of the hillside. Be sure to take a minute to soak up the exemplary views.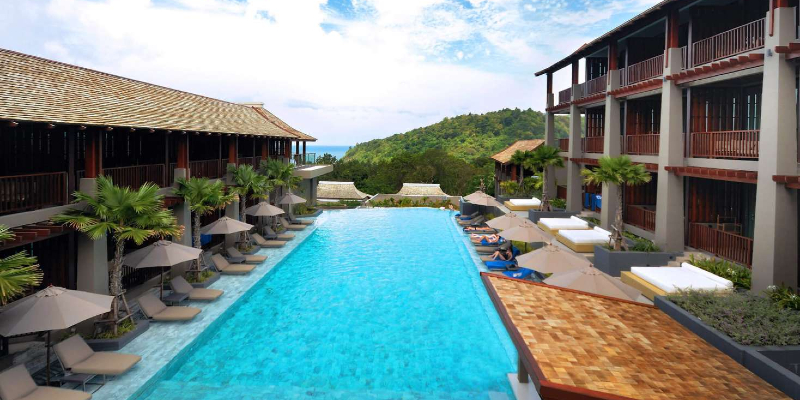 Rooms deliver contemporary décor along with traditional Thai elements creating a comfortable environment with relaxation high on the agenda.
Take your taste buds on a culinary adventure with a choice of exquisite cuisine from Vista and Sizzle restaurants. Wherever you choose to dine you can enjoy panoramic views across the beautiful bays and the Andaman Sea.
Finally, prepare to boost your mood with a choice of three glistening swimming pools. Find your perfect spot to escape with a favourite book or simply choose to soak up the sunshine.
Of course, this stunning resort wouldn't have made our top six spa resorts in Thailand if the spa services didn't offer an absolute sanctuary.
The award-winning Aqua Spa offers a unique luxury spa experience. Feel closer to nature as you embark on a moment of pure bliss during your massage whilst overlooking the rippling spa pool. Offering both traditional and ayurvedic treatments, your mind, body and soul will all feel rejuvenated. From a signature facial treatment to pampering beauty treatments the spa menu is sure to appeal to all your senses.
Pullman Khao Lak Resort
Another one of our top spa resorts is Pullman Khao Lak Resort which boasts an incredible beachfront location on Bang Muang Beach. A real oasis offering the best of both worlds, with easy access to national parks and a local village for those looking to explore or a serene setting for those looking to relax.
Accommodation here is pristine and all rooms are equipped to a high-level to enhance your stay and ensure you benefit from feeling well rested.
Indulge yourself with a soothing treatment from the Rosalyn Spa. Here a mix of holistic therapies and natural ingredients combine to create an experience you won't forget. Using ancient techniques and essential oils you'll be transported into a state of bliss.
Additionally, there's a room dedicated to Thai massage and another set-up as a Hammam for a Turkish bath. Not to mention the choice of experiences here are endless.
Each treatment room includes a steam room and private pool so you can really make the most of your time and leave feeling invigorated and with your sense of wellbeing fully restored.
Not forgetting the beauty treatments available including manicures and pedicures complete with soothing hand and foot massages.
Casa de La Flora
The experience begins as soon as you arrive at this exquisite retreat with staff on hand to present you with a cold towel and a refreshing herbal drink.
At Casa de La Flora you can embrace beachfront views, enjoy boutique accommodation and a sumptuous spa.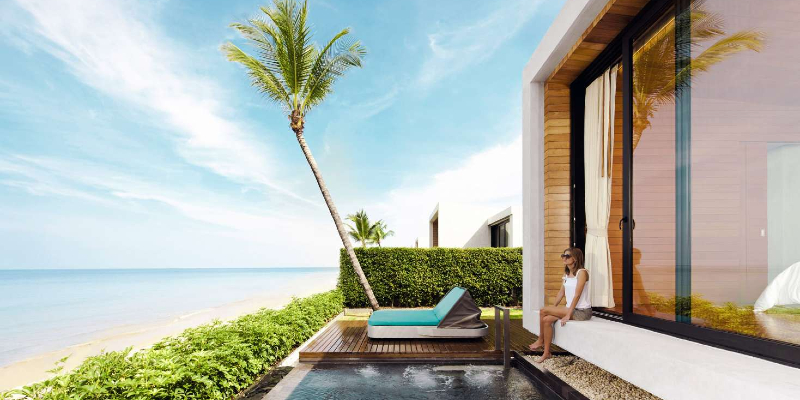 The uniquely designed box-like room structures provide a peaceful sanctuary from which to chill out and embark on your journey of relaxation.
As well as being incredibly spacious each room is adorned with a large soaking tub, rain shower, an espresso machine and a fully stocked mini bar.
Furthermore, tantalise your taste buds with a delicious meal at La Aranya, serving up locally sourced ingredients packed full of Thai flavours. If the mood takes you then why not splash out with a floating breakfast served directly to your villa pool. It really is a memorable moment that will stay with you forever.
Next, the best place to head to continue your serene break is Spa La Casa. The spa uses mineral rich water to enhance all your senses. Aromatic oils and ancient techniques are used by the highly trained therapists to deliver outstanding results.
Savour the moment as you indulge in a soothing Indian head massage or treat yourself to a moisturising Aloe Vera body massage. Indeed if you really want to push the boat out there are also specially curated spa packages, including the Perfect Day package which encapsulates a full seven hours at the spa including a healthy lunch.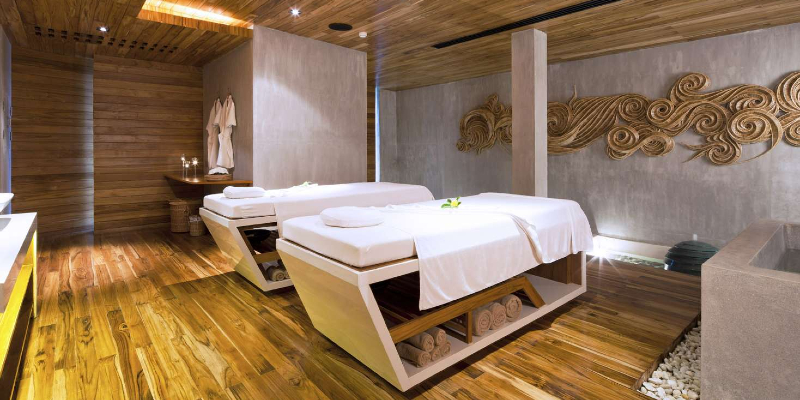 X10 Khaolak Resort
Next on the list is the luxurious X10 Khaolak Resort. With beautiful scenery, incredible Thai hospitality and first-class amenities you're in for a treat. Plus, you're only a short drive from some of the best things to do in Khao Lak, including the famous Bang Niang market.
Add to the mix two delicious restaurants, five swimming pools, a fitness centre, and of course a tranquil spa and you have everything for the perfect retreat.
There's plenty to keep you occupied here, but a visit to the Sun Spa should be high on the agenda. 
Browse the spa menu whilst you sip on chilled herbal tea and sink into a state of relaxation. Of course you'll get a choice of fragrant oils, ensuring your treatment is bespoke to you. 
Additionally try a deep tissue massage, a spot of reflexology or a calming facial. 
Khao Lak Emerald Beach Resort & Spa
Lastly, rounding up our list of the six best spa resorts in Thailand is Khao Lak Emerald Beach Resort & Spa. Providing a world of wellness from top-class spa facilities to a gym, there are plenty of opportunities to boost your body and mind.
Like our other impressive resorts, this hotel in Thailand certainly delivers when it comes to impressive scenery and gorgeous views. Step into tranquillity as you admire the golden sands and azure waters from this beachfront retreat. Moreover, you're also within easy reach of some pretty amazing national parks too.
After an incredible buffet breakfast, start your day with a mindful yoga session and then book a massage at the spa. Trust us, your body will thank you for it.
There's a vast choice of treatments including aromatherapy and hot stone massages, as a result it's difficult to choose just one. The expert therapists are on-hand to discuss your individual requirements to ensure you get the most out of your visit. Plus, the spa experience continues with a steam room and sauna to leave you feeling completely revitalised.
In summary that concludes our top Thai spa resorts. If you want to learn more about where to stay in Thailand then feast your eyes on more of our Thailand Resorts.