14 Reasons Why You'll Want To Book Porto Carras Grand Resort ASAP
It's a five-star resort in a stunning location, but there's so much more happening at Porto Carras Grand Resort. Let's tell you all about it.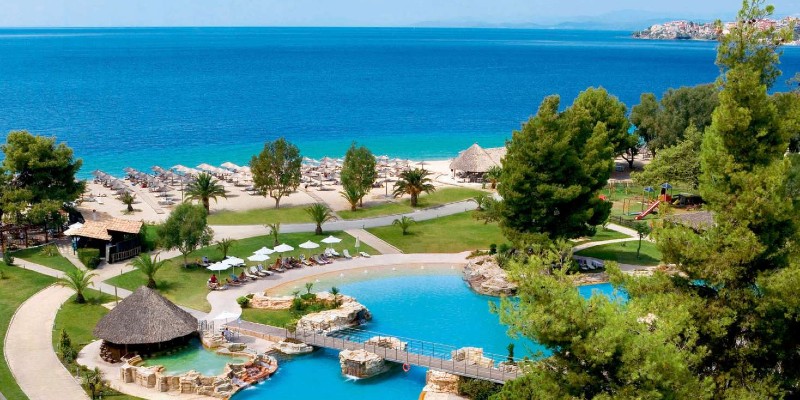 A sensational resort located on the shimmering northern Greek coast, Porto Carras Grand Resort has everything you need. And we mean EVERYTHING.
In this blog, we'll introduce you to this incredible resort and tell you a little bit more about all the amazing things you can get up to there. 
But, first, why don't we give you all the reasons why we think you'll go crackers for Porto Carras Meliton, as it's also known. 
---
All The Reasons You'll Love Porto Carras Grand Resort
Our awesome offer
96 Blue Flag beaches along the northern Greece coast
Glamourous marina
Pine forest surrounds
Golf course
Home to the greatest vineyard in Greece
Contemporary rooms
Choice of restaurants (site & marina)
There's a casino
Resort spa
Kids activities
Selection of land and water sports
Close to Marmaras
Live Cam
---
Introducing Porto Carras
If you don't know anything about Porto Carras Grand Resort, then allow us to introduce you. This five-star beachfront haven is set out on the stunning northern Greece coastline.
Boasting 4 bars, 4 restaurants, a spa, fitness centre and a whole world of other stuff that we'll get into in a minute. This could be the Greek resort to host your family summer hol for the next few years.
But allow us to elaborate on all the reasons we think you'll love it.
---
1. Our Amazing Offer
We're starting off this reason rundown with the best one we can think of. Because of our exclusive Porto Carras offer, you could be experiencing everything this five-star resort has to offer and save a pile of wonga. 
With this awesome offer, you can get free transfers, as well as a double room upgrade. Plus, you'll also have access to some of the best things to do at Porto Carras Grand Resort. 
So why don't we tell you more about those incredible things to do and where you could be saving dosh.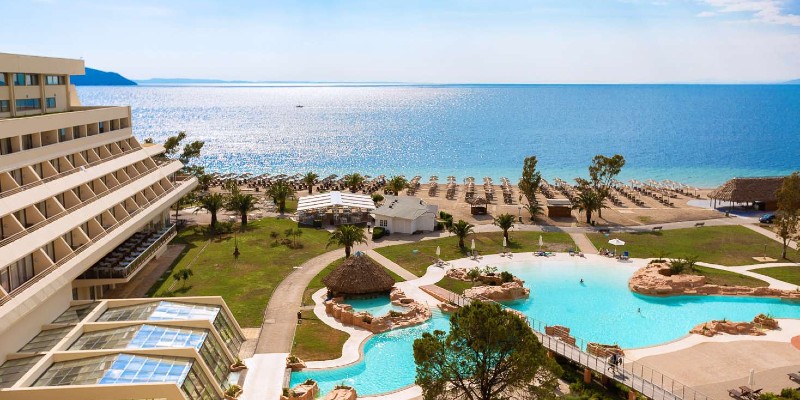 ---
2. 96 Blue Flag beaches along the northern Greece coast
As we have said a couple of times now, Porto Carras Meliton is located on the Grecian north coast.
This means extra benefits for you because along that shimmering stretch of coastline there are, count, 'em, 96 blue flag certified beaches. Which makes it one of the most picturesque coastlines in the world. 
But the even better news is; one of those stunning stretches of sand is plonked right on your doorstep. Just beyond the incredible resort pool is the stunning seam of soft golden sand, leading you out towards the turquoise waters. 
---
3. Glamorous Marina
If you can pull yourself away from the amazing beach, then you can take a stroll over to the resort marina. In this stunning setting, you'll be surrounded by expensive yachts bobbing in the water.
While you're in the marina, you might also like to explore some of the delightful bars and restaurants there.
Heading down to one of the mouth-watering eateries with the sun setting over the sea is a stunning way to spend your evening on the Aegean coast. Not to mention a dazzling experience for your taste buds.
---
4. Pine Forest Surrounds
Adding to the drama of these spectacular surroundings is a NATURA 2000-certified pine forest. Yep, that's a dreamy beach, super-glam marina, and now a protected adventure-packed Mediterranean pine forest all within walking distance of your room.
Due to the resort's location on the hilly Sithonia Peninsula, the pine forests which run up majestic Mount Itamos offer a world of stunning walking and hiking trails.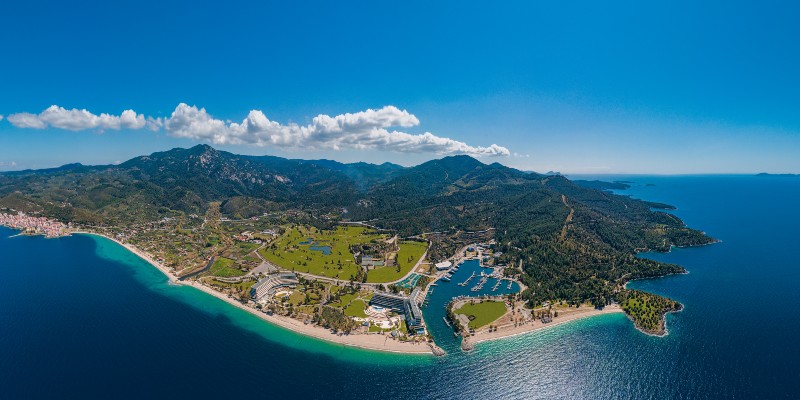 ---
5. Golf Course
But we haven't finished with all the amazing things to do around the resort yet.
If you're a fan of the links then Porto Carras has you covered too. The resort is backed by the fabulous 18-hole championship course at Porto Carras Golf and Country Club.
Players come from all over to test their skills on the largest course in Northern Greece. But, as part of that amazing offer we outlined earlier, you could be playing it for free. When you've got a free round at one of the most spectacular courses in Greece, it doesn't even matter if your game goes to pot.
---
6. Home to the Greatest Vineyard in Greece
The area perks keep on coming. In addition to that spectacular beach, glamorous marina, majestic pine forest, and gargantuan golf course, you also have a vineyard and winery to explore. Stop us if this is all getting too much.
Just minutes from the resort lies Domaine Porto Carras. The wines produced in the sun-baked hills of Meliton have been the recipients of over 150 awards and have actually been referred to in several classical texts. So, if they're good enough for them…
During your stay, you can take the opportunity to tour the 475-hectare vineyard and sample over 20 varieties in the Melissanthi wine-tasting cellar. That should make for an engaging afternoon under the Grecian sun.
---
7. Contemporary Rooms
That's probably enough about the surroundings now. So, let's take a look inside the resort, starting with where you'll be resting your head.
All the accommodation at Port Carras Grand Resort benefits from staggering views from the window. But you can choose which of the beautiful settings is staring back at you. Select from a golf course, marina, or sea view to help settle you in.
With our double upgrade offer, you can rest your head in absolute comfort. Gaze out over your pick of landscapes from the comfort of your large furnished balcony.
---
8. Choice of Restaurants
When you're not taking your dining experience down to the glamour of the marina, make the most of the other restaurant options in-resort.
Athos is the main resort restaurant offering mouth-watering buffets for breakfast, lunch, and dinner. However, there are also a la carte options available at Pefko and the News Cafe.
Additionally, the four resort bars are on-hand to help you unwind. Although, if you want to experience something special, the Blue Yacht Bar delivers those celeb vibes by offering cocktails on a working yacht.
---
9. Meliton Privé Casino
Did we mention there's also a casino in the resort?! Did we also mention that our exclusive offer gets you in for free?
Meliton Privé offers a wild evening of high stakes and glamour. So, don your finest eveningwear and try your luck on temptations such as:
Over 200 slot machines
American roulette
Blackjack
Stud poker and Texas Hold 'em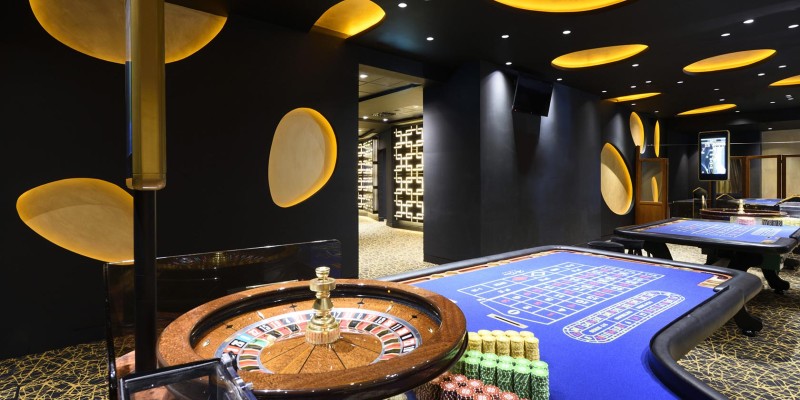 ---
10. Resort Spa
Inspired by the soothing properties of water, the Meliton Spa acts as your very own wellness sanctuary. It's actually one of the largest and most well-known spas in South-Eastern Europe, here's why.
From ancient Greek techniques through to internationally-renowned treatments. The specialist spa team knows their onions when it comes to delivering chilled vibes.
The ultra-modern facility offers a host of treatment rooms for couples or solo treatments. Plus, you get a 10% discount in the spa on our latest deal.
---
11. Kids Activities 
Now, you might be forgiven for thinking – with all this talk of casinos, wineries and spas- that this place is adults-only. However, nothing could be further from the truth. 
In fact, there are tailored facilities in place for explorers of all ages at Porto Carras. Childcare and babysitting services are available. But, for older kids, there's the Juniors Club offering targeted activities for 4-12-year-olds. 
Meanwhile, the Teens Club has a raft of entertainment on offer for those bigger kids. Leaving you free to your exploring, chilling or pampering knowing the whole family is having an unforgettable time.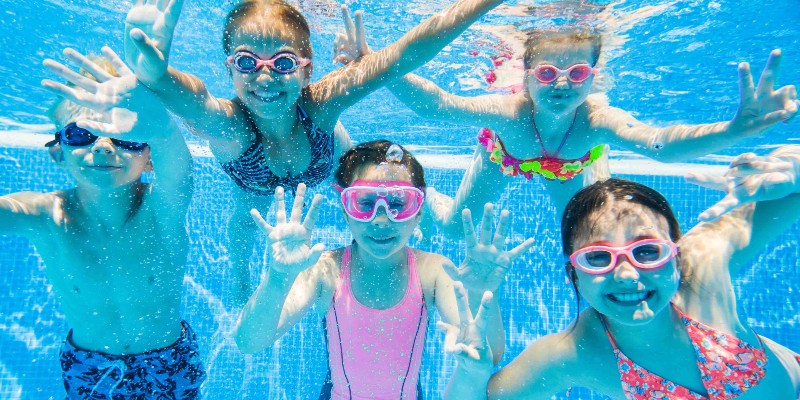 ---
12. Selection of Land and Water Sports 
If, somehow, that wealth of external activities haven't lit your fire, then you can also turn to sport for some in-resort downtime. From tennis to diving there's an embarrassment of extra-curricular riches to help keep your itinerary bulging with fun. 
---
13. Prime Location to Explore Neos Marmaras
Just an eight-minute drive from the resort lies the quaint Mediterranean-style resort town of Neos Marmaras. With dazzling seafront walks lined by popular bars and restaurants serving fresh-from-the-net seafood, there's plenty to get your teeth into. 
Additionally, if you prefer to learn more about the region's colourful and varied past then there are a number of ancient sites to behold too. 
But if all that culture doesn't grab you, how about hiring a car and making the 70-minute journey to discover all the best things to do in Halkidiki. 
---
14. Check-In Live
Another great feature of the resort that you won't read about anywhere else is… they have a live webcam. 
Absolutely ideal for those people who manically check the weather forecast every hour in the week before they travel. Also, a great added option for saving time on expensive phone calls to home when your parents insist on asking you every day: "what's the weather like there?"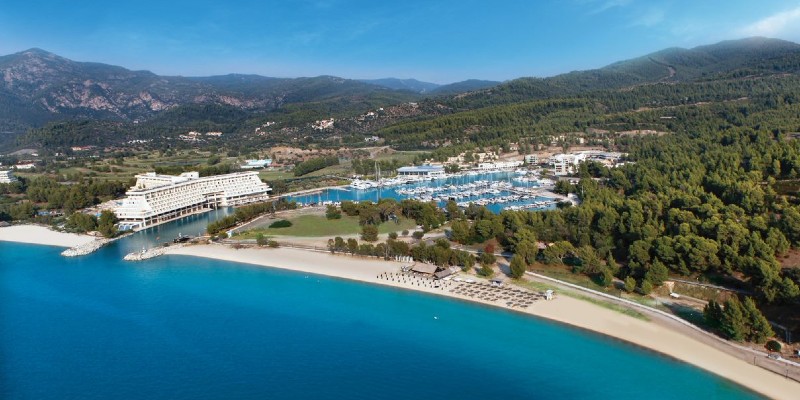 ---
Need We Say More?
If all those reasons have got you thinking about jetting off to Greece this summer, then we don't blame you.
All you need to do now is click the button below to start building your free online Porto Carras Grand Resort quote. See you there!