Pick a Pearl in Mauritius: Introducing Pearle Beach Resort & Spa
Need some inspiration for your next Mauritius holiday? Allow us to share our pearls of wisdom about the idyllic Pearle Beach Resort & Spa.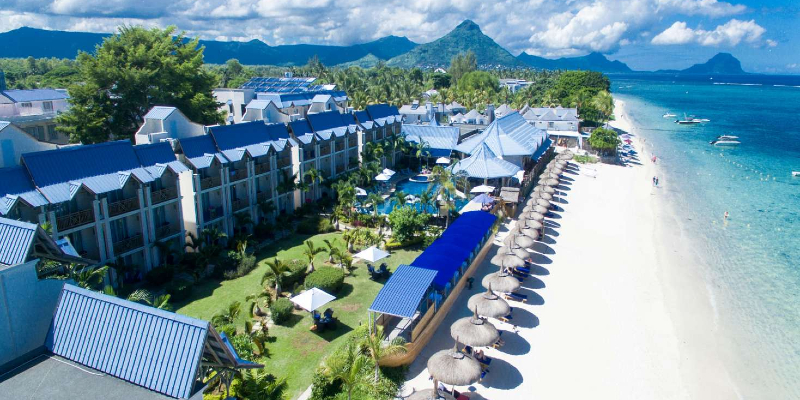 The world is your oyster so why should you choose Pearle Beach Resort & Spa for your next tropical escape? In this blog we'll tell you all about this marvellous Mauritian retreat, and why it should be top of your list for a sunshine getaway.
First things first, let's cover off a brief introduction to get more familiar with the destination.
---

---
Meet Me in Mauritius
Discover the west coast of Mauritius, often fondly referred to as the Sunset Coast, in recognition of its stunning sunset views. Home to the vibrant capital Port St Louis, impressive coastal geography and numerous villages, this region of Mauritius has it all.
Plus, there's an abundance of white sandy beaches that will take your breath away and of course the jewel in the crown, Pearle Beach Resort & Spa.
Check out our informative Mauritius Travel Guide for the lowdown on all things Mauritius before you travel.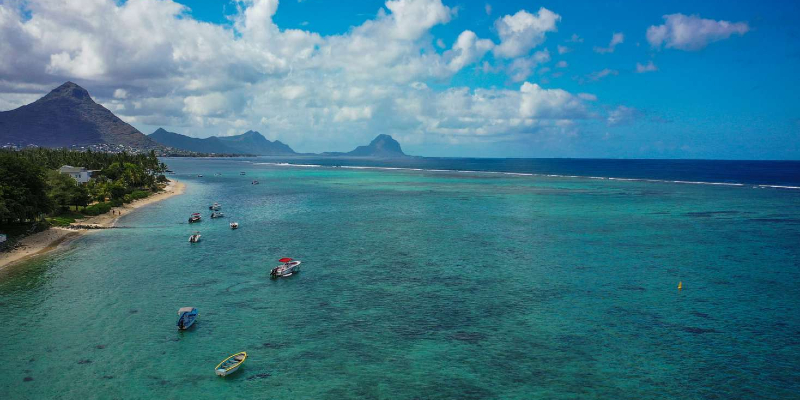 Tell Me About the Accommodation at Pearle Beach Resort & Spa
All the rooms at this authentic island resort are tastefully appointed with a balance of style and island flair, plus a balcony or terrace. With just 76 rooms, there's a real boutique feel about this property.
A choice of rooms ensures all guests stay in comfort. Choose from exquisite Garden View Rooms placing you in the heart of the verdant surroundings. Or opt for a Superior Room, with pool views. In addition, the Club Rooms afford stunning views of the Indian Ocean.
Regardless of which you go for, you're guaranteed the perfect base from which to explore all that Mauritius has to offer.
Spacious Accommodation

Enjoy Indian Ocean Views from the Balcony
Beach Days This Way
How could we talk about Pearle Beach Resort & Spa without telling you about how close it is to one of the most famous beaches in Mauritius, Flic-en-Flac beach.
Boasting a beachfront position, a stay here places you just steps away from one of the finest beaches you'll ever see.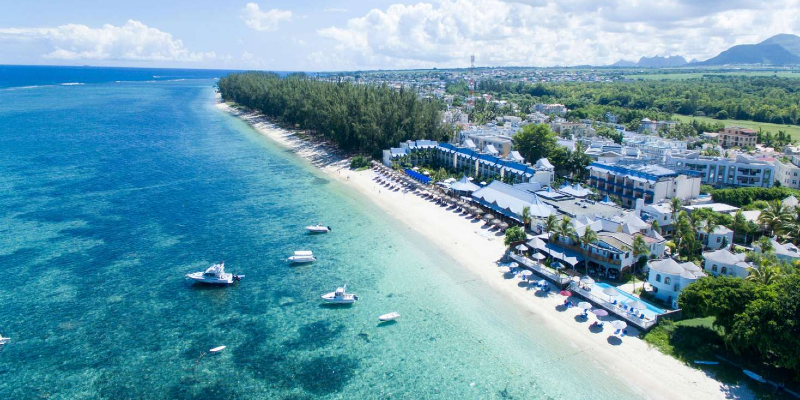 Enjoy a host of great moments at the beach as you try your hand at some of the water sports on offer or perhaps you'd prefer a spot of snorkelling around the house reef, the choice is yours.
---

---
Time To Dine
If you can prise yourself away from the glorious beach, you'll be delighted at the range of cuisine on offer at the main buffet restaurant. Serving up a tasty array of dishes at breakfast, lunch and dinner. Horizon restaurant benefits from a beachfront location with the glistening Indian Ocean as your background.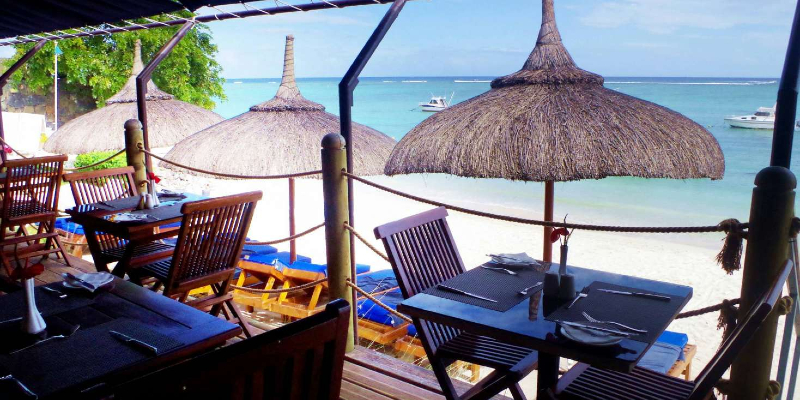 Or treat yourself to a sumptuous feast at Oceanic, the resort's a la carte restaurant where freshly caught seafood is served up in style.
If you ever wish to indulge the option of room service is also available for a tray charge fee.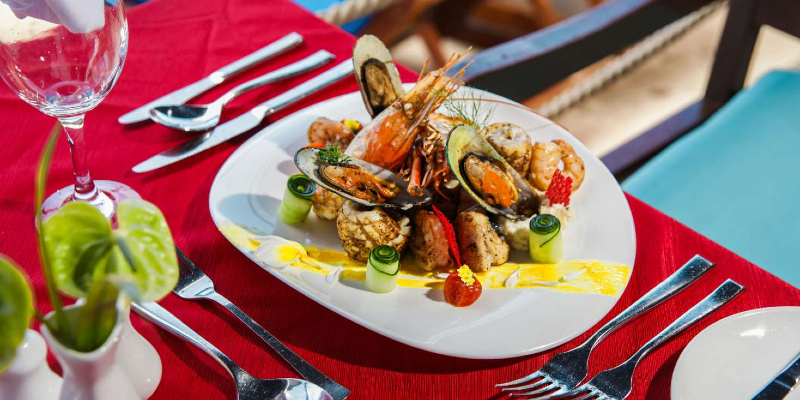 ---
Fun In the Sun
We've already told you about some of the incredible things to do at Pearle Beach Resort & Spa including snorkelling and taking time out to relax on the impressive beach. But there's a host of additional activities lined up too.
Take part in a game of beach volleyball, keep on top of your health goals at the well-equipped fitness centre or join in a fun game on the beach. There's plenty to keep the little ones occupied too, with a kid's club for your little explorers.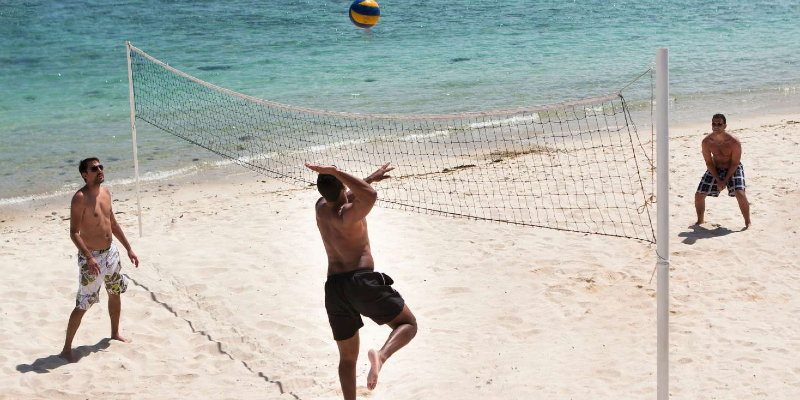 ---
Kick Back & Relax at the Spa
Uniquely the spa is split into two areas: Serenity and Cabane. Therefore this provides two very different spa experiences.
Serenity is a chilled-out space where you can enjoy a moment of relaxation and partake in a soothing treatment.
On the other hand Cabane gives you the option of having your chosen treatment right on the beach with the sounds of the ocean lulling gently.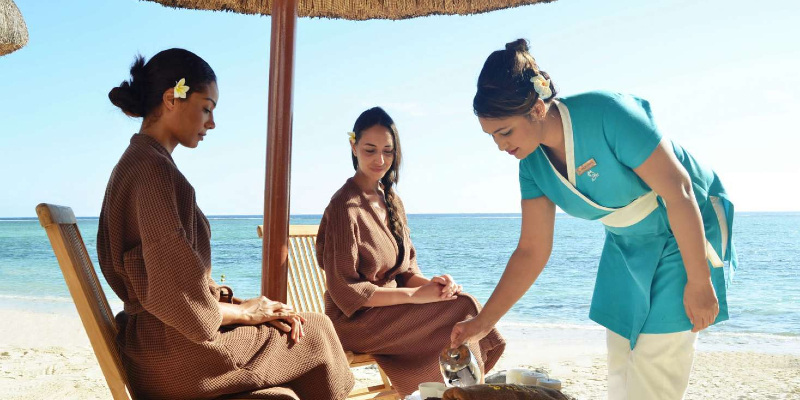 ---
Let's Go
To sum up, Pearle Beach Resort & Spa is a great choice for couples and families alike. With so much to see and do in Mauritius all your dreams are sure to come true.
If we've given you a taste of life at Pearle Beach Resort & Spa and you'd like to visit for yourself, simply get in touch for a quote and you could be one step closer to Mauritius.