7 Brilliantly Balinese Things You Can Do At Ayodya Resort Bali
Ayodya

Resort Bali is more than just a beautiful hotel, it's a

lso a

perfect place to head for a completely immersive Balinese experience.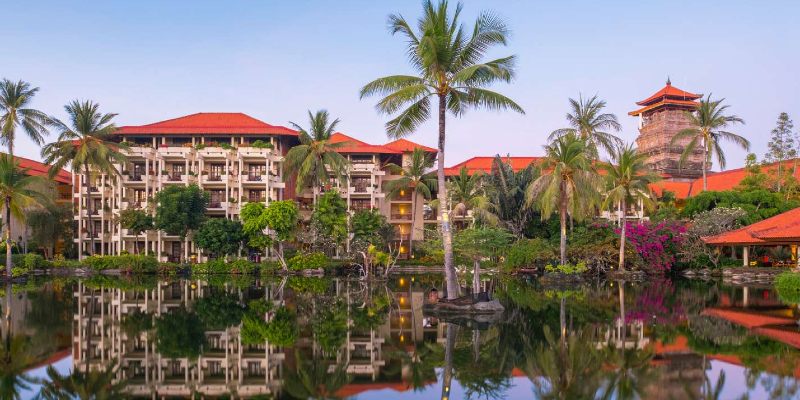 We all love the idea of jetting off to Bali to experience the incredible, uniquely beautiful beaches. But there's more to Balinese culture than just hitting the surf.
---
Ayodya Resort Bali is perched majestically on the edge of a serene stretch of Nusa Dua coastline. But the stunningly authentic resort architecture wastes no time in pulling your gaze away from the soft white sand and rippling azure waters.
Inside those traditional looking walls and away from the comfortable yet contemporary rooms and suites of the resort. Engage in a miasma of immersive activities to leave you with a better understanding of Balinese culture.
---
The 7 brilliantly Balinese activities are:
Yoga
Balinese massage therapy
Watch and learn traditional Balinese dance
Experience Ngelawang
Witness a traditional Balinese wedding ceremony
Taste traditional Indonesian flavours
Mengiat Beach
---
Yoga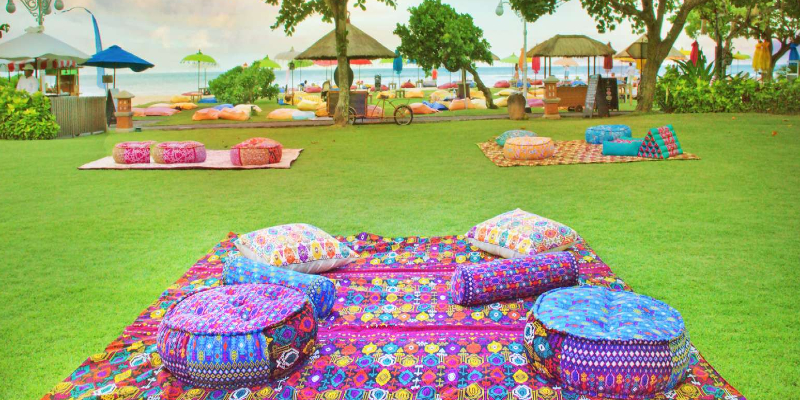 Bali is one of the world's most popular destinations for yoga enthusiasts. With over 600 yoga retreats across the country, it's safe to say it's a big part of the country's culture.
At Ayodya you can indulge in a spot of morning yoga with an instructor out on the lush resort lawn overlooking the dazzling Indian Ocean. If you prefer a more private setting from which to centre your chakras, then the resort also boasts a beautiful pagoda in the spa area bordering the relaxing waters of a natural pond.
---
Balinese massage therapy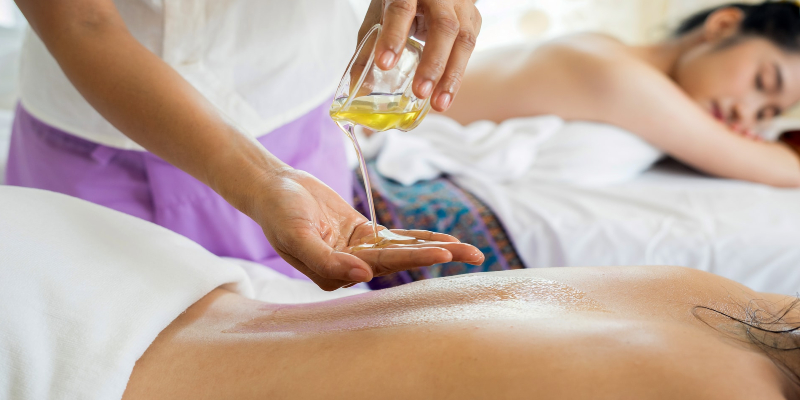 Spa at Ayodya is the perfect place to head if you want to take some time to yourself and that pagoda is not just perfect for yoga. You can choose to have the soothing trickle of the pond waters as the soundtrack to your treatment.
Away from the surroundings, a traditional Balinese massage has number of benefits. The natural oils and scents will nourish your skin and immerse your body and soul into another huge part of Balinese culture. The therapy itself helps reduce stress, improve blood flow, ease strained muscles and detoxifies the body.
It's the perfect research role!
---
Traditional Balinese dance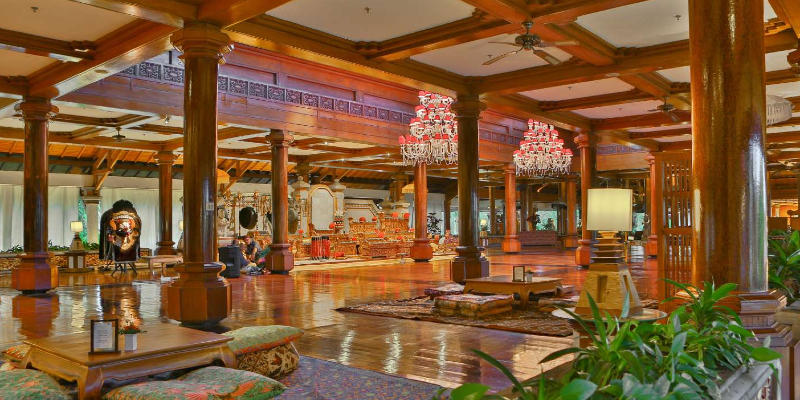 Within Ayodya Resort there are several places you can go to introduce yourself, your family and your feet to incredible traditional Balinese dance.
The resort's Bale Banjar, which roughly translates as "meeting hall" is the perfect place to start your love affair with this beautiful art. Essentially every Balinese citizen belongs to a neighbourhood association or "banjar" the Bale Banjar is generally the place where a community can come together to see a performance or local works of art.
But this large open pavilion isn't the only place at Ayodya to see your new passion come to life. The Balinese theatre also puts on spectacular weekly shows after dinner which will you in awe. But, now you've seen how it's done, how about giving it a go yourself? The specialist resort team give classes to those keen to learn a few new steps.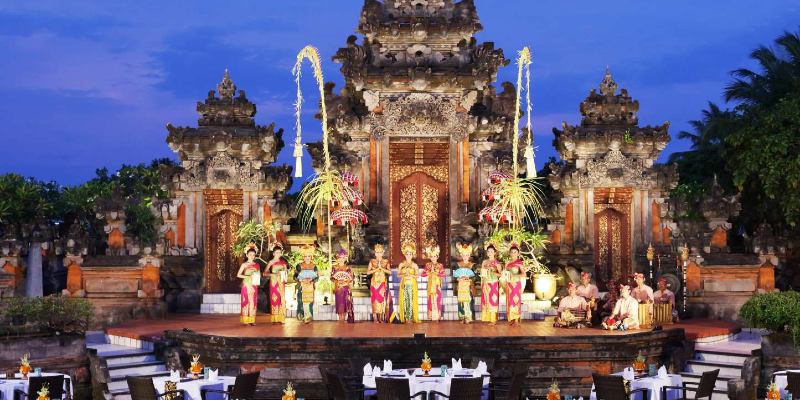 ---
Ngelawang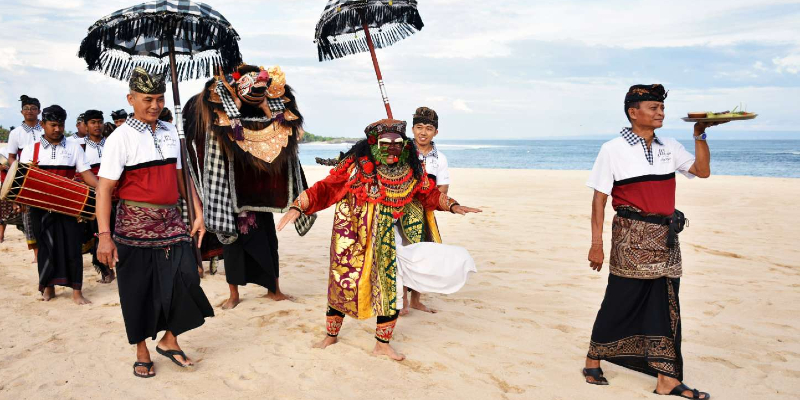 Ngelawang is a part of the yearly Galungan celebration in Balinese culture. The Galungan feast essentially celebrates good spirits triumphing over evil.
In this celebration a colourful parade will travel throughout the towns and villages. For Ngelawang festivities villagers and children dance around a pig-like effigy to a traditional gamelan orchestra.
At Ayodya, the Ngelawang celebrations take place out on the beach. You can choose to just chill out and watch the night unfold, or head in and become part of the action.
---
Traditional Balinese wedding ceremony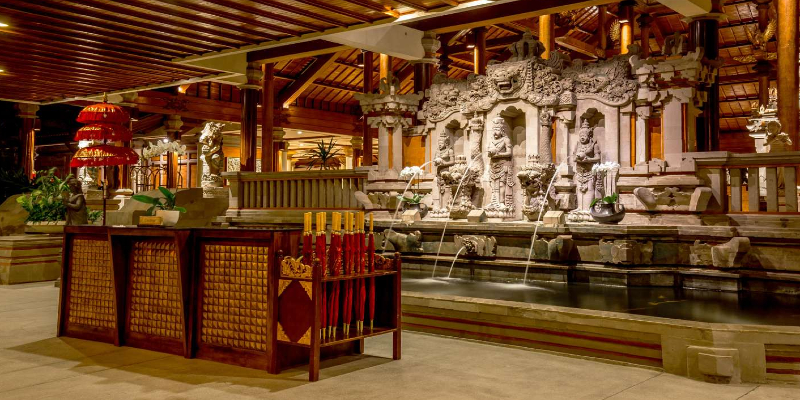 Don't worry, we're not suggesting that you spring marriage on your partner during your stay. But Ayodya Resort does give you the chance to either have, or witness, a traditional service during your stay.
A complete celebration of colour, a Balinese wedding ceremony would usually last around three days with plenty of rituals to be passed and adhered to.
However, Ayodya Resort have developed a way whereby you can experience all the grandeur of a Balinese celebration in one day. With fresh tropical flowers, traditional Rindik musical accompaniment, Balinese flower girls, a Hindu Wedding Celebrant and a traditional buffet.
---
Experience Indonesian cuisine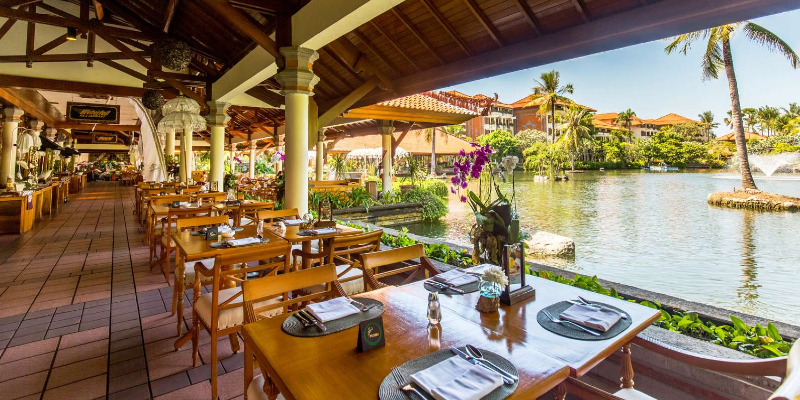 Talking of traditional buffets, you don't have to get married at Ayodya to sample some incredible authentic recipes.
Indonesian cuisine has a tremendously vibrant and diverse array of ingredients from which to create a world of flavour. Generally spicy, aromatic soups and boldly flavoured meat and fresh fish accompany steamed rice on an Indonesian table.
Take a culinary trip around, not just Bali, but the whole of Indonesia with a themed night at the resort's Waterfall Restaurant.
---
Mengiat Beach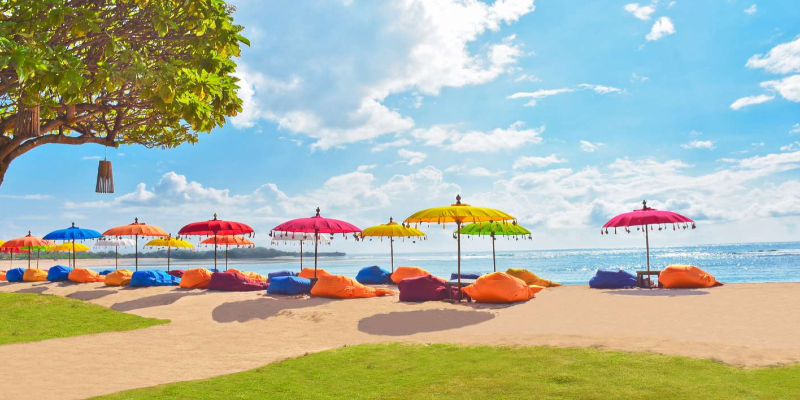 We know we said at the start, there's more to Balinese culture than just incredible beaches. But we couldn't leave incredible Ayodya without mentioning the simply stunning stretch of beach it finds itself on.
Mengiat Beach is one of the best beaches in Bali and makes up part of the dreamy Nusa Dua coast. The powder white sand and crystalline waters here have been dazzling tourists for years. Ayodya resort also has its own beach club where brightly coloured sun loungers and parasols put you in the perfect position to enjoy this stretch of sand to the max. Grab a cocktail or snack from the resort staff and while away the hours listening the Indian Ocean gently lap against the shore. Perfection.
---
As we've said, many come to Bali every year to experience the incredible beaches and grab some self-indulgent snaps in the surf.  
But at Ayodya Resort you have the unique opportunity to completely immerse yourself in the culture of this incredible corner of the world. Take that chance now!