The Only Guide You'll Ever Need to the Best Beaches in Bali
There are loads of picture perfect beaches in Bali, but we have the definitive list of the best ones to visit on your trip so don't even bother looking anywhere else!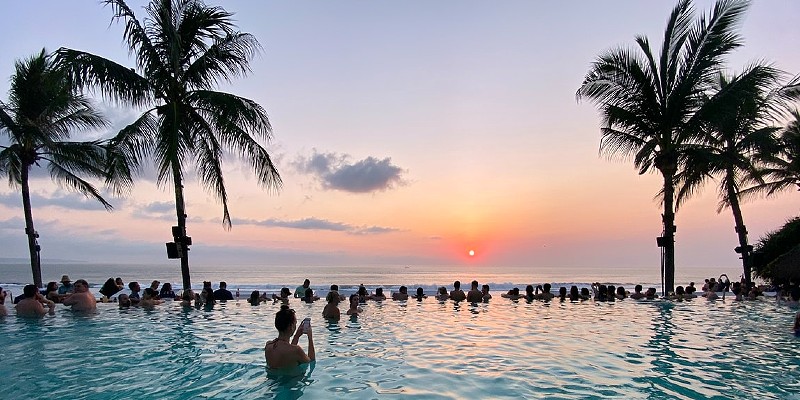 Beautiful Bali
Now, we've said in the past there's more to Bali than just beaches. However, we all know the island plays host to some of the most incredible stretches of sand in the world.
But how do you know you're heading to the best spots for an unforgettable break? And, more importantly, the best spots for snapping some envy-inducing pics for the timeline.
To help you out, we've pulled together our definitive list of the most beautiful beaches in Bali. Now, we know you probably won't get chance to spy them all on your break, but you have to make sure you hit at least one or two, right?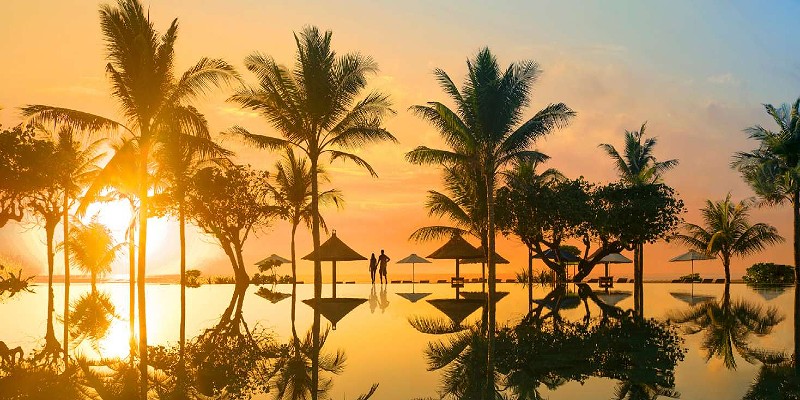 ---
Mengiat Beach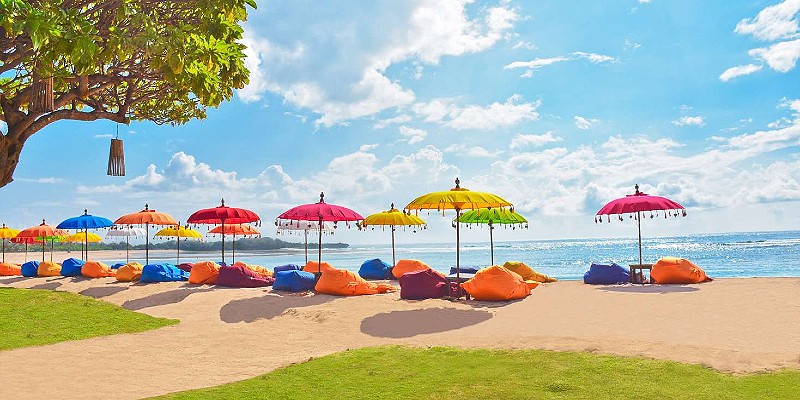 The only place to start is in southern Bali and stunning Nusa Dua. Mengiat Beach makes up one half of the most incredible stretch of white-sand and turquoise coastline you're ever likely to see. Stay at incredible Ayodya Resort to see the very best of this beach and to make the most of the elegant beach club which puts you in the best spot to enjoy some wave watching, cocktail in hand.
---
Geger Beach
The other half of the incredible Nusa Dua coast. A one kilometre stretch of pristine shoreline. For a special treat, get up early and head to Geger for an unforgettable view of the sun rise.
---
Ta

n

jung

Benoa
Neighbouring Nusa Dua, Tanjung Benoa beach lies on the east coast of Bali. Although this stretch of sand is as dreamy as Nusa Dua's, you'll find the water is busier than the sand as water sports like jet skiing, parasailing, and water skiing are prevalent here.
---
Echo Beach/

Canggu

Beach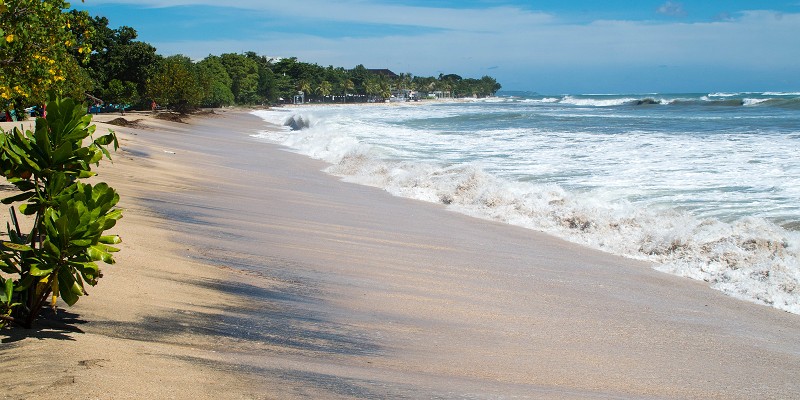 Known as either Echo or Canggu one word this beach will always go by, though, is popular. One for the digital nomads, the amazing black sand and bars of Echo beachnever fail to pull a crowd, day or night.
---
Padang

Padang
A great place for some chilling and grabbing those stunning snaps for the 'gram in Uluwatu. Padang Padang is a perfect example of one of the incredible beaches along the craggy shores of southern Bali. While many beaches in this area require ninja-like skills to enter thanks to restricted access, Padang Padang is readily accessible. Though, this does mean it can get busier than most. You've been warned.
---
Balangan

Beach
Perfect for those who want to feel like they're in the know. A favourite with surfers on the southern Bukit Peninsula, the waves and quiet sands of Balangan have made this hidden gem a hit with water babies.
---
Jimbaran Beach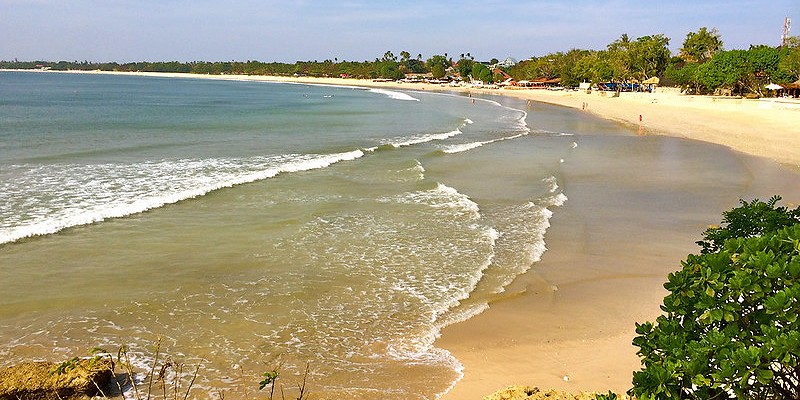 Fancy a beachfront fish supper? Then Jimbaran is the place to be. Fisherman come to the beach to sell their fresh seafood in the morning. By the evening a plethora of BBQ's pop up, so you can tuck into so some fresh fish right on the sand with an incredible sunset to boot.
---
Seminyak

Beach
Seminyak's unique grey sand, colourful parasols, boutiques, and bars have made it a hit with the cool kids of the world. In fact, our roaming reporter in all things beachy, Abby took a trip to Bali and name checked Seminyak as the place to be. Here's what she said:
---
"Seminyak is in the heart of the upscale resort area of Bali, but the beach is perfect for super chilled out vibes. Loads of places to rent sunbeds and surfboards (if that's your thing) or to just kick back with a cocktail. Potato Head Beach Club has infinity pools, restaurants and day beds for rent, then transforms into a trendy bar at night.
---
Sanur Beach
Sanur's five-kilometre-long beach features a quaint promenade which passes beautiful resorts, villas, shops and old fishing boats making it a great choice for romantic strolls or bike rides, if you're feeling more energetic.
---
White Sand Beach/Pasir Putih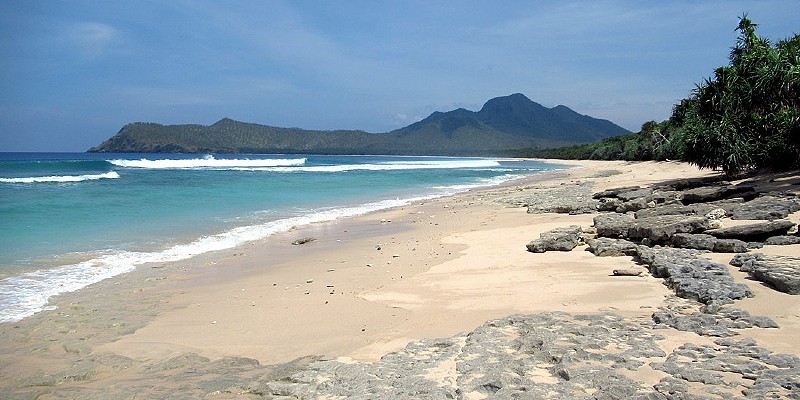 Right out on the eastern tip of the island, White Sand or Pasir Putih or Virgin Beach offers you a day trip option. Away from the more touristy areas of the coast it's perfect for a relaxing day out if you fancy hiring a car. Although, you might want to make that car a 4×4 as the final road to the beach can get a little bine-shakey. But that's the price of seclusion, right?
Another tip from Abby:
If you fancy a trip out to another amazing beach, we found the best way to get around the island is by booking transport through your resort. It keeps the transport cheap and reliable and is much easier than trying to find a taxi or using public transport
---
Lovina Beach
Keeping up the quieter, more secluded, vibe Lovina Beach was once the place to be in Bali. Up in the North of the country, the black sands and swimmable waters made it a tourism hotspot.
---
Blue Point/

Suluban

Beach
Located in popular Uluwatu, this little secluded beach is perfect for a secret dip in the iconic aquamarine ocean waters. Although, you may want to check the tide and your footwear as the sand's only accessible at low tide via a set of stone steps through a cave – absolutely spot on perfect for some adventurous holiday snaps.
---
Kuta Beach
Another popular destination with tourists and one of, if not THE, most famous beach in Bali, so get ready for some company. Although, it's well worth finding a patch of sand to chill on as the sun goes down as you'll be treated to a scintillating view.
---
Legian Beach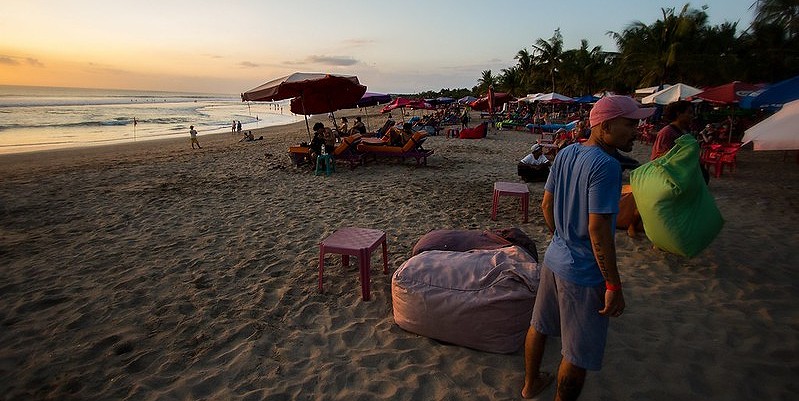 A calmer spot of spectacular coastline tucked neatly between the more popular Seminyak and Kuta beaches. The larger waves here are perfect for a bit of surfing, not so great for swimming though if you're hugely confident in the water.
---
Yeh

Gangga

Beach
Again, not one for the swimmers but the beautiful warm sands and choppy water make Yeh Gangga a firm favourite for any budding surfers or water sport lovers.
---
Balian Beach
Another stop on the trendy side of the tracks on Bali's infamous coastline. Chic boutiques, cafes and bars plus a growing expat community make Balian a wonderfully laid-back place to kick back on your break.
---
Pemuteran
A stunningly beautiful jaunt up to the north-western coast will deliver you straight to the incredible, secluded shores of Pemuteran. Local efforts to prevent overcrowding of tourism has ensured the area has remained relatively untouched.
---
Karma Kandara
You won't need a telescope to spot the stars on this beach. A firm favourite with the glitterati as A-listers flock to Karma Kandara's secluded shores every year. So, keep your eyes peeled for a lesser-spotted Depp or Kardashian.
---
Bias

Tugel

Beach
Padangbai is a small town on the east coast of Bali which plays host to another beautiful hidden gem of a beach. At just 130-metres long, Bias Tugel is a picture-perfect spot many will miss.
---
Keramas

Beach
Choose to enjoy the best of the picturesque beach from the comfort of an infinity pool at the local beach club. Or settle down on the black sands and watch the surfers crash around in the waves.
---
Amed Beach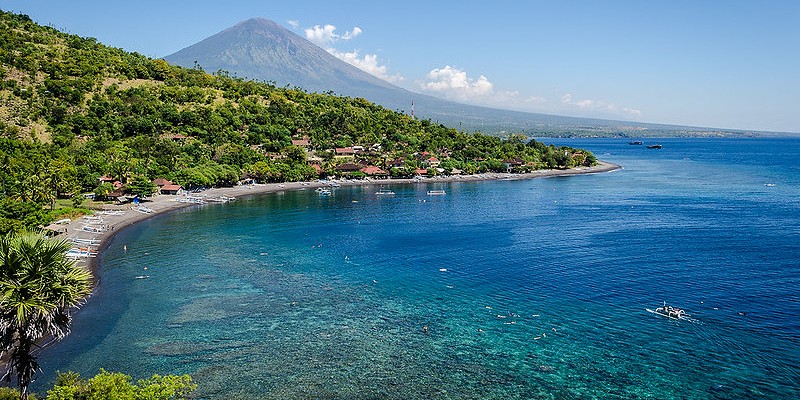 Another northern beauty, Amed Beach is about as picturesque as it gets. From the colourful coral gardens beneath the waves to the incredible views of majestic Mount Agung in the distance.
---
Bingin

Beach
You've got to know where you're going if you want to lounge on trendy Bingin Beach. But if you follow the small crowds of salty-haired, golden-skinned, surf board-toting cool kids, chances are you'll stumble across this super chic stretch.
---
Thomas Beach
A little further along the coast from Bingin, Suluban and Padang Padang beaches. Many would have you believe that Thomas Beach is right up there with the best in Bali. Thomas has lost the "hidden beach" status of late due to more and more trendy shops and restaurants setting out their stalls nearby.
However, it's no less incredible just because there's a couple more people taking to the gravel path or braving the stone steps to the beach. Definitely worth a trip out.
---
Medewi

Beach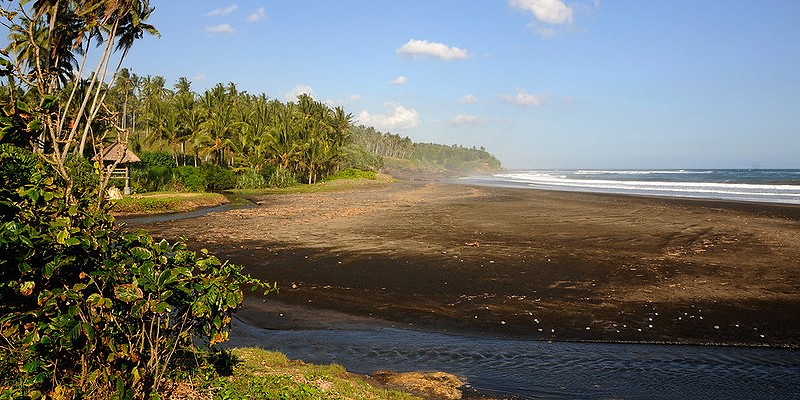 Time for one from the west coast now. Along the sunset coast there's a handful of incredible beaches to get involved with. But Medewi has to be one of the most unknown. Perfect for a quiet day on the sand, this rice paddy lined beach offers a spectacular show when the sun starts its descent.
---
Sundays Beach Club
Back in Uluwatu, we had to include the Sundays Beach Club. A private place where you can enjoy the best of a beautiful Balinese beach from the comfort of the VIP section. Like Potato Head at Seminyak, plenty of beers, food and sunsets are on offer.
---
Blue Lagoon
You might think a place called "Blue Lagoon" in Bali has a lot to prove with a name like that. But this place lives up to that billing. Great if you want to get beneath the waves of the eastern coast and check out the miasma of marine life that call Bali's water home.
---
Gunung

Payung/

Secret Beach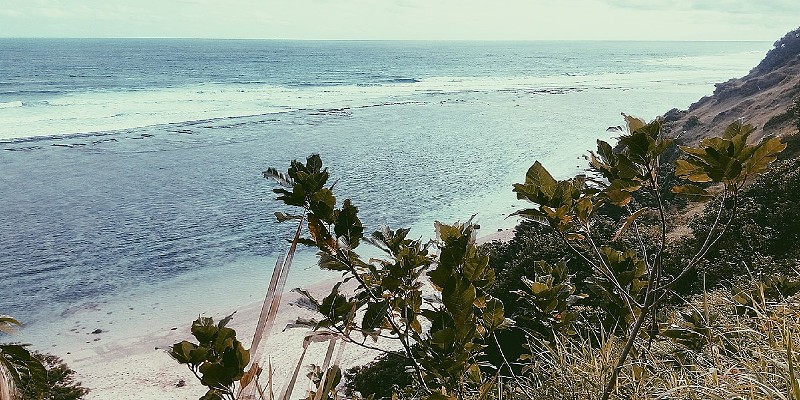 Another super special hidden beach on Bali's south coast. Gunung Payung is so secluded some even know it as the Secret Beach. If it were any more secret, you'd have to wear a disguise every time you step foot on it
---
Pandawa

Beach
Pandawa Beach can get a little busy from time to time, so if you're looking for your own little paradise maybe stick to Gunung Payung. But, with crowds comes beach clubs with bars and restaurants.
---
Melasti

Beach
Around an hour away from the beauty of Canggu, but what an hour! Take Abby's advice and hire a car or taxi from your resort and take the drive to Melasti Beach. The road dramatically winds around cliff faces and greets you with incredible views at every turn. You might not want the journey to end, but when it does you get to step out on the powder white sand of Melasti. It has to be right up there with some of the best days you'll spend anywhere.
---
Nusa

Lembongan
While we're on the subject of day trips, Abby has also urged us to include Nusa Lembongan as an incredible day out. Grab a 30-minute quick boat over to Bali's tiny island neighbour from Sansur and take in amazing spots like Dream Beach, Mushroom Bay, Sandy Bay and Paradise Beach. She assures us the beaches live up to their name's billing.
Abby said of Nusa Lembongan:
"Dream Beach is beautiful, take in stunning views out over the ocean from the pool bar and make sure you have your phone at the ready for some cracking instagrammable moments"
---
Nusa Penida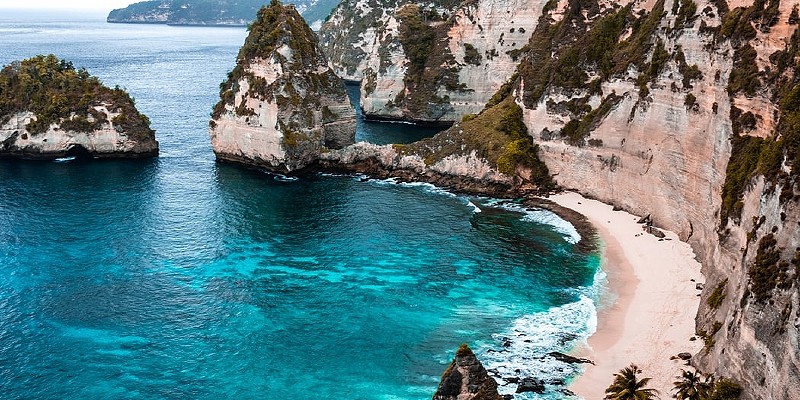 We can't talk about Nusa Lembongan without mentioning another dot of an island off mainland Bali. Nusa Penida is a little more directed at you adventure-hunters. Whilst there are more incredible beaches like Crystal Bay, Atuh Beach and Angels Billabong. Many travel to Penida to explore the island's natural beauty including waterfalls, lush green hills and local shops and restaurants.