8 Unforgettable Things You Need To Do In Bali
Bali is full of amazing adventures, but if you don'

t do these

8

things then

yo

u're not doing it right
We know, we know, there's loads more than eight things to do in beautiful Bali. 
In truth, we could've prepared a "101-point guide to visiting Bali". But realistically your holiday in this stunning Indonesian paradise won't be long enough to do them all. Unless you're Usain Bolt, if so, hello Mr Bolt – we're big fans! 
But, if you want to ensure you experience a truly immersive and unforgettable stay in this incredible location, these activities need to be on your to do list.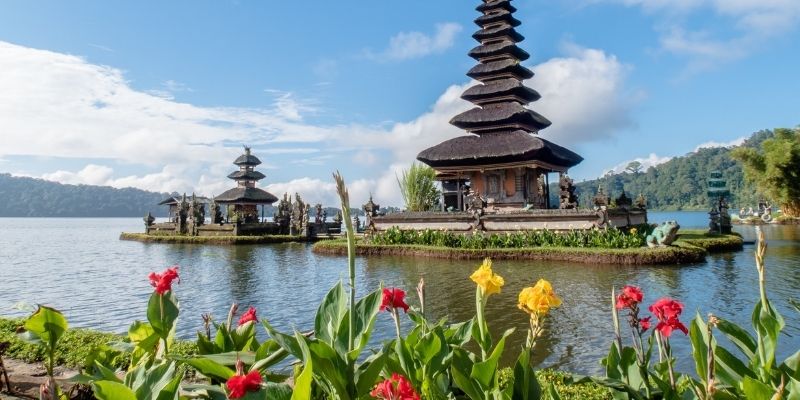 ---
8 things you have to do in Bali
Beach tour
Tegallalang Rice Terraces
Puri Saren Agung
Tirta Empul Temple
Waterfall tour
Mount Batur
Munduk village
Bali Swing
---
Beach

touring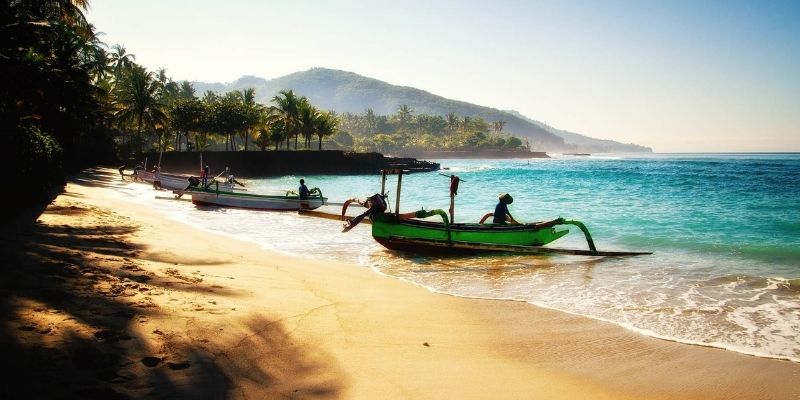 Now you haven't come all this way not to lounge on an incredible beach, right?
Luckily, Bali boasts an absolute miasma of stunning stretches of coastline. So much so, the internet is littered with jaw-dropping pictures of Bali which usually show off a dreamy beach or two.
But whether you're looking for a soft, sandy & sunny place to chill, people watch, swim or just read your book with a couple of drinks, you can find every type of beach in Bali. Some must see spots though are Kuta, Jimbaran and Lovina Beaches. If you want perfect Bali in a nutshell, they won't disappoint.  
---
---
Visit the Tegallalang Rice Terrace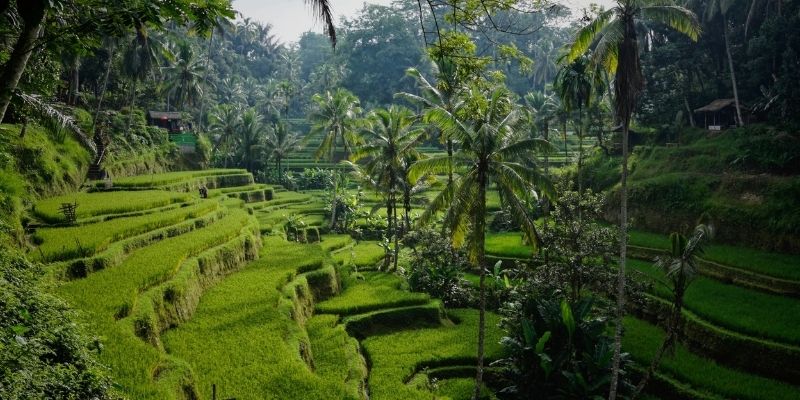 Away from the beaches though because, let's face it, everyone knows how good this destination is for sand. There's a whole world of other immersive experiences in Bali.  
The Tegallalang Rice Terraces are one such experience. Creeping up the lush hillside of Ubud the rice terraces and their unique irrigation system have been in operation for centuries. In fact, the system still used today was passed down by an ancient holy man in the 8th century.  
Head up to the village of Pakudui after you've admired the unrivalled scenery and grabbed a couple of obligatory snaps and be greeted by a world of indigenous craft. Talented local artists whittle and weave amazing ornaments, works of art and clothing which you can buy, wear or take photos of. All for a small fee, of course. 
---
Get

cultural

in

Ubud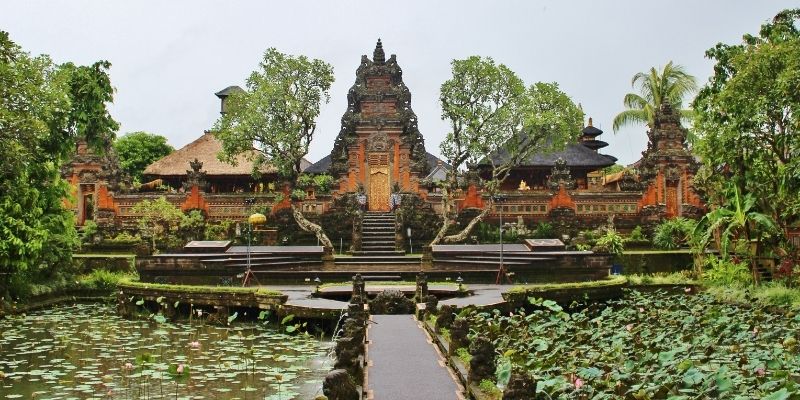 While you're in Ubud you should take the opportunity to immerse yourself with the culture of Bali. Ubud is an extremely regal town and is dripping in amazing palaces and temples which demonstrate beautiful traditional Balinese architecture, arts and faith.
The largest of the temples in the area is the incredible Puri Saren Agung or Royal Palace. This stunning ancient landmark is a hit with tourists and lovers of the Balinese art scene. Beautifully manufactured walls welcome the natural environment into the temple walls.
---
Top tip:
the best time to visit the Palace is at night when you'll be dazzled by authentic Balinese dance performances accompanied by brilliant gamelan percussive orchestras.
---
Get spiritual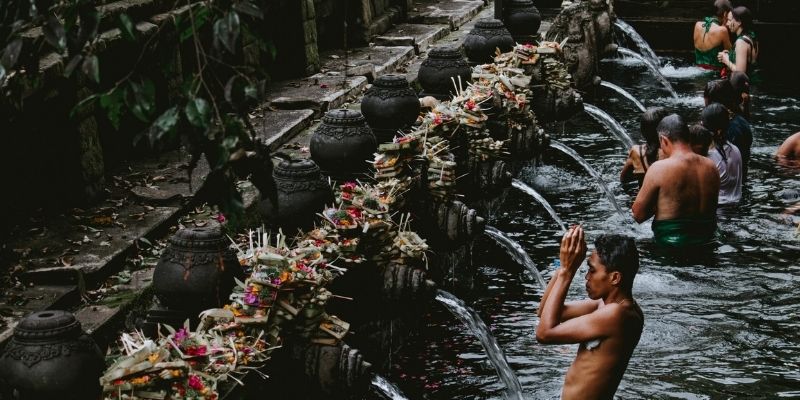 It's not just Ubud that's swarming in religious iconography and landmarks. The Balinese aren't shy about their temples, in fact, they actively encourage tourists to come in and take a look around. Just a couple of points to be aware of though, there are small entry fees to most of the temples and you must wear the sarong they provide you.
Tirta Empul Temple is a truly special site, located near the town of Tampaksiring in central Bali. This Hindu temple's name translates as "Holy Water Temple" and with good reason. Within its walls lies a sacred natural spring fed pool which is said to have been created by the king of the gods, Indra and possess healing properties.
Take a trip to Tirta Empul and marvel at the incredible surroundings before bathing in the refreshing temple waters.
---
Waterfall in love with the country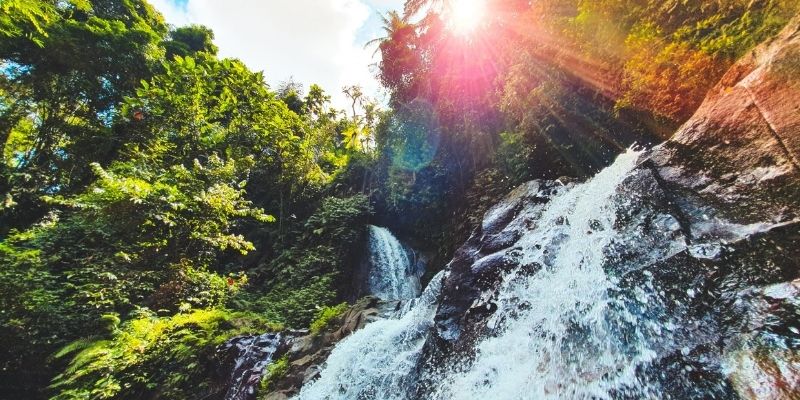 Bali's countryside is littered with hidden waterfalls. You can take tours of some of these secluded natural beauty spots. Four stunning examples you need to visit though are Kanto Lampo Waterfall, Cepung Waterfall, Tibumana Waterfall and Krisik Waterfall.
Grab some scroll-stopping pics for your timeline from inside the beautiful rocky coves or at the side of the flowing mass.
---
Mount Batur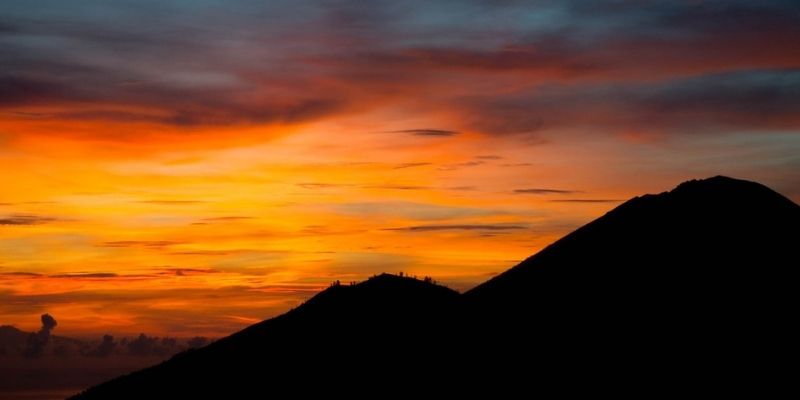 Take your comfy shoes, with a couple of hours of hiking involved you'll need to stay fresh. But you'll be richly rewarded when you reach the summit.
Be treated to breath-taking views of some incredible Balinese scenery including Mount Agung and Batur Lake. If you're feeling more adventurous, and your dip in the cool water of Tirta Empul has left you thirsty for more religious culture, you could head on up Mount Agung where over 80 temples are waiting to be visited.
---
Top tip:
If you set your alarm and head off on the hike on Mount Batur early, you'll be in time to witness an incredible sunrise
---
Visit

Munduk

Village
Many class Munduk village as one of Bali's best-kept secrets. All we know is the mountain village in the centre of the region is a great day out if you want to venture somewhere a little cooler and experience everyday culture.
Although it's a village, there's plenty to see and do in Munduk. From trekking tours and more pretty waterfalls, through to unique experiences like a walking through (that's right, through) a giant Banyan Tree which is over 700 years old and measures over 70m wide. Here you'll also find stunning Lake Tamblingan. It's essentially a village full of instagrammable moments.
If you head to Munduk between August & November, you'll also be able to see the locals going through the yearly clove harvest. A symphony of incredible aromas fill the mountain air.
---
Bali Swing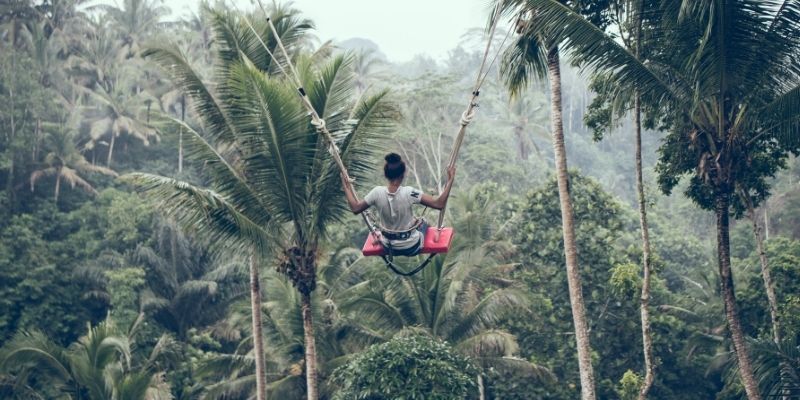 More magic moments for the 'gram. Situated over a vast canyon in the lush hills of Ubud, Bali Swing is an incredible way to spend a day.
Choose what height you want to swing from then launch out over the canyon for unforgettable all-natural views and a few iconic snaps. Professional photographers are on-site if you want to go the whole hog and grab a quick photoshoot.
Oh, and don't worry, while the tallest swing may go up to around 75m you're all buckled in safe.
---
Top tip:
Again remember your comfy footwear, there's a bit of a trek up to the site.
---
Where to stay for a true Balinese break
Now you've heard about the incredible culture in Bali, you're probably ready to start experiencing it first hand. 
A great place to stay in this Indonesian haven is Ayodya Resort Bali. Click the button below and we'll tell you more about all the unforgettably immersive experiences you could have here.