Introducing Hampton by Hilton Marjan Island
Say hello to Hampton by Hilton Marjan Island, the latest resort in the stunning collection from one of the world's biggest hotel companies.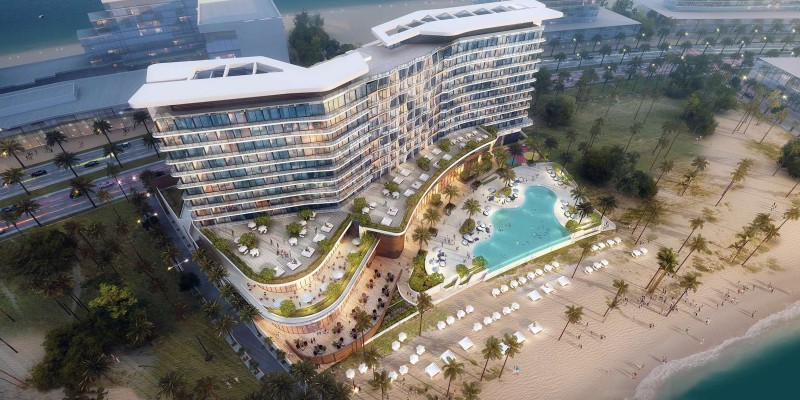 Brand new hotel
Hampton by Hilton Marjan Island is a brand-new resort, both to the Ras-al-Khaimah skyline and the Hampton collection.
Freshly constructed, cleaned and ready to go just in time for the coronavirus pandemic to hit. The resort is now bursting to show off its incredible offerings.
From unrivalled views out over Al Marjan Island and Ras-al-Khaimah to a world of nearby activities including shopping malls, golf and even the world's longest zipline. If that doesn't whet your appetite you could always make the 80km journey to bustling Dubai.
But before we get into this incredible new resort's set up, we should probably enlighten you as to where or what Al Marjan Island is, right?
---
The Island
Al Marjan island is a coral shaped man-made archipelago constructed in 2012. Just one of the incredible engineering marvels to come out of the United Arab Emirates in recent times.
Built over 2.7 million square metres of reclaimed land and Jutting out 4.5km into the Arabian Gulf, the archipelago also boasts a gigantic 23km long waterfront. So, you'll have all the magical sea views you can think of.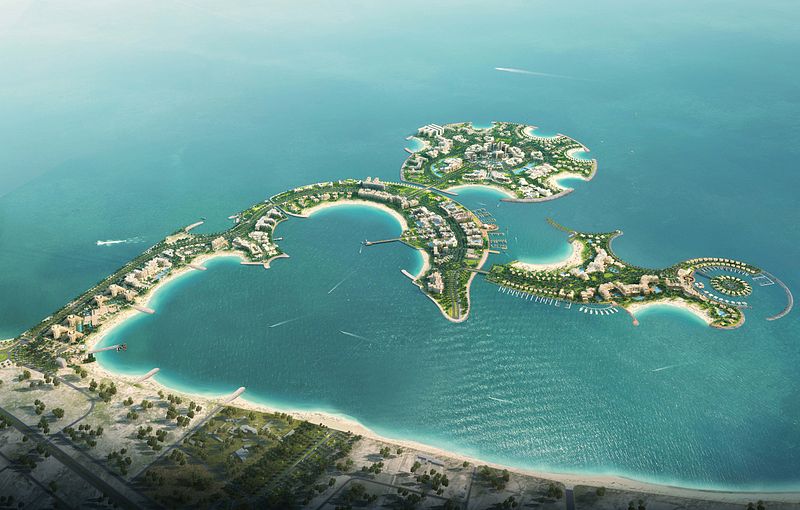 Created as something of a secret holiday paradise, the island also promises a surprising array of activities to keep you entertained. From archaeological adventures through to desert safaris and snorkelling trips there's something for everyone.
However, one major part of becoming a holidaymakers dream is easy access, right?
Well, the Island has that covered too. Centred just 45 minutes from Dubai International airport, 35 minutes from Sharjah International Airport and only 25 minutes from Ras-al-Khaimah you'll have no troubles getting on site. But enough about the island, we're here to talk about Hampton by Hilton.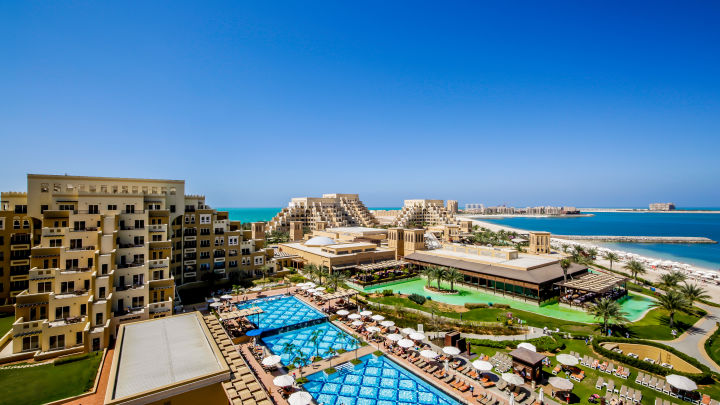 ---
The resort
Although it is part of the wider Hampton by Hilton family, the Marjan Island hotel is set to become the largest resort in the collection.
In addition to this, it will also be the first in the range to offer an all-inclusive holiday experience. And we all love an all-inclusive, right?!
Taking advantage of that incredible waterfront, Hampton by Hilton is built on a 450m stretch of private beach, so you can have your own space on this incredible archipelago.
---
What's the vibe?
Inside the Hampton by Hilton Marjan Island you'll be greeted by a fresh and airy space. As we said, it's a brand-new resort which has only been allowed to welcome as many guests as the pandemic would allow. Meaning you'll be one of the first to experience its super chic layout.
Around the resort it will be impossible to escape the pull of the sea. The contemporary style adorning every room pulls in coastal influences to deliver wonderfully chilled vibes.
Rooms at the resort come in two layouts either Island View or Sea View. As you might have gathered, this gives you the option to choose whether you want to stare out over the marvellous island or the glistening Arabian Gulf from your private balcony.
---
Dining
Once you've managed to pry yourself away from those five-star views, you'll be free to explore the rest of the resort's treasures, including four restaurant options whenever you get peckish.
Claw is one of the highlights of the resort. An American themed a la carte restaurant offering all the delights of the grill to satiate your appetite. Go big with huge steaks and burgers, or keep it civilised with salads, pasta and other delicious lite bites.
There's one other a la carte eatery on-site called Karma Kafe. A pan-Asian restaurant delivering all the sumptuously bold flavours of the Orient. But if you fancy keeping your dining casual, drop by the main buffet restaurant for some international classics. Or check out the Lobby Café for a sweet treat, a hot cup of Joe and a spot of our proud nation's favourite pastime – people watching.
More interested in what the bars are saying? Well, the pool bar is the place to be for a cool cocktail and a natter as you take some time out of the sun.
---
What else?
If you're a fan of indulgence you'll be happy to know the Hampton by Hilton Marjan Island also boasts a spa and fitness centre. Perfect for either slowing or raising your heart rate – we like the sound of that first one.
At the spa you'll be treated to a plethora of incredible treatments to help soothe your muscles and your soul. Feel any stress drain from you as skilled therapists take you through a range of rejuvenating treatments to leave you feeling renewed.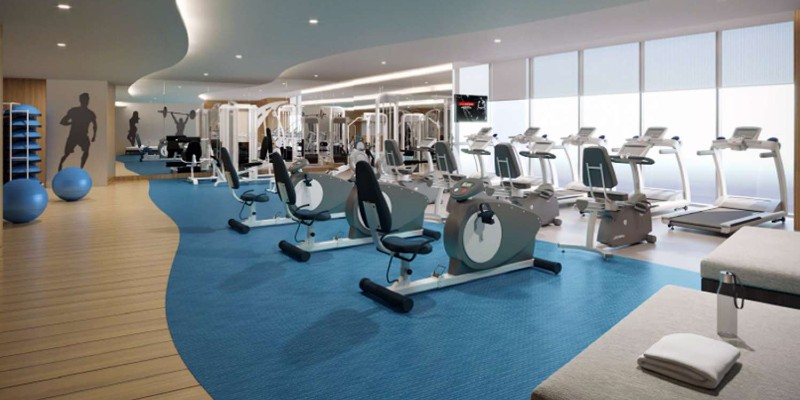 ---
Out and about
Whether you're the type of holidaymaker who likes to stay put or you prefer to try a new activity everyday, you'll be well looked after on Al Marjan Island. We already know about the beaches, but what else is there to do on this man-made marvel?
Minutes from Ras-al-Khaimah, you'll be nicely poisitioned at the resort to take in the best sights and sounds of the area. Sports fans will love the Al Hamra Golf Club, a brilliant day out to work on your game. Whereas, if retail therapy is more your idea of fun the Al Hamra Mall is close by too. Grab some new threads or a batch souvenirs for those unlucky souls left in the terrible British weather.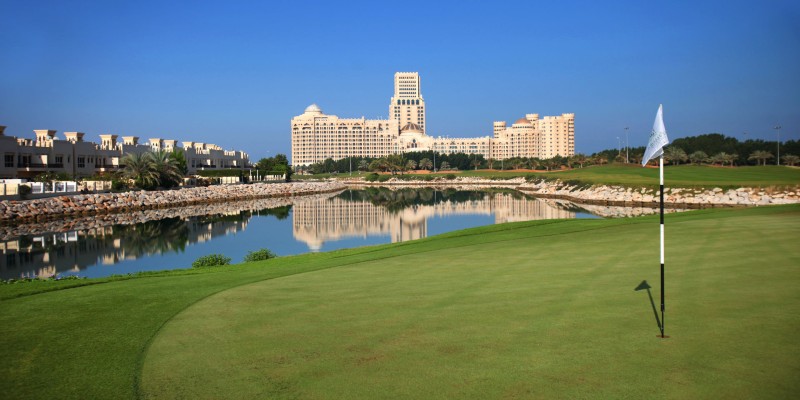 ---
Is it close to Dubai?
Yes! Kind of… as we said it's about 80kms away from the shimmering cityscapes of Dubai.
But, while you're in the country, you might want to see what all the fuss is about, right?
Ask the hotel staff to book a car and check out all the best things to do in Dubai. Whether you're day-tripping or thinking of spending a few days in the city, it's definitely worth a look-see.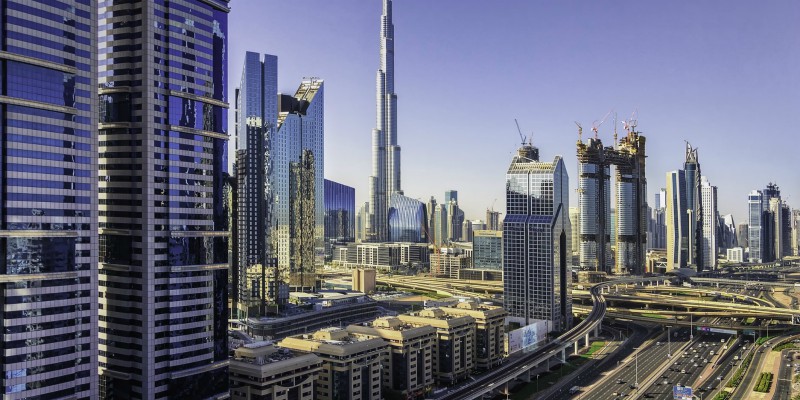 ---
Ready to go?
Why wouldn't you be? You're only human!
Hampton by Hilton Marjan Island represents the chance to do something completely different on your next break.
Click the button below to find out more about this incredibly unique destination and resort.