Amazing Mauritius Dive Sites You Have To Experience Once In Your Life
If you're something of a water baby, you have to check out the best dive sites in Mauritius.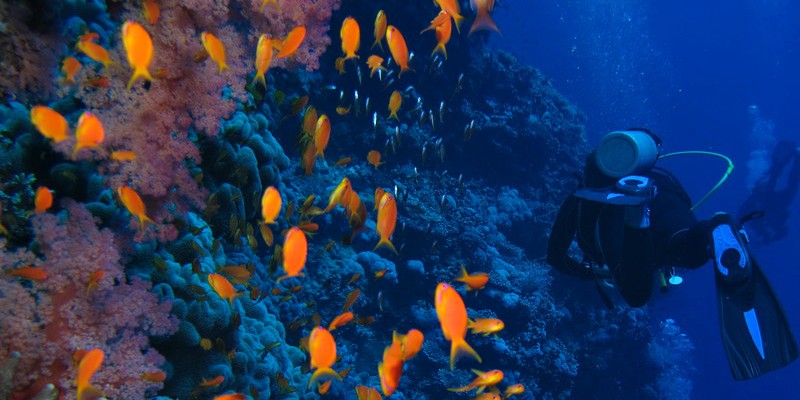 Whether you're a fully fledged scuba specialist or a snorkelling day tripper. You have to experience the best dive sites in Mauritius.
These amazing sites are set to blow your mind:
---
What are the best dive sites in Mauritius?
Snake Island
Coin de Mire
The Cathedral, Flic-en-Flac
Blue Bay Marine Park
Grand Baie Aquarium
Whale Rock
Shipwreck city
---
What makes them so good?
Mauritius well regarded in the diving community. With the opportunity to do anything from spotting wild spinner dolphins through to swimming with sharks.
There's a whole lotta fun to be had under them thar waves!
The Indian Ocean is a prime location for incredible reef structures which means the diversity of marine life is collosal.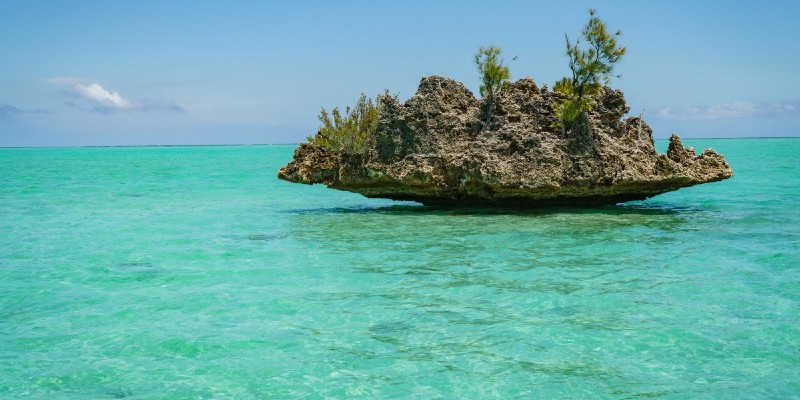 Local leaders in Mauritius have done everything they can to ensure the country's submarine sites are some of the best around.
A number of intentionally sunken ships create artificial reefs around the coast which help encourage even more kaleidoscopic marine life. This, in-turn, attracts more divers and aids tourism creating revenue and job opportunities for the locals. Clever stuff, right?!
So, without further ado, let's *ahem* dive into the best spots for diving in Mauritius – we've been waiting a while to use that, and honestly, it wasn't worth it…
---
Snake Island
Ability Level: all levels 
The deceptively named 'Snake Island' or Ile Aux Serpents is a popular place to get below the surface. Boasting everything from a wall which drops away to a depth of 50m, perfect for marvelling at colourful batfish, to a place called "Shark Arena".
There's something for all divers and, more importantly, every skill level here. Snake Island is the furthest north of a group of islands located just off the Mauritian mainland. The resulting oxygenated water from the waves hitting the island is perfect for attracting reef sharks.
Visibility at the site is also extremely good, another reason why divers from across the world flock to these waters.
---
Coin de Mire 
Ability level: Confetti Bay & The Wall – beginner, Carpenter – Intermediate
We've been to the most northerly of those islands off the Mauritian coast, now let's check out the most local. Coin de Mire is a renowned dive site across the world. With a plethora of amazing spots you could hit up. For example, awesome sites like Confetti Bay, Carpenter, and The Wall all drag submarine enthusiasts. It's also the location of one of those shipwrecks we mentioned earlier – but more about that later.
Confetti Bay is perfect for beginners, as the reef is protected from the current. Take in stunning underwater sights like parrot fish, stone fish, and stingrays among other delights. 
More advanced divers relish the opportunity to flap their fins around Carpenter. Obstacles like mysterious caverns and arches make it a top spot for spying barracuda.
---
The Cathedral
Ability level: Intermediate
In the beautiful azure waters off Flic-en-Flac in the west coast of Mauritius you'll find The Cathedral. No, this isn't a wonderful submarine chapel where fish congregate every Sunday to pray to Aquaman… although, imagine that!
With everything including caverns, arches, and walls the Cathedral is perfect for intermediate divers. Throw in the fact visibility is excellent and spotting something special here is guaranteed.
Take your underwater camera and get snap happy with the clownfish and angelfish. You may even be graced by the menacing features of a moray eel.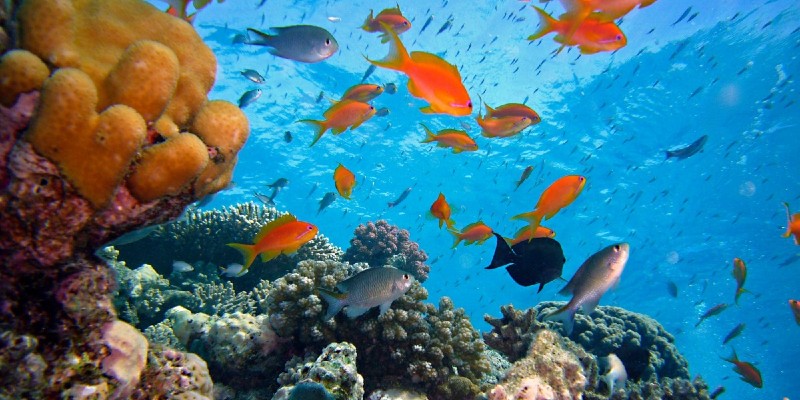 ---
Blue Bay Marine Park
Ability level: beginner
Blue Bay is a favourite with tourists from all over the world. Probably more suited to snorkellers and first-time divers.
For example, due to its location south of Mahebourg in the southeast corner of the island. The shallow calm waters make it a special place for admiring the stunning marine life in Mauritius.
However, if you are more experienced and prefer the quieter sites for your submarine adventures, probably best to pick one of the other spots.
---
Grand Baie Aquarium
Ability level: all levels 
Back up to the northern coast now. You'll find Grand Baie aquarium pops up on many people's best dive sites in Mauritius lists. Before you ask, no, this isn't some rubbish indoor aquarium you pay to dive into. It's a real bona fide unwater hotspot.
The unique underwater topography of the site make it a great destination for divers of all experience levels.
For example, the aquarium features a vast submarine canyon dripping with life. Turtle lovers or a fans of a stingray may be treated to a swim past.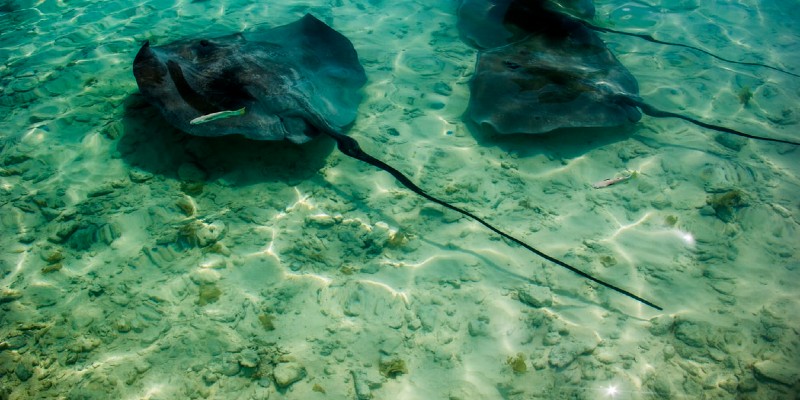 ---
Whale Rock
Ability level: intermediate
Not far from Grand Baie Aquarium lies Whale Rock. Depending on the time of year you visit will depend on what amazing creatures you come across.
One for the intermediate divers, visit during the summertime and you may get a special view of some larger animals like swordfish and marvellous manta rays.
In addition to those seasonal delights, you'll also be greeted by a wall of colour. Stunning tropical fish dazzle as they flit in and out of cracks and crevices in the similarly beautiful array of corals.
In other words, if you go at the right time you might get an amazing surprise. However, this place is amazing no matter what time you go.
---
All the shipwrecks
Now, before you start mourning the loss of human life. You should know many (if not all) of these wrecks have been strategically sunken by the government and conservationists. The stricken vessels go on to become artificial reefs as the ocean claims them over time.
Stella Maru
Ability level: beginner – only advanced divers should go inside the wreck
Sunk back in 1987 by the Mauritius Conservation Society. Stella Maru now hosts a world of sea urchins, soft corals, and anemones. Uniquely, the wreck sits upright on the sandy ocean bed attracting stunning fish like giant moray eels, lionfish, parrot fish, angler fish, leaf fish, and many more.
Hoi Siong No 6 
Ability level: beginner
A hit with beginner divers and keen underwater photographers due to the breadth of marine visitors it sees. Hoi Sion No 6 is a great wreck for enjoying those colourful species we've mentioned before. However, it's also popular with larger fish like barracuda and tuna.
Djabeba Wreck
Ability level: beginner – advanced divers inside the wreck only
A Japanese fishing vessel sunk in the late 90s, Djabeba is a great site for all levels. More advanced practitioners will enjoy the ability to engage with and swim inside the boat. Less confident divers will also find plenty of amazing things to see on the outer perimeter. For example, if you're lucky you may be blessed by the presence of some dolphin and whales.
---
The greenest way to venuture into the blue
Experience the stunning wonders of the Indian Ocean and ensure you're doing everything you can for the environment while in Mauritius. 
These eco-friendly resorts are the best in the biz for making sure the natural beauty of the Indian Ocean stays that way. 👇