Top Eco-Friendy Resorts in the Indian Ocean
These awesome eco-friendly resorts in the Indian Ocean are everything.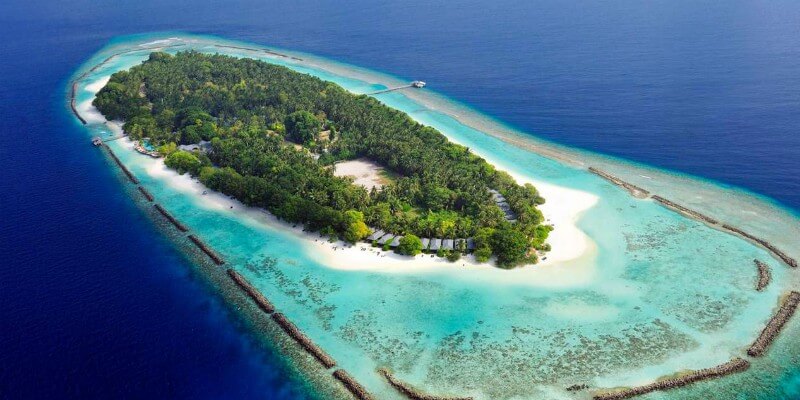 Eco-friendly resorts in the Indian Ocean to dazzle your senses
These seven eco-friendly resorts in the Indian Ocean are offering guests a slice of paradise with a side of natural beauty.
But first and foremost, we better tell you who these green flag flyers are!
---
---
Sun, sea, and sustainability
Far from the hustle and bustle of the day-to-day await the life-affirming sounds of waves smoothly lapping the shore. A dazzling spectrum of tropical hues glistening in the sunlight, and fresh salt-kissed air ready to fill your lungs.
At the heart of the Indian Ocean lies the underwater world. From house reefs to the ocean beyond, an endless list of life evolves. The finest touches make headway in ensuring paradise blossoms year on year and to conserve this greatness resorts play their part in eco-friendly antics.
Let us chinwag about resorts in the Indian Ocean that go above and beyond flying the flag for going green.
---
Anantara Iko Mauritius Resort & Villas, Mauritius
Not just a high-end resort in the southeast corner of Mauritius. Anantara Iko Mauritius Resort & Villas offers you the best chance to get up close and personal with the local wildlife. 
Situated on superb Le Chaland beach next to the incredible Blue Bay Marine Park. Make sure you take your flippers as you'll love snorkelling out in the warm shallow waters of the protected site. Take your chance to spy everything from stunning tropcial fish to a 1,000 year old brain coral.
The luxurious resort's enviable location also means you're not far from some of south Mauritius's beautiful nature reserves. Perfect for taking a nature walk and enjoying the fascination nature all around you. 
Anantara Iko Mauritius Resort & Villas

Be welcomed by the greenery around your room every morning

Relax on your private terrace

Bathroom suite in Anantara Iko Mauritius

Stunningly arranged Lobby Area

Main buffet restaurant serving delicious international classics

Enjoy your evening meal with an unbeatable view

Relax at the stunning beachfront resort bar

Sip on your favourite cocktail while staring out over the Indian Ocean
---
Anelia Resort & Spa, Mauritius 
Being eco-conscious isn't always about recycling and taking part in initiatives. Sometimes it can just be about something as simple as promoting local businesses and heritage. 
The team at Anelia Resort & Spa have worked hard to ensure the facility blends into the natural landscape as much as possible. Influenced by authentic Mauritian design the resort features thatched rooves throughout and aims to take you on a journey through the history of island architecture. 
Being based over on the west coast of Mauritius you'll be perfectly placed to check out the speed of life in local villages like Flic-en-Flac. 
---
Tarisa Resort & Spa, Mauritius
Tarisa Resort & Spa will give you a new appreciation for the island's coastline. You're in the perfect place to allow the serenity of the Indian Ocean to penetrate your soul. 
Relax in the Crytsal Spa where a team of professional therapists utilise sustainably grown ingredients to soothe your muscles and leave you feeling rejuvenated. 
This commitment from the resort to local, responsibly sourced, products ensures a sustainable enconomy within Mauritius. Tourism makes up a large percentage of the country's GDP. This is just one way resorts in the area are promoting an eco-friendly attitude. 
Heritage Le Telfair
Recently awarded the Green Key eco-label, Heritage Le Telfair and Heritage Awali have instantiated their green practices with their commitment to reducing their carbon footprint and embracing eco-friendly processes.
Heritage Le Telfair Golf & Spa Resort

Kick back in a poolside cabana

Elegant room interiors

Enjoy stunning views out over bay from your living room

Stunning bathroom suite with elegant standalone bath

Beautiful lobby area

Enjoy your favourite tipple in the elegant surroundings of the resort bar

Luxuriate in the natural spa
---
Heritage Awali, Mauritius
An organic vegetable garden and endemic plant garden thrive at Hertiage Awali and will soon blossom at Heritage Le Telfair too.
Eco-friendly household products adorn both resorts, along with a commitment to using locally sourced produce meal after meal.
Heritage Awali Golf & Spa Resort

The stunning infinity pool

Take in the view from the stylish pool

Relax in comfort in your stunning room

Zafarani Indian restaurant

All the colours of the evening in Mauritius

Enjoy dinner on the beach with the sand between your toes and the sunset on the horizon

Your welcomed by greenery from the moment you step inside Heritage Awali
---
Reethi Beach Resort, Maldives
Over in the Maldives, an endless list of awards line the cabinet at Reethi Beach Resort. Including the Green Planet Award and Travelife Gold Accreditation for Sustainable Tourism.
Just a some of the eco-friendly intiative in place at Reethi are; energy efficient light bulbs throughout the resort, re-usable glass bottles for drinking water save the use of over 400 disposable plastic bottles every day. As well as, locally produced crafts for furnishing the resort.
There's even detailed mapping of the entire reef-system to ensure the coral of the baa atoll continues to thrive.
Reethi Beach Resort

The an entire atoll to yourself

Opulent water villas at Reethi Beach Resort

Get your seaplane or speedboat transfer to the arrival jetty

Head inside an elegant water villa

Enjoy your favourite tipple at the beachfront bar

The majestic Indian Ocean provides the backdrop at mealtimes

Choose to have your meal out on the sand

Take to the ocean in your own kayak
---
Cinnamon Dhonveli, Maldives
Cinnamon Dhonveli encourages holidaymakers to follow in their green footsteps. Lighting the signal fires with environmentally conscious policies.
Centred around Cinnamon Hotel & Resort's four pronged approach of energy, water, waste management and bio-diversity. Cinnamon Dhonveli gets the green light for doing good in the Indian Ocean, including using discarded materials to produce eco-friendly decor around the resorts.
Their accolade of awards speak for themselves, as they're Green Globe, ISO 12,000, 14,000 and 18,000 certified.
---
Ready to make your next getaway a greener one?
As you can see, environmentally concsious getaway's don't have to consist of muddy tents in the middle of a field somewhere, or helping out on a farm. 
You can experience elegance, luxury, and complete relaxation at a eco-friendly resort. Plus, you'll also be in the best place to see how green schemes like these continue to help the local environment. 
Ready to get out there and experience one of these titans of sustainability for yourself? Click the button below to get a quote sorted today.