Awesome Activities for Eco-Adventurers in Mauritius
Eco-friendly activities in Mauritius are unforgettable to take part in, but they're also important for the ongoing conservation efforts in the country.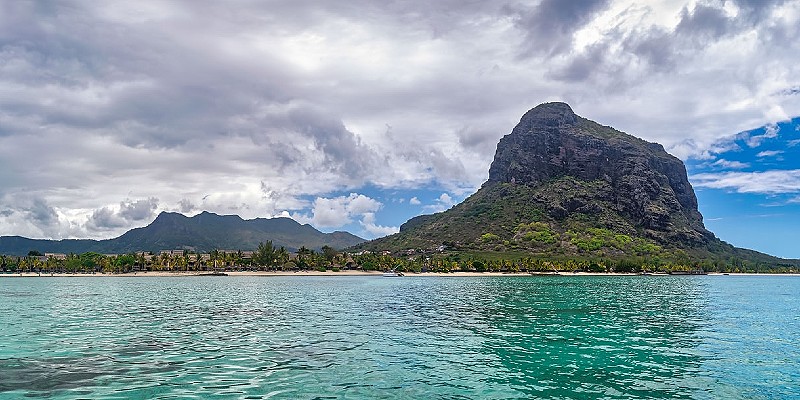 Eco-friendly activities in Mauritius are on the rise
A powerhouse of green tourism, eco-friendly activities in Mauritius are growing in popularity and the island is benefitting from sharing its journey with a growing number of eco-conscious visitors.
But, when your natural landscape is as special as Mauritius', you would want to keep it that way for as long as possible, right?
So, what are these incredibly sustainable activities?
---
Snorkelling & diving
Water sports
Dolphin watching
Golf
Nature reserves
Hiking & trails
Botanical gardens
Yoga
Spas
---
Snorkelling & diving
You may, or may not, know Mauritius is a popular destination for people to get under the waves. The Indian Ocean waters around the island are home to a miasma of stunning coral reefs. In fact, the best dive sites in Mauritius attract underwater aficionados from around the world.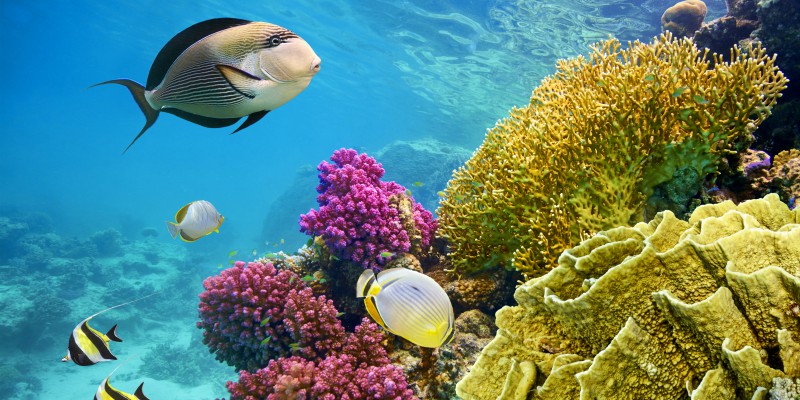 Snorkelling
One such destination is Blue Bay Marine Park, just outside Mahebourg in the southeast of the island. It may sound like somewhere you'd take the kids with water slides and wave pools, but it's actually a sub marine haven. However, you don't need to be a keen diver, or even like the water to make the most of Blue Bay.
The site was given national park status in 1997, so the natural beauty of Blue Bay is protected. The water at the site is calm and shallow as it's not far from the shore. Which means you can see the amazing 30+ species of coral, including a 1,000 year old brain coral, and a plethora of kaleidoscopic fish by just having a snorkel.
Glass-bottom boat rides are popular too, so you don't even need to get in the water to see the submarine sights. There are more brilliant snorkelling destinations in the waters along the west coast at Flic-en-Flac and Le Morne.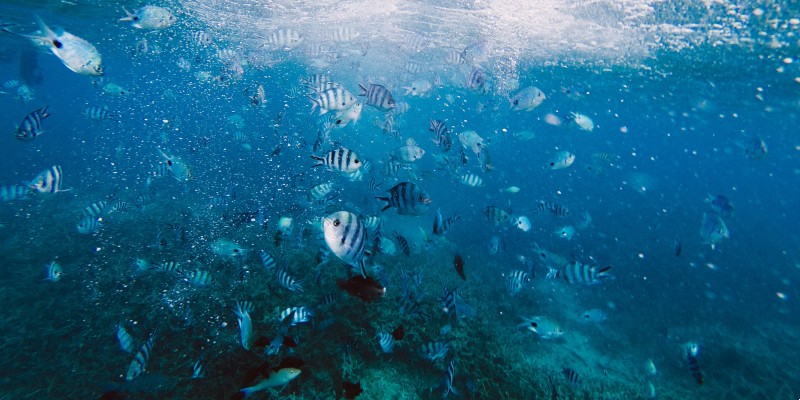 Diving
Coin de Mire is renowned as one of the best spots for diving in the area. Just off the northern coast of Mauritius Coin de Mire, also known as Gunners Quoin or Gunners Point, is a protected island. Tourists are no longer allowed to visit the island after years of degradation left it needing urgent conservation. That work is now under way and attempting to return the land to how it looked 500 years ago.
However, boat tours around the island are still prevalent and extremely popular with the diving community. Keep your eyes peeled for lots of rare fish, corals, and even the odd turtle in the waters surrounding Coin de Mire.
These trips are vital for continuing to spread the message of Mauritius's natural beauty. The local government are hoping this beauty will stick with visitors and encourage them to join the ongoing conservation efforts.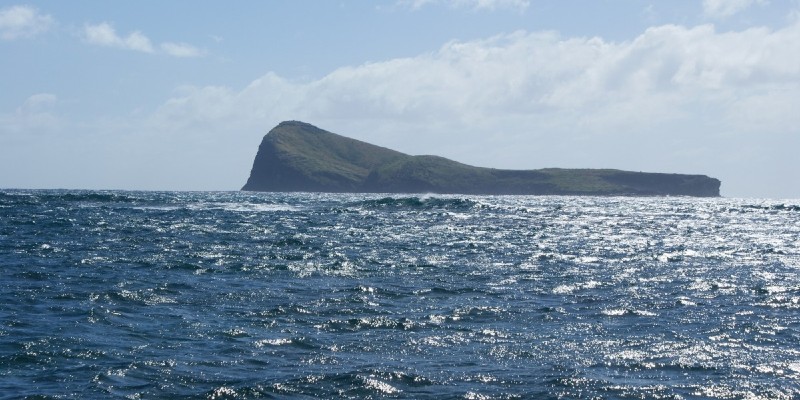 ---
Water sports
If you prefer to stay above the surface in Mauritius, plenty of resorts will offer a wide range of water sports. Whether you're a surfing master or a canoeing newbie there's a sport and a level to suit.
Activities like kayaking, paddle boarding or windsurfing are great fun, but they're also helping to spread the conservation message.
Kayaking or paddling across the ocean or along the diverse inlets gives visitors a different perspective of the island. It may also unveil you as the world's next great paddle-boarder!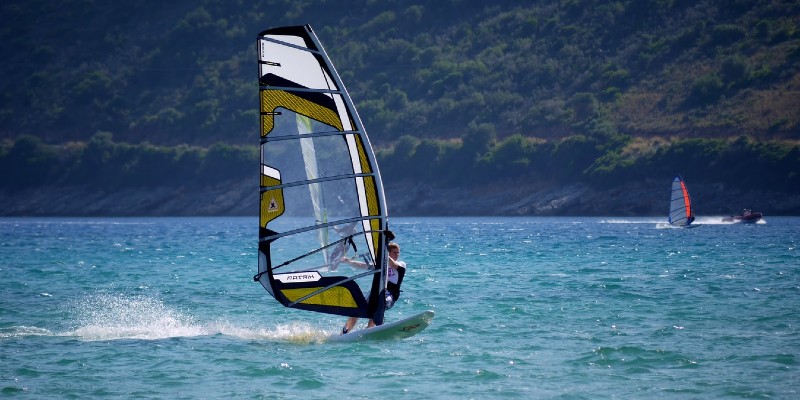 ---
Dolphin watching
One of the most popular water-based activities on the island. Dolphin and whale watching tours are prevalent along the west coast of Mauritius.
Sperm whales can be seen all year-round basking in the warm waters. But if you want to double up your chances of spotting one of the mammoths it's best to visit during July and December. Humpback whales are known to pay a visit during this time to reproduce before heading back to the colder shores of the arctic.
Tamarin Bay is the best spot for dolphin spotting. While many operators tell you their tour or areas is best, we'd recommend heading for Tamarin Bay. The excursions here are best for potentially spying iconic bottlenose or spinner dolphins. But it's also your best chance of getting on a tour which doesn't harm the majestic creatures or their habitat.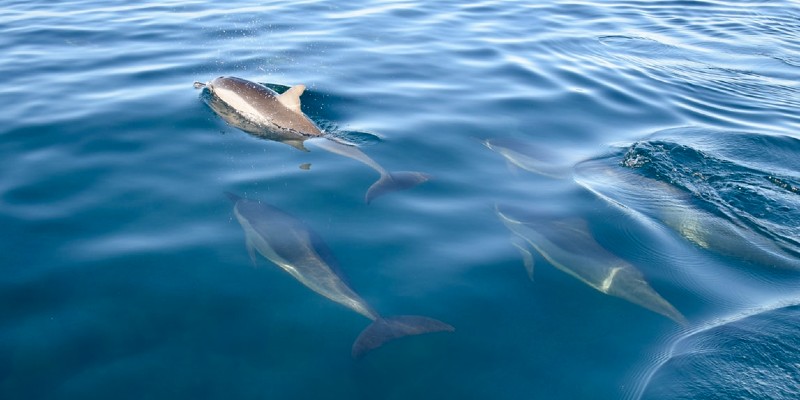 ---
Golf
If terra firma is more your kind of environment for eco-friendly activities in Mauritius, then there's plenty of green exercises for you.
Although you may just think of golf as a sport for old people in strange trousers, it's actually great for giving you more of an appreciation for the natural beauty of the island. The sport is taken quite seriously here and there are some incredible golf courses in Mauritius.
The old adage of it ruining a good walk couldn't be more accurate here. The courses have been specially designed to fit into the natural scenery. Local government are hoping the stunning courses will introduce the importance of the environmental work to a wider demographic.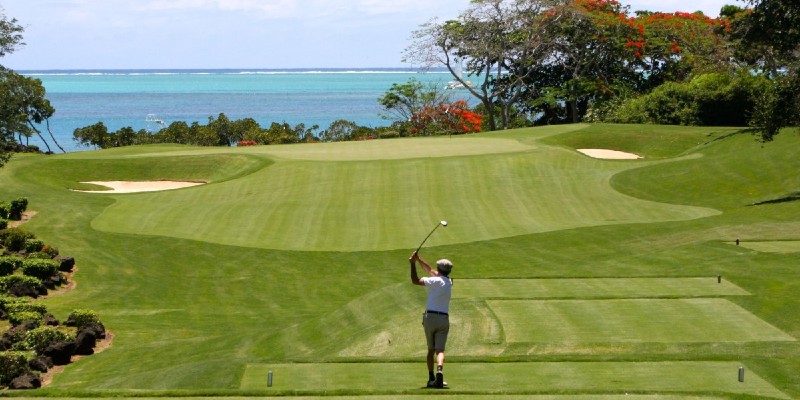 ---
Nature reserves
It probably wont surprise you to learn the island of Mauritius is dotted with nature reserves. The superb biodiversity of the country, along with its size, means the spectacular flora and fauna is readily accessible.
One of the features which makes Mauritius so attractive to eco-adventurers is its size. For example, you can go from glistening beaches to verdant hills in the space of approximately 45 minutes.
However, if you want to make sure you're seeing the best of the nation you should make sure you're booking a break on the south coast. The wilder south of the island plays host to amazing destinations like the tiny coral island of Ile aux Aigrettes, Lion Mountain, the Bambous Mountains, and Grande Riviere. You'll find a nature-lovers dream here.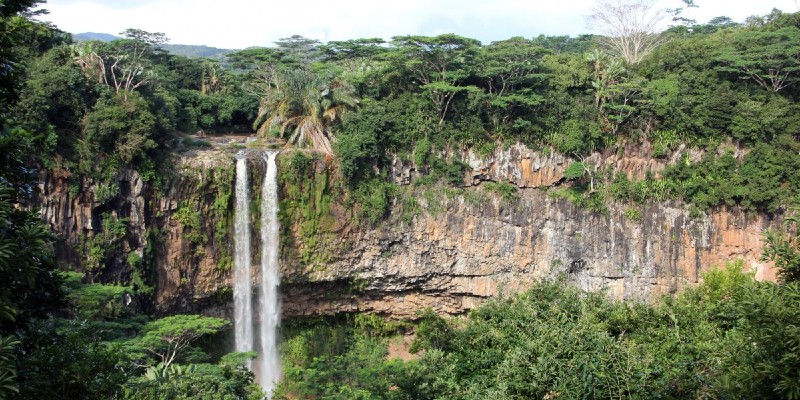 While you're in the south of the island you might want to check out Chamarel. Home of the most glamorous soil you'll ever see… that's right, glamorous soil.
Made up of 600 million years worth of volcanic ash, the Geopark at Chamarel is a true natural wonder.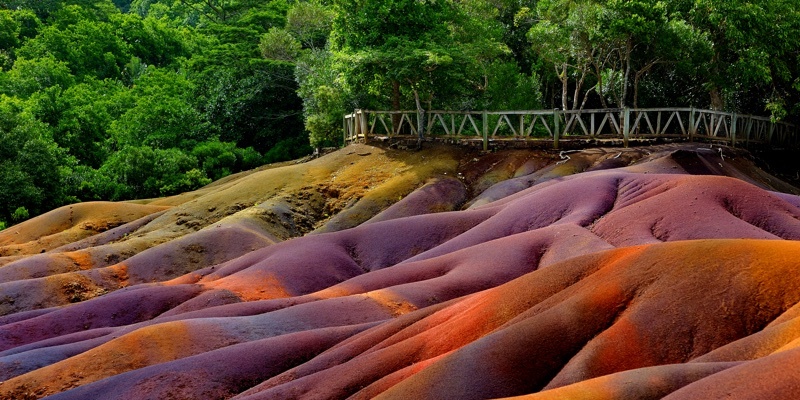 ---
Hiking & trails
The nature reserves not only introduce you to the stunning flora and fauna of Mauritius, they're also a rich destination for those who love a good stomp. Again you're probably best sticking to the south for the absolute primetime trails.
For example, Bel Ombre Hiking Trail and Lavilleon Natural Forest are great hiking spots in the south. See everything from amazing animals to awe-inspiring waterfalls as you trudge through the tropical settings.
However, if you find yourself further north, a more central destination for gorgeous scenery and awesome trails in Mauritius is Domaine Del La Grave. These incredible destinations will leave you with a new appreciation for the country's natural beauty.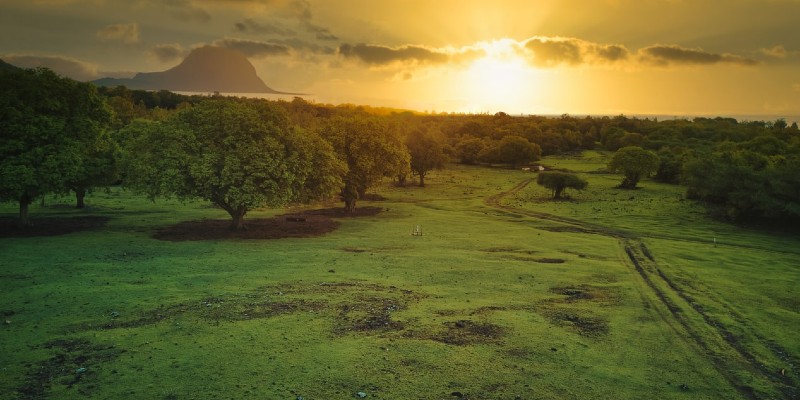 ---
Botanical gardens
Nothing screams eco-friendly activity like a wander around a beautiful botanical garden.
The Sir Seewoosagur Ramgoolam Botanical Garden, Pamplemousses in Mauritius is no different. Bursting with incredible indigenous plant species the beauty and aromas of this place will envelop your senses.
Stroll around the serene pond and gaze at the vibrant colours all around you. If you're not overwhelmed by the beauty of the island after that, you're made of stone!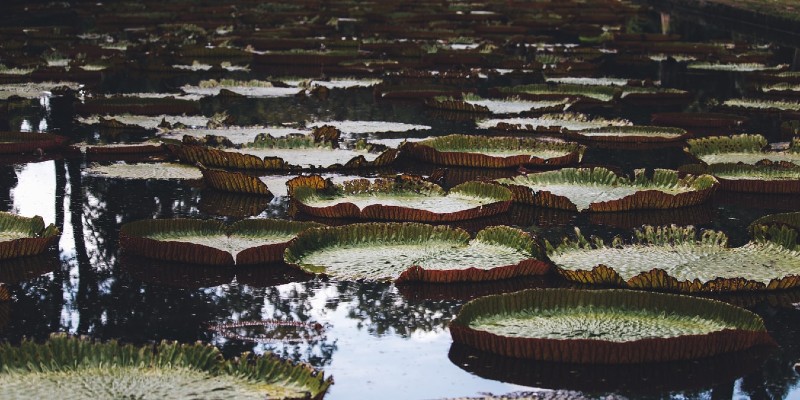 ---
Yoga
Getting in touch with your spiritual side can help you get a better appreciation for the beauty of nature in Mauritius. As a result of heavy Asian influences in the cultural make-up in the country, Yoga has become a popular activity on the island.
If you're not familiar with the exercises there's plenty of resorts which offer yoga classes to all enjoyment levels. Sometimes held outdoors in the full beauty of nature yoga classes allow you to take everything in while you're working on your warrior pose or delivering your downward dog.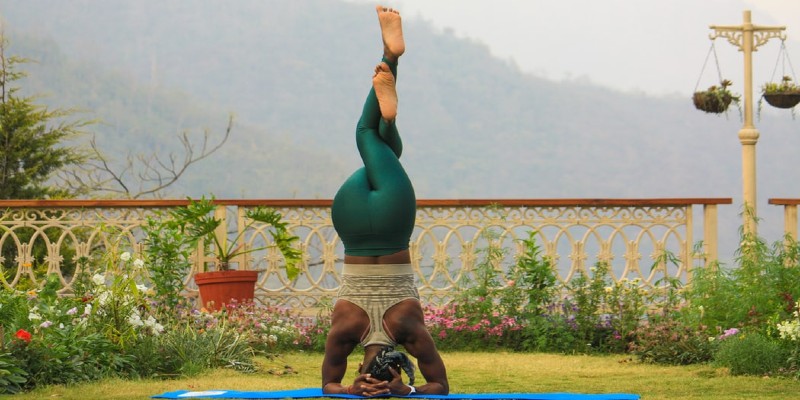 ---
Spa
You may not think treating yourself to a good pamper is an eco-friendly activity, but that's where you're wrong.
Many of the ingredients included in that facial or body scrub you purchased, or had as an upgrade on your booking, will come from the surrounding area.
This means, you're helping improve the local economy and ensuring crop cultivation continues. So, you may think that indulgence wasn't necessary, but we think you're a conservation hero.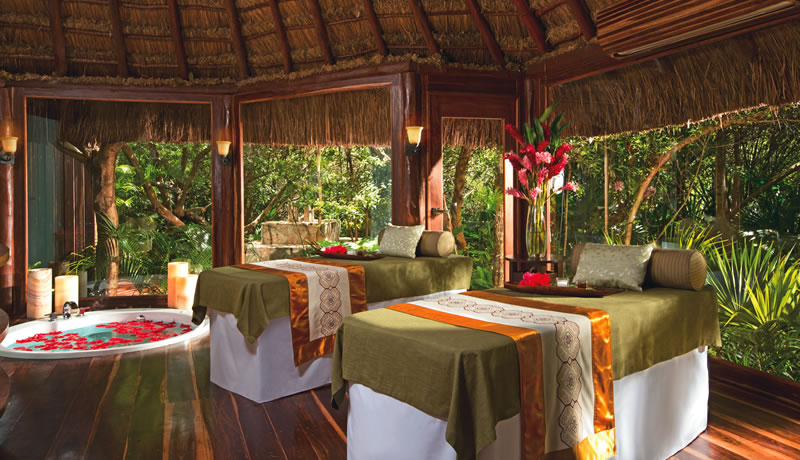 ---
So are there Eco-conscious resorts too?
Now you know about the eco-friendly activities in Mauritius, all you need is somewhere equally green to lay your head.