Thailand Travel Guide: Everything You Need To Know Before You Go
With our Thailand Travel Guide, we'll tell you everything you need to know about this amazing destination before you go.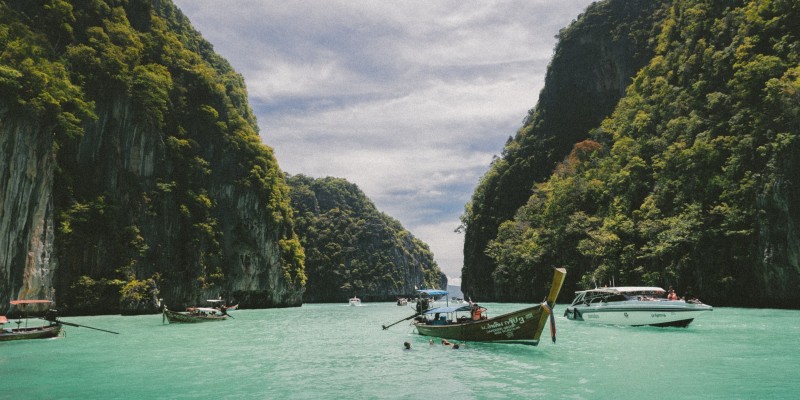 Our Thailand Travel Guide will take you on a tour of one of the world's most-visited destinations.
More than just top resorts for any type of traveller and stunning beaches, as we journey through the senses, history, culture, and much more it's easy to see why so many flock here for their escape to the sun.
Tropical Thailand truly has it all. Avid urbanites seeking bright neon, modern high-rises, and shopping galore will be happy. Whereas those off-the-beaten trackers who want rugged nature, tradition, and history won't be disappointed either.
The true beauty of this destination lies in its celebration of modernism meeting tradition. Through arts & culture, wilderness, and exotic tastes, it's a place that should most definitely be on your must-visit list.
So, let's find out what Thailand has to offer…
---
Thailand at a glance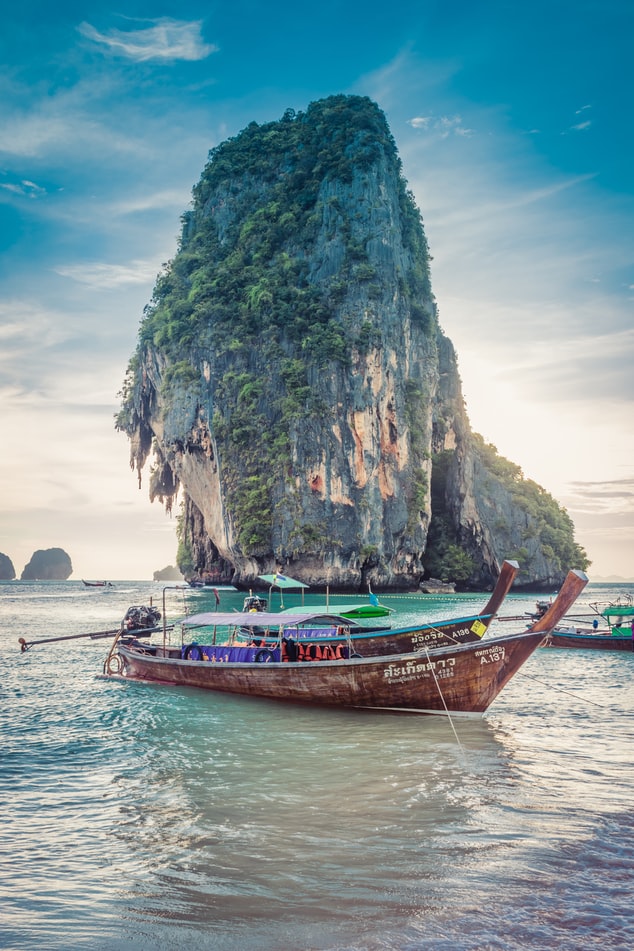 Best time to travel to Thailand: November to Early April
Capital: Bangkok
Size: 513,120km2
Currency: Thai Baht
Main Language: Thai
Flight Time: Average 13hrs
Time Difference: UTC+7
---
What are some interesting things about Thailand?
Food
We cannot talk about Thailand without mentioning possibly the biggest reason for tourism to the destination – Food.
No matter what your dining preference – gourmet or street vendors, wherever you visit you'll have options to tantalise the taste buds. Bangkok and Chiang Mai are classed as its culinary centres, with decadent international and Thai dishes on offer.
However, you'll also find you can eat well (and cheaply!) in even the most rural of towns. Moreover, it's in the countryside where you'll likely find the most traditional of offerings to give your holiday that real authentic hue.
What's more, you could travel to Thailand and never even need to step into a restaurant if that's what you fancy. Food vendors offering delicious fare are almost everywhere, from trains, to buses, to markets, at any time of the day.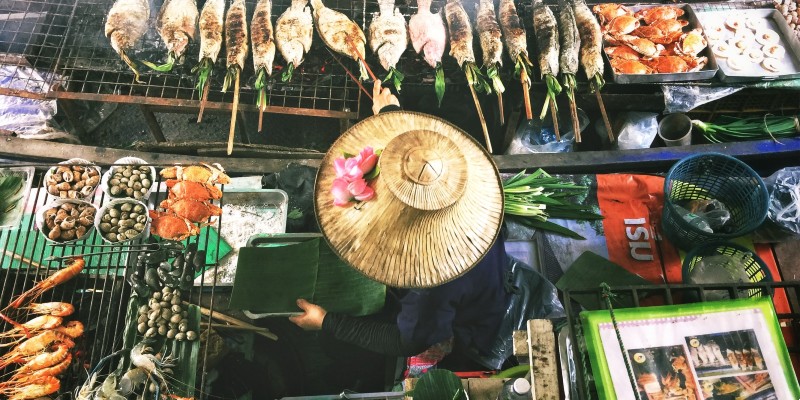 Culture
Thailand celebrates a rich and colourful culture, steeped in tradition and spirituality, influenced from India, China, Cambodia, and Southeast Asia. Each strand shaping its national identity. The national religion is Theravada Buddhism, including Hindu spirituality. Religion is deeply ingrained in society and is very important to the Thai people. As a tourist, you'll see the impact of these cultural aspects in everyday life.
One to note is the presence of spirit houses which are shrines to the protective spirits found in a place. The people are therefore worshiping the spirits that will protect a building, with many offering flowers, food and drinks to such houses.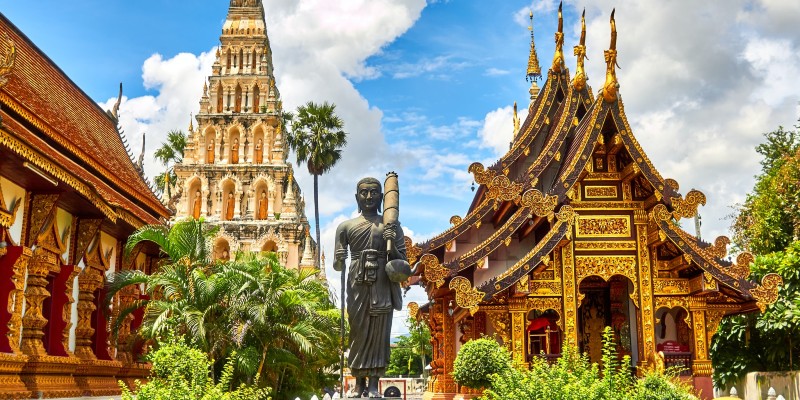 An unmissable cultural figure in Thailand are the towering temples found throughout the country. Playing a very important role in everyday life, people go to them to pray, seek advice, learn, perform rituals, heal, and some are even residences of monks. When visiting the temples there are certain rules of etiquette you should follow which vary between each one, so do your research before you visit. The rules will likely focus on things such as dress code, photography, worship areas, and interaction with the religious figures and monks.
Furthermore, there are over 300,000 monks living in Thailand, they form a big part of the country's culture. Recognised by their yellow and orange robes, and shaved heads, many Thai residents will start their day by giving an offering to the monks who are collecting in the street. They are normally very friendly, and temples often host monk chats where tourists can sit and talk with them about their lives.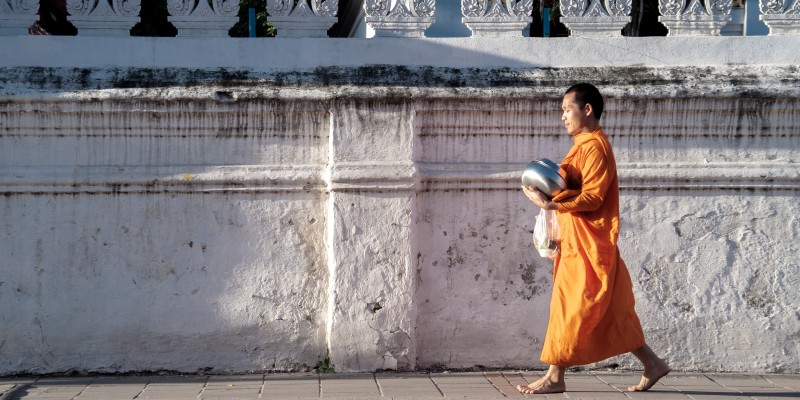 Festivals
Another important aspect of Thai culture is the many festivals celebrated in the country, plenty of which revolve around the Buddhist religion. Some festivals are reflective, such as the Makha Puja where Buddhists gather at the temples and light candles during the full moon. Hence why it's also widely known as the full moon party.
Others are bright and celebratory, like the Si Satchanalai Ordinations which is a parade celebrating men becoming Monks. You'll find people wearing colourful costumes, walking in a parade.
Possibly the most famous Thai festival is the Songkhran and is very popular amongst tourists. It's a giant nationwide water fight that symbolises the washing away of sins and bad luck from the previous year. It originated from the practices of pouring waters over statues of Buddha. Alongside this extended "rain-dance" traditions such as building sandcastles in the shape of chedis (a pointed structure), house spring-cleans, temple cleans and more.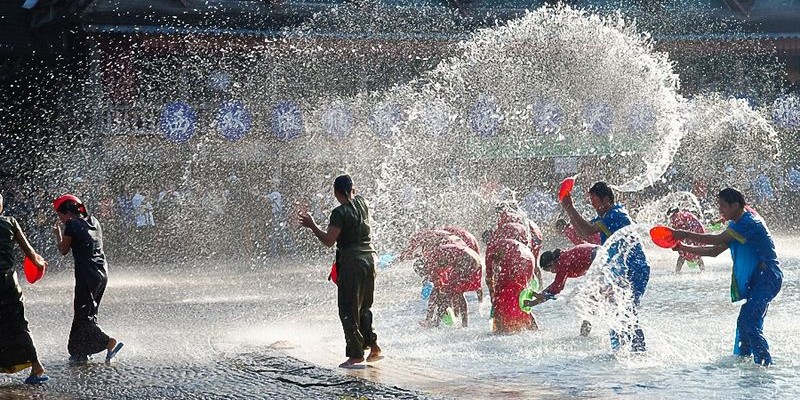 Activities
Amongst the rich history and culture, you'll also find adventure aplenty in a country bursting with unique flora and fauna. From the dense tropical forests to the sea beds there are remarkable sights all over.
The warm, clear waters combined with prolific marine life ensure that Thailand is a hotspot with diving enthusiasts. Throughout your travels you'll find most islands and resorts have scuba diving & snorkelling facilities or excursions on offer, allowing you to say hello to the special underwater creatures.
Fuel your sense of adventure with plenty of hikes and trekking opportunities. The beautiful mountains offer routes that are hard to say no to. What's more, not only will the scenery take your breath away, you may also chance upon a local hill tribe and traditional villages along your voyage – truly immersing you in authenticity.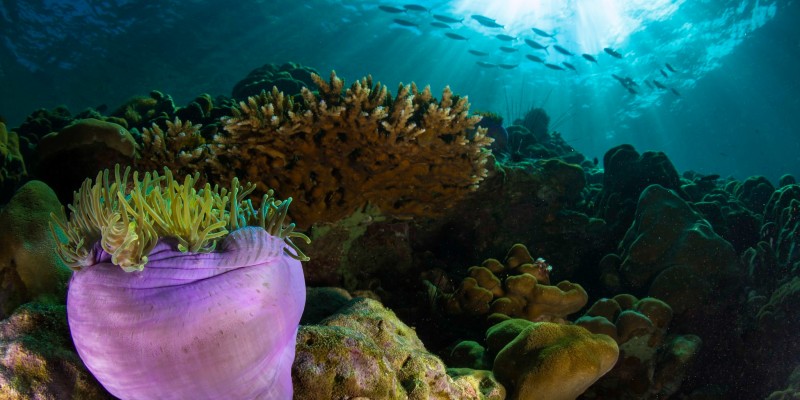 You'll also find rock climbing, kayaking, white water rafting and plenty more activities available to keep you entertained, both on resort and at the many national parks.
However, if that doesn't take your fancy, indulge yourself in a pampering spa. Whether you're staying in a five-star resort or want to try the traditional medical practitioners, many spots offer relaxing Thai massage and treatments ready to restore and rejuvenate your body and soul.
So, with all that in mind, where should you be exploring?
---
Where should I stay and visit in Thailand?
Southern Thailand: The Andaman Coast
The exhilarating Andaman Coast is where you'll find gorgeous scenery, the finest coral reefs with some of the world's best dive sites, and much more. From the largest coastal island of Phuket to the lush tropical forests of Khao Sok National Park, and everything in between, it's a location not to be missed.
Phuket
Possibly one of Thailand's most recognisable islands, Phuket is the wealthiest province in the country with tourism driving the local economy. While possibly not as authentic as some other locations owing to its vast tourist development. If you're after comfort, entertainment, adventure, and pleasure in a neat bundle, there's lots of things to do in Phuket. The beaches here are beautiful, resort facilities are second to none, and the snorkelling and diving are exceptional.
We recommend heading to Hat Mai Khao, Hat Nai Yang, Hat Nai Thon or Hat Kamala. These stunning beaches offer magical moments of peace and serenity.
James Bond Island is another postcard-perfect beach in Phuket. Khao Phing Kan was named after the eponymous agent after the needle-like island "Kapu" featured on the 1974 film "The Man With The Golden Gun".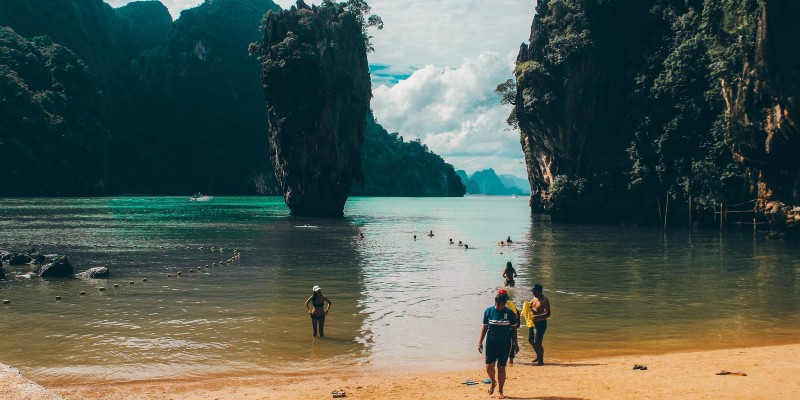 If you're looking for more tourism hotspots in Thailand, like Khao Phing Kan, then be sure to take the ferry from Phuket over to the Phi Phi Islands. There are lots of beautiful spots of land jutting out of the sea in the region so a day trip or Thai islands tour is a great way to see as many as possible.
Phi Phi is another piece of Phuket coastline enjoying cult status after appearaning on the silver screen. Leo Di Caprio's film "The Beach" gave this stretch of sand it's fame. The stunning natural beauty of the islands in the region keeps tourists flooding back year on year. This is probably the beach you see all over Instagram when you search Thailand.
Khao Lak
Ideally located just an hour from Phuket International Airport, Khao Lak is an established beach resort offering adventure, beauty, relaxation, scenery and much more.
The area itself is made up of a string of golden-sand beaches, throngs of shops, restaurants and dive centres, as well as high-end resorts.
You'll find plenty of diving and snorkelling opportunities offered by local centres and in-resort dive facilities. In addition, it's a convenient departure point for trips to the national park islands of Ko Similan, which can be accessed by boat or speedboat. Plus it has the infamous underwater boat wreck near Bangsak which is rich in kaleidoscopic marine life.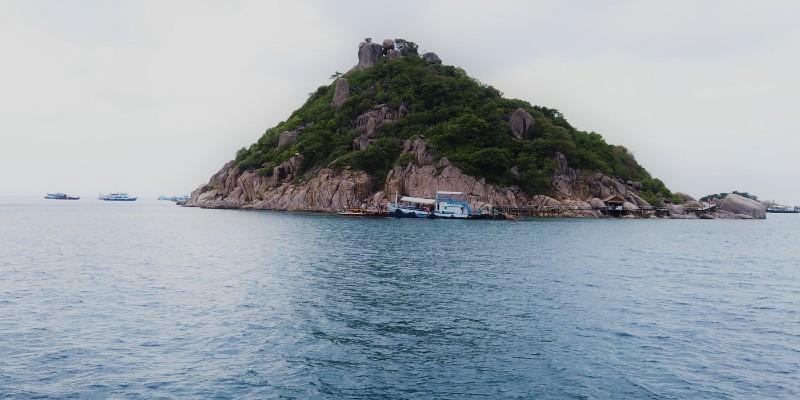 ---
Northern Thailand
Chiang Mai
Chaing Mai is the perfect place for seeing that combination of modern meets tradition. While the destination has experienced rapid economic progress, it's retained an authentic atmosphere through tradition and architecture.
New buildings are limited to four stories, so there are no high-rises to obscure the views. They also retain the traditional wooden architecture, along with leafy gardens and some of the most famous and unique temples found in the city.
The temples found in Chiang Mai are a tourist haven – Wat Phra Singh, Wat Chendi Luang and Wat Chiang Man are nestled close together working as living community centres. You'll find monks to learn from, shops, museums, gorgeous cuisine and bars, as well as good value accommodation.
Self-improvement & parades
This destination is known for its varied offering of self-improvement classes, such as meditation, Thai-massage, and our favourite – Thai food! There's all sorts on offer; Thai Dancing, Thai Boxing, jewellery making, t'ai chi, rock climbing… honestly we could keep going. It's the perfect place to try your hand at something new, and who knows, maybe you'll go home having learned a new skill or find out you're a natural at t'ai chi.
And if that hasn't tickled your fancy (who are we kidding, of course, it has). Chiang Mai is the place to be if you want to enjoy the national festivals. Famed for its celebration of Songkhran which completely takes over the city for three days in April. Also, the incredible Loy Krathong where you'll see a firework fiesta and thousands of candles floating across the Ping River in lotus-led boats.
Another, more traditional parade in the American-sense, not to be missed is the flower festival. Usually hosted in the first weekend of February, you'll see a parade of floats with figures and scenes depicted in flowers.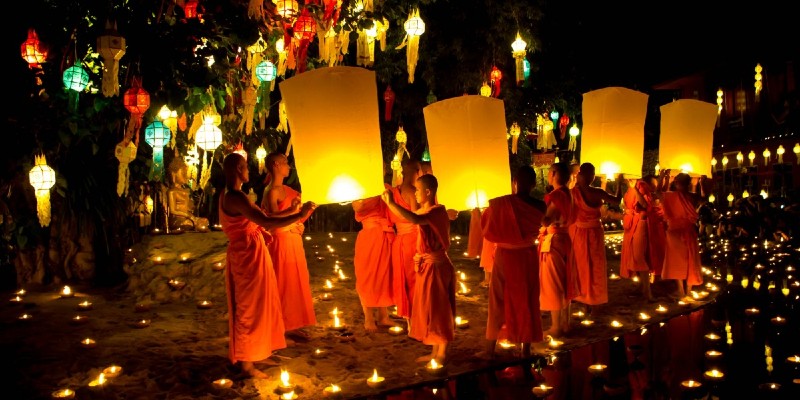 Many say the positive, easy-going nature of Chiang Mai hooks tourists to stay longer than they expect. If you have the chance to journey east from Chiang Mai you'll have the opportunity to gaze out over the majestic Mekong River.
Chiang Mai truly is a place we'd recommend adding to your must-see list.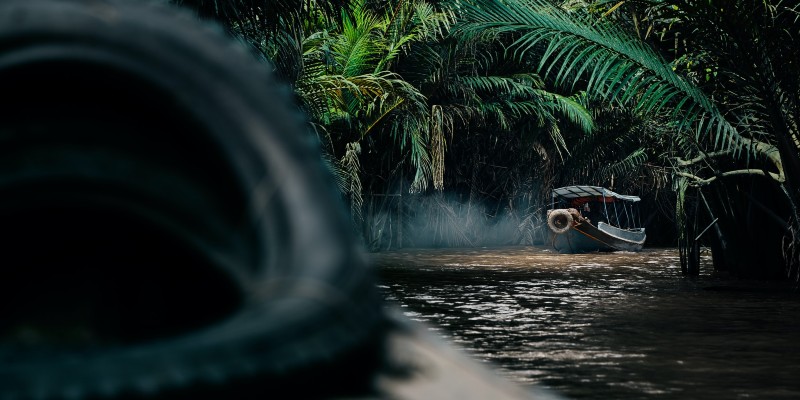 ---
Central Thailand
Bangkok
Bangkok is a far cry from the relaxing atmosphere found in other parts of the country. Under the skyscrapers there's a mix of chaos, traffic jams, markets, and oddly enough, golden temples. An explosion on the senses; sights, sounds, and smells eminate from all over Bangkok.
Probably not ideal for travelling families, you'll find booming nightlife enhanced by the urban atmosphere throughout Bangkok. The popular shopping areas and hotel locations boast conceptual bars and modern clubs.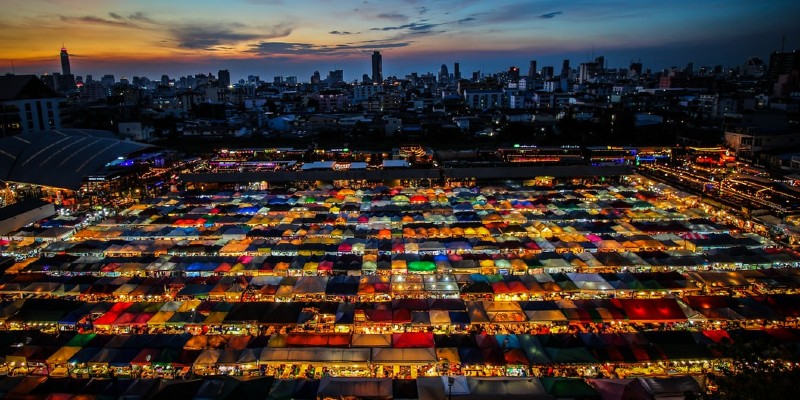 Shopping, culture and cooking
However, Bangkok has a stellar reputation for shopping. Downtown is where you'll find multi-story shopping centres, plazas, & boutiques with lots of goods on offer. Also be sure to visit Bangkok's largest market, Khlong Toei, where you'll find food goods to tantalise the tastebuds.
Amongst the liveliness, you'll also find some unique spots of culture and history. The Grand Palace is a dazzling temple and possibly the country's most unmissable spot. Or visit the Reclining Buddha and get a massage at Wat Pho.
Catch a ride along the stunning canals of Thonburi and watch the Thai-boxers do their thing! There's also many incredible Thai cookery classes on offer throughout the region which are well priced and allow you to learn some skills to take back home with you.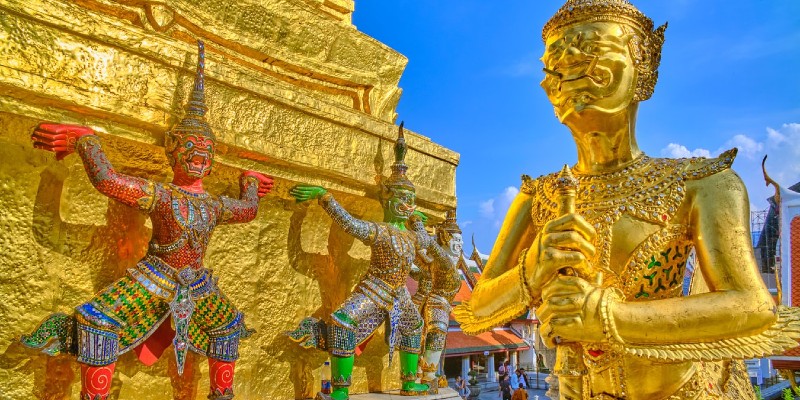 ---
Ready to go?
While just a snapshot of what Thailand has to offer, we hope our Travel Guide has inspired your inner explorer. Whether you're after family-friendly fun, couples bliss or party central, there's a place for you.
With so many things to see and do, you want to be sure you're picking the perfect resort for your Thai-odyssey. Click the button below to find out which of our top Thailand resorts would suit you best.