What It's Like Ticking The Maldives Off Your Bucket List At Furaveri Island Resort & Spa
Our man Jonny takes us along for the ride on his family's bucket list trip to Furaveri Island Resort & Spa in The Maldives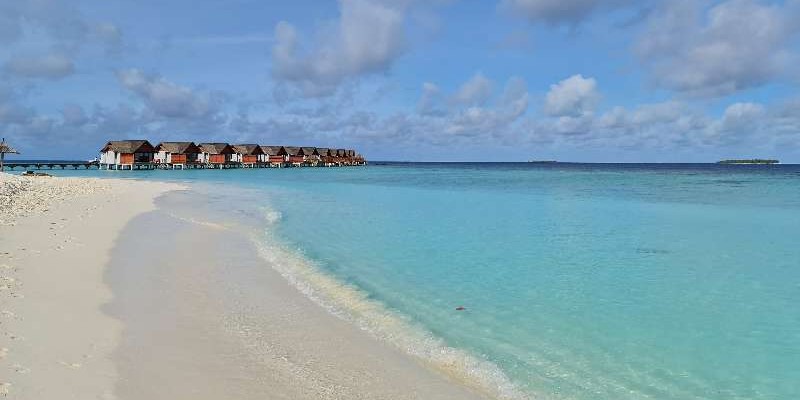 The Maldives is one of those dream destinations for most people and Furaveri Island Resort & Spa is a postcard-perfect spot to stay.
One of our Tropical Warehouse customers, Jonny, recently got back from his Maldivian escape at the resort. So he told us all about what life in paradise is really like.
Accompanied by his wife and 4-year-old child, Jonny set out for Furaveri Island Resort & Spa in the shimmering Raa Atoll. Here's his first-hand review.
---
Over to Jonny
Well, first of all, I have to say the experience of being in the Maldives will never be beaten. Being on an island with 300+ guests never felt cramped or busy.
The Furaveri Island Resort was peaceful and tranquil. It's not a cheap resort to go to, but as a bucket list holiday for my 40th birthday it certainly ticks a lot of boxes.
Before I get into it too much, though, I feel I should clarify that the process of landing in Male Airport and actually getting to the hotel was very easy. The seaplane transfer is a must, the views of the islands as you fly over are amazing.
---
Home from home
We paid to have a Water Villa and all I could say was WOW.
The room was spotless when we arrived and cleaned every day without fail. Your bedroom & bathroom look out into the ocean with huge windows to maximise that wow-factor. There are blinds you can pull down to give you some privacy, but we never needed to do that as our villa was near the top of the jetty.
In the bathroom there's a stunning roll top bath with a separate walk-in shower area. This was perfect for us as we have a 4-year-old who sometimes needed a shower down after a day at the beach. Your balcony area is a great space. At the same width as the villa and featuring two sun loungers & one double bed it's perfect for chilling throughout the day or evening.
A word to the wise about the room, get a demonstration on how to work the AC. We only figured out how to use it towards the end of the holiday and it does get quite humid and warm in the evening.
---
Water-load of fun
As you move around the balcony area you'll see a set of steps leading down to the lagoon so you can go swimming in the coral reef (highly recommended). But I would advise investing in some water shoes as those steps get slightly slippery at the bottom.
Every morning we would see a different variety of fish swimming around from Parrot fish to small sharks.
---
In the Villa-cinity
Just at the end of the jetty which houses the Water Villas is the Sunset Bar. This is a fantastic place for watching amazing sunsets and, if you're lucky, you'll get to see dolphins swim past.
Just a head's up, the service isn't the quickest at this bar. But the views and chilled-out music more than make up for it.
The Water Villas are quite far away from the main pool, bar & buffet restaurant. So, if you have a little one like us, I'd suggest calling reception to get a golf cart down to the main area. In the morning it isn't too bad walking down there, however in the evening with a 4-year-old a golf cart is a god send.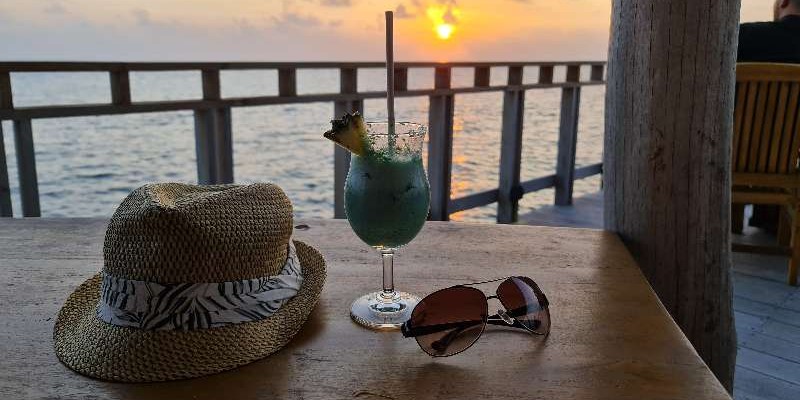 ---
Food & drink
We paid for the premium all-inclusive package, so we were able to use the separate menu for premium guests in the main bar. This is a list of food and drinks you can have as part of your package.
There was a good variety of drinks on this menu that included beers, spirits, cocktails, mocktails and soft drinks (be aware milkshakes are not included, so cost extra). Although, if you don't fancy upgrading, the normal all-inclusive menu is pretty comprehensive.
The bar snack menu was fairly limited, but good enough for nibbling around the pool or as a lighter lunch option. Whereas the buffet restaurant food was very good for a hotel buffet.
I'll give you a brief breakdown of what you can expect for each meal of the day.
---
Breakfast
Two egg stations prepare them however you like.
You can find American style pancakes & waffles, but mainly there are three sections within the buffet restaurant at breakfast. One is filled with hot savoury food like bacon, sausage, fish, porridge, Dhal and other daily specials, while the other two have salads, fruit, pastries & yogurts.
Lunch
Most days at lunch fresh local fish is being cooked. If you like fish, this is a must. However, they also have a fresh pasta station with sauces cooked there and then. You can add things into your sauces such as peppers, chilli, prawns, bacon, onion and so much more.
The selection of food ranged from curries, Dhal, sushi, meat dishes, rice dishes.
Dinner
Very similar to lunch with the variety of food offered. Meat, fish and vegetable dishes were always available. Plus there's a small section for kids' food with things like chicken nuggets, chips, meat balls etc. We're quite a foodie family and we thought all the food was very nice. Although, some may prefer to have a shade more variety from day-to-day.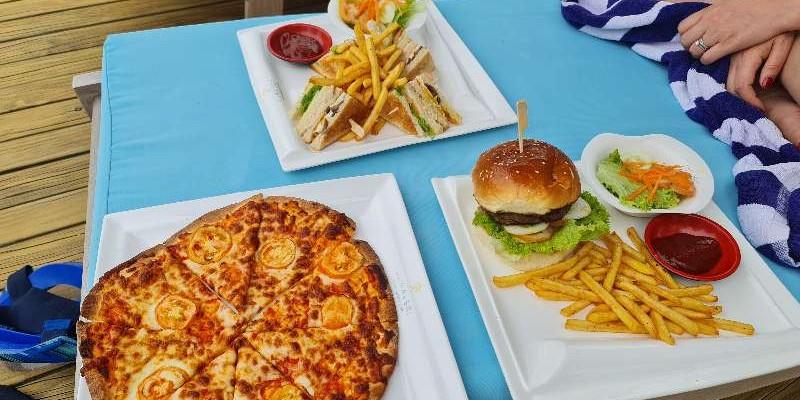 ---
The beach… oh the beach
The beach and ocean surpassed every expectation I had. You see all these pictures of the Maldives with the white sands and blue sea and you think it can't really be like that. Trust me it is.
The ocean temperature was lovely and snorkelling in the reefs was mind-blowing. Honestly, the variety of different coloured fish you see is like swimming in an aquarium. It's worth the money just for this experience.
A calm, relaxed environment surrounds the pool area. Sun shines on the pool up until around 4pm so you get a good day full of rays when you're chilling there.
Moreover, it's located right next to the bar and buffet restaurant, so you don't have to travel far for food or drinks.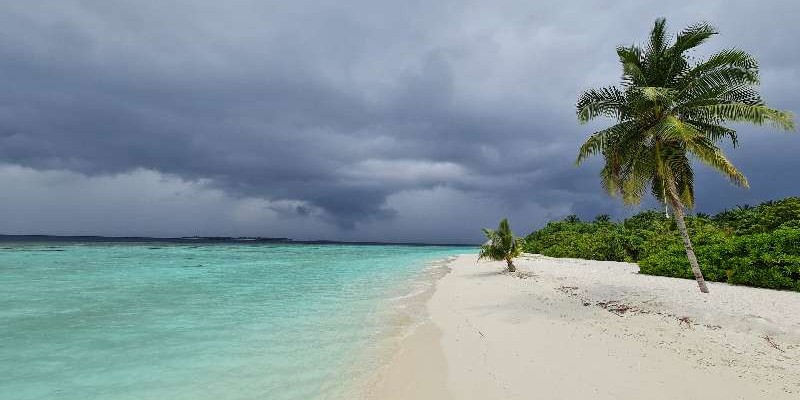 ---
What else is there to do?
Our premium all-inclusive privilages meant we also got access to all of the non-motorised water sports equipment included.
My wife took a paddle board out a few times and I took a canoe. We both got life jackets and snorkelling fins to use (we took our own face mask). I'd recommend getting the snorkel masks that cover your whole face, it just makes snorkelling around the reefs much easier.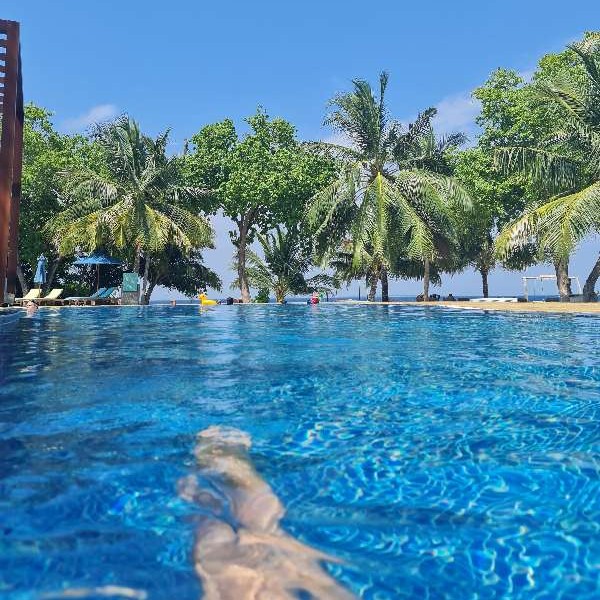 We were treated to a complimentary jet lag neck massage which was amazing, so we decided to book a couple more treatments in the spa. These cost extra, but this was my bucket list trip and I was going to experience as much as I could.
At the resort spa you can choose from a range of treatments. For some reason I decided to go for a Swedish Massage which, if you know anything about them, you'll know come a bit keen.
My wife on the other hand decided to go for the much more sedate option of an all over massage. She said it was one of the best treatments she'd ever had. The staff are incredible, proper therapists who administer the treatments professionally.
---
---
Anything else?
There's is a kids area at Furveri Resort, but we didn't see much of it as our son was happy enough playing on the beach.
But, it did look a nice colourful and caring environment for the little ones.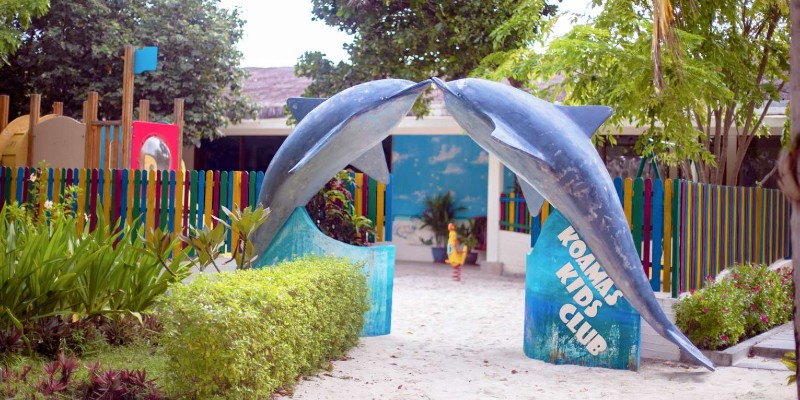 ---
Heading home
If arriving at the resort was super-easy, then the process of leaving to get back to Male airport was even better.
We never had to touch our luggage from the bell boys picking the bags up from our room to when I gathered them off the baggage carousel at Heathrow airport.
There was a dedicated Furaveri Island Resort & Spa delegate to meet you off the sea plane. They would then take your bags through to checking in, getting you checked in and even put the bags on the scales at the desk for you. This service was so unexpected but just topped off a fantastic holiday.
---
Thanks a bunch
A big thank you to Leighton at Blue Bay Travel for sorting this holiday out within 48 hours of our trip to Dominican Republic being cancelled and making sure we could get away 7 days later.
---
Ready to follow in Jonny's footsteps?
If Jonny's bucket list escape has inspired you to add another destination to yours, then click the button below to get started on building your Furaveri quote now.
The last 12 months have been awful. So, why not give yourself something truly special to look forward to?