Bali vs Thailand: Where Should You Go And Why?
When it comes down to it, should you be booking your break to Bali or Thailand. We'll end the debate for you!
Let's be honest you'd probably be happy in either. But when it comes to Bali or Thailand, which one is perfect for you?
If you want the short answer, we'd say Thailand just pips Bali – because of the sheer weight of things to see and do.
---
Head to head
However, in this blog we're going to pit the two dreamy destinations against each other across six subjects areas to see which prevails.
Those subjects are: Cost, food, getting around, culture, beaches and when's best to go.
So, let battle commence! Let's find out whether you should be jetting off to Bali or Thailand on your next great escape.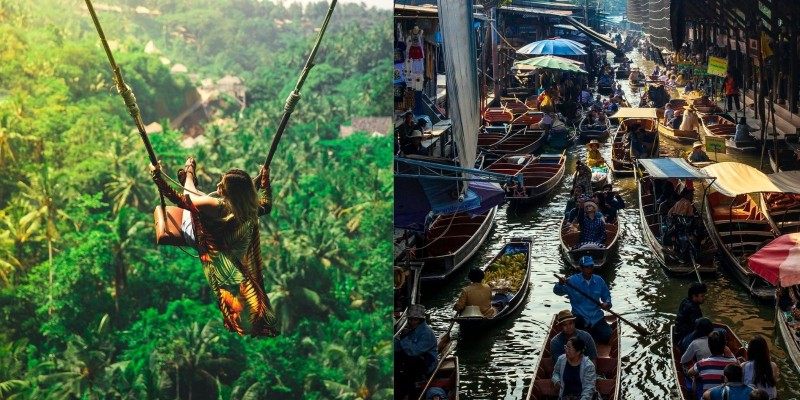 ---
Trip cost 

 
In terms of cost of living there's nothing really to choose between the two. Generally, if you're travelling to Bali or Thailand from a western nation, you'll find that most things come pretty cheap. 
Accommodation is a huge part your trip, and we're assuming you're not here because you're looking for the cheapest hostels in Bali or Thailand. But we would say that finding luxurious affordable resorts in Thailand is a midge easier than in Bali. 
However, as with anywhere, you could also choose to live the life of luxury when you're away. Spots like Ayodya Resort Bali or the Pavilions, are perfect for elevating your trip above the ordinary.  
Winner = Thailand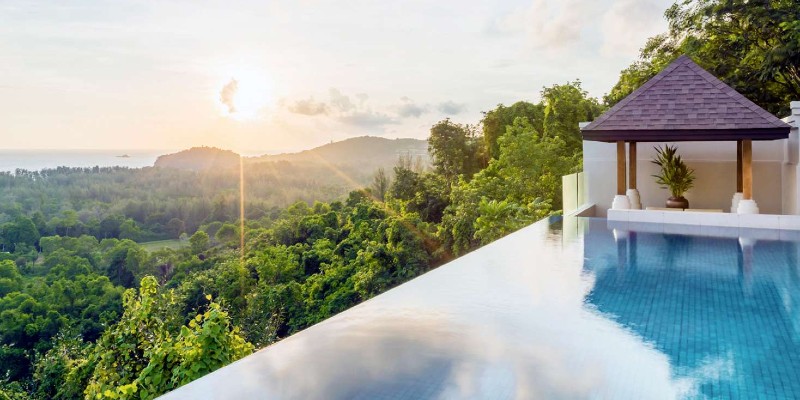 ---
Food
The battle ground of food is no less hotly contested than that of cost. But, continuing on from the numbers, the great thing about eating in Bali or Thailand is that you can do it for relatively nothing again. If you wanted to, you could probably take £30 out and eat well throughout the day.
Across Indonesia the restaurants or "warungs" serve up delicious local dishes. But, in areas like Sanur, there's also a large selection of places which serve international favourites, so any picky-eaters in the group will be well catered for. In addition, the thriving vegetarian and vegan scene in Bali see's many places serving exclusively to that market.
However, Thai food is internationally recognised and celebrated. You won't have to walk for long around the beaches or places like Phuket before coming across a mouth-watering array of street food. Moreover, a dazzling selection of amazing restaurants litter the streets in the towns and cities of Thailand. There you can choose to spend as much or as little as you like on your meal.
Winner = Thailand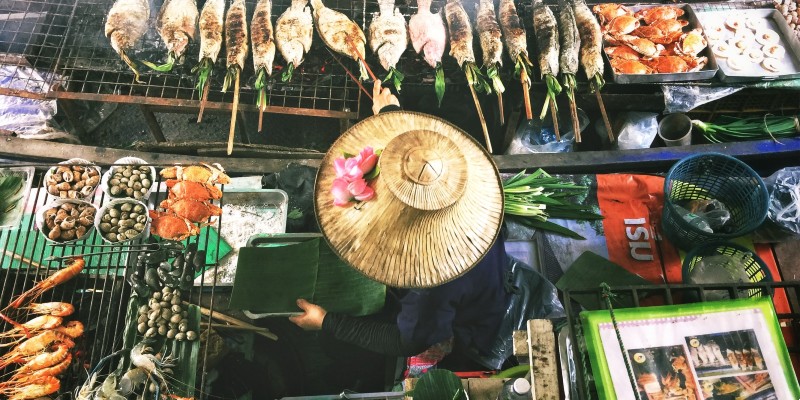 ---
Getting about
Probably more of a no-brainer than the food, the size difference between the two pretty much settles this one.
There are lots of public transport links in Thailand and the country is huge, it's easy to see why it's so popular with backpackers and adventurous souls.
However, in terms of being able to see the most of a region on your holiday, Bali's best. Just hire a scooter from any of the plethora of stores which line the coast and start exploring. Generally speaking most places are only about 30-40 minutes from each other on the island. We'd recommend getting out and experiencing Nusa Lembongan and Nusa Penida if you get a chance.
Winner = Bali
---
Culture
Whether you choose Bail or Thailand you'll be glad to know immersing yourself in the culture won't be too hard.
Thai monks wander through the streets of the cities and towns of the country, clad head-to-toe in those famous orange robes they're revered by local people. Places like Chiang Mai are ideal for seeing awesome temples. Take the chance to speak with some of Thailand 300,000+ monks about their lives and the Buddhist faith.
Over in Bali on the other hand, the region is mainly Hindu. Again, temples and statues are easy to come across. You can also see amazing hand-crafted offerings to the gods which the residents lay out in front of their homes. Another great thing about the culture in Bali is the fact that whenever you go, you'll stand a chance of witnessing a dazzling festival.
Winner = Bali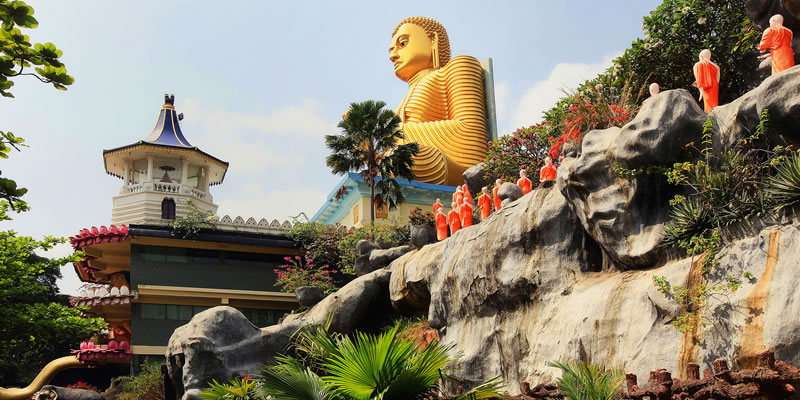 ---
Beaches
Although the beaches in Bali are stunning, the waves can be choppy around the island. Hence why it's such a hotbed for surfing.
However, the coastline of Thailand is iconic. I mean, let's face it, whichever location was deemed acceptable to film "The Beach" on was always going to be a pretty special stretch of sand. Phang Nga bay is actual "The Beach", and you've probably seen countless influencers posing on it when you've been scrolling through Insta.
In addition to Phang Nga, you could also take the chance to hop on an island tour in Thailand. This will take you through stunning spots like Koh Samui, Phi Phi Island as well as Koh Yao Noi and Koh Yao Yai.
Winner = Thailand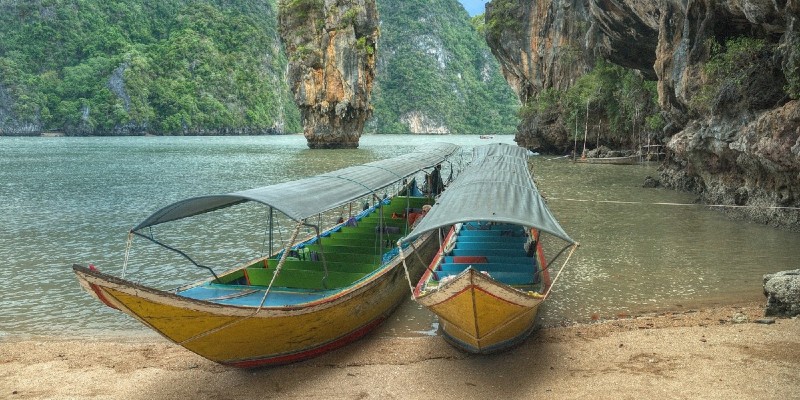 ---
Time to go
Timing your journey to Bali or Thailand is important. As both lie in Southeast Asia they have similar tropical climates. But their quirk is they enjoy them at opposite times.
While the best time to visit Bali is June – August in the dry season, the best time for a trip to Thailand is from November – February.
Time your holiday wrong and you could either find yourself covered in rain or sweat. The rainy seasons either side of the blissful periods outlined above are hot, muggy and, you guessed it, wet.
Essentially this battle boils down to personal preference and timing. If you're looking for summertime getaway then Bali is the one. However, if you want to escape the winter misery, then Thailand is your answer.
Winner = Draw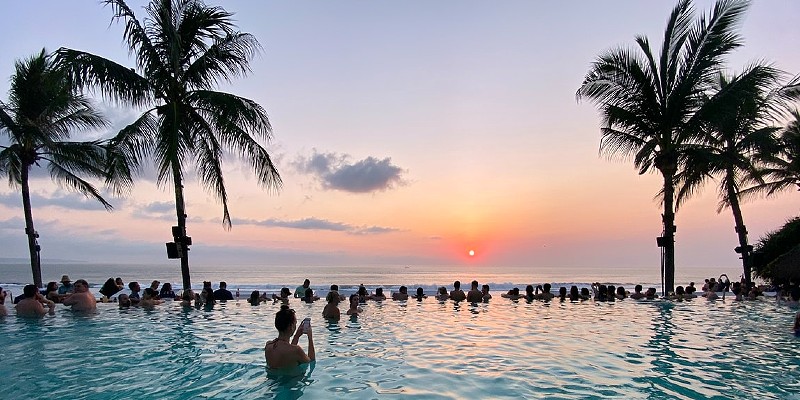 ---
In conclusion
We told you it was a tight one! But Thailand just edges it.  
Although, you need to remember it's not really a fair fight as Bali is so much smaller than Thailand. Both places are full of memorable adventures, stunning food and rich culture.  
So, wherever you choose to holiday you're guaranteed the time of your life! You can't actually go wrong.  
Whether you're more Bali or Thailand, you can have luxury regardless at The Pavilions Resorts. Click the button below now to find out more about these two superb, secluded, five-star retreats.