6 Movies You Might Not Know Were Filmed In Thailand
Have you ever been on a trip away and stumbled upon a location that just looks like something out of a movie? If you head out to Thailand, this will probably happen more often than not.
---
There are many movies filmed in Thailand, due to its exotic backdrops, cheaper production costs and accessible crew members available for work.
These movies have helped to promote a great amount of tourism for the country, so the cinema industry is welcomed by Thailand.
Plus, it's always fun to visit a place and say "Roger Moore stood here once" or "do you think Leonardo DiCaprio touched this rock?".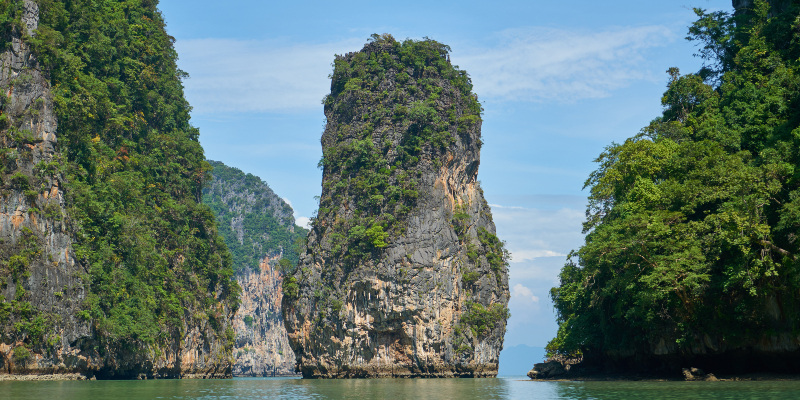 ---
Let's visit a movie set!
If you are a bit of a film fanatic, you may already know a few movies that were shot here. But if you're wanting to pretend you're in a movie, check out our list of 6 movies filmed in Thailand.
The Man with the Golden Gun
The Beach
Bridget Jones: The Edge of Reason
The Hangover Part II
Star Wars: Episode III – Revenge of the Sith
Bangkok Dangerous
---
The Man with the Golden Gun
We love Paradise Koh Yao for it's beautiful resort and incredible activities, but it also overlooks the iconic island of Phang Nga Bay.
The islet has since been renamed James Bond Island, after the ninth James Bond film, The Man with the Golden Gun, was shot here in 1974.
Mostly known for the nail shaped limestone island, Ko Tapu, which stands tall in the middle of the bay. This is where Bond's archenemy Scaramanga used as his hideaway. We can confirm the laser gun which is powered by solar panels on the top of the rock, is not real.
The film also features several other locations in and around Bangkok, but James Bond Island is definitely the most popular. Today many tourists flock to the island to recreate the infamous gun scene in front of Ko Tapu.
---
The Beach
Another popular beachfront movie location is The Beach from 2000, but which beach is it exactly? The beach is located on the island of Ko Phi Phi Leh.
Dicaprio's character in The Beach is a young backpacker travelling through Thailand. He manages to land himself with a secret map. The map supposedly leads to a hidden away paradise, so he takes a chance and hopes to find this slice of heaven.
Of course, paradise was found on this stunning and secluded island. As a result, Thailand's natural beauty is shown its full glory in The Beach.
If you're wanting to stay near Koh Phi Phi Leh, we'd recommend booking a stay at Krabi. It's probably the closest province with a 90-minute ferry ride from there.
The waterfall scene featured in the film was actually shot in Khao Yai National Park in Central Thailand. If you want to check it out, Haew Suwat Waterfall is easily accessible and can be reached by car or scooter.
After the film debuted, Thailand experienced an influx of backpackers. They were all probably hoping to find a secret island where they could live out the rest of their days!
---

---
Bridget Jones: The Edge of Reason
Time to switch it up a bit and add a romcom to the list. We all know Bridget Jones and the different sorts of bother she gets herself into, and this film is no different.
Another one of the movies filmed in Thailand where you get to see various locations around the country. Bridget and Daniel travel around Thailand in Bridget Jones: The Edge of Reason.
They take a trip to Phang Nga Bay and pass the village of Ko Panyi. This is a floating fishing village built on stilts by Malay fisherman. It's an amazing place to visit, and just like the pair do in the film, you can get a longtail boat out to the village.
Naiyang Beach in Phuket is where Bridget finds herself in more trouble, as she is slipped some hallucinogenic mushrooms. But let's ignore the part about the mushrooms and focus on how stunning this beach is.
It's actually a hidden gem and is a lot quieter than the usual beaches in Phuket. With beautiful white sand and turquoise waters, it has a peaceful atmosphere.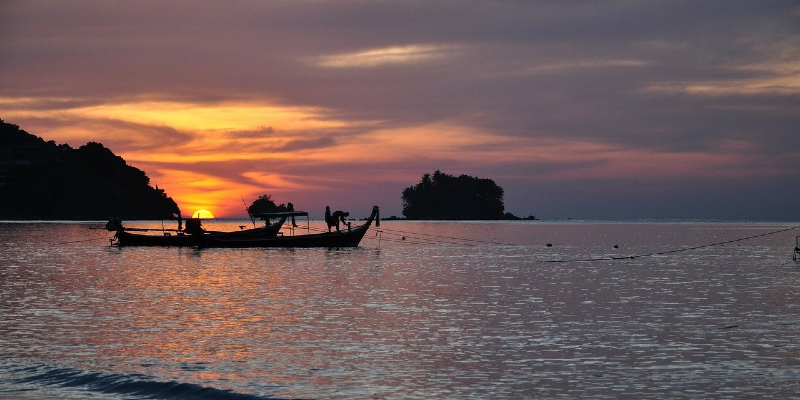 ---
The Hangover Part II
Although it's full of cliches and old stereotypes, The Hangover Part II actually features some amazing shots of Thailand. It follows the standard Wolfpack procedure again with a wedding, a missing person, an animal, along with memory loss.
Mainly featuring scenes in Bangkok and Krabi, you can check out a few of the spots that the guys visit.
But, we would like to add you can't get from Bangkok to Krabi on a speedboat like in the film. It would take several days to achieve this! Maybe plan an alternate route if you want to check out these provinces.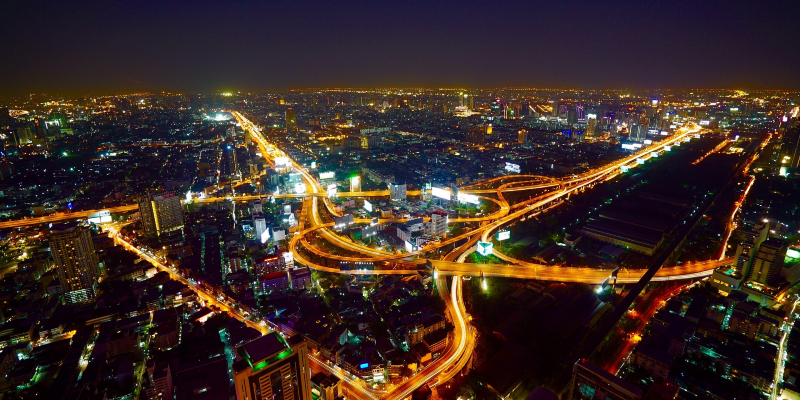 Despite the fact it's one of the more stereotypical movies filmed in Thailand, the film begins with some true idyllic shots of Krabi. The wedding scene was actually shot in the luxurious Phulay Bay Ritz Carlton in Krabi, which can get quite pricey.
Centara Grand Beach Resort & Villas Krabi is a great cheaper alternative. It still features the same amazing beach views and beautiful resort interior and exterior.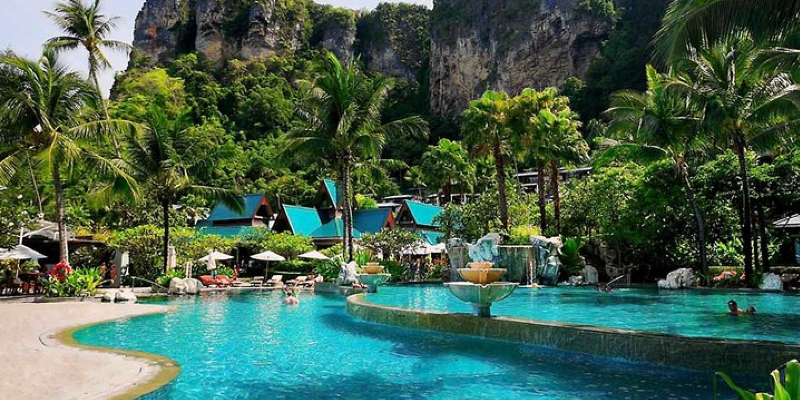 In addition to Krabi is the contrast of the bustling streets of Bangkok. Many of the busy outdoor scenes are shot in Bangkok's China Town.
The street scene where there is an abundance of traffic, locals and even an elephant was filmed in Soy Phi Phaysa. Although elephants were actually banned from being on the streets in 2010. So, it's unlikely that you'll spot one when you're in the area.
---
Star Wars: Episode III – Revenge of the Sith
Were you expecting a Star Wars movie to be one of the movies filmed in Thailand? Of course, the whole film wasn't shot here, but there is the iconic Wookiee homeworld which is based in Phang Nga Bay.
For the 2005's Episode III: Revenge of the Sith, postproduction filming was done here. You can see the shots which were later used for the Battle of Kashyyyk, the home of the Wookiees.
There are certain parts which are scenes set in Gulin, China but you should be able to make out the beautiful landscapes of Phang Nga Bay.
To clarify, although we don't think you'll spot a Wookiee whilst you're on the island, it's still an incredible place to visit.
---
Bangkok Dangerous
According to Hollywood, Bangkok is a violent place with dangerous mobsters roaming the streets. However, we of course know this isn't true, but this is basically the plot to Bangkok Dangerous.
In this remake assassin Joe, played by Nicholas Cage, is in Thailand ready to complete his next assignment. However, a local girl who he falls for might end up costing him his life.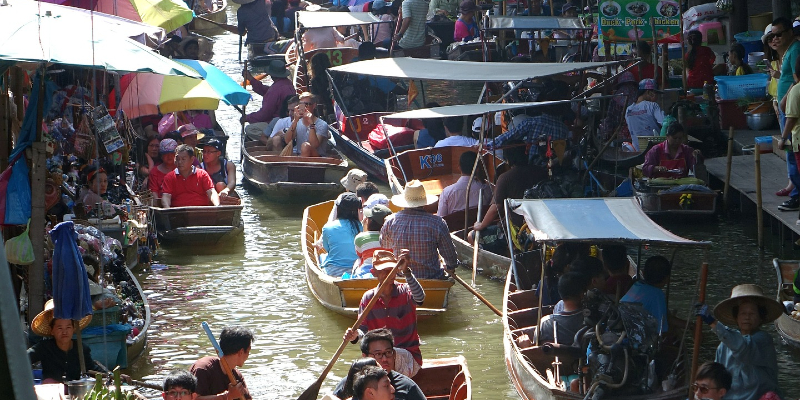 Obviously set in Bangkok, if you want to check out some of the movie locations, you can visit a few. In one of the scenes, they are at a floating market, this is actually Damnoen Saduak Floating Market which is open to tourists.
It's about an hour and 20 minutes away from central Bangkok. But, here you will find delicious cuisine, souvenir shops and lots of boats!
As a once in a lifetime kind of opportunity, and definitely not something you see every day, we recommend a visit.
The Tham Khao Luang Cave in Phetchaburi also features in the movie. This is a cave temple which is around 100 years old. All of the caves are filled with Buddhas and other religious artefacts, along with monkeys!
---
Do you want to be a movie star?
To sum up, Thailand has plenty of movie worthy locations and it's evident that movie producers know that.
But above all, the country is a stunning location with or without the celebrity status.
If you want to get a holiday booked to Thailand, check out our blog on 3 affordable Thailand resorts delivering luxury for less.