3 Affordable Thailand Resorts Delivering Luxury For Less
These affordable Thailand resorts will have you feeling like royalty without the princely price-tag.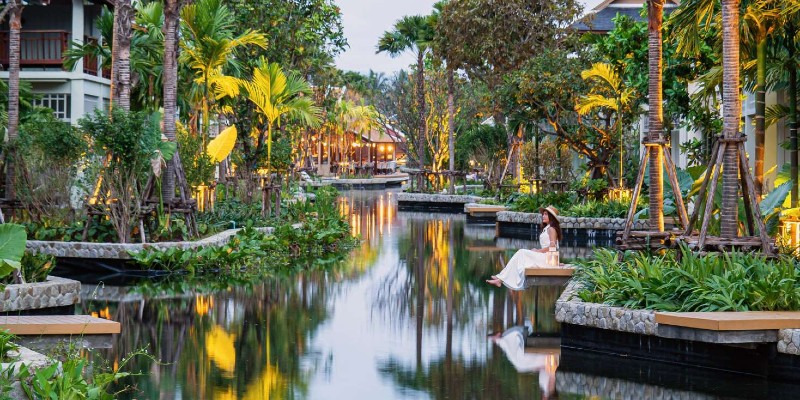 Lockdown has been tough on the pursestrings, but you're so ready for a break. The answer? Affordable Thailand resorts delivering five-star experiences.
---
Top Thailand resorts for less
Now that we're all getting ready to book our next getaway, you may be looking for that perfect break that won't clean out your savings.
Look no further, these three Thai resorts have you covered:
Angsana Laguna Phuket
Paradise Koh Yao
Grand Mercure Khao Lak Bangsak
Three luxurious, but affordable, Thailand resorts that will have you feeling like you've entered paradise. The best part is, they're all currently available for under a grand!
---
Why Thailand?
Thailand is the perfect location for every type of traveller. For adventurers there's ancient temples to explore and the best diving spots in the world. Whereas, for those wanting to relax and catch a tan, the stunning white-sand beaches offer the opportunity to chill out in the sun with a cocktail.
But, let's take a more in-depth look at these idyllic island resorts and, most importantly, why your next trip should be to Thailand.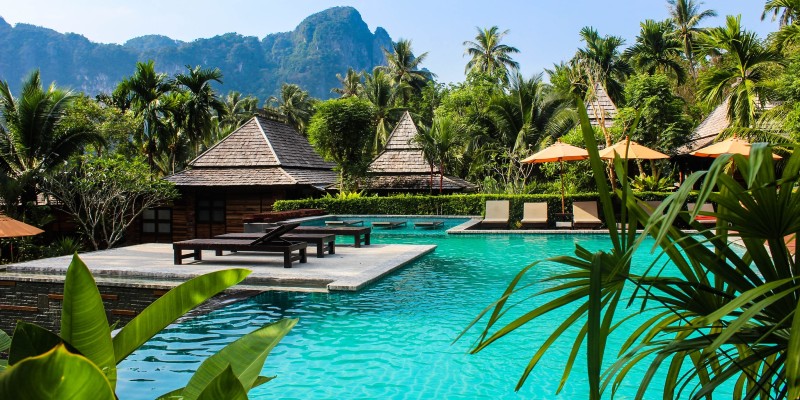 ---
Paradise Koh Yao
Paradise Koh Yao offers that slice of luxury living that we all yearn for. Located on the stunning secluded island Koh Yao Noi, you're introduced to the resort by via speedboat from the alluring Yacht Haven Marina in Phuket. The most A-list way to start a holiday.
However, there's no style over substance here. For example, alongside that celebrity treatment are a range of exciting activities, mouth-watering culinary delights, and plush beds to rest your head.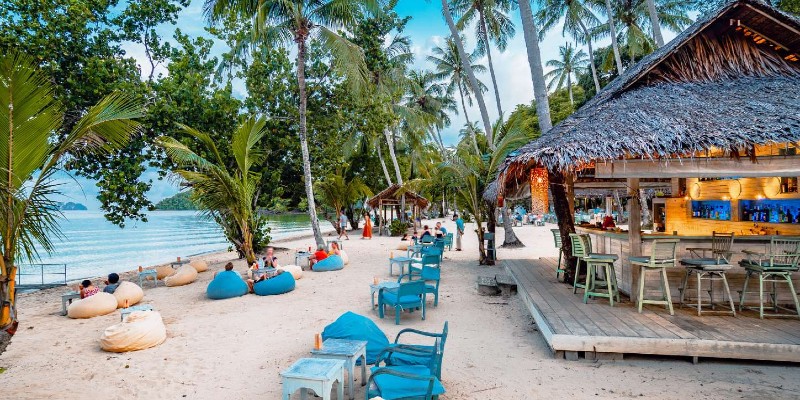 So, what do you get?
Because Paradise Koh Yao is nestled in a national reserve tropical rainforest overlooking iconic sights like Phang Nga Bay, you get the feeling of escaping from reality as you enter. Paradise is a great option for families wanting to getaway too without bashing your budget!
If you're a water-baby try your hand at kayaking, snorkelling or even a traditional fishing trip. Whereas, those who prefer to stay on dry land might prefer to try something like a traditional Thai cooking class. Or how about a daytrip discovering all the amazing things to do in Phuket.
What else?
On the other hand, the resort's also well adapted for helping you do nothing at all! The serene beachfront is the perfect vantage point to watch the sun fade into the horizon, as you enjoy a massage at one of the Beachfront Spa Salas. A great way to finish the day is heading to Sundowners Bar for a cheeky cocktail while enjoying some live music.
Now, food is an important part of any getaway and Paradise certainly delivers the luxury with their food options. You can choose from stunning à la carte marine delights at Seafood Terrace or Mediterranean fare under the stars is on offer at Al Fresco. Add a dash of romance with a beachfront dining experience – this is a great way to spend some quailty time together with sumptuous food and the sound of the Andaman Sea gently lapping against the shore in the background.
---
Grand Mercure Khao Lak Bangsak
A brand-new resort opening to the public in October 2021. We can't wait for you to visit this tropical beachfront oasis.
Grand Mercure Khao Lak Bangsak boasts a super-serene and tranquil vibe as it takes its styling from Thailand's charming riverside villages. Perfect for couples or families. The best part? It is available to book for under a grand!👌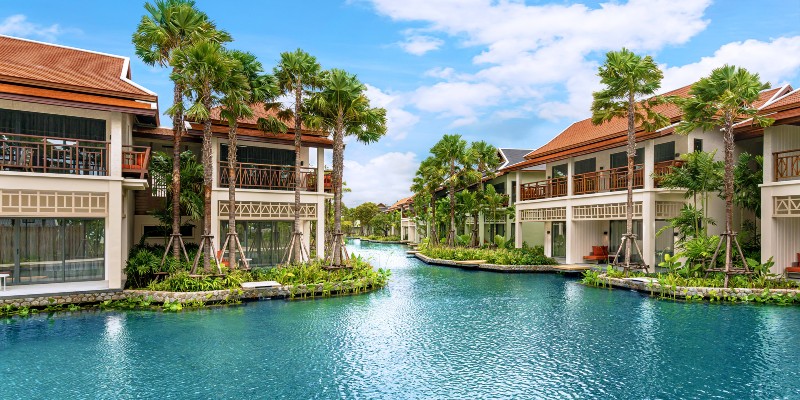 What do you get?
This tropical oasis is the perfect five-star resort, without the hefty price tag! The luxurious surroundings of Grand Mercure Khao Lak Bangsak will be enough to make to do that "ooooh" noise when you arrive. The Andaman Sea's on your doorstep providing a blissful beach escape from your every day trials and tirbulations. Let's face it, we could all do with a bit of that right now.
In addition to the serene surroundings when you venture inside the resort you're welcomed by luxurious interiors which match perfectly with the environment. The lavish rooms at Grand Mercure Khao Lak Bangsak offer comfort and space. A private balcony is perfect for gazing out over the horizon.
The tranquil canal runs throughout Grand Mercure Khao Lak Bangsak

Take some time to yourself staring out over the canal

Pools at the resort are strategically placed in the green surroundings

Luxuriate in the pools overlooking the beach

Green Mango restaurant is a must visit

Try some delicious authentic Thai food
What else?
After exploring the wonders of Grand Mercure, discover the activities available around the resort. The adventurers in your party will love Khao Lak Lam Ru National Park where you can spend the day hiking and learning more about the rare local wildlife. Keep your eyes peeled for wild bearcats and tapirs roaming the tropical forest.
We'd definitely recommend checking out Bang Niang Market. Gifts, souvenirs, and ornaments are all on offer in this intoxicating setting. But, above all, there's delicious street food. Stunning aromas fill the air as your senses try to come to terms with the environment. Oh, and it's open late every night, so don't panic about rushing to get those souvenirs.
Speaking of food, The Green Mango restaurant has everything you need if you're spoiling to sample some authentic Thai delicasies without leaving the comfort of the resort. In addition to Green Mango there's also all-day dining at the Patio. So, when you return from your incredible trips or relaxing day at the beach, you can line your stomach with exquisite cuisine.
---
Angsana Laguna Phuket
Next stop on our magical mystery tour of this trio of affordable Thailand resorts is Angsana Laguna Phuket.
This stunning five-star resort is positioned perfectly between two lagoons, along the shores of magical Bang Tao Bay. A peaceful sanctuary set in a beautifully romantic spot. Perfect for couples searching for that high-end getaway that won't result in you having to go on a self-enforced lockdown to afford it.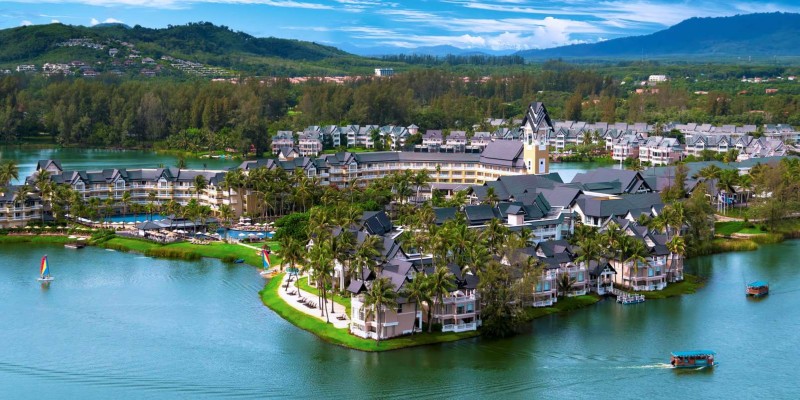 What do you get?
Angsana Laguna Phuket offers every holiday-maker an affordable, yet luxurious, break. Situated on a pristine white sand beach, the best part is, you can enjoy this tropical haven just 25 minutes away from the airport.
The 63 residential-style rooms, suites, and villas try to offer something for every traveller. A most amazing and unique way to start your day is with a walk around the 300 metre freeform resort swimming pool.
What else?
Being on an island has its advantages. There's a plethora of water sports to take part in and, when you're ready to explore the resort further, walking the tropical resort gardens is a must do. Definitely take the chance to stop off at the Angsana Spa. The amazing Thai treatments leave you feeling rejuvenated.
Further to the in-house delights, there's also a championship golf course near the resort. So you can challenge the family to a friendly (or competitive!) 18-holes.
On the other hand, you might fancy spending the day at Bang Tao Bay lazing in Xana Beach Club, cocktail in hand. The best time to be checking out Xana is definitely around sunset when loads of amazing live entertainment kicks in.
---
Made your choice?
So, by now you've probably decided which of these incredible affordable Thailand resorts is built for your vision of the highlife. You're probably also reaching for your passport.
If so, just click the button below to get started on grabbing a quick quote.
But, if you'd prefer to find out a bit more about your destination of choice, we've got you covered there too. Our Thailand Travel Guide is a one-stop shop for all the info you need for a great break on the island.
Now you're all set! 👋