How Radisson Blu Azuri Resort & Spa Is Bringing Big City Opulence To A Paradise-Island
Radisson Blu Azuri Resort & Spa is the ideal marriage of city elegance and postcard-perfect beach beauty.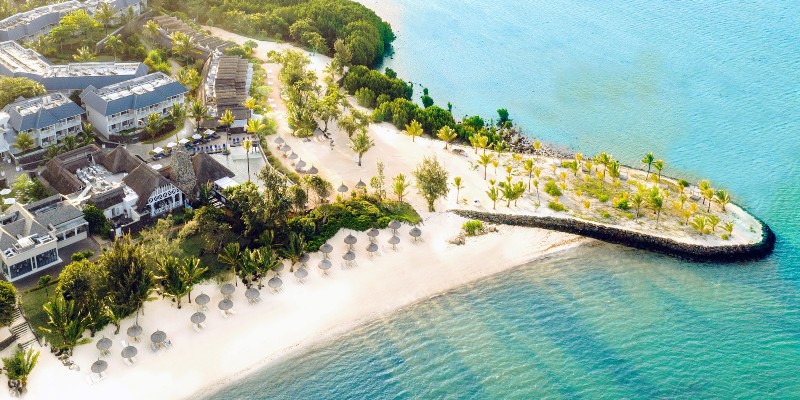 You're probably not used to seeing Radisson resorts popping up on stretches of shimmering island sand. But Radisson Blu Azuri Resort & Spa in Mauritius is the exception to the rule.
---
Introducing Radisson Blu Azuri
Firstly, Radisson Blu Azuri benefits from its incredible location. Set out on the north-eastern coast of Mauritius in Riviere du Rempart.
If you've ever drifted away in your mind thinking of a white sand beach with azure ocean views and green hills spining the backdrop. Then you, my friend, were picturing Riviere du Rempart.
With a spectacular crescent-shaped beach at it's front and a world of five-star contemporary amenities inside, Radisson Blu Azuri Resort & Spa is the place to be in Mautritius.
But, how about we stop musing over the nuances and start getting down to the details of what you can expect here?
---
---
A place to lay your head
Underneath the quaint thatched rooves of Radisson Blu Azuri resort lies a contemporary world of interior design. As you can imagine, from the presence of thatched rooves, Radisson have tried to blend the comforts of modern-day city life with traditional Mauritian design touches.
Thanks to the latest Tropical Warehouse offer you'll have the chance to upgrade to a stunning Premium Ocean View Room which comes complete with a chic private balcony. In addition to the balcony and incredible ocean views you can marvel at the playful use of colour in your room designed to create an inspiring space to lay your head.
However, it's hard to believe you'll be staring in wonder at the fixtures and fittings when you can order a mouth-watering plate of room service to your balcony. Dine on incredible dishes under the stars with the Indian Ocean providing the perfect soundtrack. Whether you're travelling as a family or a couple, that sounds pretty special we think you'll agree.
But what's on the menu?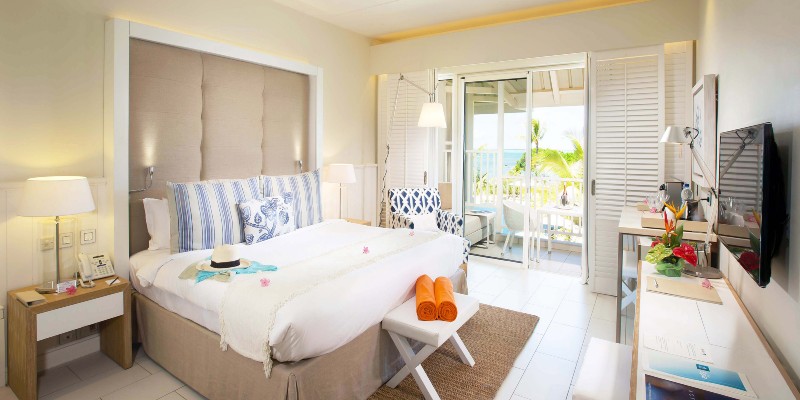 ---
Eating at Radisson Blu Azuri
The menus at Radisson Blu are just as attractive as the rooms and setting. Choose from three different eateries each offering a new and vibrant take on classic cuisines.
If you like your meals served beach-side and straight from the grill, then the Black Rock Bar & Grill is perfect for you. Serving sumptuous cuts of meat and fresh seafood seconds from the flame while you sink your tootsies into the warm soft sand. Make sure you take the chance to check out the daily tapas menu too for a taste of the Med in Mauritius.
Another great place to find some fresh tapas, but this time in a beach club environment. More ocean vibes accompany your meal which will generally consist of stunning seafood or classic Mauritian flavours.
On the other hand, you could choose to embrace the winds of change at the Le Comptoir buffet restaurant by trying their themed menus which change daily. After all, variety is the spice of life!
The views from Ocean One Beach Club

Sit under cover and enjoy some delicious midday tapas

Choose to dine at Le Comptoir

Settle in for an evening of themed dining at Le Comptoir

Sample some smoky delights straight from the grill at Balckrock

Take some time out to enjoy a delicious coffee or sweet treat in the cafe
---
No time like down time
If you like nothing more, when you're away, than kicking back on the beach or around the pool, then you'll find plenty of that at Radisson Blu Azuri Resort & Spa. Moreover, if you want to take your reclining to the next level, you might want to pay a visit to the resort spa. Here indulgent treatments and soothing products infuse to create a stunning atmosphere of serenity to leave you feeling renewed. A 30% spa discount as part of your Tropical Warehouse deal should help get you in the mood for destressing.
However, if lounging isn't really your scene then the great thing about Radisson Blu is there's plenty to do. From a wide selection of sports through to a range of excursions and water sports, including cave exploration and kayak mangrove safaris.
But if you're still scratching your head for something to do, it might be worth paying a visit to the nearby Azuri Village. This five-star luxury apartment complex also plays host to an aquatic centre for all your submarine dreams. In addition to an 18-hole golf course and plethora of restaurants and shops. If that doesn't scream fun for the whole family then we don't know what does.
---
Ready to go?
Has all that got you salivating at the thought of experiencing the juxtaposition of city living on the beach for yourself?
If so, you're in the right place. Click the big blue button below and we can get you started on your very own Radisson quote.