Here's Why Azia Resort & Spa in Cyprus Should Be Your Next Escape!
It's pretty safe to assume, we could all do with a holiday right about now. We're here to tell you why Azia Resort & Spa in Cyprus should be your next escape.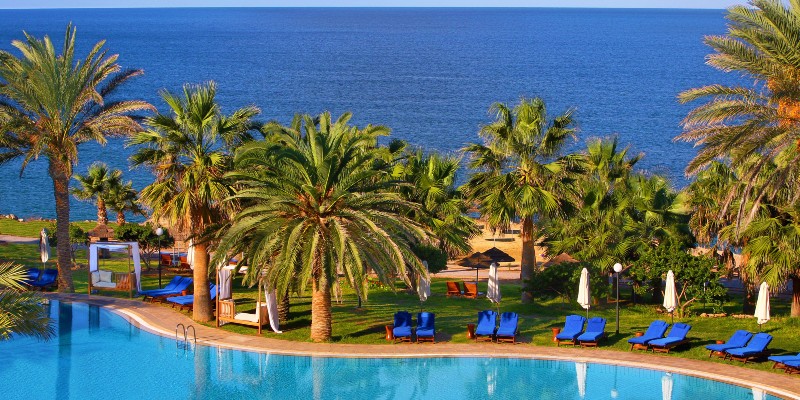 ---
You're probably already aware, but Cyprus is on the amber list. If you, like many of us, are needing some Vitamin D, take a look at Azia Resort & Spa. It really is Heaven on Earth!
Getting to Cyprus is easier than you think and here's Why The Cyprus Entry Requirements Make It The Perfect Summer Sun Hack.
From a la carte dining to over 190 activities, premium branded drinks, and the perfect balance of contemporary luxury. You're in for a treat at Azia Resort & Spa.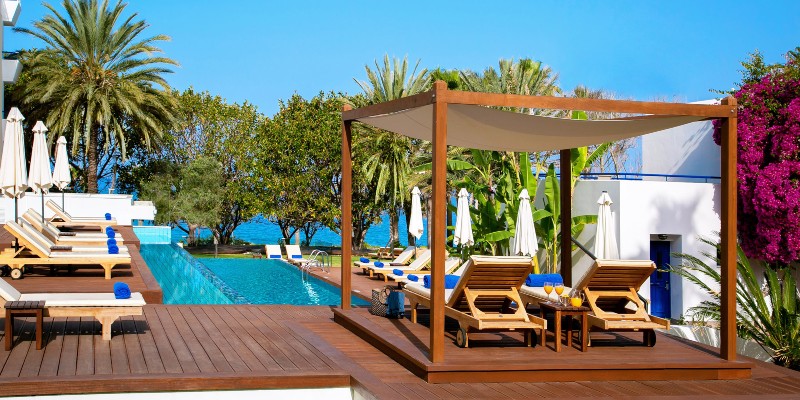 ---
Introducing Azia Resort & Spa, Cyprus
Combine a modern and contemporary design with a neutral colour palette and you have the epitome of chic-luxury.
Discover incredible sunsets, pure serenity, a plethora of dining options which utilise local produce from their plantation included in the All-Inclusive Plus package.
Find yourself lost in paradise in the adults-only spaces or make unforgettable memories with the family – Azia Resort & Spa has something for everyone!
---
"It's like entering a capsule of tranquillity. Azia manages to do luxury without snootiness or class ostentation, a rarity these days"
– The Times
---
Luxury Accommodation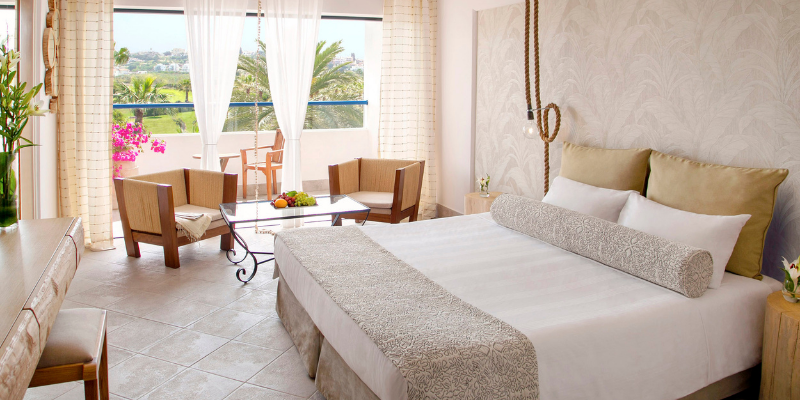 Azia Resort & Spa prides itself on offering luxury as standard. Whether you're travelling as a family or as a couple, you will not have to compromise on luxury.
Rooms hosting up to two adults and three children or Premium rooms for two adults looking for that next level of intimacy and privacy. You'll find the perfect room for you.
You're not going to be in your room much though, right? You've got a pools to dip in and the All-Inclusive to enjoy, obviously! But for the small time you are in your room, enjoy the contemporary take on clean and airy décor. By using neutral tones and large windows it allows the room to be illuminated with natural light, providing a fresh but comforting feel.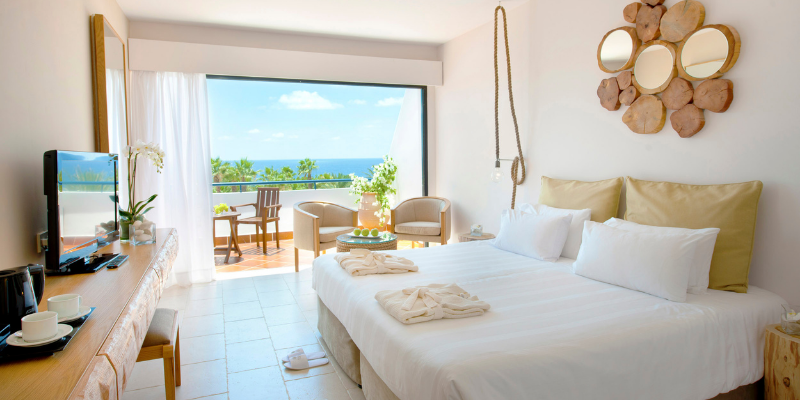 With the latest Azia Resort & Spa offer from Tropical Warehouse, you can benefit from a free Sea view room upgrade with your very own private balcony amongst other goodies we've thrown in, too!
Speaking of all-inclusive, let us tell you about your dining options!
---
"It is effortlessly elegant but retains a tourist-friendly feel."
– The Telegraph
---
Wining & Dining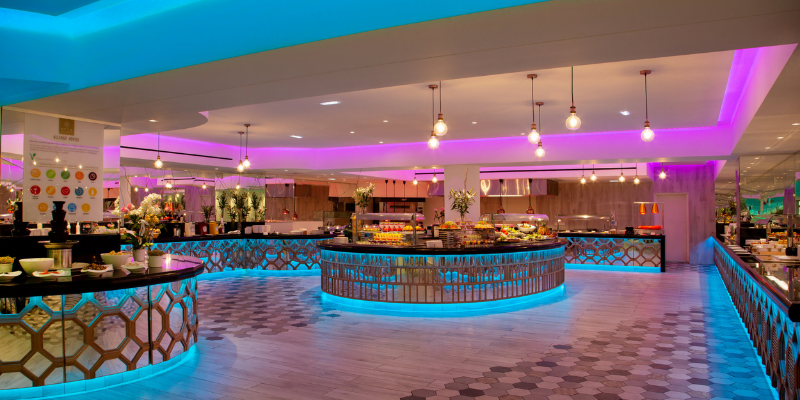 As well as providing a high level of luxury, spacious rooms, and a welcoming feel to both families and couples. You might be intrigued to learn about the resort's Morokambos plantation.

Just 10 minutes down the road and home to most of the Azia restaurants' delicious ingredients.
There's five amazing eateries to choose from, offering a wide range between buffet, a la carte and teppanyaki dining. Life's about balance, ya know?
Starting with the crowd pleaser, at the buffet restaurant 'Katoi', you can expect vibrant themed nights serving international classics. However, for a completely unique dining experience, at 'The Tree Deck' a Latin-inspired feast takes place among the greenery.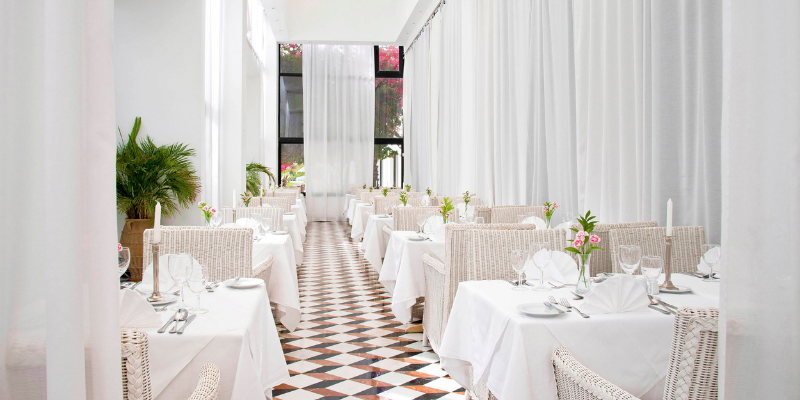 Discover the magic of a Teppanyaki cooking show at Oku and tuck into some vibrant Asian cuisine. If you've never experienced a teppanyaki meal before, then we cannot recommend it enough. It doesn't matter where you have it, it's delicious, entertaining and such a super-fun way to dine.
Don't worry, we haven't forgotten about drinks, either. As part of your All-Inclusive plus package, you can expect a fabulous selection of branded international drinks. But it doesn't stop there. Pool waiters will bring your drinks directly to you, so there's no need to even leave the comfort of your sun lounger… bliss!
Azia Resort & Spa certainly does cater to the majority and with over 190 activities available, there's bound to be something to do. Should you want to, of course.
---
Over 190 Activities
---
While staying at Azia Resort & Spa, you can choose from a complete stay of pure serenity, or you can spend your time getting stuck into some of the 190 activities available. The extensive programme ensures that there is something for all ages. From Zumba to Zorbing, to water games and yoga. No matter what you enjoy, and with 25 activities available daily, something is bound to pique your interest.
A range of kids clubs will keep the younger ones entertained, too. There is a baby crèche, a kids club and a teens club including nightclubs for both kids and teens.
Don't worry, the kids don't get all the fun. You can expect special effects shows, acrobatics, Latino carnival shows and loads more!
---
Let's Go!
If you're still reading, chances are this resort sounds like a bit of you. So if you're already dusting off your suitcase, then click the really discreet blue button below to get your quote for Azia Resort & Spa today!