Our Top 6 Resorts for Over Water Villas in the Maldives (Updated September 2021)
We've picked our top six resorts for over water villas in the Maldives. Just in case you fancy a slice of that A-List life.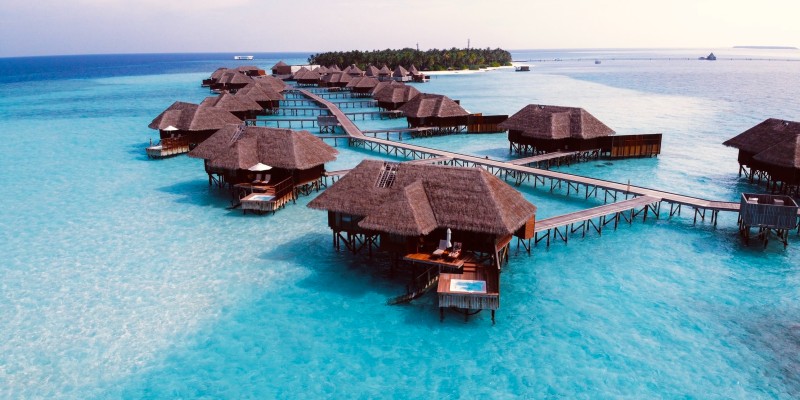 Until now you may have been forgiven for thinking over water villas in the Maldives were saved exclusively for Insta models and big names.
However, we're here to tell you theyre available to anyone and the Maldives boasts some of the best in the world.
With that in mind, we've compiled our top six resorts for over water villas in the Maldives. And the good news for you is, you can book them all.
---
The stunning six
Medhufushi Island Resort
Nakai Alimatha Resort
South Palm Resort
Nakai Maayafushi Resort
Furaveri Island Resort
Nakai Dhiggiri Resort
---
What is an over water villa
But, before we get into the particulars of our top six, we should probably give you the backdrop of what an over water villa is.
Over water villas or bungalows are exactly what they say on the tin. Built on stilts out in the shimmering lagoon waters of many a Maldivian island. They generally feature private decking areas where you can stare out into the watery distance.
Villas are connected to island resorts by wooden jettys. So you don't have to travel far from that view if you want a bite to eat, drink at the bar or just a change of scenery. So what makes these six Maldives water villas so special?
---
Medhufushi Island Resort
A resort which is completely at home in the water, Medhufushi Island is shaped by a stunning azure lagoon. Delivering all the A-lister vibes you could possibility want.
Enjoy your stay in a Water Villa which welcomes the sunrise every morning with floor-to-ceiling windows delivering panoramic views. Taking breakfast out on your private decked balcony is the most beautiful way to start the day.
---
Top tip:
Take a snorkel with you and make use of your direct access to the lagoon by swimming in the crystalline waters and spotting the mesmeric marine life.
---
Nakai Alimatha
The Nakai Resort Group is the epitome of Maldivian style. Developed as a barefoot paradise in the Vaavu Atoll, experience the relaxing side of the Maldives perfectly at Nakai Alimatha.
If you prefer to see everything the crystalline lagoon waters have to offer, the on-site TGI-Dive Centre is perfect. In addition, you can access the shimmering lagoon straight from your over water villa, so you'll never be too far from the ocean in this paradise.
---
Top tip:
Enjoy the most picturesque game of football you'll likely ever have. Football pitches and tennis courts can be found just next to the powder white sand beaches.
---
South Palm Resort
On the other hand you might like the private island vibes of South Palm. Choose to elevate your break with a trip to the incredible Kurumba Spa. Set out in the lagoon, you'll need a Dhoni boat to get there, but once there the spa offers the epitome in relaxation. Jump aboard and feel all your troubles melt away in the floating haven of soothing treatments.
However, away from the spa, your over water villa at South Palm is truly special. Magnificent views join hands with a private infinity pool and 24-hour butler service to really deliver that VIP experience. Now we're talking!
---
Top tip:
Definitely take the chance to head out on an island tour to nearby Hulhumeedhoo which gives a real sense as to what everyday life is like in the Maldives.
---
---
Nakai Maayafushi
Another of the incredible Nakai Group resorts.
Nakai Maayafushi pulls on the natural beauty of the Maldives. From the rich and diverse vegetation which forms it's backdrop, to the shoals of marine life which flit around underneath your floating villa.
Whereas, inside the villa, luxuriate in stunning Maldivian beauty both inside and out. Panoramic views across the glistening lagoon welcome your every day, while traditional island decor ties the room together.
---
Top tip:
Try the Maadhiga Spa at any of the Nakai Resorts to indulge in some super relaxing treatments. The Nakai resorts work to ensure all the therapies they utilize have their base in local ingredients.
---
Furaveri Island Resort
Away from the Nakai Group, Furaveri Isand Resort promises an island paradise like no other. Experiencing this oasis from the comfort of a water villa is the best way.
Gaze out over the shimmering ocean from the serenity of your spacious water villa. Moving out of your bedroom there's a whole world of cuisines to try in the restaurants at Furaveri. From authentic Maldivian fare to mouth-watering Mexican and thrilling Asian Teppanyaki.
---
Top tip:
Be prepared to relax to the max at Furaveri. The on-site Wellness Village excels not only as a place of indulgence and treatment, but also just as a nice walk in the day or evening.
---
Nakai Dhiggiri
Nakai Dhiggiri finishes off the hat trick of Nakai Group resorts. Opt for a seaplane transfer and take in the unforgettable geography of the Maldives before you arrive on-site.
Once there, indulge in a delicious meal from the show-stopping setting of the Main Restaurant. Boasting unspoilt views out over the Indian Ocean. You've never eaten a meal in a prettier setting.
In addition to the stunning menus, accommodation at the resort is incredibly well presented too. Merging contemporary design and comfort with authentic beautiful island flair. In your over water villa you're surrounded by the beauty of nature promising a truly relaxing break.
---
Top tip:
Although your water villa and the floating main restaurant will, rightly, take centre stage in your holiday. You should definitely try a romantic dinner on the beach for a truly unforgettable evening.
---
---
Seen enough?
All those amazing over water villas are incredible, but we understand they're not for everyone and that A-List life can get pretty pricey.
That is, unless, you know where to find some bargain busting resorts. You don't have to give up your Maldivian dream because of the price tag.
Click the button below and we'll tell you about a couple of island resorts you can bag for a bargain price.