Introducing Grifid Encanto Beach Resort: The Wellness Retreat Delivering Your Bulgarian Best Life
Meet Grifid Encanto Beach, the Bulgarian resort with wellness at its core. Because we all need some personal TLC in 2022.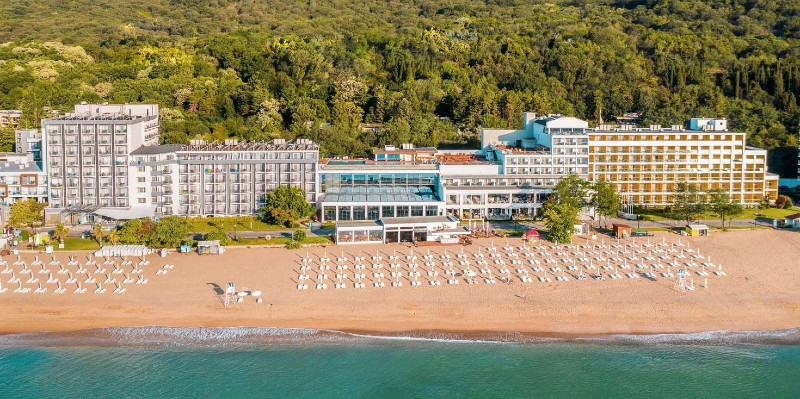 Set out across its own stretch of beach in, the aptly named, Golden Sands area of Bulgaria. From it's super-sized spa to the healthy restaurant options, Grifid Encanto Beach is wellness city.
Read on to find out more about this latest resort and how it's delivering prime wellness through a range of approaches.
But first, what is Grifid Encanto Beach?
---
Encanto Believe Your Eyes
With the shimmering Black Sea making up the views from your window, Grifid Encanto is perfectly positioned to deliver relaxing vibes.
Stretch out on the golden sands of… Golden Sands, a stunning resort centre just minutes from the city centre of Varna. Take a journey outside the resort walls and discover the beauty of the country.
Varna is a microcosm of Bulgaria's rich and ranging history. The town's ancient sites of note range from Roman baths through to a medieval monastery. There's plenty to see and do outside of the resort, but let's focus on staying in for now. Starting with the rooms.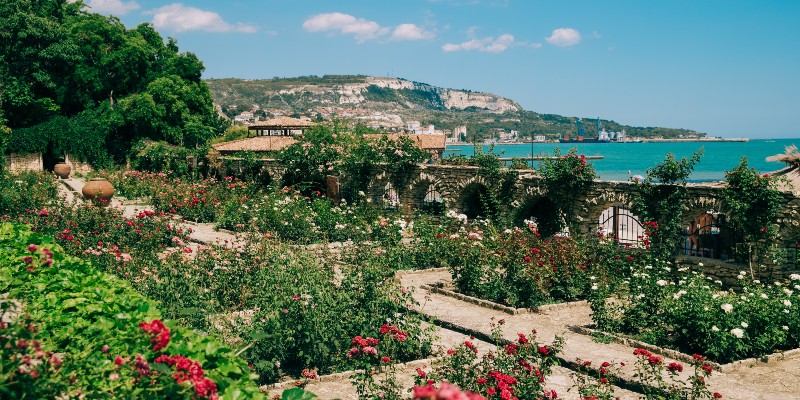 ---
Rooms to maneuver
The 266 rooms at Grifid Encanto Beach are dazzlingly appointed with modern concepts and striking features. Emphasising the message of wellness and relaxation, each room boasts soothing views out over either the park or Black Sea.
As part of our Big Blue Sale upgrade offer, you can elevate your stay with an elegant Sea View Room. Complete with a private balcony to enjoy those unspoilt vistas.
In addition to that room upgrade, you'll also reap the rewards of ultra-all-inclusive extras. For example, enjoy having access to a private rooftop sun deck with sea view and infinity pool.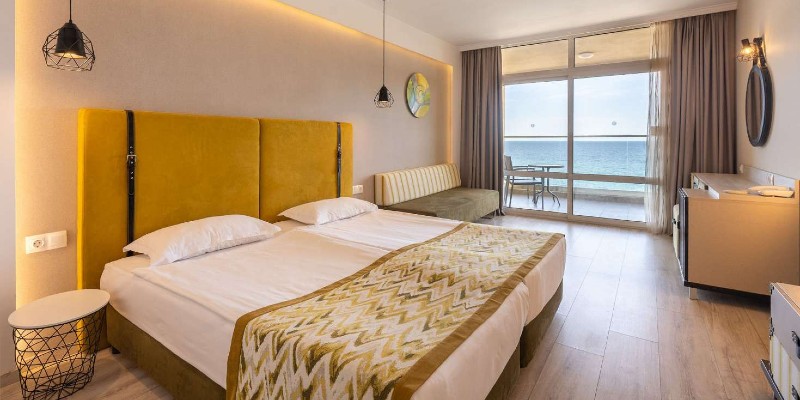 ---

---
Wellness on the menu
There are selection of five restaurants to choose from at Grifid Encanto Beach. Expect themed evenings and the odd plush gala dinner in the main restaurant. Meanwhile a more refined service is reserved for the central a la carte eatery.
However, if you fancy keeping your break completely health-conscious. The specialist Healthy Food Restaurant can prepare a sumptuous meal with your body's best interests at heart.
On the other hand you may like to keep the vibe of your trip super paired-back. If so, the Beach Club is the perfect eating spot by day or night. A bursting daily snack menu and Mediterranean-inspired a la carte offerings awaits.
---
Grab a drink
A huge part of physical and mental wellness is moderation. With that in mind, we need to talk about the bar situation.
There is an ambience, and a drink, for every occasion at Encanto. If you fancy grabbing a glass of something cold while relaxing on the sand, the Beach Bar is for you.
On the other hand, if you wanted to refine your refreshments a little more, it pays to remember that ultra-all-inclusive upgrade allows you access to the rooftop area. Here, a bar, sun loungers, and a sea-gazing infinity pool are all waiting to make your day. Moreover, as a special treat there's also the Sky Lounge. Try an elegant cocktail while admiring the unrivalled vistas, although this may not be included in your all-inclusive package.
---
Spa and wellness
Downtime at Grifid Encanto is all about the spa. But The Medi SPA is far from your average resort beauty salon. This sprawling oasis of tranquillity is spread over four floors and designed with every kind of relaxation in mind.
In addition to placing you in the lap of all-inclusive luxury, our latest offer also affords you time to get to know the Medi SPA. Benefit from daily 50-minute spa treatments to help find the perfect indulgence for you.
Treat yourself to a smorgasbord of holistic therapies. With exclusive access to the SPA Circuit floor, treat yourself to three types of sauna; aroma, infrared and Finnish. Plus a steam bath, Hammam, ice fountain, shock shower, Kneipp path, heated indoor pool and aqua tonic pool with relax zone.
However, the spa experience doesn't stop there. The SPA Circuit may take up one floor, but take the chance to explore further. You'll find an Aquatic Floor, Vitality Floor, as well as Yoga Pilates areas. But these will come at an added cost.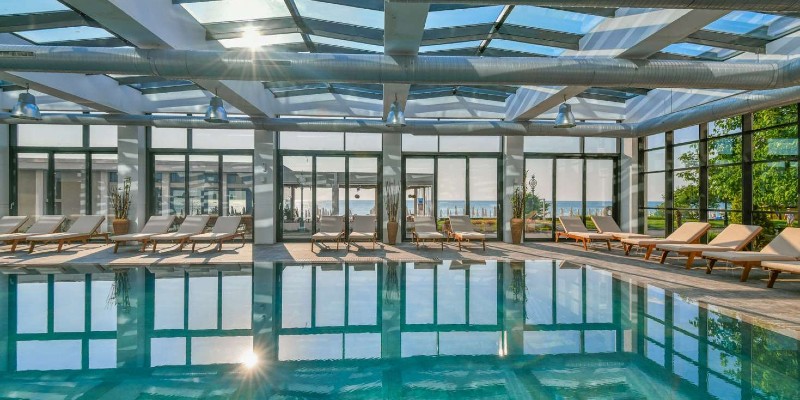 ---
Bags packed?
We think a resort centred around wellness is the perfect place to be in 2022. Especially after the last couple of years of restricted movement, isolations, and seemingly unending stress. 
If you've seen all you need to see, why not get a quote for Grifid Encanto now.
Or Click the button below to find out more about that ultra-all-inclusive upagrade offer available now. And make a date with a Bulgarian paradise.