Introducing Tamassa Resort: A Mauritian Marvel
Our newest resort in Mauritius is the perfect example of everything we love about luxury holidaymaking. Keep reading as we explore the ins and outs of this captivating retreat.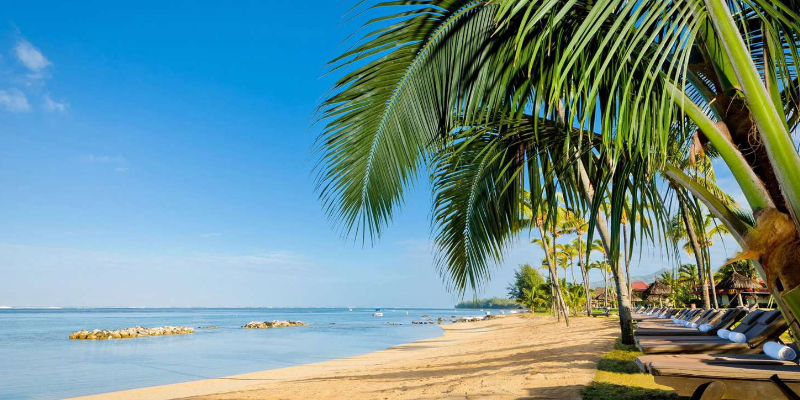 Make A Splash
The expansive main pool at Tamassa Resort provides ease of access to the food truck, where you can grab a refreshing cocktail or a quick bite. Similarly, the smaller pool surrounded by luscious palms is perfect for relaxing and staring out at the glistening ocean.
Complete with tennis and basketball courts, the resort also provides a fitness centre, spa facilities, games room and two kids clubs. Or if you want to relax on a lounger or perhaps enjoy a meal al fresco on the soft sands, rest assured, you can do that too!
Located on a gorgeous stretch of golden sand, the all-inclusive resort in Bel Ombre is also great for snorkelling in the shallow waters, thanks to the proximity of the hotel reef. While at Tamassa, you can also partake in other aquatic activities such as windsurfing or water-skiing. How about that!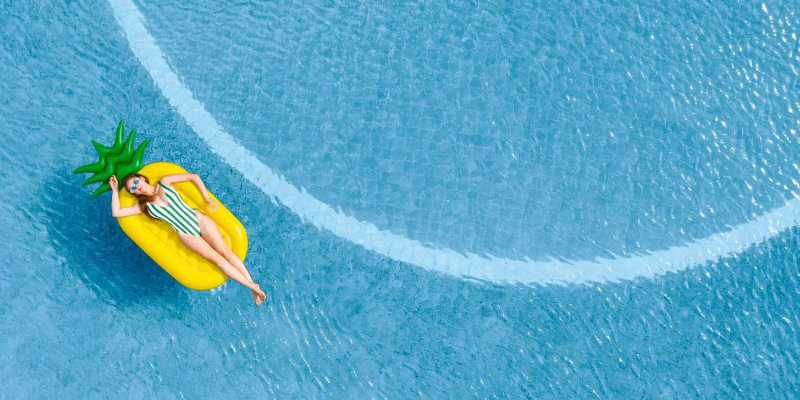 ---
Fun for All the Family
This luxurious Mauritian resort is fantastic for all ages. Thanks to the offering from Studio 17 Teens Club & Tam Tam Kids Club. Here qualified members lead the way with engaging activities ranging from bike rides, Creole lessons and more.
If that's not all, the Deluxe Family Room provides ample space and stunning ocean views from the private balcony area. The maximum occupancy of these rooms can accommodate 2 adults and 3 children. So you can bring the little ones – if you wish.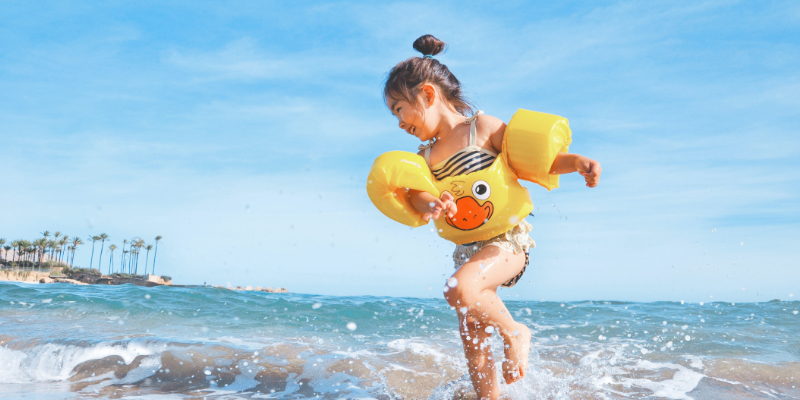 ---
Chic Accommodation
Presenting floral and light décor Tamassa Resort offers a chic approach to its accommodation to complement the shimmering tropical backdrop of vibrant gardens and majestic mountains. Complete with a wealth of amenities and home comforts.
The accommodation buildings have distinctive red roofs dotted throughout the resort greenery, providing fantastic views of the luscious gardens, pool, or the Indian Ocean. Savour the views from your private balcony area. Whether you choose a Standard or Superior Room, Tamassa guarantees an alluring backdrop.
Whereas if you fancy elevating your luxury retreat, the Beach Rooms at Tamassa are perfect, as you're only a few steps away from feeling the sand between your toes. The private sun terraces open out to a gorgeous stretch of sand where you can enjoy jaw-dropping sunsets and the salty ocean breeze.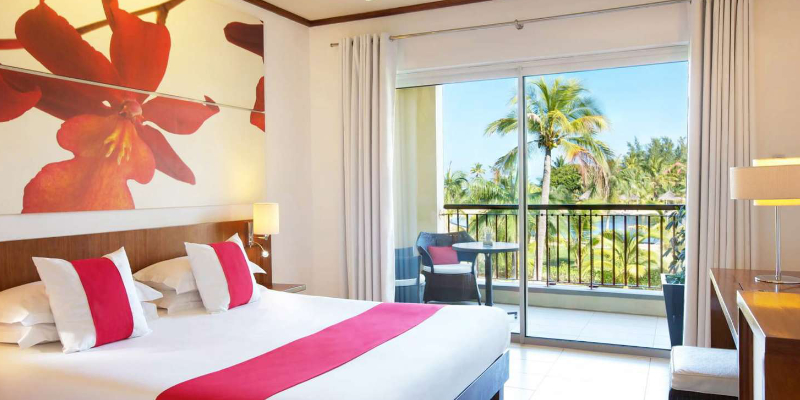 ---
Dining Delights
Keep reading as we delve into the dining delights at the resort, from lazy lunches to sweet treats aplenty.
The main restaurant Show is fantastic for buffet breakfasts and theatrical dinners. Whereas if you head to the alfresco setting of Playa, get ready to explore a culinary adventure from a Mediterranean-inspired menu.
In addition, there are plenty of places to quench your thirst at Tamassa. In the evening, the vibrant food truck transforms into the Rum Truck! Which presents island-inspired rum delights.
Furthermore, both B Bar & Jalsa invite you to linger for longer and continue sipping colourful cocktails into the night. B Bar is open until 12, whereas the party at Jalsa continues until 2 am.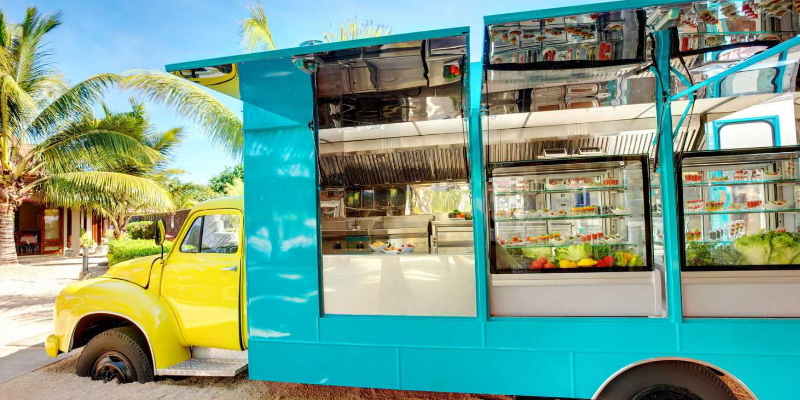 The final eatery at Tamassa Resort is ice cream parlour Scoop. If you weren't ready to savour this tropical paradise – Scoop may sweeten the deal. All ice cream and gelato dishes are handmade on-site. A great holiday treat to accompany the tropical climate.
Lastly, to ensure your holiday is second to none, Tamassa provides beach and room service. Alongside private dining experiences. Upon arrival, enquire at the front desk to book a memorable meal with your loved ones.
---
Good Times, Together
The ethos of Tamassa is not just to escape every day but to reconnect with and remind ourselves of the most important things in life – each other.
Tamassa Resort embodies this through memorable experiences such as group outdoor cooking classes, movie nights under the stars, and the impressive offerings from Santosha Mindful Spa & Wellness Centre.
Here you can relax on loungers next to the private pool. Enjoy outdoor couples' treatments and much more amid serene surroundings.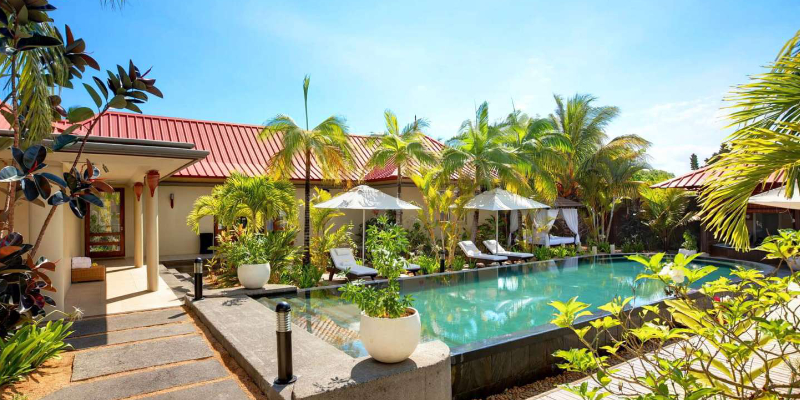 ---
Tell Me Maur
If that's not all, the resort is perfectly positioned on the south coast to experience some of the best sights in Mauritius, such as Rochester Falls and UNESCO World Heritage Site – Le Morne Cultural Landscape. To learn more about this fascinating island – our First-Timer's Guide to The Top 5 Excursions in Mauritius is the place to be.
Alternatively, to get a quote from our personal travel advisors and start planning your trip to Tamassa, click the button below.