A Complete Guide to TripAdvisor Favourite Pullman Phuket Panwa Beach Resort
Pullman Phuket Panwa is a five-star Thai paradise and even TripAdvisor agree it's a must-visit. 
After recently scooping a 2022 TripAdvisor Traveller's Choice Award, Pullman Phuket Panwa Beach Resort is now available on Tropical Warehouse. 
With all that in mind, we thought we'd better introduce you to this special resort. We can then follow that up by telling you more about a new offer we have available now. 
But first, what makes this place so good?
---
Vote for Blue Bay in the BTAs and be in with a chance to WIN big

---
Pullman Phuket Panwa Resort Overview
So, why is this resort so highly-rated?
Well, it could because of its incredible positioning on Makham Bay just minutes from all the best things to do in Phuket Town. 
On the other hand, it could be the generous range of in-resort facilities. From a selection of high-end eateries and bars to a choice of pools to relax in. Plus, speaking of relaxing, you may also like to visit the resort spa for an added hit of indulgence. 
Are you starting to see why it's so popular? Let's continue the tour by checking out the stunning places you could be laying your head. 
---
Selection of luxurious suites and villas
With a collection of rooms, suites and villas available there's plenty of choice at Pullman Phuket. 
But if you struggle with decision-making, our upgrade offer can focus your search on one dreamy room. A Deluxe Sea View Room with private balcony offers a beautiful environment to spend your downtime. 
Inside the Deluxe Room, a spacious and modern interior gives way to a relaxed balcony area. Out on the balcony, you can find comfortable sofas for chilling out and staggeringly beautiful vistas of the glistening Andaman Sea. 
---
Restaurant selection
The two main restaurants at Pullman Phuket Panwa Beach Resort showcase a perfect blend of international and Thai cuisine. 
At the main restaurant, Aqua, your tastebuds will be treated to a magnetic blend of worldwide favourites and local cuisine. International buffet breakfasts provide even the fussiest eaters with a wealth of options. 
Whereas, in the evening, you should definitely take the chance to visit Tamarind. Regarded as an incredible eatery for in-resort dining. In fact, the vibrant Thai flavours on offer here have made it one of the best places to eat in Phuket. 
So, now you know about the room and restaurants, why don't we move on to activities?
---
What is there to do at Pullman Phuket Panwa?
There are a world of adventures waiting to be discovered in this incredible destination. If you prefer to stay in resort you can take advantage of a schedule of activities including a once in a lifetime chance to try a Marine Walk. 
A Marine Walk is the perfect way to immerse yourself in the staggering beauty of Thai nature. Get up close and personal with the kaleidoscopic array of marine life surrounding the resort. As you sink to the sea bed in specially made breathing apparatus and, literally, walk around the reef.
On the other hand, though, you might fancy getting out and about in the local area. If so, you might want to head for Khao Kad viewpoint or Panwa viewpoint for panoramic views of Makham Bay. Then, once you've worked up an appetite, head out to Panwa Cape and try some delicious street food from 4pm onwards every evening. 
---
Go greener with CSR activities
While in resort, you can also take the opportunity to engage with their green initiatives. The Pullman team have made a conscious effort to shift to only using only eco-friendly amenities for things like shower caps, dental kits, shaving kits, combs, and more. 
In addition, where possible, the resort restaurants only use locally sourced ingredients. In fact, they take as many vegetables as they can from their own in-house gardens. Not only does this stimulate the local economy and cut down on the environmental impact of unnecessary distribution, but it also tastes pretty special too.
Part of the resort's Planet 21 commitment also invites guests to take part in conservation activities like releasing baby bamboo sharks and charity events. 
---
Prepare for a pamper
But if all that adventure sounds too much like hard work, you can split up your pool and private beach lounging sessions with a visit to the spa. 
The resort's Talay Spa is an environment unlike any other. Built on a foundation of tranquillity and serenity you can float away on a sea of indulgence. 
Trained professionals in the spa can introduce you to centuries of treatments, all designed to balance your body, mind and soul. The soothing, rejuvenating or moisturising treatments are inspired by Thai and Chinese concepts of the five elements: wood, fire, earth, metal and water.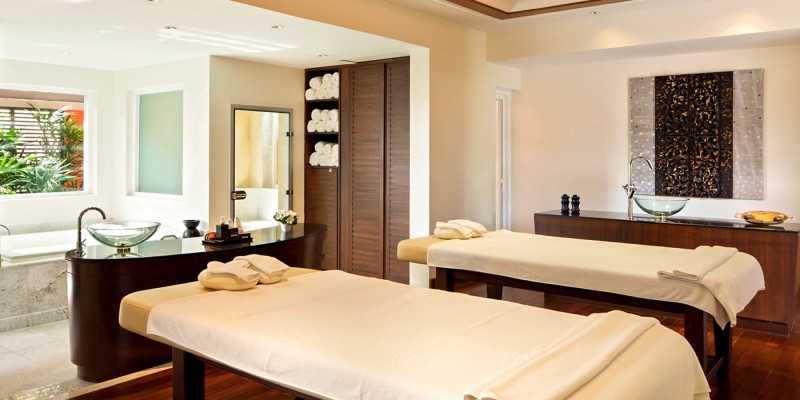 ---
Park yourself at Pullman Phuket Panwa
If all of those wonderful features, amenities and local points of interest have got you dreaming of a Phuket escape then we can help. 
Just click the button below to start building your free online Pullman Phuket Panwa quote today. And you can also take advantage of that incredible upgrade offer – for the time being at least!