3 Islands to suit any soul
These three island escapes are perfect for any type of holidaymaker. Which one suits you best?
A little bit of sunshine is good for the soul.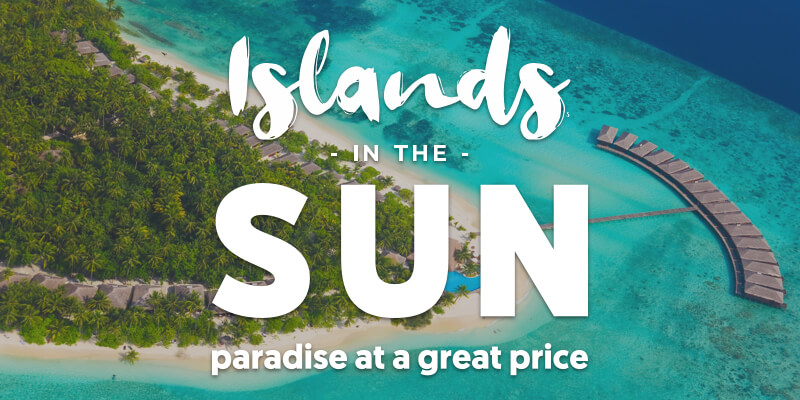 Getting a little more sun in your life can have lasting positive effects on your body. Doctor's have proven that sunlight can enhance your mood, relieve stress, improve sleep and treat seasonal depression.
With that last point from the doctor in mind, we think everyone could use a little sun right now. Which is why we're exploring three idyllic island destinations to cure what ails you. Assuming what ails you is stress or seasonal depression…
Sun-soaked islands
In this blog we'll take a look at three stunning tropical locations all suited to a different type of soul.
Mauritius
Maldives
Sri Lanka
---
Mauritius – For the beach-lovers
If you like nothing more when you're away than seeking out the nearest beach. Then moving as little as possible thereafter. Then Mauritius is the island for you.
Mauritius is famous for its picture-perfect beaches. An island country making up part of the continent of Africa, Mauritius is located in the Indian Ocean. A vast underwater mountain range known as the Chagos-Laccadive Ridge gives us Mauritius and many other islands, atolls and reefs around the country.
All the beaches in Mauritius are public and the northern area boasts the most in terms of quantity and diversity. Troux Aux Biches is one such area that can deliver that paradise-like coastal scenery and Casuarina Resort & Spa is a great place to get the complete Mauritius experience!

---
Maldives – for the divers
It's important to state that the Maldives is not just one island. It's made up of a group of small atolls and each one of these pieces of land have their own house reef. This is what makes the Maldives perfect for divers, I mean come on, it's even got "dives" in the name. While the Male and North and South Ari Atolls are the most popular, there are unforgettable experiences to be had throughout the archipelago.
If you look forward to getting below the waves on your holiday, or you plan your breaks specially for diving, then the Maldives has to be on your destination list. The Maldivian climate is perfect for diving, and it's even named it one of the best destinations in the world to get into the blue.
While diving in the Maldives is pretty awesome all year round, if you want those perfect conditions then December to March is the best time to visit. The hottest months on the archipelago are from April to June. So if you fancy really soaking up the sun when you're not in the water then that's your chance.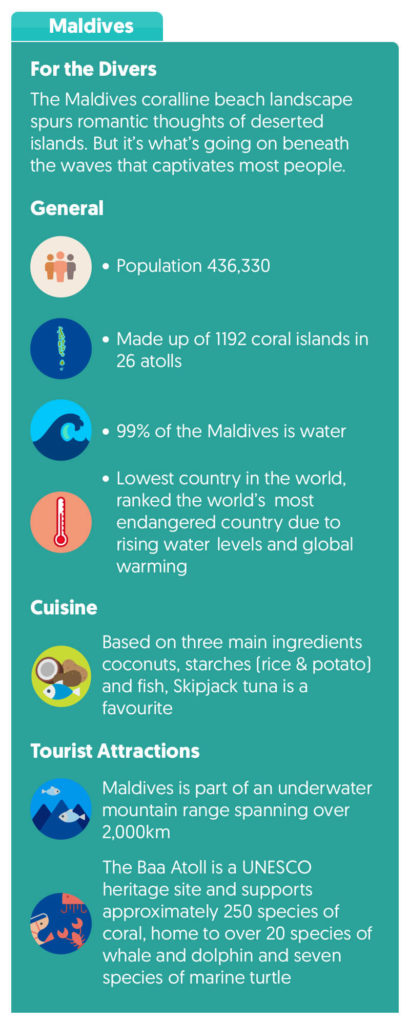 ---
Sri Lanka – for the nature-lovers
Sri Lanka is a stunning country. From idyllic beaches to stunning hills and lush jungles, it's got the lot! But if your idea of the perfect break is getting up close and personal with some local wildlife then you must take a mosey through the teardrop country.
Although Sri Lanka is the third smallest country in South Asia it boasts an astronomical amount of wildlife. From leopards to turtles and everything in-between Sri Lanka is the perfect place to spot those beasts you've always wanted to witness in the wild. And the best way to do that is via one of the many safari tours on offer.
Because of the changeable landscape and agreeable climate, nature has been allowed to flourish in Sri Lanka. This has meant that National Parks have been created throughout the country, the most famous one is Yala National Park. It's possible to clap eyes on a wonderful array of wildlife. Ranging from the majestic elephant to the illusive leopard and sloth bear.

Decided which destination is for you? Then give our team a call on 0844 644 8351. Or, now that you have your destination, click the button below to pick your perfect resort.