Seven Sensational Dive Sites you just have to Discover in Thailand
If diving is your thing you need to check out the best dive sites that the Gulf of Thailand has to offer.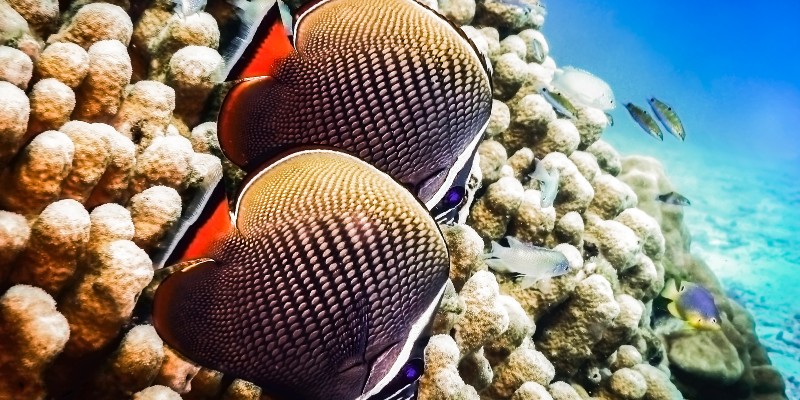 Dive in and explore all the very best dive sites in Thailand.
These are our top picks for an unforgettable Thai diving experience:
---
Wh

at are the best dive sites in Thailand?
Hin Daeng (Red Rock), Andaman Sea
Hin Muang (Purple Rock), Andaman Sea
King Cruiser Wreck
Similan islands
Surin Islands
Richelieu Rock
Koh Phi Phi
---
Why are these the best of the best?
Okay, so one of the most renowned facts about Thailand is it's an incredible place to head beneath the waves.
With over 2,000km of coastline and hundreds of islands there's so much to see on a diving trip to Thailand. Think breath-taking coral reefs, hidden caves full of secrets, a myriad of marine life and mysterious wrecks. They're all waiting to be discovered in the amazing shores around the Gulf of Thailand.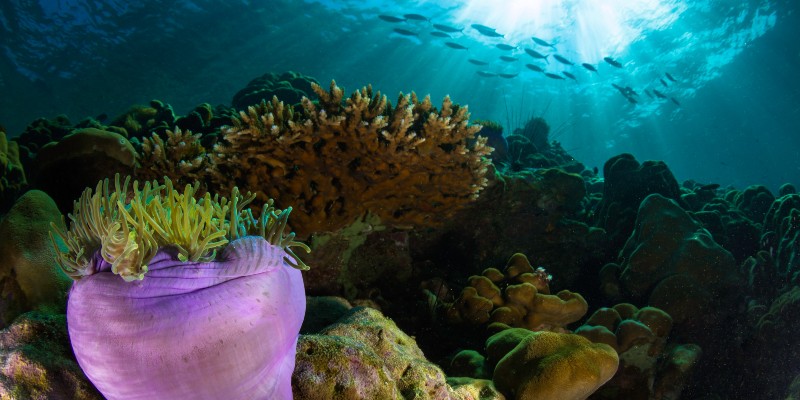 The best thing about diving in Thailand is that all divers are catered for, with great dive spots for all abilities.
Ready to read more about what's 'under the sea'? Of course you are, let's jump in…
---
Hin Daeng
Taking the top spot on our list of great dive sites in Thailand is the renowned Hin Daeng also known as Red Rock. Located in the South West region of the Andaman Sea this amazing dive site is worth the trip to Thailand alone.
Hin Daeng is made up of plateaus, walls and rocks and has a depth of 35 metres. Look out for appearances from leopard sharks, barracuda and octopus. A visit to the south west cave with a depth of around 10 metres is worth it just to see the nurse sharks. For the ultimate underwater encounter, you may even come face to face with a giant manta ray.
Hin Muang
Another dive site you shouldn't miss whilst diving in Thailand is Hin Muang, also known as Purple Rock. Situated close by to Hin Daeng, it's easily accessible from Koh Ngai. This dive site is home to the deepest drop-off in Thailand with a depth of up to 70 metres! A diver's delight with fantastic opportunities to see humungous underwater pinnacles, astonishing anemone carpets and fascinating sea creatures.
King Cruiser Wreck
Don't miss out on the chance to see a piece of history as you embark on a mission to explore the 85 metres long MS King Cruiser wreck dive. Sailing between Phuket and the Phi Phi Islands in southern Thailand back in 1997, the ferry hit a submerged collection of rocky pinnacles that led to its fate. The wreckage now lies on the seabed at a depth of 31 metres. A mind-blowing adventure of discovery for advanced divers awaits.
Similan Islands
The awesome Similan Islands are uninhabited and lie 90km northwest of Phuket. You'll be in awe of the islands natural beauty with glistening turquoise waters and white-sandy beaches. Very deserving of a place in our list, you'll find over 500 species of both hard and soft corals and an abundant fish population around the islands. The dazzling feast for your eyes doesn't stop there, look out for dramatic underwater topography including caves, narrow passages and giant boulders too.
Surin Islands
Another firm favourite and good dive destination are the Surin Islands. Just 60 kilometres from the mainland and within the boundary of Mu Ko Surin National Park, a treasure trove of underwater life can be found. The best way to dive in this region is by liveaboard, leaving from either Phuket or Khao Lak. For any James Bond fans check out The Junk, an enigmatic vessel that featured in The Man with the Golden Gun.
Richelieu Rock
A rock, what's so special about a rock? Let us let you into a little secret… this is so much more than just a rock. This world-class dive-site is one of the most famous sites in Thailand and attracts divers from all over the globe. Richelieu Rock is covered in vibrant soft corals and attracts countless small marine creatures. You may even get to meet a seahorse or ghost pipefish. A bonus of the remote location is that the reef is often visited by manta rays, great barracuda and if you're super lucky you might even spot a whale shark. It's also at the top of the list for macro-diving for the photography enthusiasts among you. Definitely one of the best dive sites in Thailand and worthy of a visit.
Koh Phi Phi
Koh Phi Phi rose to fame as the backdrop for film classic The Beach and was once on every backpacker's itinerary. Famous for beautiful bays, incredible coves and the chance to walk in Leonardo's sandprints. A lesser-known fact is that as well as being incredibly iconic Koh Phi Phi enables visitors the chance to get up close and personal with one of the most biodiverse reefs around. These islands are easy to reach by speedboat or ferry from the tourist hotspots of Phuket and Krabi. Diving here is suitable for all levels and abilities, even those looking for lessons and everyone will be awestruck after the experience.
---
Ready to see what else Thailand has to offer?
There's enough here to tempt any serious diver that a trip to Thailand is an incredible experience.
Coupled with mouth-watering cuisine, friendly people and spectacular landscapes Thailand is a diver's paradise. Check-out our top budget-friendly Thailand resorts so you can get away without breaking the bank.