6 Must-Visit Restaurants in the Seychelles
These must-visit restaurants in the Seychelles offer delicious cuisine and local dishes, along with spectacular scenic views.
With cultural influences from across the world, you will find a mixture of recipes with inspirations from Creole, Chinese and Indian dishes.
You'll be tempted by the aromatic smells that come from the restaurant before you set eyes on the dish itself.
Ingredients are fresh, presentation is top tier, and the tastes are remarkable. Wherever you stay on this archipelago country, you'll find incredible restaurants around every corner.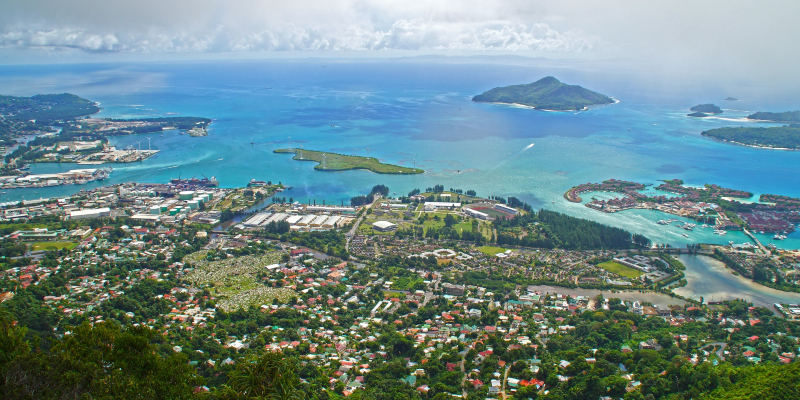 ---
What do you Sey-Chelles we jump right in?
We've got a list containing 6 must-visit restaurants in Seychelles, so whether you're staying in Mahé or Praslin we've got you covered. Get ready for your tastebuds to come alive and your eyes to light up with delight!
La Grande Maison, Mahé
Marie Antoinette, Mahé
Saffron Restaurant, Mahé
Café des Arts, Praslin
Bonbon Plume, Praslin
Les Rochers, Praslin
---
Mahé
As the largest island in the Seychelles, you're bound to find some delectable dishes hidden away within the Mahé restaurants. From fantastic seafood to Thai cuisine, there's a meal for every type of holidaymaker.
---
La Grande Maison
What a better way to spend the day than with a tour around Takamaka Rum Distillery and then a stop off at the renowned La Grande Maison. Within arm's reach of one another, we'd recommend taking the time to try some of the delicious rum. Then, head on over to this fine-dining restaurant.
It is Ran by one of the country's most talented chefs, Christelle Verheyden. La Grande Maison is set amongst tropical shrubbery at the La Plaine St. Andre.
The specials on the menu change daily and they use fresh, local ingredients to create an upscale dining experience. However, favourites such as Creole bouillabaisse, pork rum, and seafood au coco remain the same throughout the year.
Creole bouillabaisse is a classic French fish soup that provides a feeling of comfort and is a very homely dish! On the other hand, for something a little different, try seafood au coco: seafood but served in a coconut.
There is live music from 8pm on Wednesdays and Saturdays, and the atmosphere really comes alive. From 11am to 2pm you can stop by for some lunch. Or if you'd rather book in for an evening meal they are open from 7pm to 10pm.
---

---
Marie Antoinette
As one of the oldest and most famous restaurants in the Seychelles, Marie Antoinette restaurant is a popular spot for locals and tourists. It opened up in 1972 and it has kept the same rustic charm throughout the years. From the mansion itself with its original wood and iron structure, to the long-standing menu which features the same dishes as it did almost 50 years ago.
Marie Antoinette offers a set menu that features some incredible and delicious grub. With batter-fried parrot fish, chicken curry and rice, tuna steak, and mango salad as some of the options available. In other words, you'll be spoiled for choice.
In addition to tasting the yummy food, make sure to say hello to the Aldabra giant tortoises which live in the backyard. These are actually endemic to the Seychelles and are one of the largest tortoises in the world!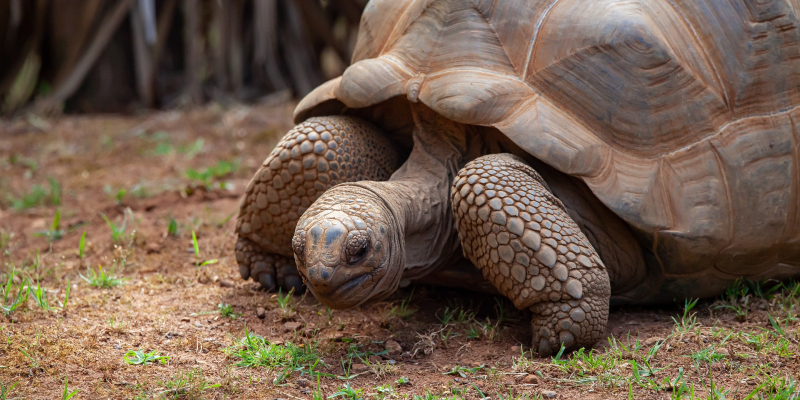 In 2001 the tortoises suffered a terrible accident. After heavy rainfall there were multiple landslides across the country. As a result, this sadly caused a wall to collapse on top all the tortoises. Buried under the heavy concrete, it was thought that none of the tortoises would make it out alive.
Thankfully, all 11 tortoises survived, and you can even see visible indentations on their shells. Abraham is the largest tortoise and is around 60 years old! So make sure to check out these incredible animals on your trip to Marie Antoinette.
---
Saffron Restaurant
Located within Banyan Tree Seychelles Resort is the delightful Thai restaurant Saffron. Offering traditional and gourmet Thai cuisine, this is one of our must-visit restaurants in the Seychelles.
The extraordinary flavours produced by Saffron restaurant is what makes it an award-winning dining experience.
As a result of being so successful, Saffron now has 10 restaurants spread across 7 countries. These restaurants are all within beautiful and exotic locations.
The unique saffron spice which the restaurant is named after, needs 75,000 flowers just to produce one pound of the spice. This refined delicacy is what the restaurant likes to base itself around, and they do their best to create that unique and special experience.
Some of the restaurants signature dishes include Thai barbecue curried chicken, fried Australian beef tenderloin and Traditional spicy prawn soup for mains. If you have a sweet tooth, maybe the trio crème brûlée could tempt you? Our mouths are watering just thinking about these tasty Thai treats…
---
Praslin
Next up we have the second largest island in the Seychelles, Praslin. Also home to beautiful beaches, and immaculate resorts, like Mahé. Plus, you will find more must-visit restaurants here, so let's get into it.
---
Café des Arts
Set on the picturesque beachfront in Praslin is Café des Arts. It's a highly recommended restaurant, and that's why it's on our must-visit restaurants in the Seychelles. It wins over tourists and locals with its standout location, contemporary interior, strong cocktails and and needless to say, delicious food.
During the daytime, you can find the restaurant operating as a beach bar. It's a great stop off after a day lounging by the sea due to its relaxed atmosphere. As the sun starts to set, you will find that the relaxed beach bar turns into a chic and elegant restaurant.
With its refined menu, the restaurant promotes itself as a fine-dining experience. Creole dishes and a lot of seafood make up most of the menu, but there are also some European options.
Two of the most recommended dishes are the octopus gratin with lobster and the tuna carpaccio with a caper, garlic, and olive oil dip.
---
Bonbon Plume
Another spectacular beachfront location, at Anse Lazio beach, is Bonbon Plume. Its open-air structure made up of natural materials means you get to keep your feet in the sand as you dine on gorgeous creole dishes.
It is only open for lunch, and tables go fast, so we would recommend booking a table if you have plans to head over there. Besides being set on one of the best beaches in the world, Bonbon Plume is of course worth visiting for its food.
Popular again for its seafood dishes, recommendations include sautéed crab with garlic, shrimp coconut curry or the grilled catch of the day. The prices aren't the cheapest, but they're also not the most expensive that you will see in the Seychelles.
We think it's a great spot to grab a table at if you are in the area, who wouldn't want to look out at white sands and azure seas whilst enjoying a delightful shrimp curry?
---
Les Rochers
Meals from Les Rochers are often labelled by tourists as the best they have had in Praslin. It's not a well-advertised restaurant and is considered a hidden gem of Praslin. Serving fresh seafood and local dishes, you will be instantly impressed by the quality and flavour.
The restaurant was built with rock and thatched roofs to revive the traditional architecture of Seychelles. Back in 2016 when it was opened, one if the proprietors explained that it was a lifelong dream to use rocks in the design, and it really does make the building stand out.
It is also only open in the evenings, so it's a lovely place to enjoy a romantic meal as a couple, or even an outing as a family. You are able to get a view of the sea through the openings on all sides of the restaurant too due to its beachfront location. Or, you can sit on an outdoor tables on the rocks, which provides a picture-perfect view.
The beautiful architecture paired with traditional Creole food makes Les Rochers a must-visit restaurant in the Seychelles.
---
My mouth is watering…
Where ever you decided to stay in the Seychelles, you will not be disappointed with the restaurants that are readily available to you.
Each of the dishes at these restaurants are made with care and love, and it's shown by their amazing presentation and delicious taste.
If you want to learn more about the Seychelles, our travel guide has got all the details you need. Just click the long green button below. 👇👇👇